Italian Restaurants in Tampa, Florida to Try
I love Italian food; it's one of my all time favorite cuisines! While I often cook such dishes on my own, there's something so special about going out to a restaurant that specializes in Italian food and does it well. So, when we moved to Tampa in early 2021, I began to keep an eye out for the best Italian restaurants in the area. Like Tampa's entire restaurant scene, there is no dearth of quality Italian eateries in the area. Here, I will share my honest review of the best Italian restaurants in Tampa:
Please note: There are a lot of top rated Italian restaurants in the area, so this list is certainly not complete; I will add to it as we try new places. Be sure to bookmark this page and check back for new recommendations!
Great Italian Restaurants in Tampa Bay
Top Date Night Choice: Olivia
Olivia had been on my must-visit restaurant list for a while. This is both because I had heard so many good things about it since moving to Tampa, but also because it shares a name with my beloved furbaby! Brett and I finally made it to the restaurant for our anniversary in November and it was delightful!
A great date night or celebratory dinner spot, Olivia offers a robust menu of appetizers, sharing plates, pizzas, house-made pasta, and more. The sides are also rather large, so they're great for sharing (especially the truffle mac and cheese, small plate in the middle picture below). The cacio e pepe (center picture below), featuring house-made spaghetti, black pepper, butter, and pecorino foam, was absolutely divine.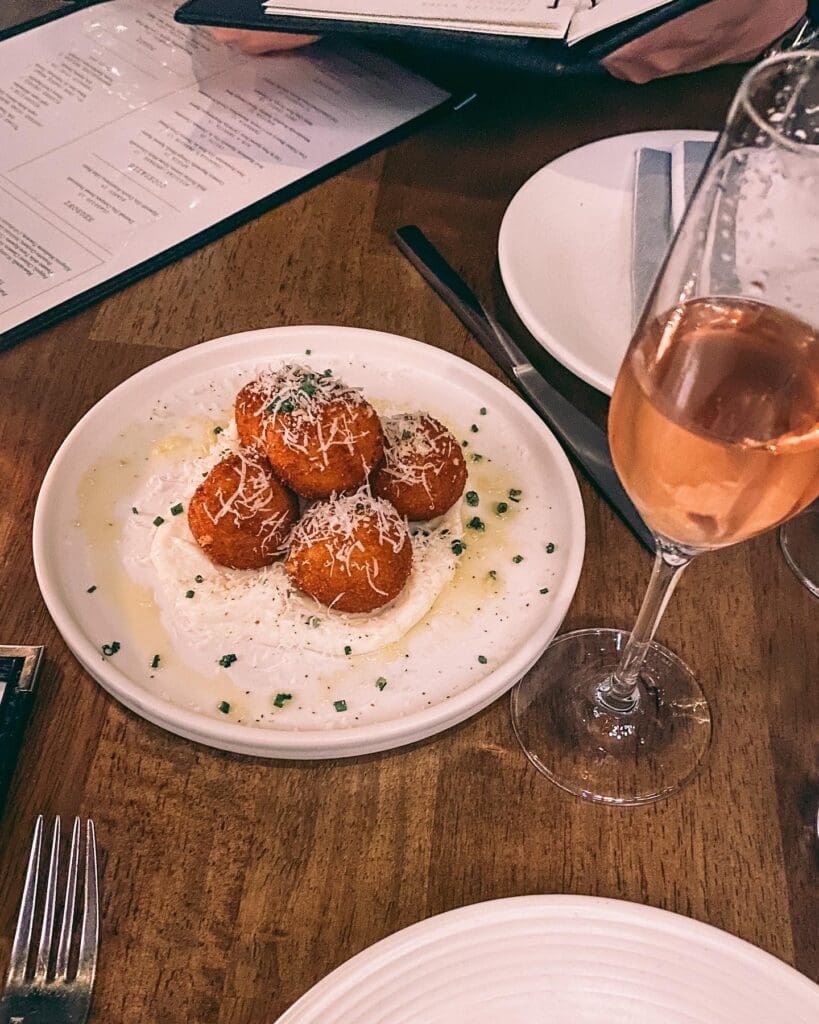 Do yourself a favor and just go ahead and order one or two plates of the arancini (first photo on the left above). These delicate stuffed risotto balls were out of this world. Oh, and if you're thinking of dessert, definitely go for it. The salted caramel cannoli were the perfect way to end the evening!
Visiting Olivia
Address: 3601 W. Swann Ave. Tampa, FL 33609
Useful Links: Website | Menu | Instagram
Great for a Group: Oggi Italian
We went to Oggi for my birthday and it was a hit with the whole dining party. I am so glad that this restaurant caught my eye when I searched for available reservations for January 1. It was some of the best Italian food I've had in Tampa thus far. With sizable portions, a robust menu, and delightful desserts, Oggi is ideal for a date night or group celebration.
This trip, I opted for the eggplant Parmesan, which was absolutely fantastic. With crisp fried eggplant and a delicious red sauce over angel hair pasta, it was exactly what I wanted to celebrate my birthday with! Plus, each pasta dish comes with an after-dinner espresso, which was a lovely touch. We finished off dinner with a couple cannoli, tiramisu, and a unique pineapple dessert for the table.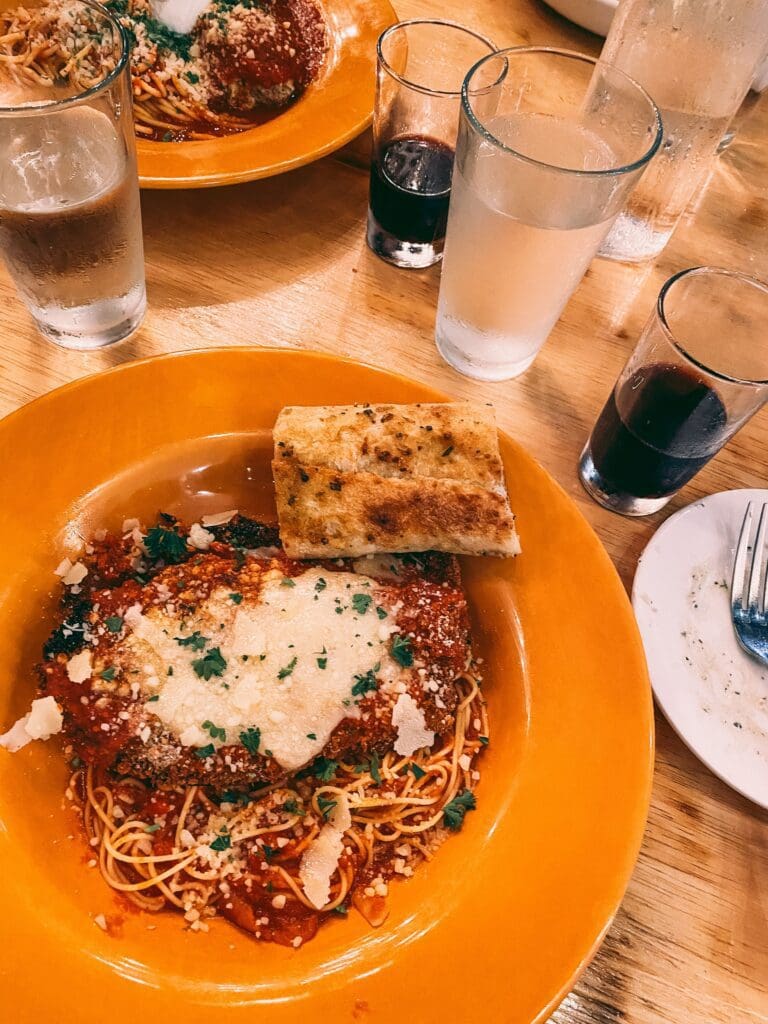 I definitely recommend making reservations, though; it's a smaller space and they seem to stay quite busy!
Visiting Oggi Italian
Address: 236 E Davis Blvd., Davis Islands, Florida 33606
Useful Links: Website | Menu | Instagram
Family Style Italian Dining: Piccola Italia Bistro
If you are looking for an authentic Italian dinner, Piccola is the way to go. Piccolo specializes in pasta dishes from Abruzzo, Rome, Bologna, and Naples. Each dish is cooked a special house-made sauce a la "nonna Maria's" home cooking. They also offer pasta making classes, which I definitely want to do!
It's a small restaurant, you have to make reservations, and it's BYOB. The entire place has a home cooked vibe, which was super fun and only authenticated once our food was served. The menu is straight to the point, with a handful of dine in and takeout options that are all available for $12.95, or family-sized/party trays for $39.95 each. The chef offers a huge variety of specials, though, which all sounded absolutely amazing.
One special on the night we visited was a family sized caprese salad, pictured above. It was phenomenal. We split it as a table and I still had some to take home. Robust olive oil, beautiful tomatoes, and the best mozzarella all on top of a bed of lightly dressed greens. Seriously, could eat it every day.
I had the primavera pasta with shrimp, which featured an avocado cream sauce and linguine, mushroom, bell pepper, and peas. The sauce was, at once, a hearty cream sauce but not too heavy. I've never had avocado in a pasta dish before, but I am a fan now. Definitely save room for dessert, though; I really enjoyed the cannoli and tasted the tiramisu, which was delightful.
Visiting Piccola Italia Bistro
Address: 2140 W Martin Luther King Jr. Blvd Tampa, Florida 33607
Useful Links: Website | Menu
Casual & Colorful Food: Forbici Modern Italian
Brett and I stopped in at Forbici in Hyde Park Village on a whim. It was such a lucky find! The atmosphere and menu were both enticing, and the pizzas we got were absolutely delicious.
From appetizers to pastas, bowls to pizzas, Forbici Modern Italian has something for everyone, including a wide range of Impossible Meat! We split the Impossible Meat Meatballs as an appetizer and they were the perfect size to share. The house-made pomodoro sauce was so rich and delicious, a truly authentic flavor!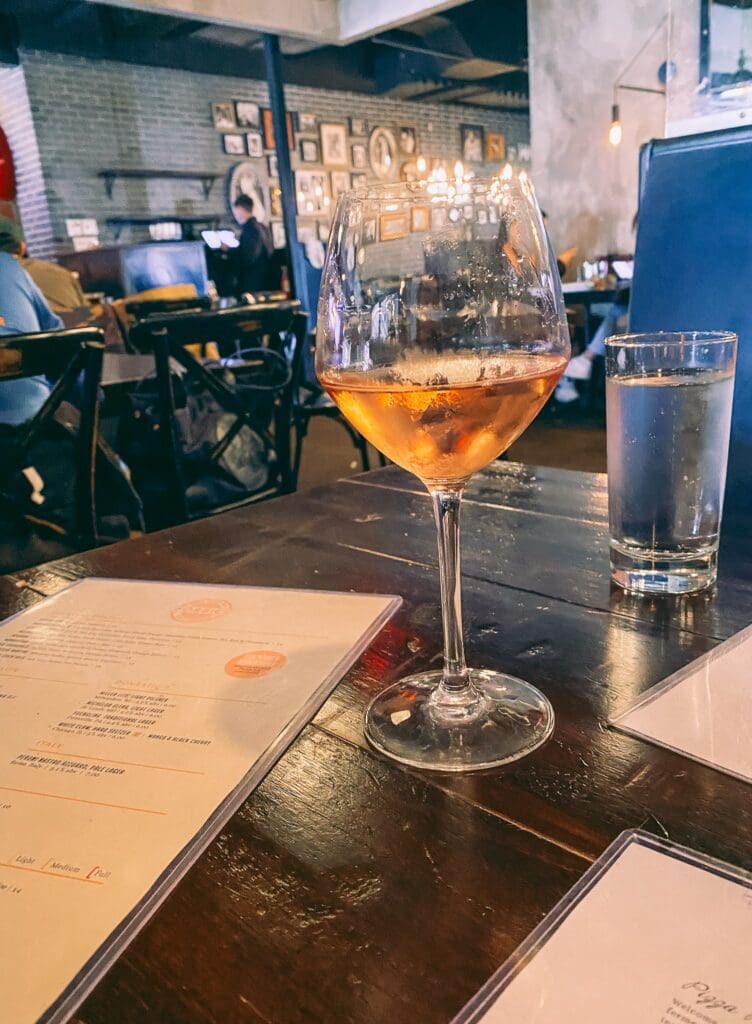 As for the pizzas, Brett and I definitely could have split one, but it was nice to have leftovers, too. Forbici offers both square and round pizzas, made with a light and airy crust. I had the Fiore Teglia (square) pizza and added a side of their truffle cream sauce. So colorful, so good! I can't wait to go back!
Visiting Forbici Modern Italian
Address: 1633 W Snow Ave, Tampa, FL 33606
Useful Links: Website | Menu | Instagram
---
Looking for more Tampa restaurant recommendations?
Be sure to check out my full restaurant guide for the Tampa Bay area here!
*This post was originally published on January 6, 2022 as part of my Tampa City Guide. It was last updated on April 22, 2022.