Where to Get the Best Sushi in Tampa
Sushi is always such a treat, and when we first moved to Tampa, I knew I had to find a few great options to try out. I've shared about my favorite sushi restaurants in my Tampa restaurant guide, but am sharing them in a dedicated guide with recommendations based on experience type and style. Read on for the best sushi in Tampa, Florida!
Please note: I'll regularly update this post with new favorite finds as I try more sushi restaurants in Tampa, so be sure to bookmark the page for the future!
All Time Favorite & Most Authentic Sushi: Izakaya Tori
Centrally located on Dale Mabry, Izakaya Tori is a delicious Japanese tapas restaurant with ramen, sushi, and other classic Japanese dishes. The restaurant itself is a cozy oasis on an otherwise busy street. The space is immersive once you're inside and seated, full of unique art and decor to accent the food. 
As far as a sushi spot goes, Izakaya Tori is great for two reasons: one, their rolls are quite sizable (especially for the prices) and, two, there's plenty of options for those who don't care for sushi.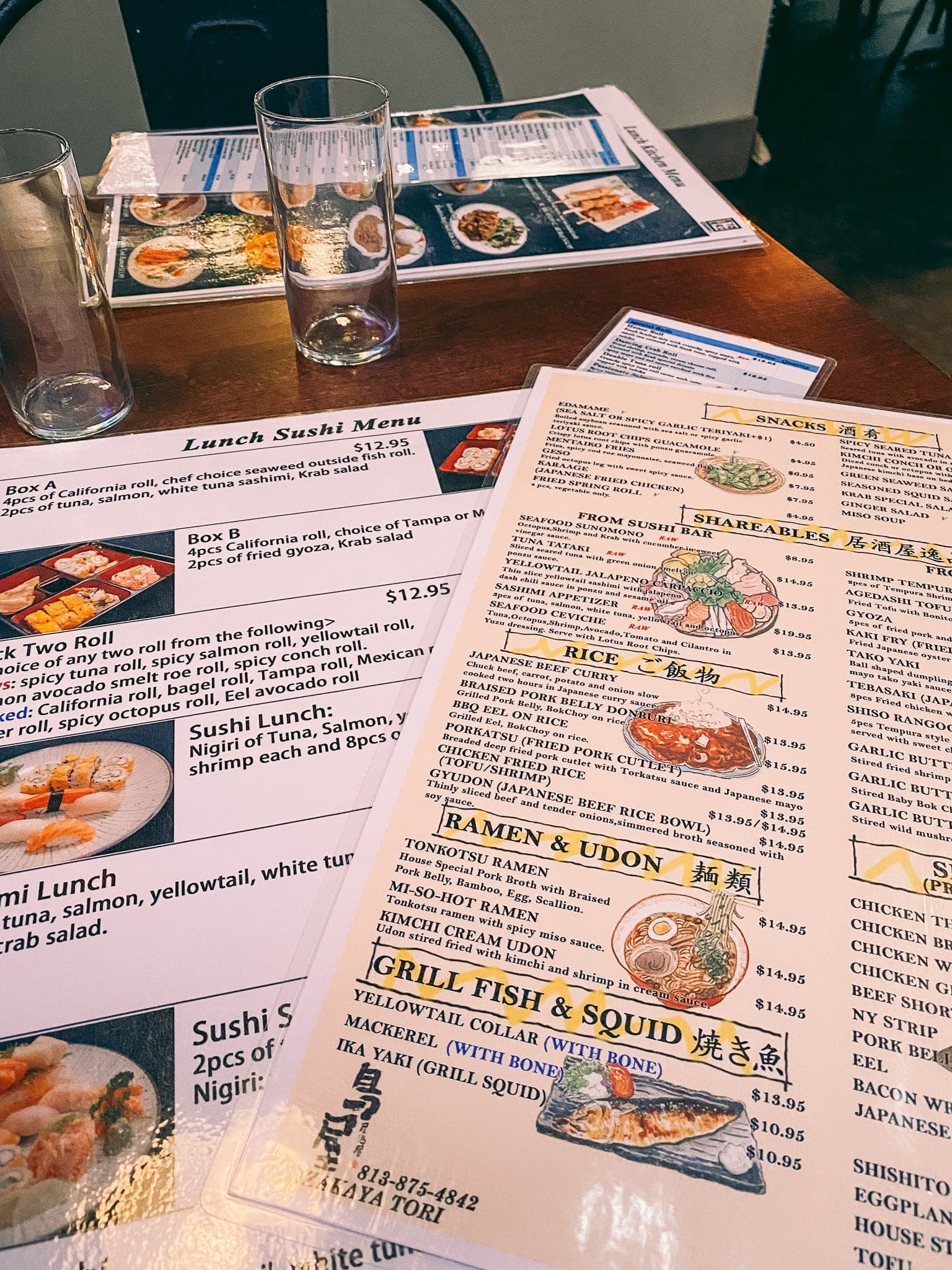 Besides appetizers, I've stuck with sushi thus far, but want to branch out to their various bowls and other entrees after I work through the sushi menu. Their tofu fried rice is calling my name, for example, as is their kimchi cream udon bowl. Side note, they have one of the best ginger salad dressings I've ever had, so definitely give that a shot.
Random pro tip, though: the restaurant can be quite chilly, so definitely bring a sweater!
Visiting Izakaya Tori
Address: 2223 N Westshore Blvd #206310 S Dale Mabry Hwy #140, Tampa, FL 33609
Useful Links: Website | Menu | Instagram
Best Date Night & Girls' Night Out: Thai Prime Kitchen & Bar
Thai Prime is a fantastic Thai restaurant and in a convenient location right by the International Mall and Tampa Airport. With a focus on providing fresh, high quality, and locally sourced seafood, the Thai Prime menu offers authentic Thai recipes in an inviting atmosphere.
My favorite thing about this restaurant is their sushi menu. Specifically, I love their all-day sushi deal, where you can get four rolls for $24. I have found that this is a great option for a girls' night out; when I meet my friend Lauren there, we each pick two rolls and an appetizer and split everything. The bill, even when we have had a glass of wine each, has never been above $75 before tip. Seriously, it's a great deal.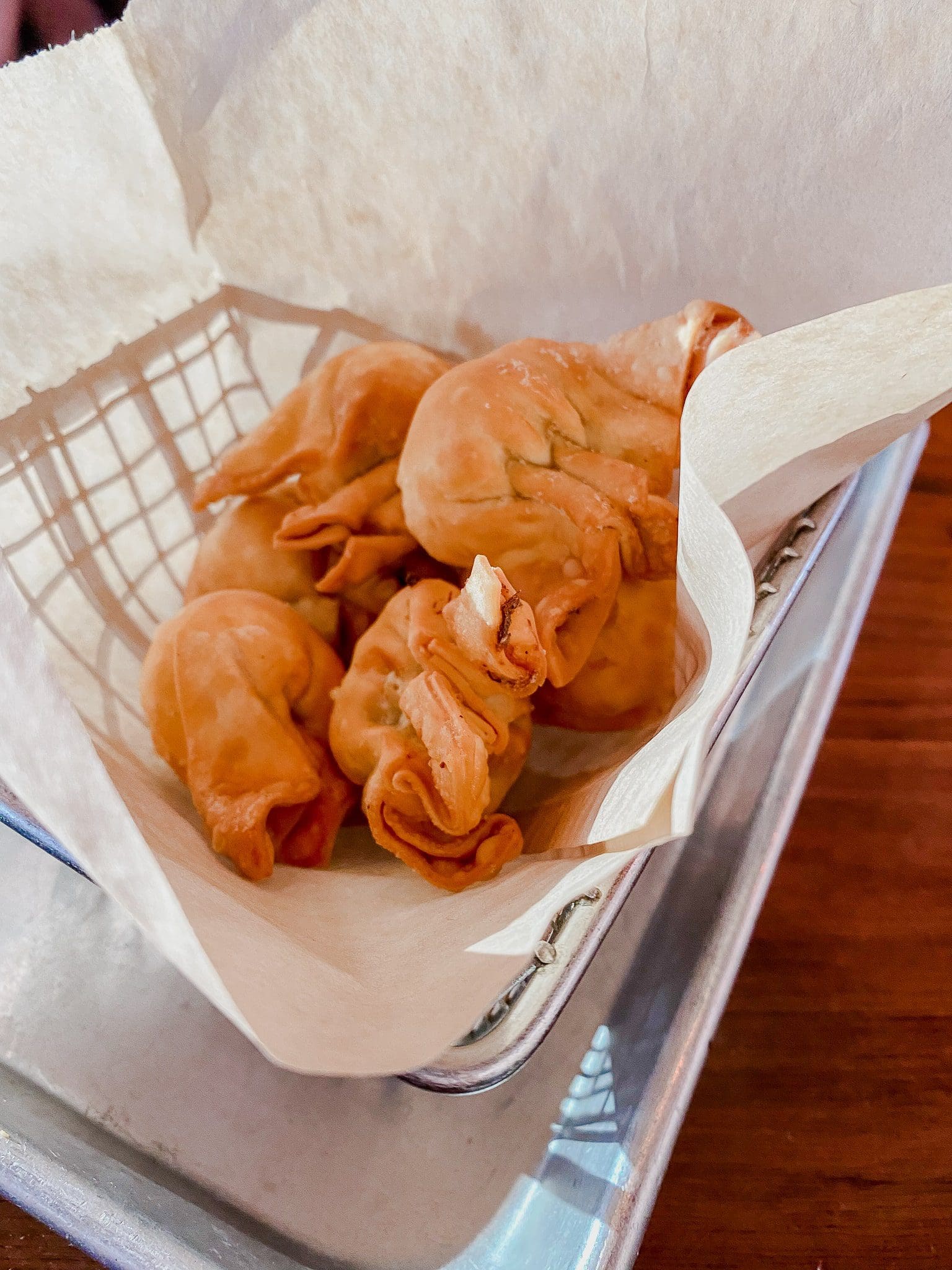 So far, my favorite sushi rolls have been the Spicy Salmon and Spicy Tuna (classics), Sweet Potato, and Spicy Tofu rolls. The Spicy Tofu is not on the online menus, but is a part of their printed sushi menu in-restaurant, and they've always let us include it in the four-roll deal. The Spicy Alaskan and Mexican rolls are also great, especially if you're looking for something a bit more eclectic than a Spicy Salmon or such.
If you're a fan of Crab Rangoons, you must try Thai Prime's. They add a hint of curry or some other spice and it is just amazing.
Visiting Thai Prime Kitchen & Bar
Address: 4142 West Boy Scout Blvd #5 & 6 Tampa, FL 33607
Useful Links: Website | Menu | Instagram
Best Lunch Sushi Option: Kelp Sushi Joint
If you're looking for great sushi — and sushi at a great price — then Kelp Sushi Joint is a great option. Kelp offers a mix of traditional sushi varieties along with small plates, nigiri, sashimi, and specialty rolls. With their daily special, you can get two classic sushi rolls and a starter for $12.95. I typically get the Crab Rangoons as my starter and the spicy salmon and Florida rolls. It's a testament to how tasty their sushi is that I don't have a picture from there; I always pick up my chopsticks too quickly!
Visiting Kelp Sushi Joint
Address: South Tampa – 3401 West Bay to Bay Blvd Tampa, FL 33629 | Town & Country – 6507 West Waters Ave
Tampa, FL 33634
Useful Links: Website | Menu | Instagram
Most Creative Sushi Dishes: Zukku Sushi
With a beautiful location within Armature Works, Zukku Sushi is a delightfully expressive sushi and poke restaurant. As far as sushi goes, Zukku is one of the best restaurants in Tampa. 
At Zukku Shushi, you can pick from the pre-designed rolls, bowls, and sushi burritos on their menu, or you can design your own with their "express yourself" menu (starting at $10.95).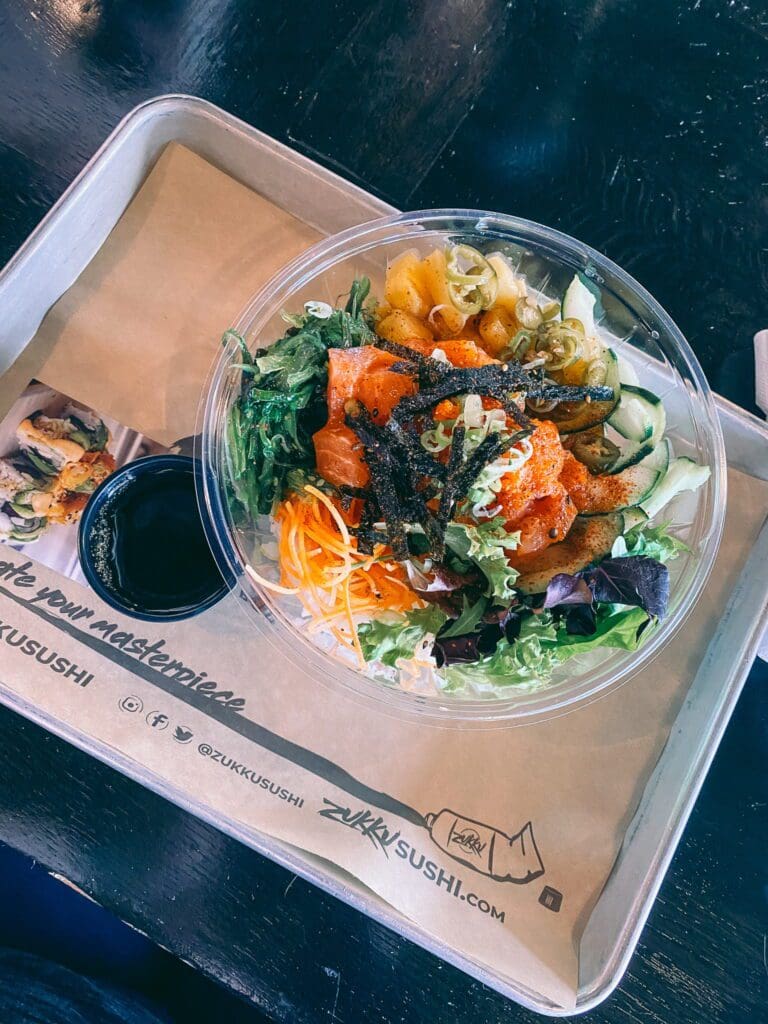 I've eaten at Zukku Sushi twice now, and have tried both their Zukku sushi roll (amazing, didn't get a picture) and the spicy salmon poke bowl, pictured here. Both were fantastic, and I was really impressed with the sheer amount of food I got in the poke bowl, considering it was under $15!
Visiting Zukku Sushi
Address: 1919 N Ola Ave Tampa, FL 33602
Useful Links: Website | Instagram | Menu
---
Looking for more Tampa restaurant recommendations? 
Be sure to check out my full restaurant guide for the Tampa Bay area here!
*This post was originally published on March 8, 2022 as part of my Tampa City Guide. It was last updated on March 21, 2022.