Buddy Brew Coffee
Brewing some of the highest quality coffee in the world, Tampa's own Buddy Brew Coffee is a beacon in the coffee community. Supporting a variety of philanthropic causes, from reforestation with Trees for Kibria to providing bikes for foster children in our community with onbikes, Buddy Brew Coffee is brewing good and doing good.
Plus, their coffee is so so good!
Exciting news! Buddy Brew coffee is now available in all The Fresh Market stores in the U.S.! Check out your local @thefreshmarket store to pick up a bag or two of what is sure to be your new favorite coffee.
Brew Good, Do Good with Buddy Brew
Buddy Brew Coffee first opened its doors in Tampa, Florida in 2010. Dave and Susan Ward, the owners and coffee lovers behind the company, gave out bags of home-roasted coffee beans for Christmas one year, complete with a cute little label named after their dog, Buddy, and the name stuck.
Since then, Buddy Brew Coffee has expanded and reinforced their mission: Brew Good, Do Good.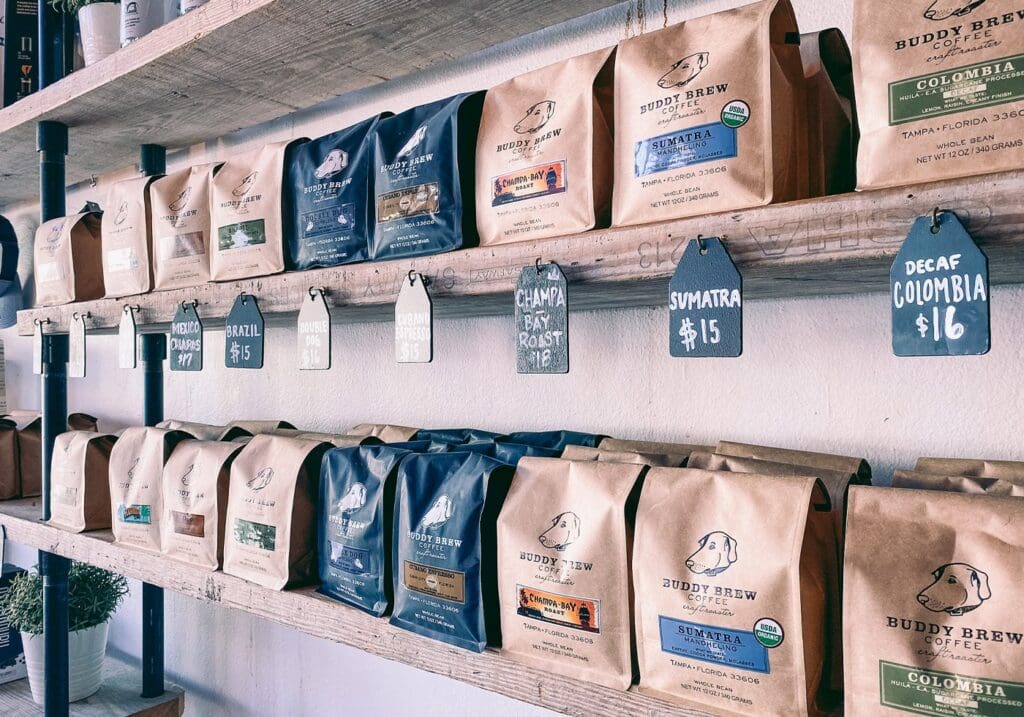 All of Buddy Brew's coffees are fairly sourced, and the farmers are paid better than fair trail prices. All their coffees — which are among the top 2% in quality in the world — are sourced through small lot and women-owned farming co-ops,
Plus, the coffee company gives back to specific causes with certain coffees, both locally and internationally, such as with the Rainforest Roast, which gives back to reforestation projects. Local to Tampa, one of their whole bean coffees, Pig Jig Roast, supports the Tampa Pig Jig barbecue festival, an event dedicated to fighting kidney disease.
My Experiences with Buddy Brew
I had been able to try Buddy Brew a couple times before I moved to Tampa, but never really knew much about the coffee itself. After moving to the area, I began to see just how ingrained the company was with the local food scene, and quickly fell in love with their espresso via the affogato at Oxford Exchange.
Cafe Locations
It just so happens that Buddy Brew has cafes in a lot of my favorite spots around town: Oxford Exchange, as I mentioned, as well as Armature Works, and Hyde Park Village. With a total of seven cafes and one Brew Truck, there is likely a convenient Buddy Brew Coffee not to far from you if you're in the Tampa area!
For National Coffee Day, Buddy Brew invited me to check out their original store on Kennedy Blvd. The shop started out in just a small portion of the building as it stands today, but has evolved into a spacious and comfortable space to enjoy a cup of their fantastic coffees or teas.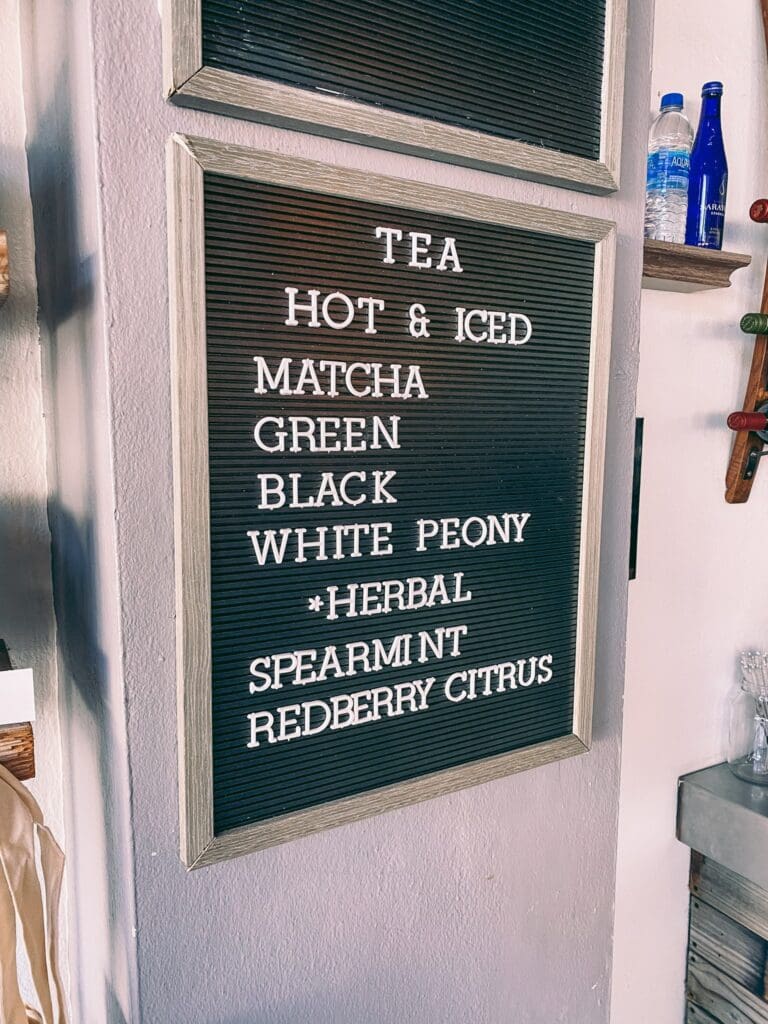 Drinks Beyond Coffee
I am obviously a huge coffee fan, but that isn't the case with everyone. Beyond a variety of coffee drinks, hot and iced, Buddy Brew Coffee offers a strong selection of teas, local craft beers, and wines. When we went to the Hyde Park Village Buddy Brew, Brett got a glass of Jai Alai IPA from Cigar City (more on that here) while I enjoyed a cold brew coffee. Win-win for everyone involved!
Sandwiches, Snacks, & Treats from Buddy Brew Coffee
I love a good coffee shop, and as much as I love to settle in for a few hours at a time, that can sometimes be tough with a limited menu. Making my coffee shop search in Tampa easy enough, I am happy to say that is not the case with Buddy Brew, though. Each of their cafes offers a robust menu of snacks, finger foods, and sandwiches to enjoy.
Between the customizable toast dishes, sandwiches, and biscuits, there's something savory for everyone. My personal favorite for the savory options is the Beverly's Biscuit — a warm, flaky biscuit served with butter and honey. It is a simple pleasure you can enjoy yourself or easily share!
Hale Life Donuts
On the sweater side, I love the HaleLife Donuts Buddy Brew serves. HaleLife Bakery is another great find for me here in Tampa, because they offer such great vegan and gluten free sweet treat options. While I do eat gluten and am not fully vegan myself, I do try to maintain a plant-based diet, so this bakery is right up my alley. Honestly, if no one had mentioned that these donuts were vegan, I would never have guessed myself.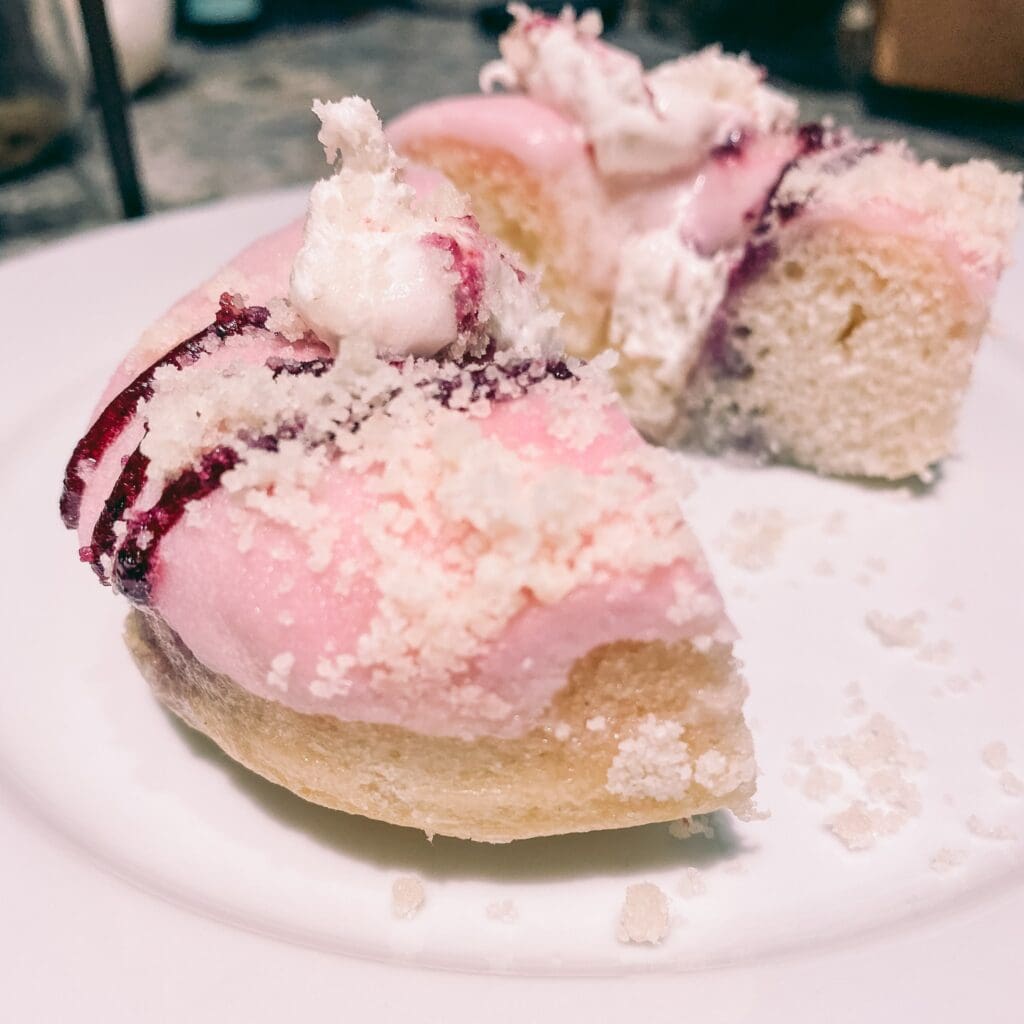 So far, I've tried the Cinnamon Toast Crunch and the Blueberry Lemon Donut (pictured above) and both have been amazing.
My Drink of Choice from Buddy Brew
I'm an iced coffee kind of girl. I've tried a few versions of Buddy Brew's cold coffee options and have found two favorites that I default to: first, an iced latte with skim or oat milk, or, second, iced cold brew with oat milk. If I want to change things up, I add a shot of flavoring to either one, with mocha being my favorite so far.
If you want more of a treat yo' self moment, I cannot speak highly enough of the affogato.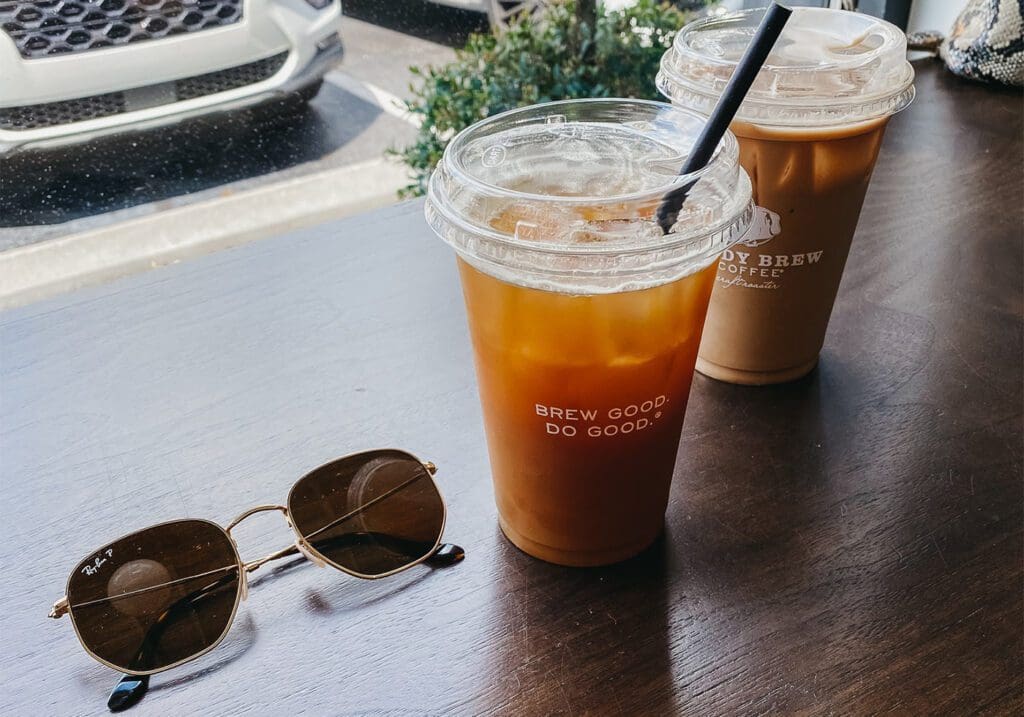 Where to Find Buddy Brew Coffee
Order Coffee Online
Buddy Brew offers a robust shop online, where you can buy coffee beans as well as adorable branded merch, home coffee equipment, and more. In regards to coffee beans, you can order any Buddy Brew blend individually, or even set up a subscription order or coffee club delivery schedule.
Coffee bean orders come in a variety of grinds, including whole bean, auto drip, French press, and more.
Individual bags of Buddy Brew's ethically sourced, high quality coffee beans start at $16. You can shop them all here.
Visiting Buddy Brew's Locations
As far as coffee shops go, I am pleased to say that Buddy Brew's locations generally have a good amount of parking. Plus, they even save spots for to-go orders or for quick 15 minute stops, which is super handy if you're not planning on staying put in the cafe.
Each location has their own menu, so you can check the individual menus on this page.
Quick Links for Buddy Brew Coffee
Menu (Kennedy location) | Instagram | Facebook | Locations
---
Looking for more hidden gems in Tampa, Florida?
Check out my Tampa City Guide for all the best restaurants, breweries, and more!
*Thank you to Buddy Brew Coffee for sponsoring this post! Opinions and thoughts are my own, and I have purchased many a cup of Buddy Brew before this post, and will do so many times after.
*This post was originally published on September 28, 2021. It was last updated on April 22, 2022.