Chill Bros. Scoop Shop's Handmade Ice Cream
With two locations in Tampa, Florida, Chill Bros. Scoop Shop makes delicious ice cream flavored with local ingredients. Using Florida milk and cream, egg yolks, pure cane sugar, and a bit of salt, Chill Bros. crafts a signature custard base for all their flavors. Vegan options are available, as well, which are just as rich. The vegan base is made with blend of oat milk, coconut cream, and tapioca in place of the non-vegan ingredients.
Visiting Chill Bros. Ice Cream
After driving by Chill Bros. Scoop Shop Bay to Bay location twice a day for a long weekend while dog sitting, Brett and I decided to treat ourselves to some ice cream. The shop is a popular spot! When we visited, there was a line of people extending out into the parking lot. Service was pretty quick, though, so the wait wasn't long — and it was definitely worth it.
The shop itself is super cute, decked out with red and blue terrazzo. It features a fun mural design that winds throughout the shop. Chill Bros features a set menu of classics along with some seasonal specials. Chill Bros. make their own waffle cones, which makes the entire shop smell amazing. You get a little slice of one with each cup of ice cream. I definitely almost went up to ask for another…!
What We Tried
I had the Cafe con Leche and Double Down Oreo flavors, while Brett tried the Belgian Brownie and Peanut Butter Cup. All four flavors were great, and very rich. Really, I could have gone with one scoop instead of two, but I really wanted to try two flavors, so I powered through. Worth it.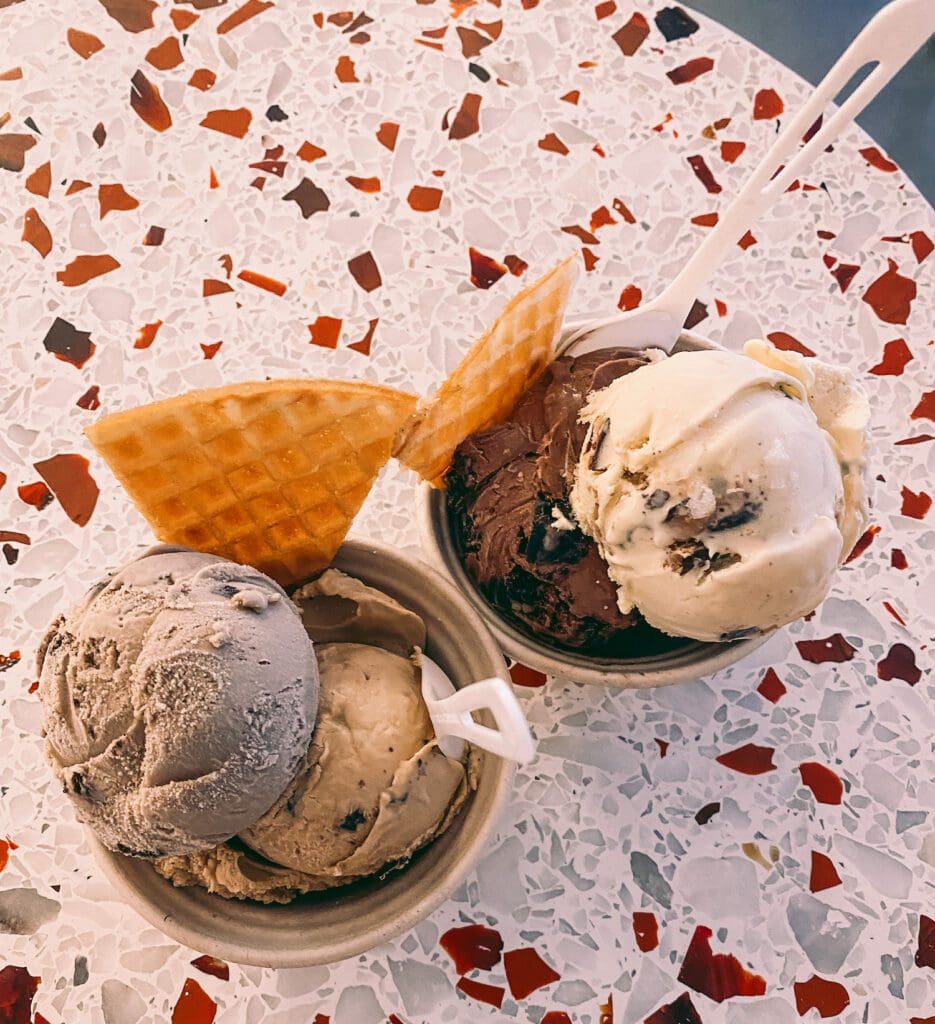 Visiting Chill Bros. Scoop Shop
Address: Chill Bros South Tampa – 3302 W Bay to Bay Blvd Tampa, FL 33629 |
Chill Bros Ybor Location – 1910 E 7th Ave STE #101 Tampa, FL 33605
Useful Links: Website | Menu | Instagram
---
Looking to do some exploring in Tampa?
Check out more favorite spots in the city here!
*This post was originally published on July 1, 2021. It was last updated on February 6, 2022.