What is the Coastal Grandmother Aesthetic?
I'm a big fan of aesthetic trends. For example, he ever-popular cottagecore is one of my favorites. A new style that I've seen circulating has caught my eye, though, and that's the coastal grandmother aesthetic. Akin to a sort of coastal farmhouse style or "Nantucket aesthetic," Coastal Grandmother Aesthetic has a distinctly New England air to it. In terms of home decor, style, or otherwise, this aesthetic is almost more about a "mindset shift into focusing on what brings you happiness in life," according to Architectural Digest. In a way, it's really aligned with the slow living movement, and that is really represented in the coastal grandmother home decor style.
Here, I'll be sharing some coastal grandmother home decor pieces I've been drawn to lately. Most are smaller accents that you can add to your existing decor scheme. However, a few pieces are larger, more robust renditions of the aesthetic.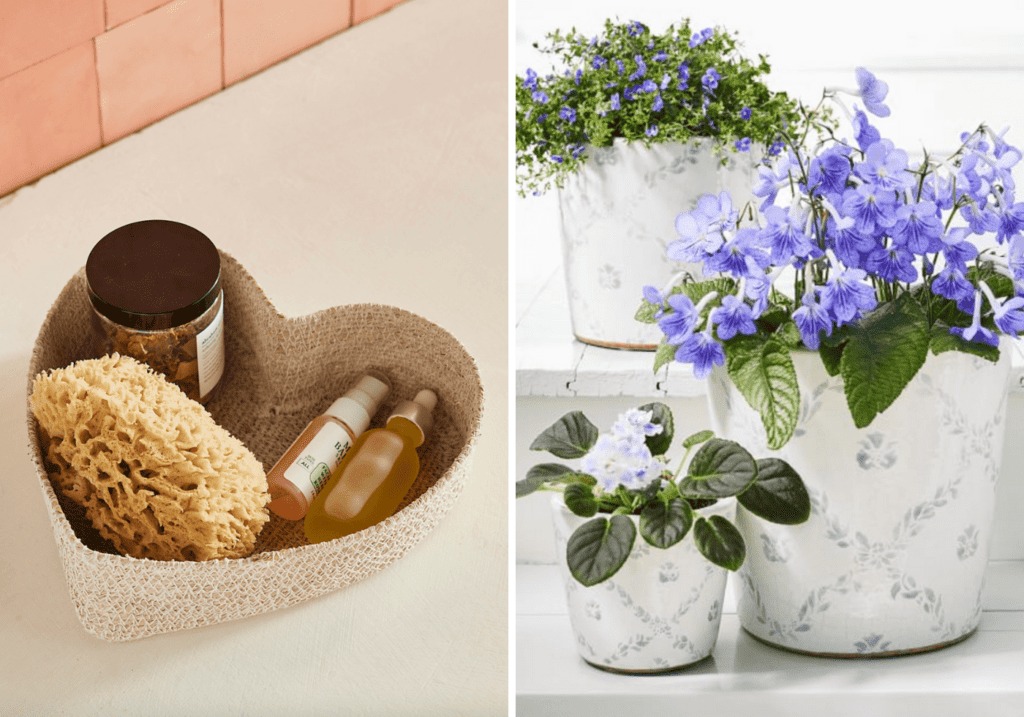 Coastal Grandmother Home Decor
As far as color goes, coastal grandmother home decor tends to veer towards blues and pastels. These are used alongside natural and earthy colors. Texture is a big player, too, with a mixture of rustic weaves and clean, crisp fabrics. This blend is exemplified by this Serena & Lilly Vintage Indigo Avalon Stool.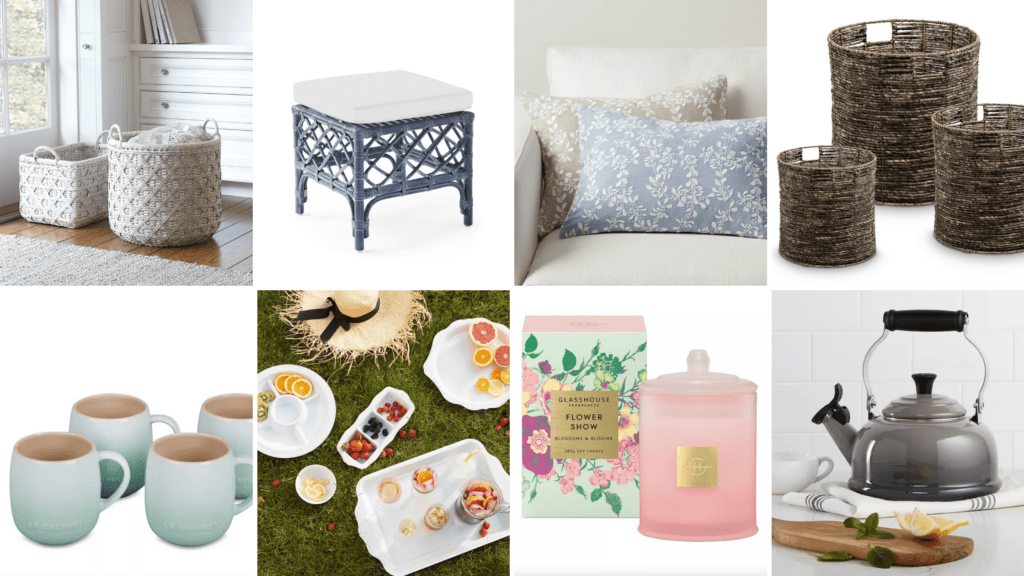 Top Row: Sag Harbor Basket | Vintage Indigo Avalon Stool | Julia Berolzheimer Flora Embroidered Pillow Cover | Honey Can Do Coastal Collection Nesting Baskets
Bottom Row: Le Creuset Coastal Blue Heritage Mugs | Juliska Berry & Thread Melamine Collection | Glasshouse Fragrances Flower Show Candle | Le Creuset Whistling Kettle
Coastal Farmhouse Decor & Slow Living Details
Because of the aesthetic's emphasis on slow living, I was mindful to include a pieces directly related to that notion. The Le Creuset Whistling Kettle, for example, is one of my favorite kitchen tools. It takes longer to boil than an electric kettle, of course. However, the process and ritual of making tea with it is rather meditative.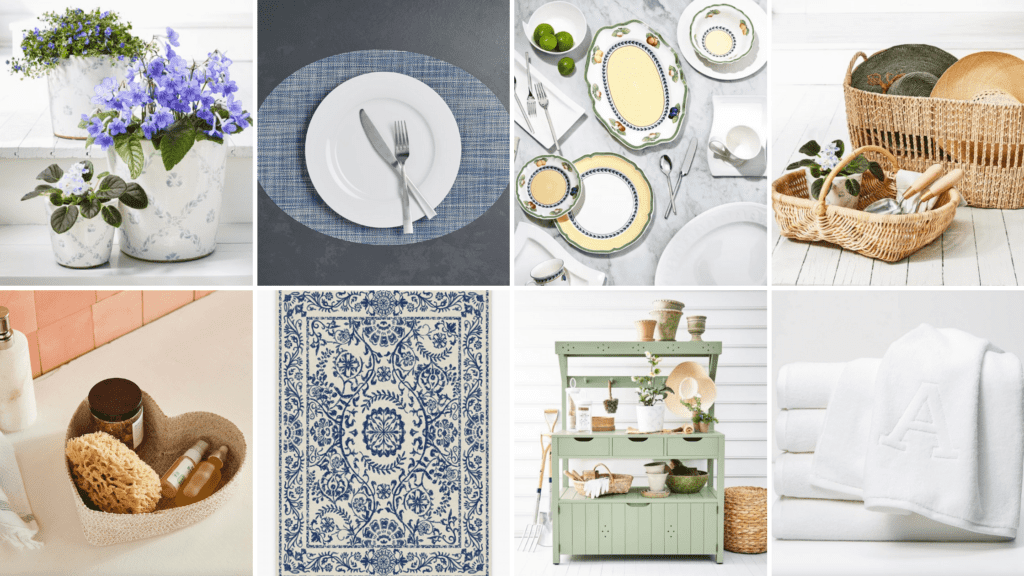 Top Row: Julia Berolzheimer Poppy Handcrafted Terracotta Planters | Chilewich Mini Basketweave Oval Placemat | Villeroy & Boch French Garden Dinnerware | Julia Berolzheimer Mae Handwoven Rattan Baskets
Bottom Row: Heart Seagrass Basket | Ruggable Delphina Delft Blue Rug | Julia Berolzheimer Potting Station | Mattock Auberge Monogrammed Letter Towel Collection
Nantucket Aesthetic Outdoors & Entertaining
As we're fully into spring, heading into summer, the emphasis coastal grandmother home decor places on the outdoors and group entertaining is rather apt. Whether you're gardening or grilling, there are plenty of these coastal inspired pieces to accentuate the atmosphere. And there's even a dedicated playlist on Spotify to further set the scene! As far as patios go, I particularly like these Julia Berolzheimer Poppy Handcrafted Terracotta Planters. They are subtle but still add a bit of color and texture.
What is your favorite aspect of the coastal grandmother aesthetic?
As I mentioned above, I love the notion of slow living and
spending small moments of the day more meaningfully.
*This post was originally published on May 12, 2022. It was most recently updated on May 23, 2022.