The Cats & Coffee Curated Content Series
Welcome to the September Edition of Cats & Coffee's Curated Content Series! This series features weekly content round-ups of articles, videos, podcasts, and Instagram accounts. I find content that is worth your time so you don't have to! This month features great Instagram creator finds, podcasts I'm totally hooked on, YouTube videos I'm loving, and more.
This series features shorter-form content on a weekly basis. For longer-form content round ups, be sure to explore My Current Loves.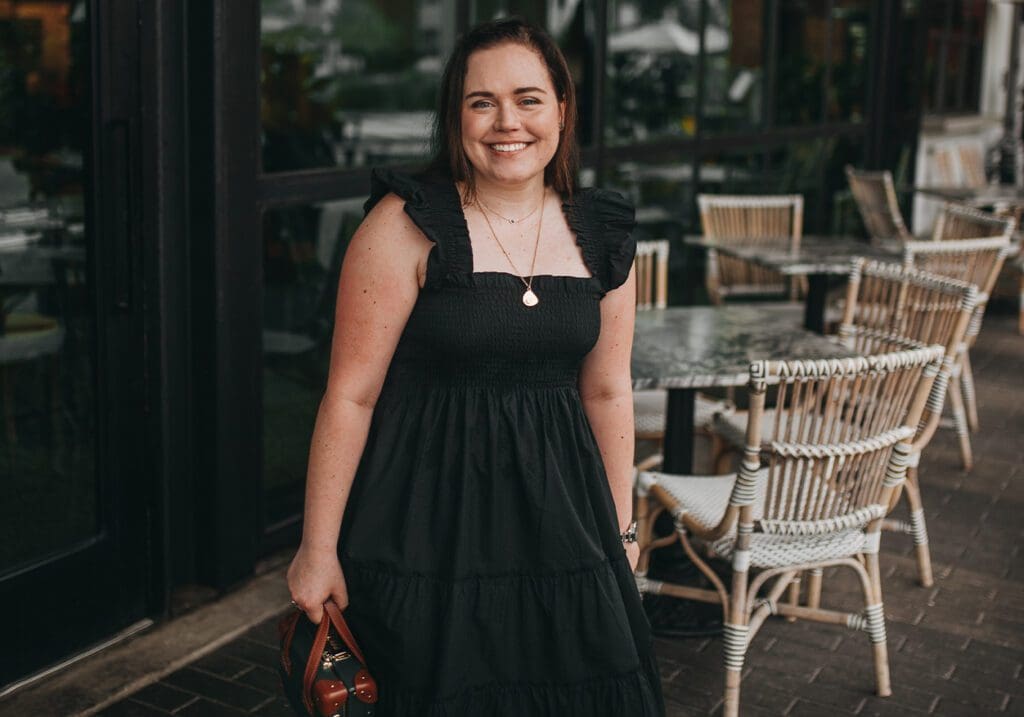 Shop This Look

Cats & Coffee's Curated Content Series: September 29, 2021
Article: New Rijksmuseum exhibition showcases Renaissance portraits, Mike Corder for AP
The Dutch national museum's new exhibition "Remember Me," covers the century 1470-1570 and features portraits from across the continent by masters including Albrecht Duerer, Hans Holbein and Titian that underscore humanity's enduring desire to be remembered.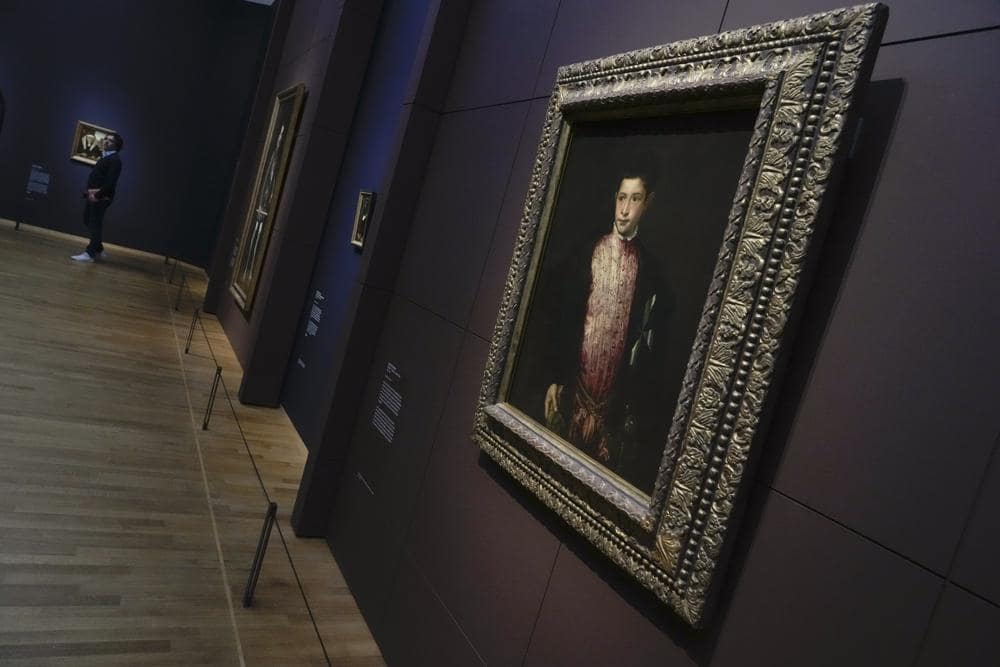 This article caught my eye for two reasons. First, a reference in the description to Hans Holbein piqued my attention, as I just finished the Wolf Hall series and Holbein is featured in the narrative. Second, I was curious how the article would handle references to the COVID/post-COVID era.
The museum's general director Taco Dibbits notes that the "longing to have [a] person with you" while being unable to travel due to COVID is not dissimilar to how people must have felt before and going into the Renaissance. "That was always the case in the Renaissance, when it was far harder to travel and … there was this great longing to have the person with you. I think something that we felt over the last one-and-a-half years," Dibbits stated.
Learn more about the New Rijksmuseum exhibition showcases Renaissance portraits on AP.
YouTube Video: 2.5 Hour NYC Living Room Makeover By Pro Designer | Room Refresh | Architectural Digest
I came across this video and found it to be quite timely, because even though our apartment is a comfortable size, Brett and I just emptied out our storage unit back in Boca, so we have an influx of stuff we need to organize. This quick room makeover video has some useful insights on how to use natural lighting, plus tips on how to map out the best use of a space before you commit to a design.
If you love a good bookstagram account, but also just love the aesthetic of books, @antipodeanbookclub is the epitome of both. Based in New Zealand, Vicki, the self-proclaimed book hoarder behind @antipodeanbookclub, crafts beautiful color-based photography around her library.
Between the super satisfying monochrome flat lays and the many cameos of Vicki's adorable cat Pip, it's no wonder that I am obsessed with this account! A word of warning, though: Vicki's beautiful photos may make you consider buying the entire Penguin Clothbound Classics series (as seen here). They're just so pretty!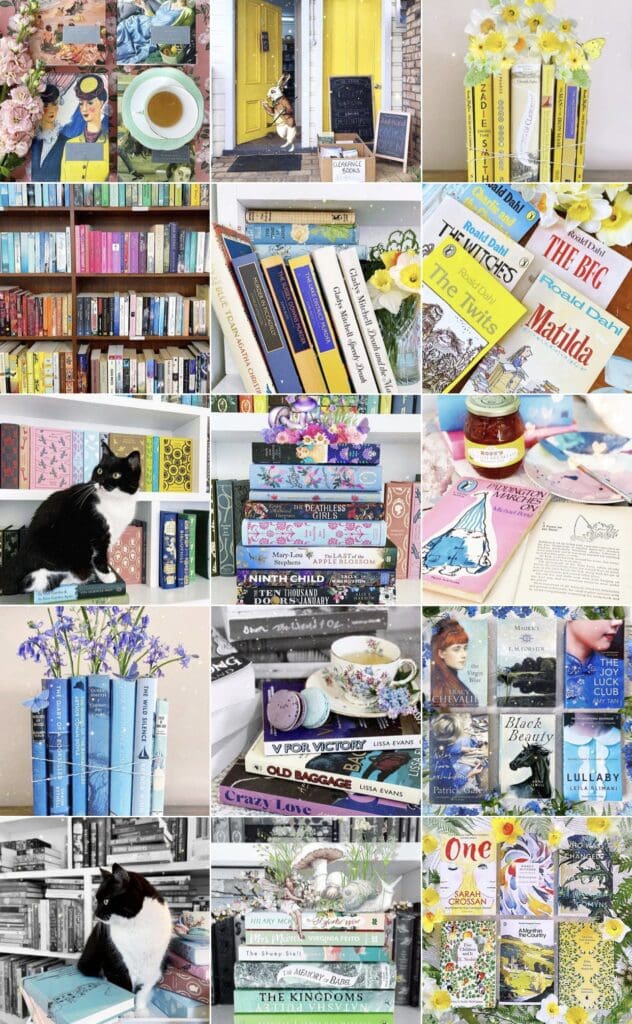 So, if you're a book loving cat lady like myself with a penchant for collecting an ever growing TBR pile, I highly recommend giving Vicki a follow. Check out Vicki's blog, The Bookish Guide to New Zealand, here for more great bibliophile content.
Shop the Penguin Classics Clothbound Books

Cats & Coffee's Curated Content Series: September 21, 2021
Article: 'Outlander' star Caitríona Balfe says emotional Season 6 is 'twisted', Samantha Ibrahim for the New York Post
I've been thinking its about time to re-read Outlander for a while now. Samantha Ibrahim's article on season six of the time-traveling romance has inspired me to go ahead and download the first couple books on Audible.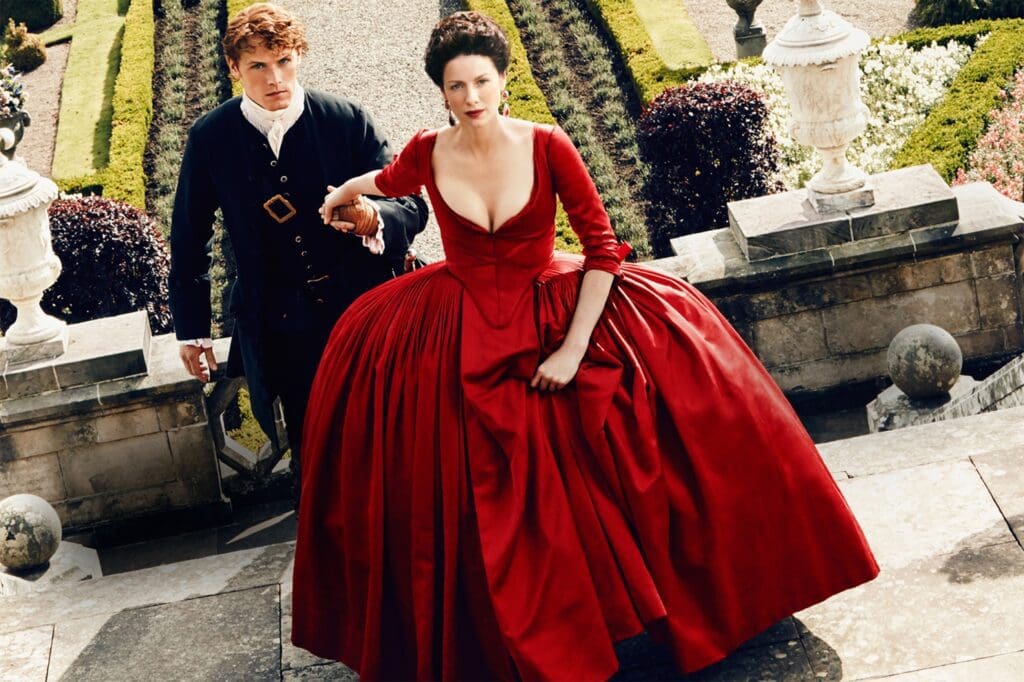 Source: Starz via the New York Post
In this brief article, Ibrahim touches on some developing villains from the new season, saying that the "Frasers are about to meet a whole new type of enemy." I'm fascinated in the psychological element that these new villains are bringing, and interested to see how the new actors take on these difficult roles.
Unfortunately, as the article notes, the new series won't air until 2022, due to a delay in filming in late 2020. Luckily, though, the Outlander series was already renewed for a seventh season.
Read Samatha Ibrahim's 'Outlander' star Caitríona Balfe says emotional Season 6 is 'twisted' on the New York Post here.
Podcast: Pod Save America – Joe vs. the Fall-cano
This episode is full of interesting political discussion, but I am sharing it specifically for the Facebook discussion with Jeff Horowitz. Horowitz released an expose of sorts on Facebook recently, highlighting knowledge the company had about antivaccine activists flooded the site using various Facebook tools, sowing doubt about the (life saving) vaccines.
Unfortunately, Horowitz's Wall Street Journal articles are stuck behind a paywall, but this podcast episode goes over his findings well. There are also some other related articles on the topic you might enjoy, including this piece from Business Insider and this piece by Salon.
Listen to Pod Save America's Joe vs. the Fall-cano here.
I came across this account from my catstagram, and it really joins some of my favorite things: cute pets and Scotland. Casper Grant, AKA the Wee White Dug, is a castle loving, hiking, Harris tweed wearing dandy pup. The account features beautiful Scottish landscape photography along with Casper, generally exploring and enjoying his time with his humans.
Casper the Wee White Dug isn't only on Instagram. He also has some adorable videos on TikTok, which I highly recommend. I particularly enjoyed this video where Casper visits Skye!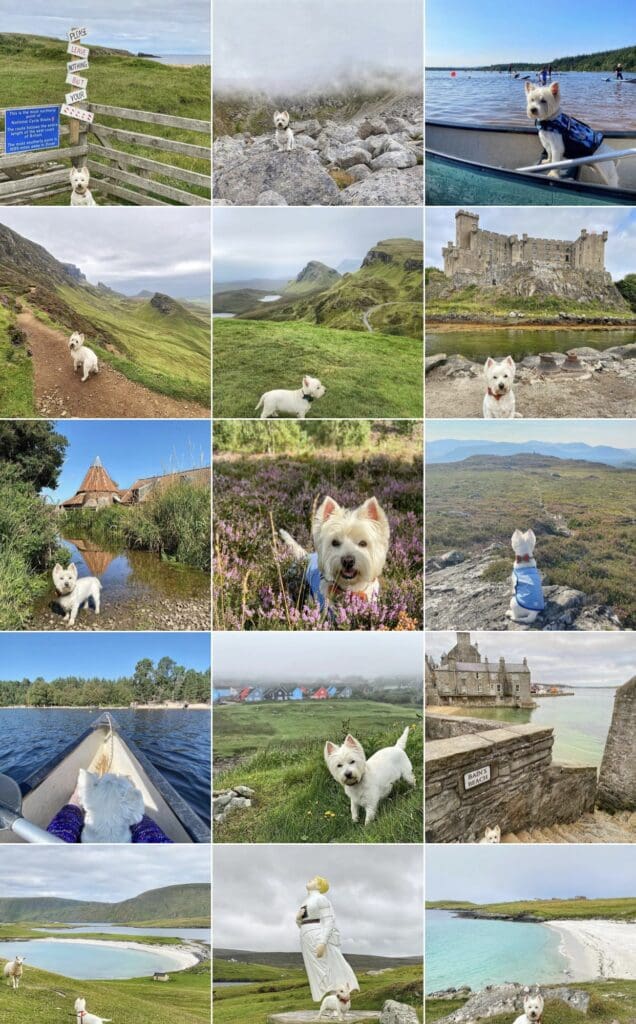 For more beautiful Scotland photos, check out Casper's owners' accounts: @bean_nighe and @a_d_granty. If you're looking for recommendations of dog-friendly places in Scotland, be sure to visit the Wee White Dug blog.
Cats & Coffee's Curated Content Series: September 15, 2021
Article: How I Confronted Imposter Syndrome and Ran For Office, Bushra Amiwala for Popsugar
Imposter Syndrome is something that weighs heavy on my mind. I am affected by it, as are many — perhaps, most — of the women I know. So, when I saw the title of Bushra Amiwala's op-ed in Popsugar, my interest was piqued.
Amiwala was elected to the Cook County Board of Commissioners in 2018, making her the youngest Muslim to be elected in the United States. A Chicago native, Amiwala has long been a champion of change, and her campaign focused on a platform of transparency and accessibility, particularly for low income and immigrant families.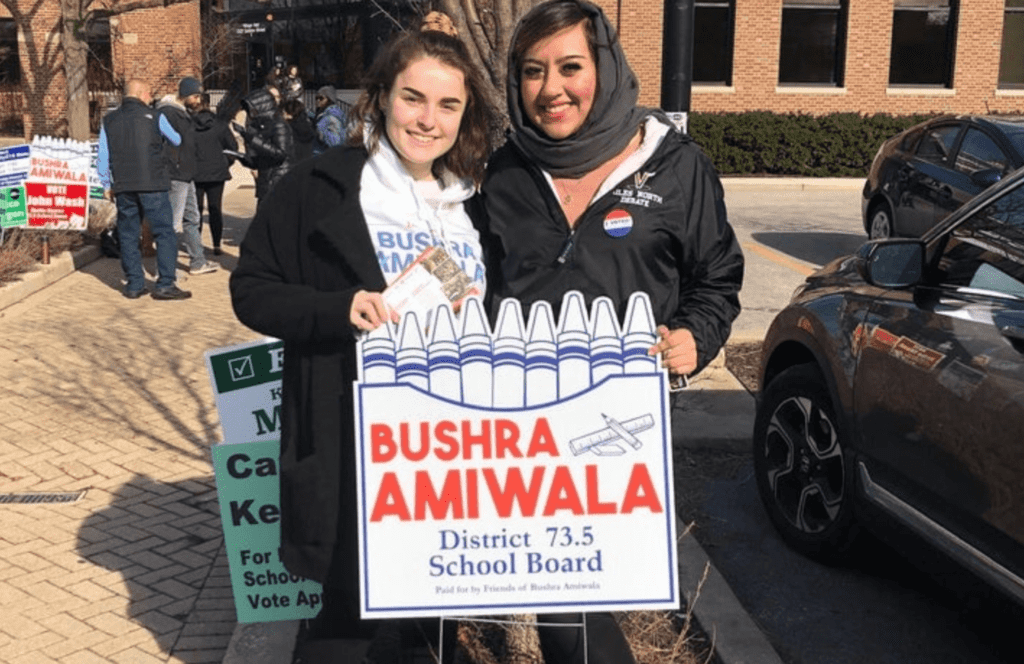 Knowing a bit about her background, one could be forgiven for asking: "how could Amiwala do so much while dealing with imposter syndrome?" However, Amiwala's story, and her narrative surrounding how imposter syndrome affects her personally, are an important reminder that what you see is not the full story. Beneath her achievements lay a level of internal conflict, an active practice of questioning the internal doubts and acknowledging one's ability and competency to take on a challenge.
Read Amiwala's full opinion piece How I Confronted Imposter Syndrome and Ran for Office on Popsugar.com here. Visit Amiwala's website to learn more about her work.
YouTube Video: Sewing Autumn Clothes! *& pretending it's not 1000 degrees outside* by Rachel Maksy
I featured Rachel Maksy's Instagram in a previous Curated Content Series, so I figured it was time to share a recent video of hers that I am loving! This particular video really hits home, because I would love to start wearing fall clothes but Florida has other ideas. I adore Maksy's love for autumn and am glad I'm not the only one feeling major fall vibe impatience. Watch the video for the aesthetic, but also for crafting inspiration because I want pretty much all the clothes she ever makes, especially the corset bodice she makes here:
Artist and self-proclaimed anxious person, Kate Allen (@thelatestkate), creates whimsical forest animal artwork with self-care quips and mental health reminders that I think we could all benefit from. I first found her page via Facebook and crossed over to her Instagram, which certainly adds a bit of brightness and sparkle to my feed. I am particularly loving her fall-themed pieces lately, like this adorable little hedgehog:
Overall, I love how soothing Allen's art is, featuring whimsical art reminiscent of Harry Potter and Neopets in the best possible way, and the short affirmations always make me feel a bit better, no matter what has been going on. From mythical creatures to adorable kittens, Allen's art is easy to appreciate and the perfect antidote to doomscrolling online.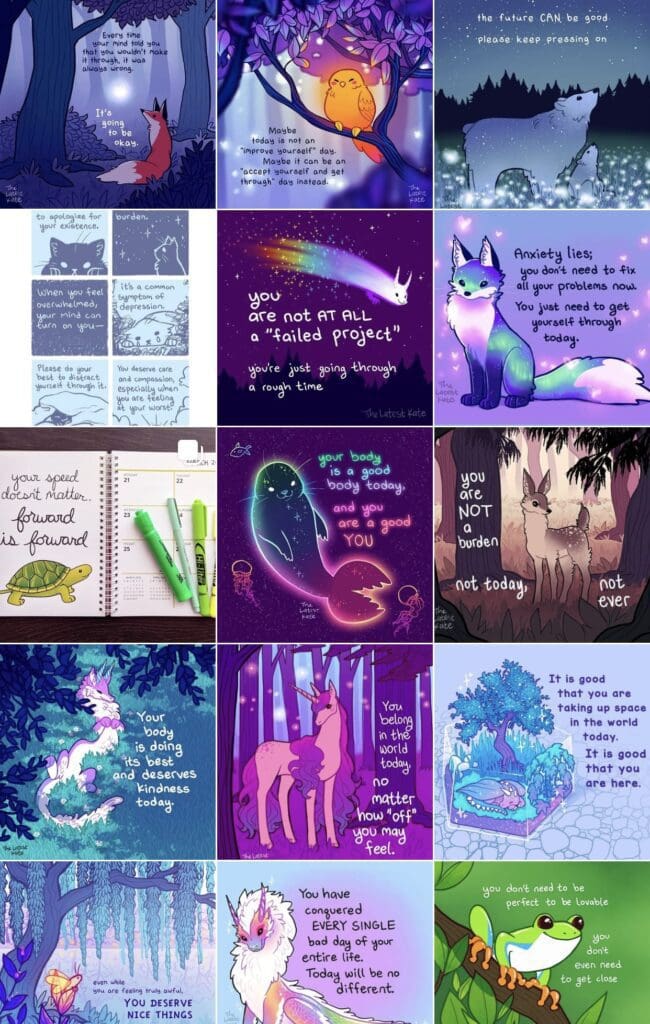 Allen shares her artwork on Instagram for free, but she also has a Redbubble store where you can buy her art on various products, like phone cases and shirts, as well as books and a cute calendar available here. I particularly like this cat astronaut tank top from her Redbubble store! She also runs a Patreon, which you can learn more about here.

Cats & Coffee's Curated Content Series: September 8, 2021
Article: How Eating Out Has Changed, From the Menu to the Tip, The New York Times' Food Desk
Early-bird dinners, sturdier pizzas, noisier streets: The pandemic has brought
a host of new developments that could last awhile.
Image from the NYT article, linked below.
Without being trite, it's safe to say that a lot has changed over the past year and a half. With things like working from home and grocery delivery systems on the rise throughout the pandemic, so too has the way we eat at restaurants. The New York Times' Food Desk discusses some of the biggest differences from B.C. (before-covid) times and now, including menus with QR codes, street-legal drinks, and even a rise in plant-based eating.
Broken up into bite-sized snippets, this article is a quick and interesting read about the differences we might not notice in our daily lives now versus a eighteen-plus-months ago.
Read How Eating Out Has Changed, From the Menu to the Tip from The New York Times' Food Desk here.
YouTube Video: I Tried 500 Years of Haircuts by Morgan Donner
I'm a sucker for anything relating to historical fashion or style, so this video — and Morgan Donner's channel in general — quickly caught my eye. This video is thorough, as you might expect from Donner, but the creator also illustrates a level of commitment I hadn't considered. You'll see what I mean as you watch the video. Overall, this video has great information, and is an entertaining watch, as well as an ode to its contemporary historian creator.
I have wanted to feature @lulumoonowlbooks for some time now. Luna, the creator behind the account, creates stunningly "whimsical nonsense," including digital edits of books (this is one of my favorites!), libraries, bookstores, and related cozy spaces.
She often mixes realism with fairy tale or otherworldly details, creating fun mash-ups that are so enticingly magical.Besides creating just stunning imagery, Luna also engages her audience in creative and fun ways, both with this-or-that polls in her stories or through her captions.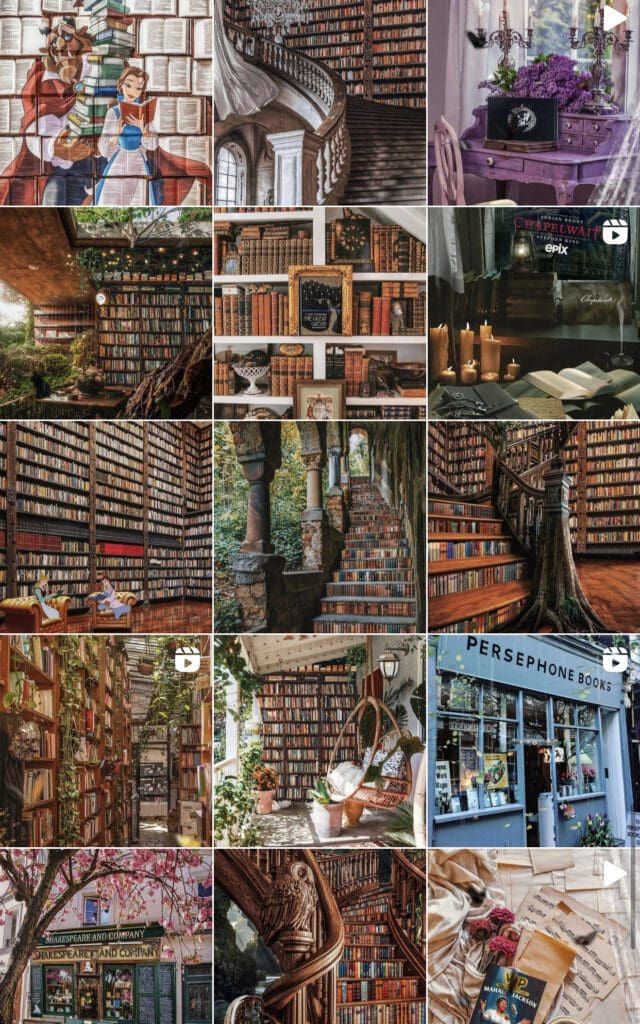 Basically, if you're looking for a little whimsical nonsense, @lulumoonowlbooks is perfect for you. Give her a follow and be sure to check out what she's up to in her stories!
Cats & Coffee's Curated Content Series: September 1, 2021
Article: Well Intentioned: Marie Kondo on Sparking Joy at Home, in the Office, and on the Changing Table, Celia Wallenberg for Vogue
Part of a Well Intentioned series, Celia Ellenberg discusses all things joy sparking in this recent Vogue article. As someone who devoured all of Tidying Up with Marie Kondo in 2019, I've been interested in the intermittent decluttering and joy sparking mantras of this organizational expert. While I'm still not the best at tidying up, I do use her folding method and consider what Marie Kondo would do when I am deciding which pieces of clothing to list on Poshmark or to keep.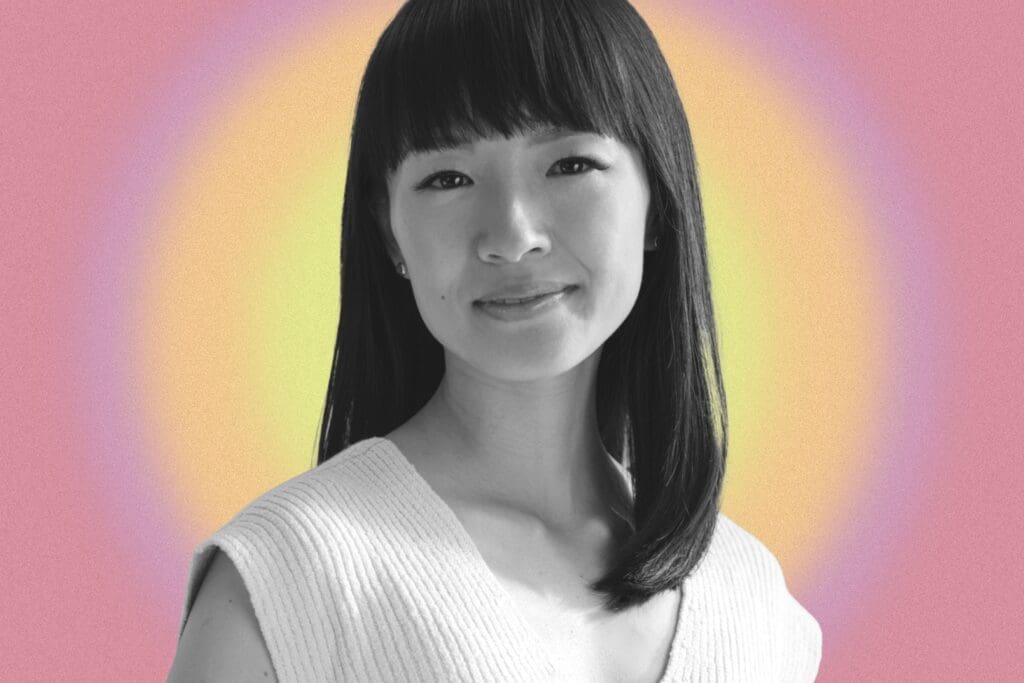 Photo Source: Getty Images; Graphic: David Vo
Ellenberg discusses Kondo's latest show, Sparking Joy, which features "Kondo working her KonMari magic outside of the home." The article offer some bite-sized takeaways from her discussion with Kondo, including how important it is to for yourself out of your comfort zone and to embrace new opportunities. One takeaway — "savor the chaos" — is something that I regularly struggle with, so I appreciated Kondo's down-to-earth description of just accepting things as they are at times.
Read Well Intentioned: Marie Kondo on Sparking Joy at Home, in the Office, and on the Changing Table on Vogue.com.
YouTube Video: Try Guys Volunteer With Rescue Dogs
As you may recognize, I'm a big fan of the Try Guys. So, when I saw that they had a new video out last week about volunteering with rescue dogs, I knew I had my video of the week sorted out! In this 20 minute video, the Try Guys play with, bathe, and photograph adoptable dogs from the Wags & Walks animal rescue in Los Angeles. Cuteness — and chaos — ensues in equal measure.
While you're at it, you should definitely give the rescue a follow on IG — you won't be disappointed!
P.S. Did you know that the Try Guys featured my cat Louis on their Instagram?!
This week's Instagram account of the week is a bit of a hybrid IG and TikTok. Eleanor Morton is a Scottish stand-up comedian, writer, and actor. She produces short comedy bits on her social media channels, many of which focus on Scottish history (no wonder I'm obsessed).
I came across Morton on TikTok originally, with her just-under-two-minute bit about a Celtic ambassador who really doesn't want to meet the Romans (embedded below). I remember vividly watching the video with headphones on the way back from picking up the mail and basically crying with laughter, to the concern of some neighbors.
Besides the Celtic ambassador, Morton does a series about a disillusioned Scottish tour guide named Craig. These are probably my favorite videos of Morton's, actually, although I haven't found one yet that hasn't made me laugh!
For your reference, here are some more favorites:
See more about Eleanor Morton on her website here. Give her a follow on her various social media accounts — Instagram, TikTok, and Twitter.
---
Want more great finds like these?
Explore the August edition of my Curated Content Series for more great reads, listens, and Instagram accounts to follow!