What Is An Earthy Home?
Earthy home decor is a bit like rustic vogue or boho chic, but with a bit of a twist. With a mix of earthy tones and textures, this interior design style can be a great neutral base with which to create a comfortable home. You could pair this style with your other favorite motifs, like mid-century modern or even cottagecore. Alternatively, you might create a fully earthy home decor vibe.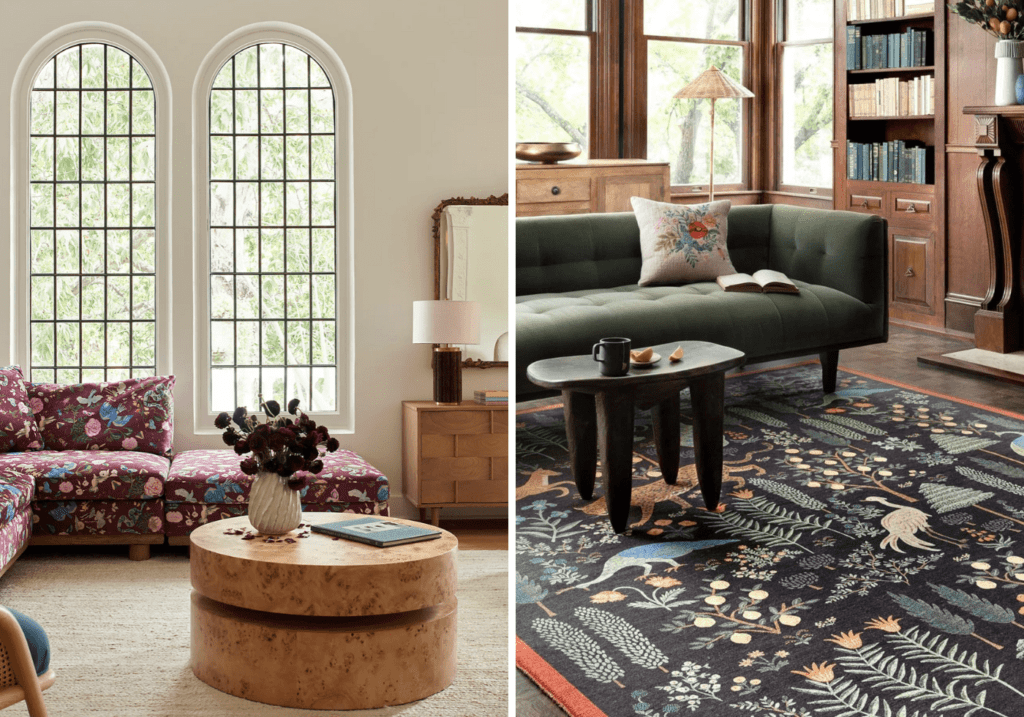 Left Hand Image From Anthropologie | Right Hand Image From Rifle Paper Co.
Here, I'll be sharing some great earthy home decor pieces with which to accessorize your home. These pieces are from favorite stores like Anthropologie, West Elm, Etsy, Rifle Paper Co., and more.
Earthy Room Ideas
Earthy Wall Art Finds
If you're looking to add some accents to your living space without committing to furniture or large pieces, there are plenty of modern earthy home decor wall hangings that will suit your space nicely. From pretty mirror sets to simple art prints, tapestries to textured wall art, these are simple ways to add earthy motifs without much work.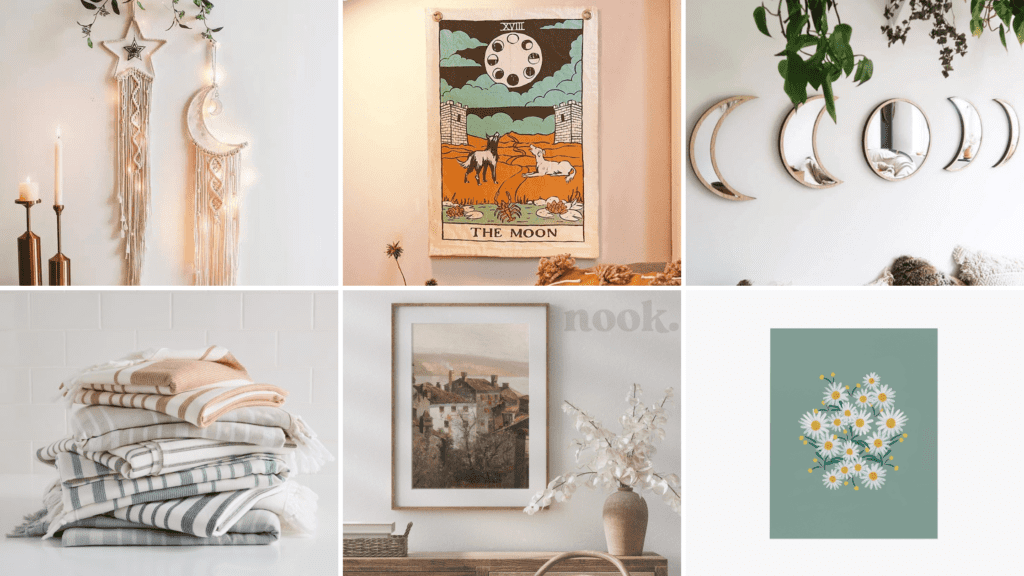 Top Row: Wall Hanging Tapestry Lights | Tarot Tapestries | Decorative Mirror Set
Bottom Row: Organic Turkish Tassel Towels | Provincial Town Landscape Art Print | Daisies Sage Art Print
Coffee Table & Small Earthy Home Accents
Besides wall hangings, create an earthy home with accent bowls, small standing mirrors, candles, and the like. Whether you burn a decorative candle like the arched candles below or not, they add some fun earth tone texture to the room. Similarly, companies like Rifle Paper Co and Valuspa offer great gift sets of mini candles that can add dimension and scent wherever you decide to place them.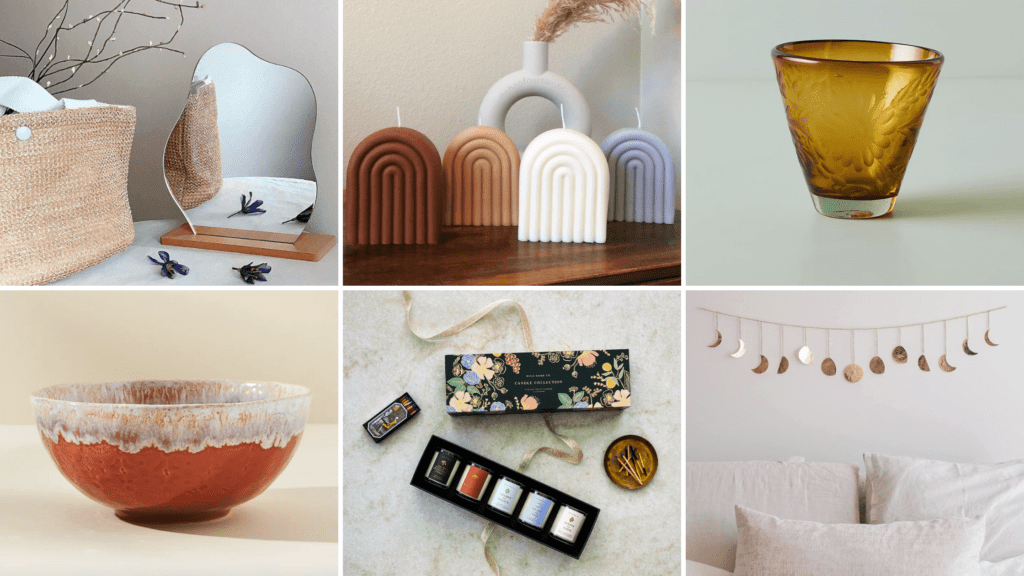 Top Row: Acrylic Makeup Mirror | Arch Soy Candle | Farrah Glass
Bottom Row: Old Havana Pasta Bowl | Colette Votive Candle Set | Moon Phase Wall Hanging
Earthy Rugs & Neutral Accents
The largest pieces I would recommend for cultivating an earthy home would be the two Ruggable rugs shown below. We have two Ruggables ourselves and they are a godsend for anyone with pets. These machine washable rugs are definitely pricier than the other pieces I have shared here, but I 100% believe they are worth the cost. Plus, they are actually cheaper than a lot of traditional rugs you might see at other home goods stores!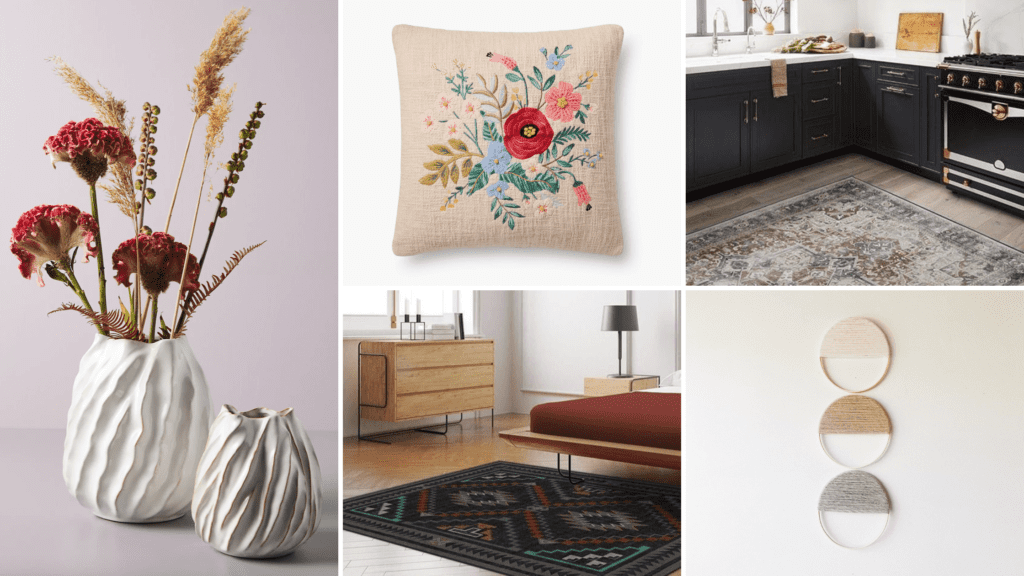 Far Left: Mooney Vase
Top Row: Sand Garden Bouquet Embroidered Pillow | Kamran Royal Blue Ruggable
Bottom Row: Desert Charcoal Ruggable | Circle Wall Hangings
Looking for more home inspiration?
Explore more home decor guides from Cats & Coffee:

Apartment Patio Decor Guide
Boho Chic Home Decor
Cute Cat-Themed Home Decor
Rustic Vogue and Cottagecore Home Decor