Nail Polish Colors for Fall
What better way to celebrate the change of seasons than with a fresh new manicure? Sure, if you're in Florida like me, the change of seasons is more mental than physical, but it's all about perspective. Regardless of the temperature outside, fall colors are some of my favorites. I particularly love the earthy greens and reds that evoke the changing seasons. So, to help inspire your next manicure, I've compiled a round up of beautiful fall nail colors you're sure to love, from classic reds to eclectic blues, and everything in between.
Picking Nail Polishes for a Manicure
While I typically go for dip manicures, I like to get an idea of what color I'd like before I go in. Plus, I've noticed more and more salons are carrying dip versions — as well as regular and gel — of OPI, Essie, and other popular nail polish brands. Since this is the case, I've been able to get some of my favorite polishes in my favorite manicure style! My default is this green OPI, a lovely rich jade green, and it's really suitable for year round. As far as reds go, I love a deep oxblood like Malaga Wine from OPI — a classic (pictured below)!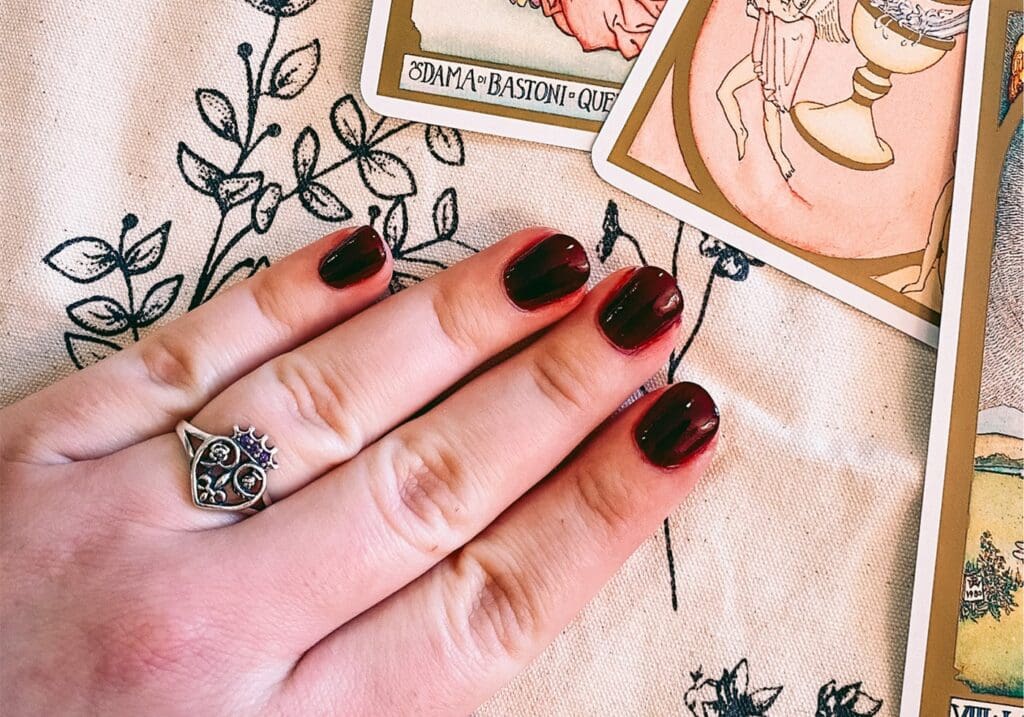 Dip manicure with Malaga Wine from OPI.
Fall Nail Polish Ideas by Color
Classic Red Fall Nail Polishes
You can't go wrong with a classic red hue for fall, particularly if it has a bit of a rusty orange base, like the top row of the options below. Personally, I tend to go more towards the oxblood range, like the bottom three, including my favorite Malaga Wine, as mentioned above. OPI's I'm Not Really a Waitress is basically my go-to for toes; it's deep and rich but still a classic red option.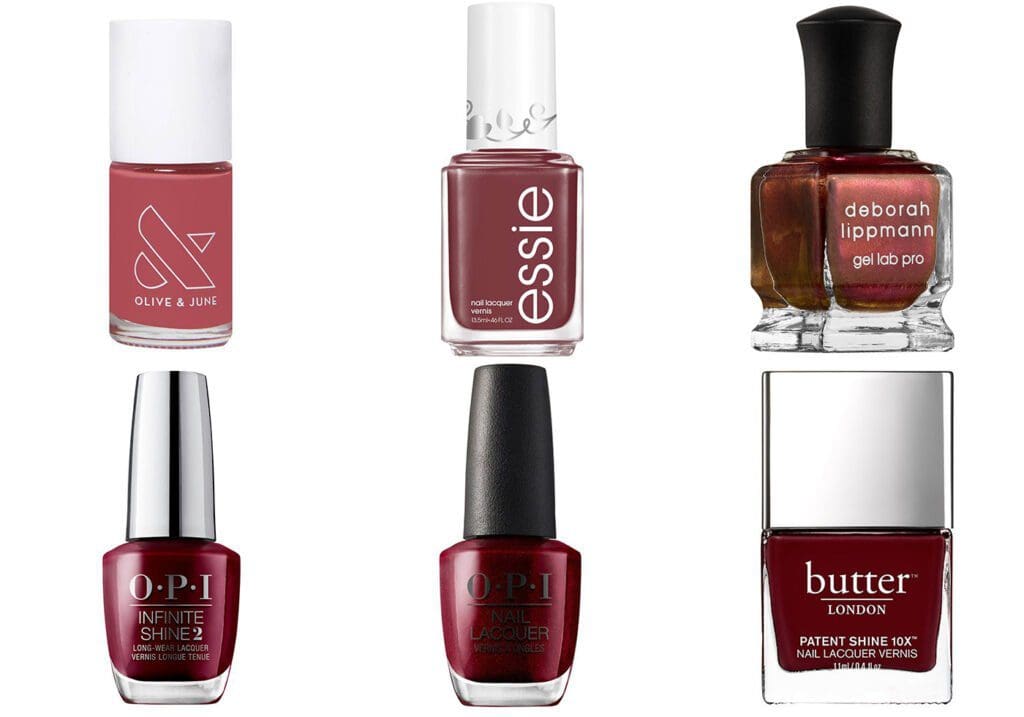 Top Row: Olive & June LD | Essie Beleaf In Yourself | Deborah Lippman All Fired Up
Bottom Row: OPI Malaga Wine | OPI I'm Not Really a Waitress | Butter Afters
Unique Blue & Purple Options
Before there were so many great green options for nail polish, I tended to go for blues and purples, just to switch things up from a classic red polish. Darker colors are my favorite, like the bottom row of these, particularly Butter's Brolly blue. OPI's Russian Navy is a great deep blue that comes out almost black, another favorite of mine for toes.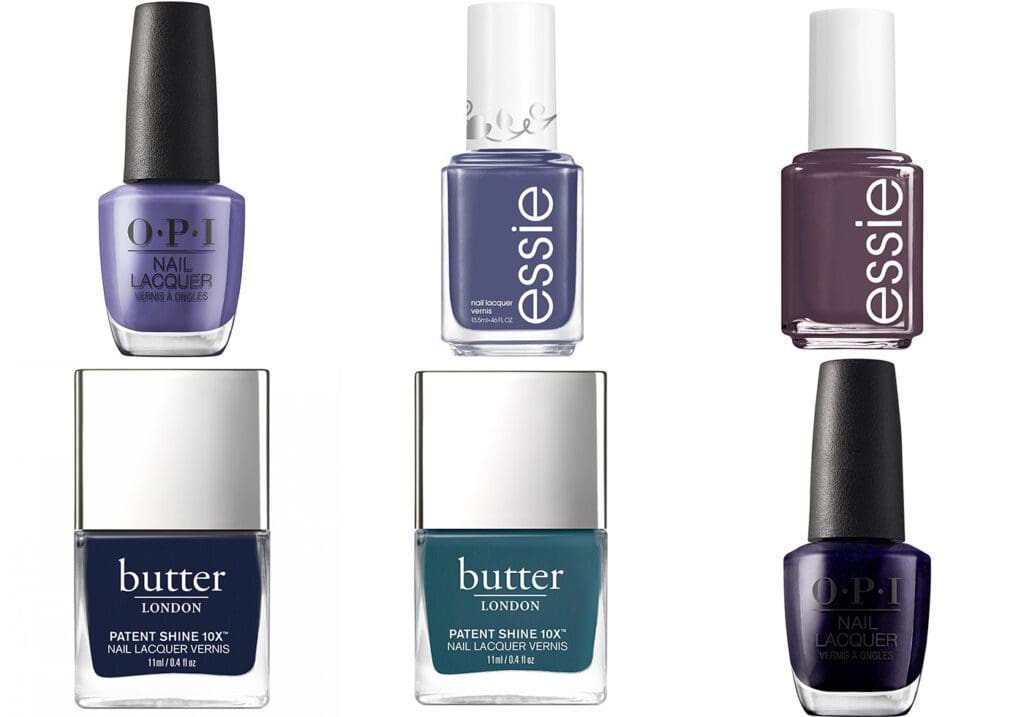 Top Row: OPI All is Berry & Bright | Essie You're A Natural | Essie Smoking Hot
Bottom Row: Butter Brolly | Butter Bang On! | OPI Russian Navy
Autumnal Greens
Not to pick favorites but…this was my favorite section to pick out. It used to be that green nail polishes all l looked vaguely…sickly…but that's not the case anymore. OPI has a particularly robust selection of greens, including Things I've Seen in Aber-green, one of my all time favorites (and not only because of the Scotland pun). As I mentioned before, OPI's Stay Off the Lawn is a go to of mine, and matches nicely with Essie's Off Tropic. For a more mossy option, this is a great option from OPI.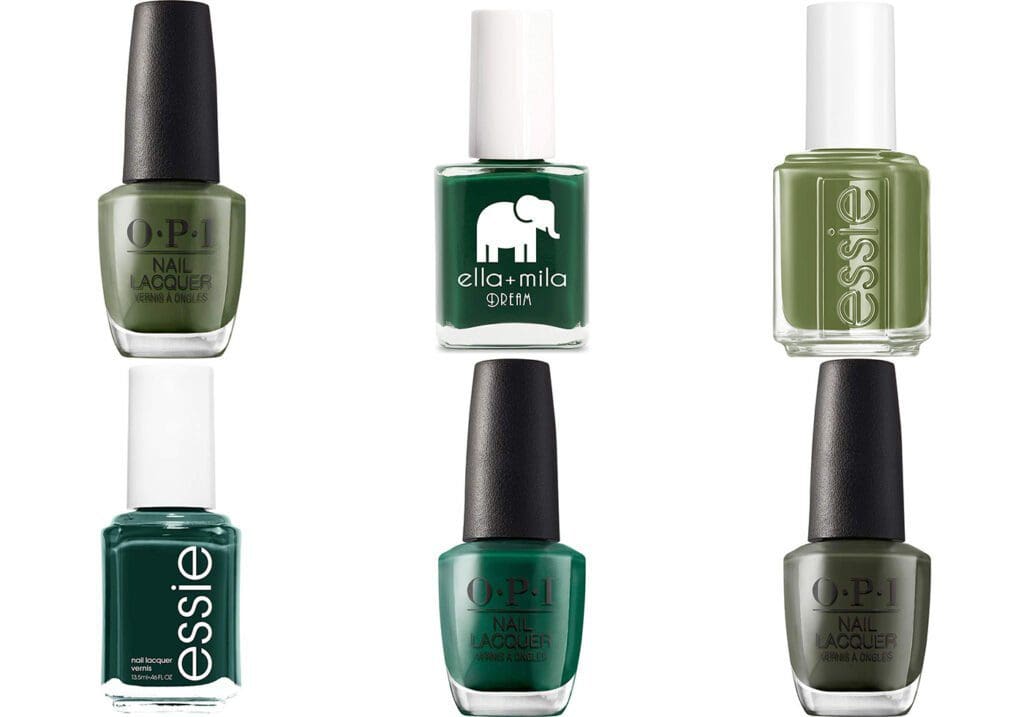 Top Row: OPI Suzi – the First Lady of Nails | Ella + Mila Mistletoe Magic | Essie Ferris of Them All
Bottom Row: Essie Off Tropic | OPI Stay Off the Lawn | OPI Things I've Seen in Aber-green
Gray & Brown Nail Polish Ideas
I love a nice neutral gray or tan option, and Essie's Chinchilly is a classic. It's a neutral with some dimension. However, if you're looking for a bit more color than that, I'd recommend OPI's Berlin There Done That or Sally Hansen's To the Taupe. Both of these have a bit more body but are still quite neutral. Or, you could go dark, with my two favorites from this section: OPI's holiday season Turn Bright After Sunset and Butter's Earl Gray Patent Shine.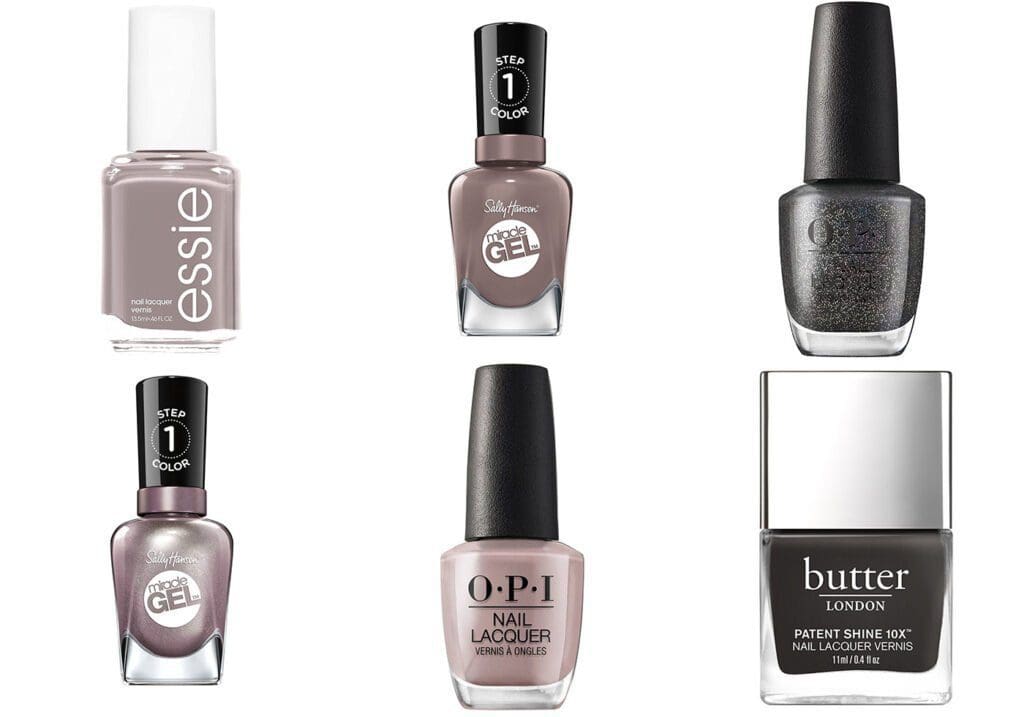 Top Row: Essie Chinchilly | Sally Hansen To the Taupe | OPI Turn Bright After Sunset (Similar: My Private Jet)
Bottom Row: Sally Hansen Adrenaline Crush | OPI Berlin There Done That | Butter Earl Gray
What are your go to fall nail polish colors?
Do you stick with the same options or try to mix things up?