Spooky & Sweet Halloween Costumes for Pets
Halloween costumes can be so much fun, whether it is for kids, adults, or even pets. Halloween costumes for pets are some of my favorites, though. This is probably because I wish my cats would let me dress them up. Louis, Olivia, and Emory have a few costumes. However, they're not super into it.
Other pets, however, are known to like clothing! Whether it's the Beans or Sprout, many pets are into rocking the latest and greatest costumes. I can't wait to see what some of my favorite Instagram pets dream up for this Halloween. Until the pet costumes reveal themselves on Halloween, though, I've come up with some of my favorite options!
This post contains affiliate links, meaning that when you click and purchase from my links, I may be compensated at no extra cost to you.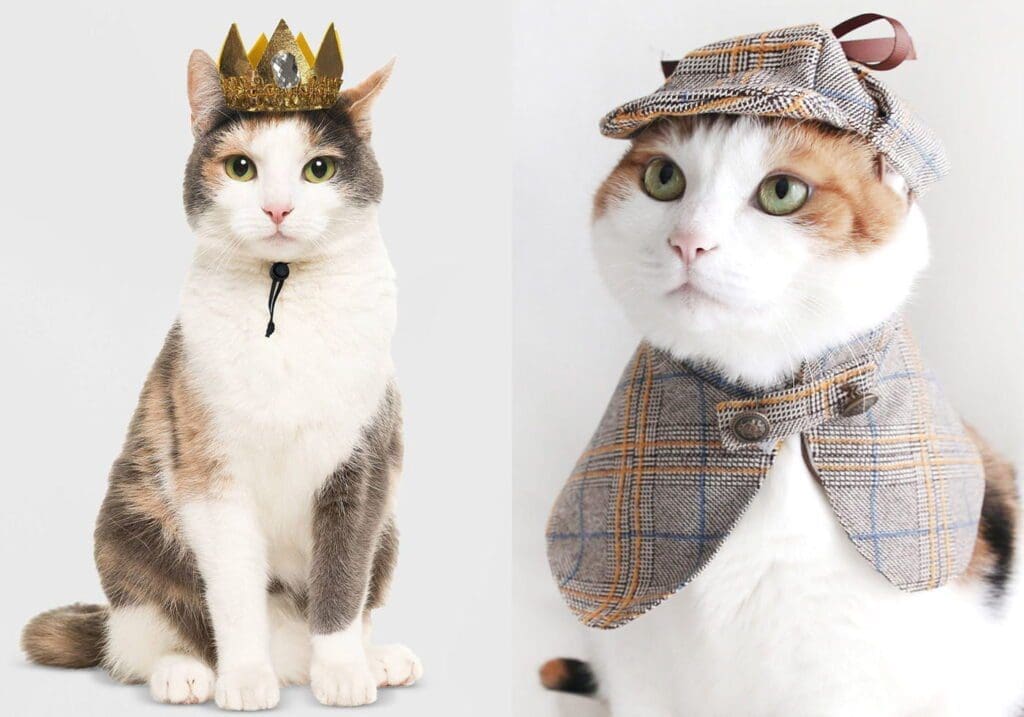 My Favorite Options: Royal Crown Cat Costume and Sherlock Holmes Detective Cape
Great Pet Halloween Costumes
First and foremost, Chewy has a ton of great costume options for pets. I've been really impressed by most of the prices. The most expensive costume in their Halloween shop just over $30, but most are between $5 and $20. Plus, most of the pet Halloween costumes available through Chewy are sized for both dogs and cats. So, the variety of cat costumes is unusually vast compared to other pet stores.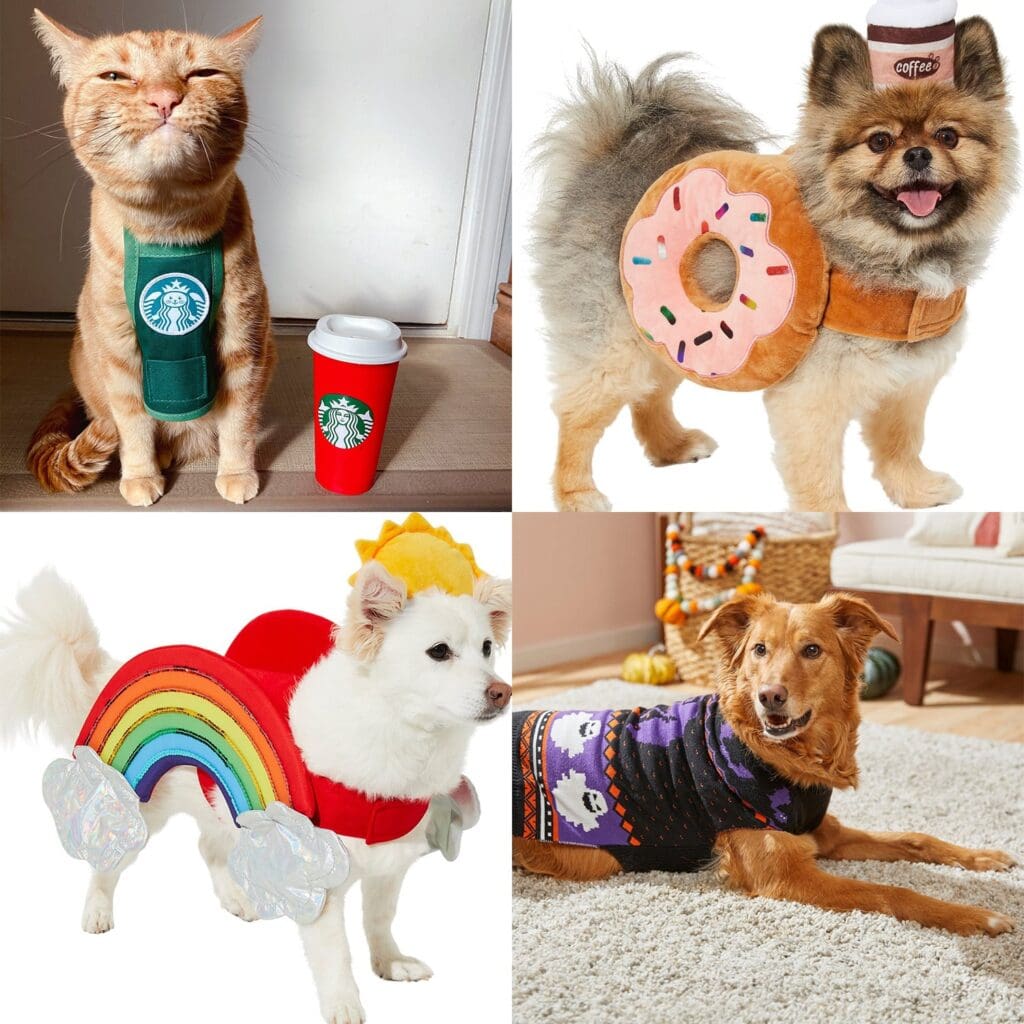 Top Row: Barista Costume Set | Donut & Coffee Costume | Halloween Ghost Bandana | USPS Delivery Pet Costume
Bottom Row: Rainbow Costume | Ghost Sweater | Sailor Pet Costume | Dino Rider Costume
The majority of the costumes I featured here are available in sizes suitable for both dogs and cats, particularly those available from Chewy (as I mentioned above) or Target. I highly recommend checking Chewy out for seasonal collars and the like, because they have a lot of cute Halloween inspired options. I particularly like this Baby Yoda option with festive pumpkins!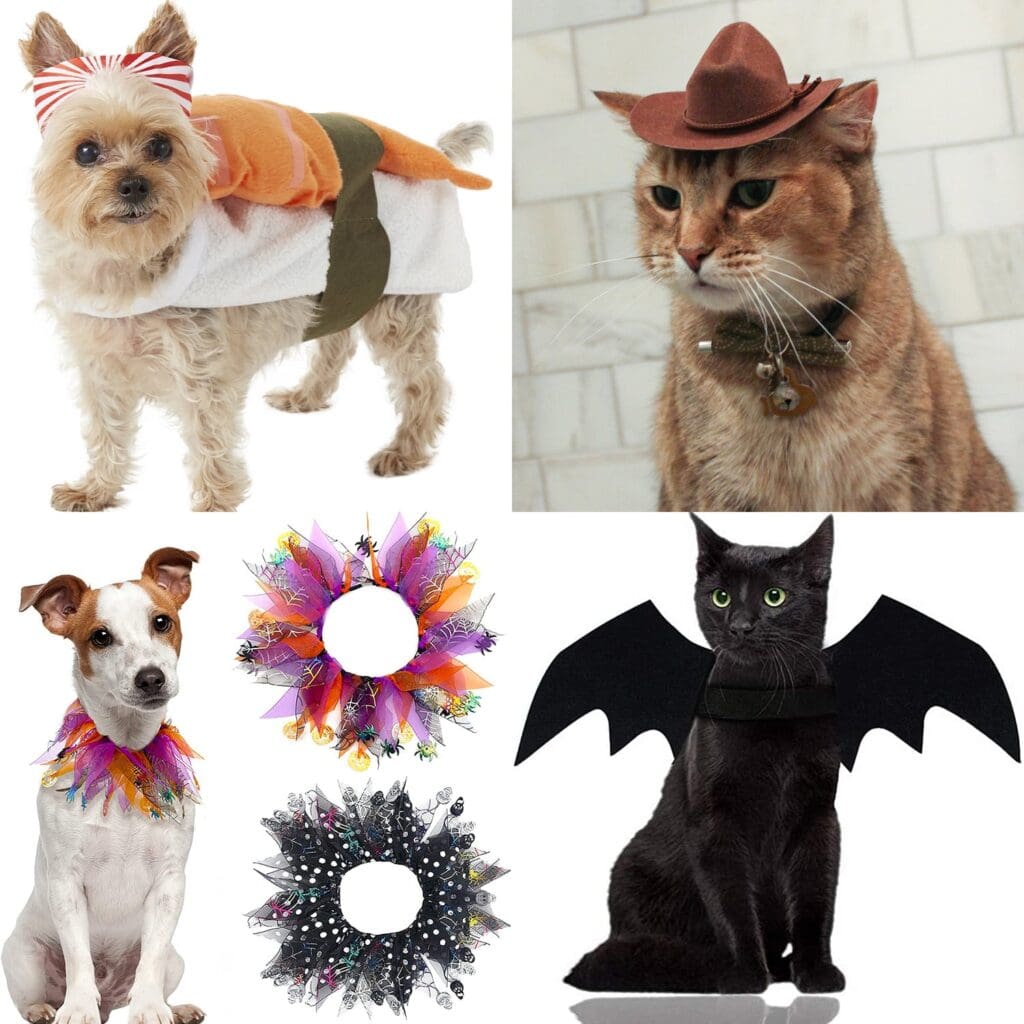 Top Row: Sushi Costume | Cowboy Hat for Cats | Lion Ruff Headwear | Snow White Pet Costume
Bottom Row: Two-Pack Fancy Halloween Collars | Bat Wing Costume | The Child Baby Yoda Costume | Royal Crown Cat Costume
If you're looking to shop small, I highly recommend checking out Etsy for some great halloween costumes for pets. From cute mini witch hat props to adorable slip-on bandanas, there are so many creative options that are both affordable and customizable!

*This post was originally published on October 18, 2019. It was most recently updated on September 27, 2021.