Sarah Flint Shoes
As a five-foot-tall woman, I know the power that a great pair of heels can have in one's confidence. For a time in undergrad, I wore a lot of heels and wedges. Few of them felt good, though, and as I got older, I was less interested in withstanding the pain for a few extra inches. But this was before I tried Sarah Flint's comfortable heels. Promising "style without sacrifice," Sarah Flint shoes are thoughtfully designed and built for daily life. Here, I'll be sharing my first Sarah Flint shoes review, covering the Mirjana Wedge 80: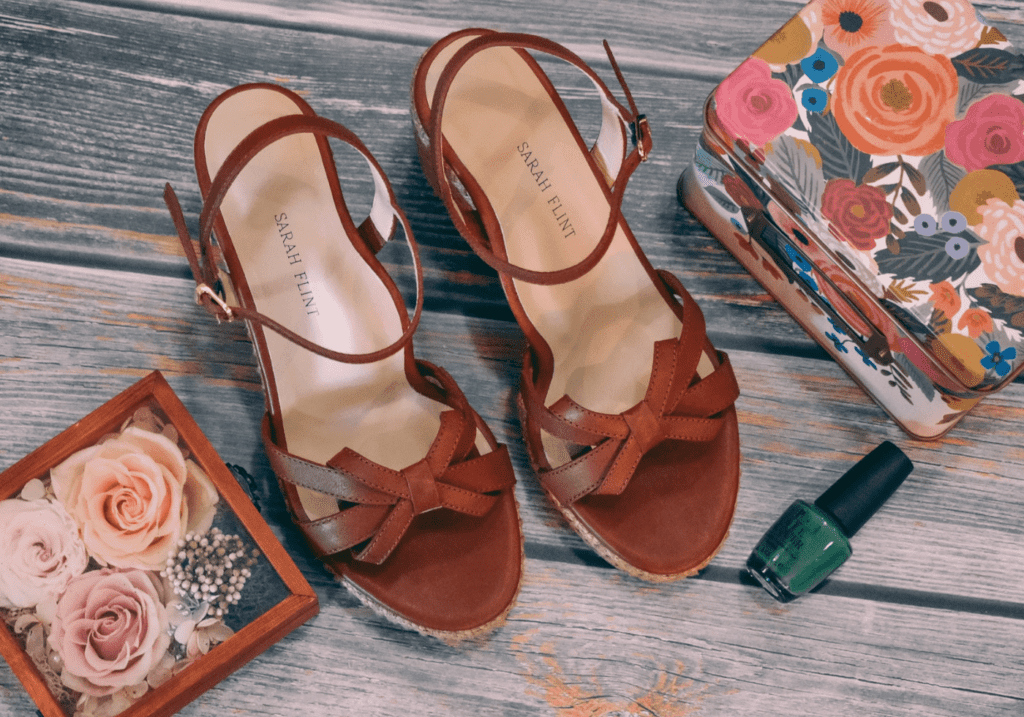 A Bit About Sarah Flint as a Brand
Designed by women, for women Sarah Flint shoes focus on artisanal craftsmanship and expert manufacturing. The brand stays away from wholesale markups on their prices, as well, so the cost of the shoes are direct-to-you. Between Sarah Flint's focus on sourcing exceptional materials, thorough testing for longevity and fit, and the thoughtful designs built for daily life, this brand really stands above and beyond many competitors.
I was particularly interested to learn that Sarah Flint shoes are 100% certified made in Italy. This means that they are not only assembled in Italy. The shoes are also stitched and finished there, by top artisans and family-owned factories. I love that the brand embraces and celebrates generational knowledge in their designs. It really drives home Sarah Flint's belief that "every woman deserves luxury"!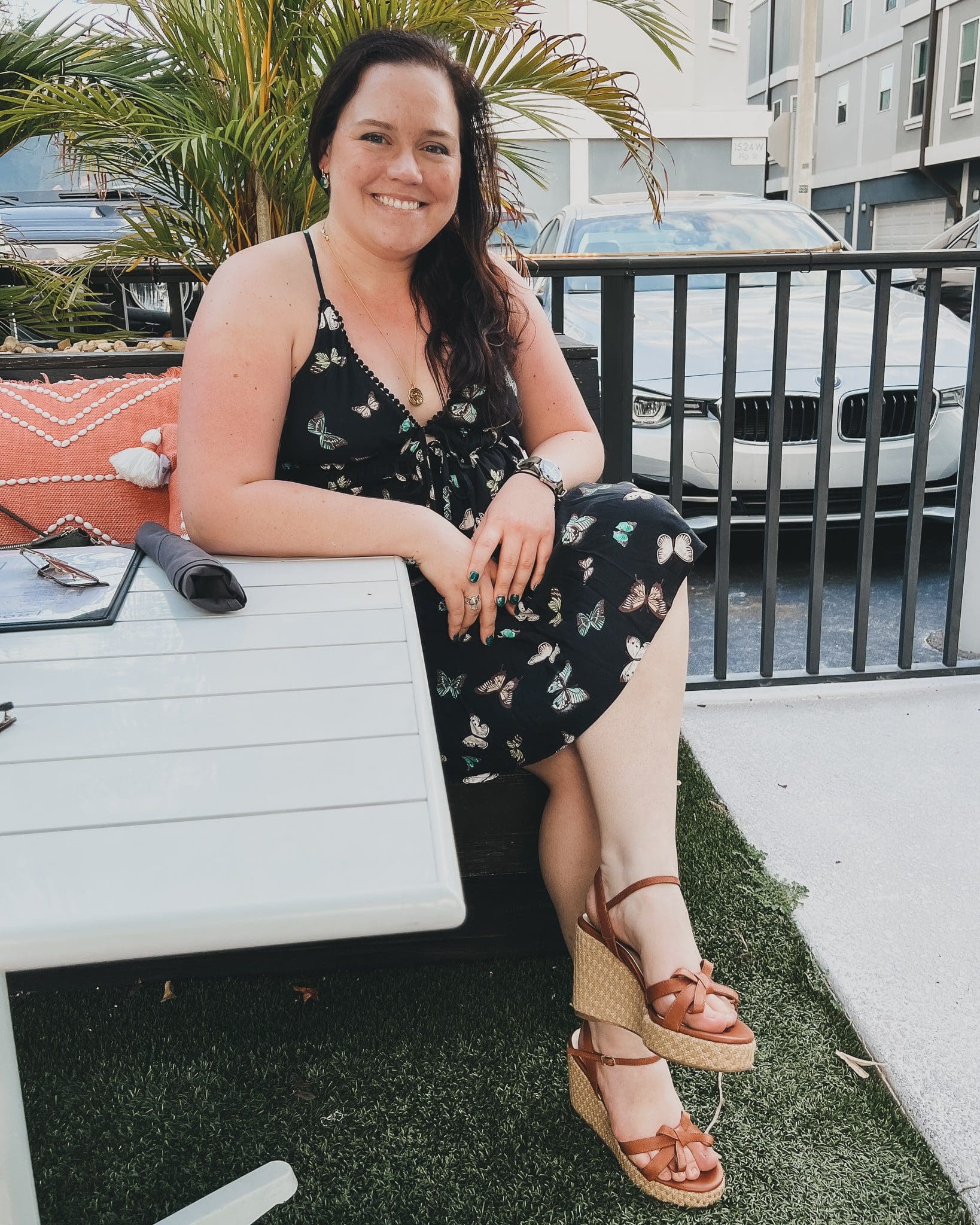 I paired my Sarah Flint wedges with a lightweight sundress and my favorite gold and green jewelry for a date night out with Brett.
Sarah Flint Shoes Review: The Mirjana Wedge 80
When Sarah Flint invited me to join their ambassador team, I was so excited to try out The Mirjana Wedge 80. Available in three colors, I went with the Saddle Varchetta & Raffia motif. I've always loved a good wedge heel, especially a nice sandal that can be dressed up or down. The Mirjana Wedge 80 checks these boxes quite nicely.
I used the website's sizing tool to find my size and they recommended an IT 39 (equivalent of a U.S. 8.5). I was a little wary of this, to be honest. I feel like shoes can be difficult to size, especially when you've not tried a particular brand or style. However, I was delighted to see that the IT 39 fit perfectly straight away. With a little extra space in the back, the toe box feels secure but not tight. Further, the ankle strap has plenty of space for adjustment as needed.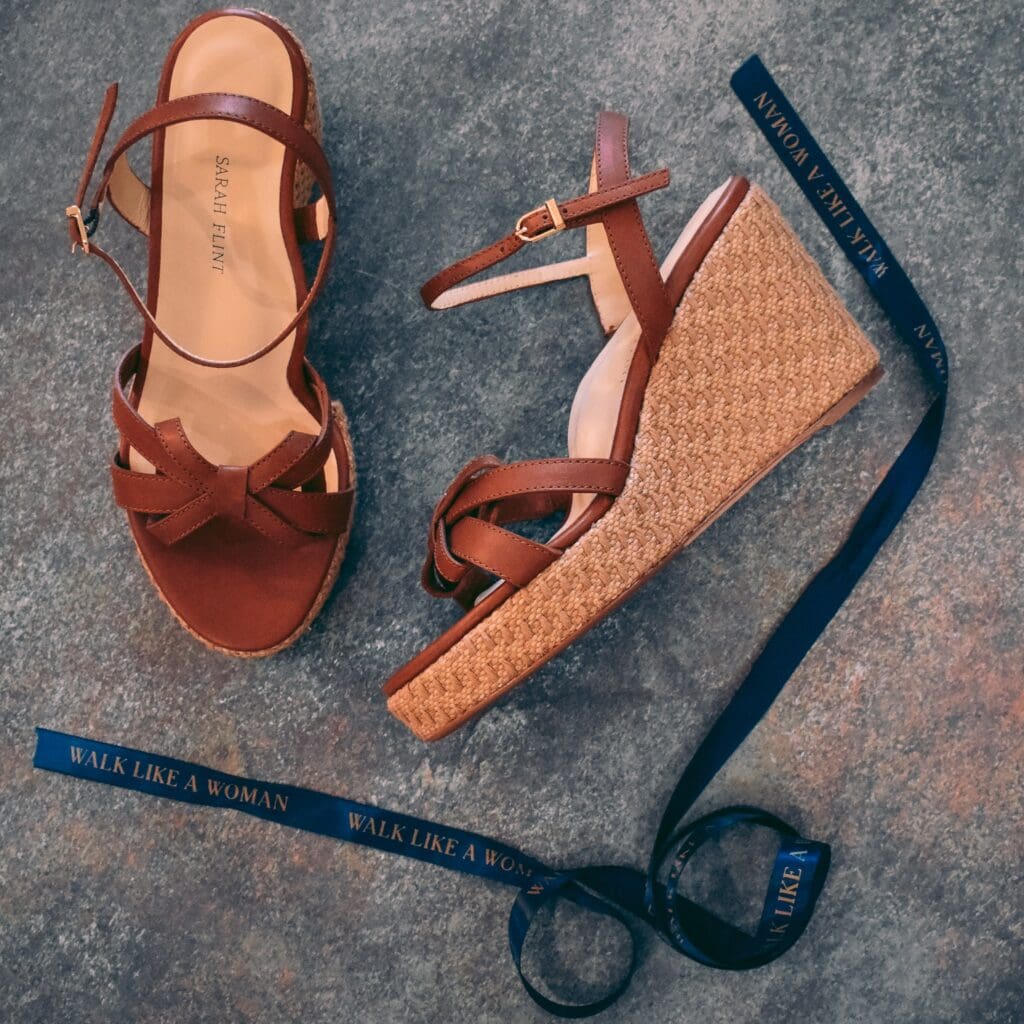 The Color & Features
With a subtle-yet-feminine bow over the toe, this wedge sandal features a rich rust-brown leather and textured espadrille-style heel. The ankle strap is delicate, but feels secure. The toe straps over the extended toe box stretch just enough to keep your foot in place.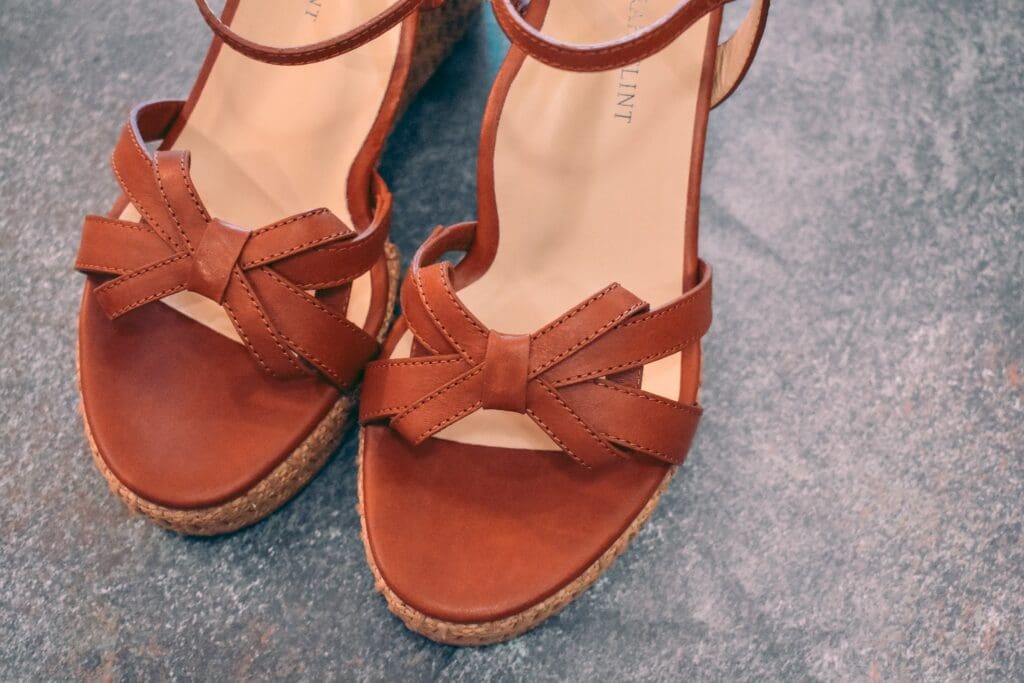 Arch Support & Extra Padding
What I loved most about this design right from the start, though, was the arch support. I noticed it immediately upon opening the shoe box, actually. There is a distinct lip on the inside of each wedge sandal which is conspicuously absent in other such shoes I've had. The shaped insole is designed to support the natural arch of the foot — and, trust me, it does just that.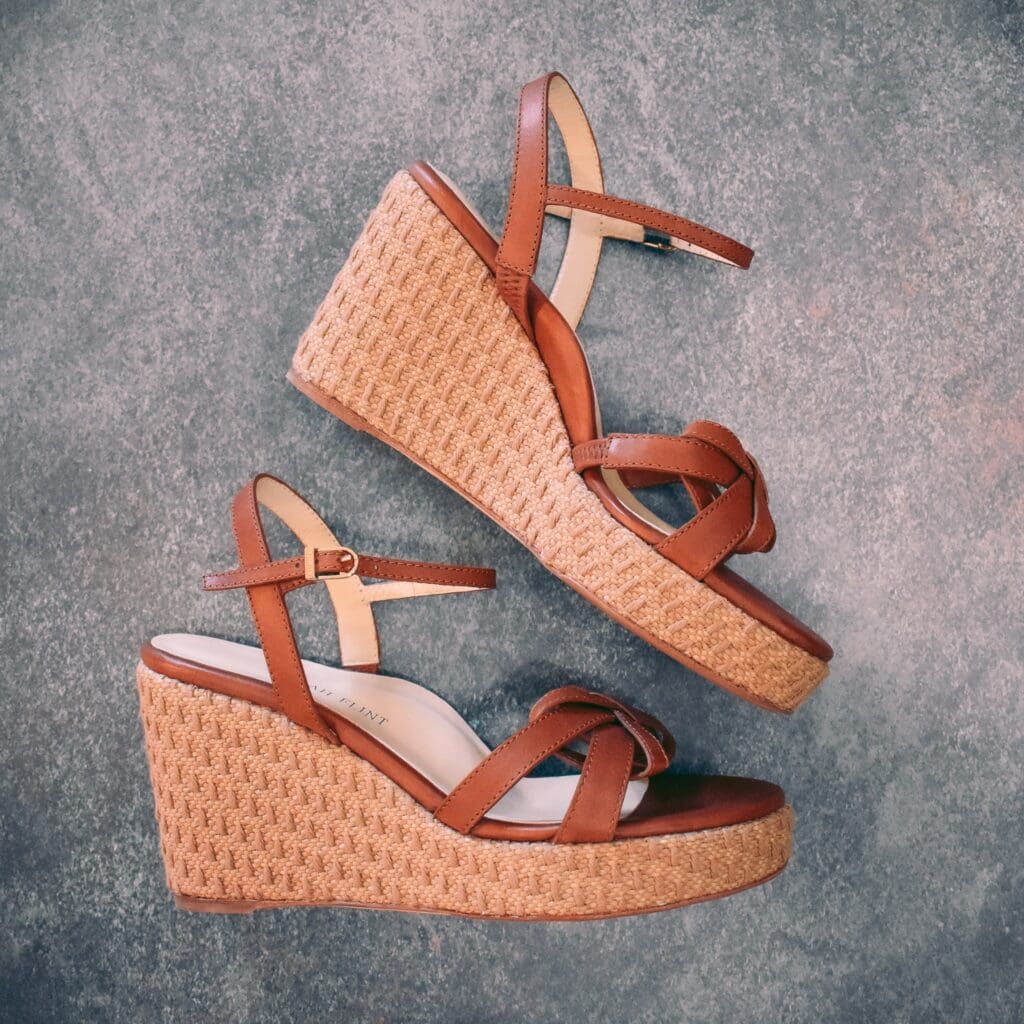 The Overall Feel of Sarah Flint's Mirjana Wedge 80
The combination of the arch support, extra padding, and platform wedge make it feel like I'm walking in flats. Plus, with the comfortable ankle strap, I don't have to worry about slipping out of the shoe. I think this will definitely reduce the possibility of rolling an ankle.
Materials Used in the Mirjana Wedge 80
Beyond the look and feel, I want to point out the special materials used in this particular pair of Sarah Flint shoes. Constructed with a 100% recycled Italian leather outsole and zero-waste eco insole, the shoes abide by the brand's dedication to sustainability!
My Exclusive Sarah Flint Discount Code
If you are looking to try a pair of Sarah Flint's comfortable heels, wedge sandals, the most comfortable ballet flats, or any other style from the brand, use my exclusive discount code for $50 off your order! Simply add the code SARAHFLINT-BACATSANDCOFFEE at checkout for the discount to be applied.
Click here to shop all Sarah Flint shoes!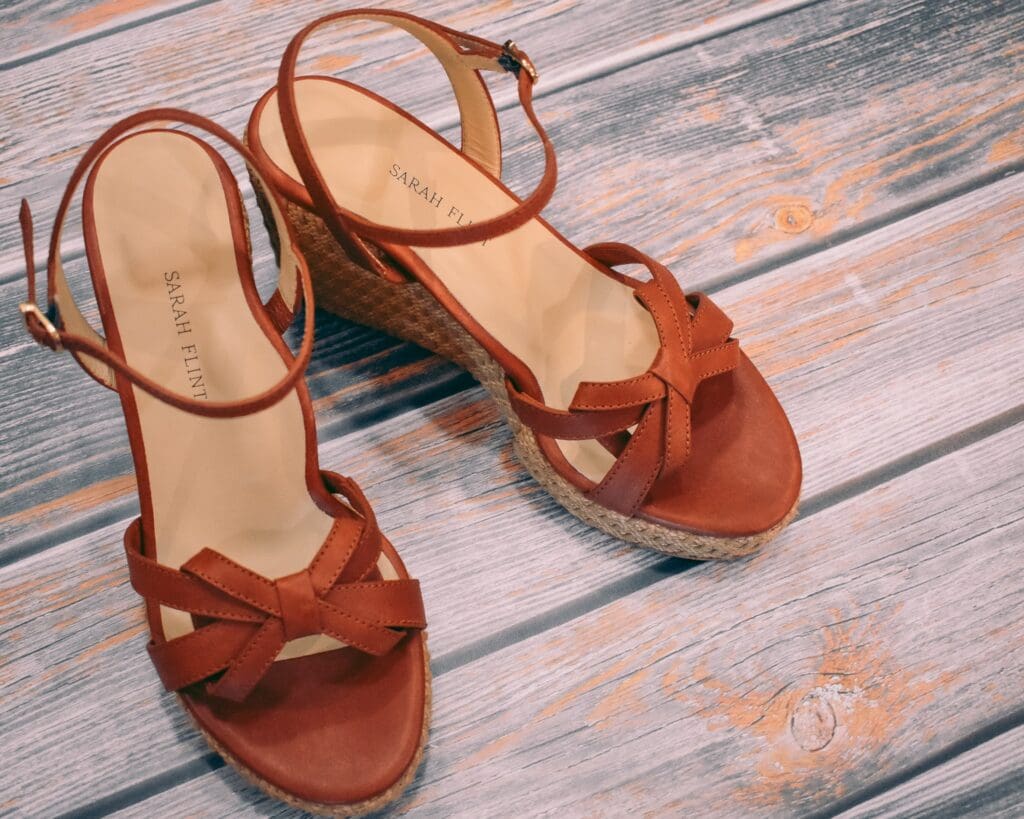 *Thank you to Sarah Flint for gifting me these heels. All opinions expressed here are my honest thoughts.
*This post was originally published on June 23, 2022. It was most recently updated on July 18, 2022.