All About Squalane Oil
Previously, I wrote about why facial oils are a great product to incorporate into your beauty routine. Facial oils provide great moisture and protection for the skin. There are different styles recommended for different skin types. One of the popular bases for facial oils, squalane, is worth delving into more deeply, as squalane oil skin benefits are particularly impressive. I decided to research some of the most popular questions for about how to use this oil for this FAQ post.
This article discusses squalane oil benefits, how squalane is produced, when to apply squalane oil, and how to use it in your beauty routine!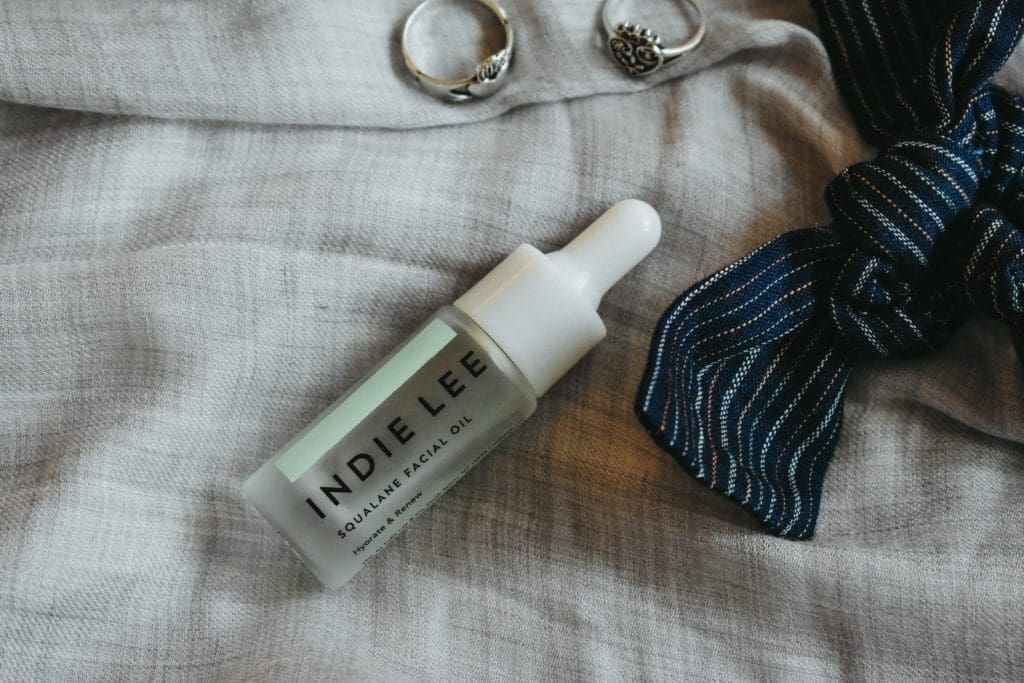 FAQ: How to Use Squalane Oil in Your Routine
What Is Squalane?
Squalane oil is a derivative form of squalene. Squalene is a polyunsaturated hydrocarbon; the human body naturally produces it. Since the body naturally makes squalene, this derivative form of the oil works really well with the skin. It's non-comedogenic and non-irritating. This oil is popular in anti-aging products because, as we age, our bodies produce less and less squalene.
Dermstore has a great description of squalane and squalene here.
Can Squalane Oil Cause Acne?
One concern people tend to have when they first try out facial oils — myself included — is whether or not they can cause acne. Most high quality facial oils are non-comedogenic — meaning it doesn't clog pores — according to my research. Squalane oil is, specifically, non-comedogenic. There are actually benefits of squalane for acne, since it helps hydrate the skin and manage the skin's natural oil production.
What Does Squalane Do?
Squalane's benefits are primarily two-fold: first, it moisturizes the skin and, second, it helps protect the skin. It locks in moisture while balancing oil production, all while keeping pores clear It is believed to improve skin elasticity, as well as reduce discoloration.
According to Biossance, a premier producer of squalane products, 95% of users felt their skin was softer and smoother after seven days of use.
How to Use Squalane Oil: Do You Use Squalene Before or After Moisturizer?
This oil is easy to incorporate into your skincare routine. It's also easy to personalize.
First and foremost, a little facial oil goes a long way. Typically, two to three drops of the oil is enough.
As for whether you should use squalane oil or moisturizer first, most advice I've found recommends applying facial oils last. So, after you cleanse your skin, apply toner, and apply any desired serums and eye creams, then apply the oil to the face and eye areas. Some may find that squalane can replace moisturizer for them, but I like to use both.
Some people recommend applying oil before your moisturizer, and others say to apply oil after the moisturizer. So, it seems to be a matter of personal preference. I like to use my squalane last, because I find it really seals in the serums and moisturizers.
How is Squalane Made? Is Squalane Derived from Plants?
Squalane oil was originally derived from shark liver. Currently, though, there are a few plant-based sources, including olives and sugarcane. Deriving the oil from plant sources makes it generally sustainable, vegan, and cruelty free.
Biossance argues that making squalane oil from sugarcane is more sustainable and reliable, as opposed to olives, whose harvests may be unpredictable. However, many brands use olive-based squalane to great success, as well.
Where Can You Buy Squalane Oil?
Squalane products are pretty readily available. Sephora has a great selection, for example.
My two favorite squalane facial oils are the Indie Lee Squalane Oil and Biossance's Vitamin C Rose and Squalane Oil. I haven't yet tried Biossance's 100% Squalane option, but if it's anything like the Vitamin C Rose oil, I'm sure it's great.
While this post is primarily about squalane oils, it's worth noting that a lot of great skincare products include squalane in some way or another, including a favorite eye cream of mine from Indie Lee. Here are a few examples of other types of products with the ingredient:
Indie Lee I-Waken Eye Cream // Youth to the People Dream Mask // Milk Makeup Vegan Milk Cleanser
---
*This post was originally published on March 12, 2020. The most recent update was made on June 7, 2022.