Sustainable Grocery Shopping Tips: Swaps Made Simple
It is easy to recognize the importance of employing sustainable practices in daily life. However, the idea of swapping to sustainable habits can be overwhelming. That's why I put together these sustainable grocery shopping tips. It might not seem like it, but little changes can make a big difference. In reality, simple swaps are what will make a difference in the aggregate. So, why not try some simple sustainable practices in your grocery shopping?
P.S. Check out all of Cats & Coffee's articles about sustainability here!
Sustainable Grocery Shopping Tips
I have found that grocery shopping habits are one of the easiest areas of daily life to change. Environmentally friendly grocery shopping isn't massively different from mindless, regular shopping. By focusing on sustainable food shopping in the grocery store, not only can you help the planet, but you're probably going to make it easier on your wallet, too. It may sound cliche, but small changes can make a big difference. Start small and build up as you learn more about minimizing food waste, sustainable agriculture, and eco-friendly packaging. While you likely won't start out and achieve zero waste meal prep, it's an ongoing process that you can perfect over time.
Use Reusable Grocery Bags
First and foremost, switching to reusable shopping bags is an easy way to promote environmental sustainability. This swap is key for sustainable grocery shopping. Whether you go with a canvas tote (this is my favorite one, just $10 from J.Crew) or a nylon option, you can't go wrong. Sustainable grocery shopping bags, like totes and the reusable bags they sell in grocery checkout lines, tend to carry more than traditional plastic shopping bags. Plus, reusable bags tend not to rip as easily.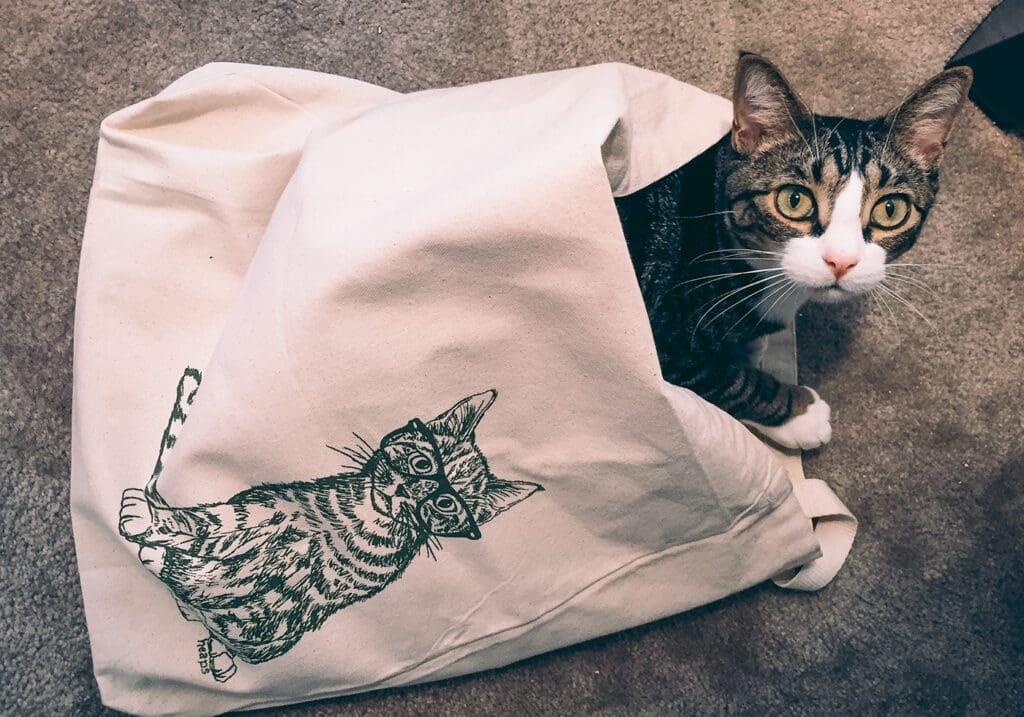 Reusable bags also make for great fun for cats. This tote was from Heaps Handworks on Etsy. Unfortunately, they don't seem to make it anymore, but there are other cool t-shirt designs available.
Chances are, you already have at least a couple totes stashed away somewhere that could be put to use. Or, think outside the box: Have you ever bought anything from Lululemon? Lululemon shopping bags make great grocery bags!
If you don't have any reusable bags already or want to pick up a few extras, there are a ton of cute options out there to pick from. Baggu, for example, has a ton on machine washable options on Amazon in different sizes, colors, and patterns. As for cotton or canvas totes, well, the possibilities are endless. If you venture over to Etsy and, like me, have a penchant for cats…well, there are hundreds of feline-inspired totes for your shopping pleasure.

What are Reusable Grocery Bags Made Out Of?
Many reusable shopping bags, like the ones pictured above, are made out of cotton or bamboo and hemp. At most grocery stores, you'll see woven style reusable shopping bags available for sale. These are often made out of polypropylene, a type of recycled plastic. Nylon bags, like those from Baggu, are durable, petroleum-based products, while insulated bags tend to be made out of insulated polyester fiber coated with a thermal film. For more information on typical reusable bag materials, this site has some great info.
Reusable Produce Bags
Now that we've covered reusable shopping bags, don't forget produce bags! Plastic produce bags are pretty redundant, in my opinion. On a whole, we skin a lot of fruit and vegetables before we eat them, and the others are washed and/or cooked. I generally skip produce bags and put loose fruit and vegetables right into my reusable shopping bags while at the store. However, I like to keep a few of these mesh produce bags around just incase. Like tote bags and most reusable shopping bags, the mesh produce bags are machine washable and durable — two things plastic bags are not!
How to Wash Reusable Bags
If you're concerned about the cleanliness of your reusable bags, you're not alone. I think we've all had times when our bags slide over something wet on the conveyer belt at the grocery store or touch other things that may not be as clean as we'd like. As for how to wash reusable bags, many are machine washable, including cotton tote bags. If you have doubts on whether a bag can be machine washed, this site has some great resources on how to wash reusable grocery bags.
Choose Loose Produce or Produce in Biodegradable Packaging
Related to reusable produce bags, why not opt for loose fruit and vegetables where you can, as opposed to packaged options? It can be hard to tell what packaging can be recycled, so I like to bypass this issue entirely when I can. Plus, when buying loose produce, it's easy to only buy what you need, thus minimizing food waste in your household.
Sometimes, buying loose produce isn't possible or convenient, and, in those cases, there are still lower-waste options out there. Try to find fruits and vegetables in biodegradable containers, if possible.
Butternut Squash, an Example
Recently, I started buying full butternut squashes instead of the steamer bags of cubed squash. While this switch was prompted more by the fact that the bags of squash aren't reliably sold at my regular grocery store than by sustainability, the switch does reduce my plastic use. Bags of squash cubes were usually between $2 and $4, depending on where I got them from; a full squash gives you so much more squash and is either the same or only slightly more, based on the size. Sure, it's a little bit of work to cut a whole squash up, but it's so worth it. I like to use half at the time that I dice it all up and freeze the rest for later!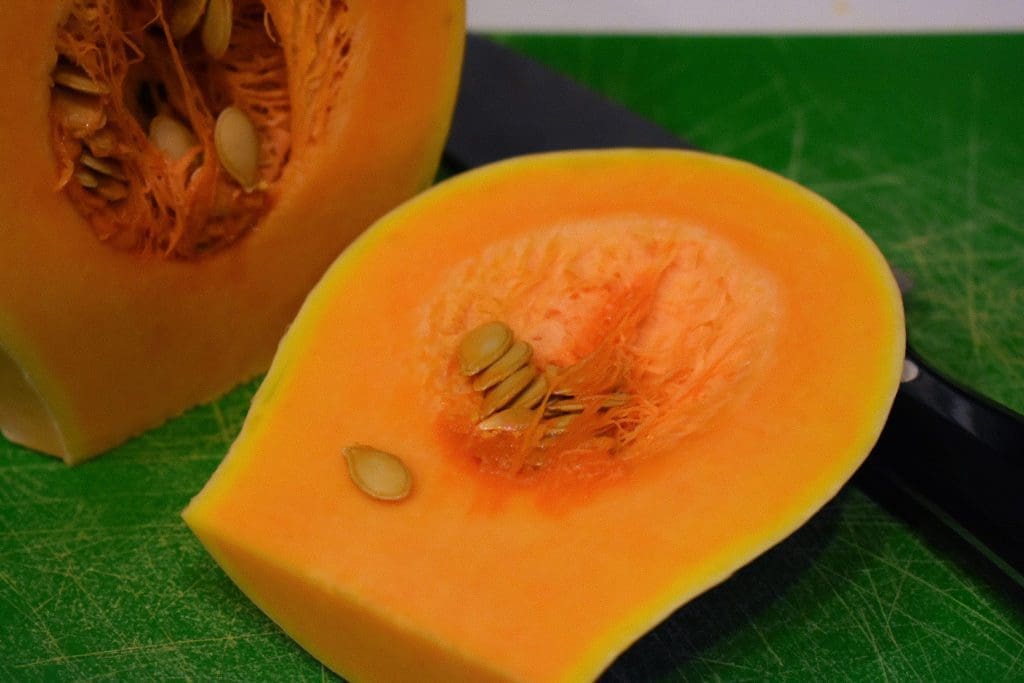 How to Disinfect Produce
Part of the reason people are drawn to using plastic produce bags is based in concerns about cleanliness. While it's true that sometimes raw fruits and vegetables can hold harmful germs, there are steps you can take to reduce the risk of food borne illness.
So, how should you clean produce? The CDC recommends washing your hands, utensils, and counters before and after preparing food. Clean fruits and vegetables under running water before using them, even if you don't plan to eat the peel. The CDC recommends scrubbing the produce with your hands under plain running water — no soap or produce wash is necessary. For firm produce, like melons or cucumbers, the CDC recommends scrubbing the produce with a vegetable brush. For more tips on how to disinfect produce, check out this post from the FDA and this page on the CDC's website.
Support Local Farmers
When possible, try to buy produce that has been locally sourced from family farms or smaller operations near your home. In my experience, fruits and vegetables from local farms tend to be packaged either more sparingly or more sustainably, as a whole. Look into local food marketplaces or community-supported agriculture programs (also known as CSA programs); these are great options for getting high quality, environmentally sustainable local produce. These options not only reduce the amount of resources it takes to get the vegetables and fruits to you, but it also helps support small businesses in your local economy.
Buy Less of Everything at a Time
A major source of food waste comes from buying more than you need at a time. We all do it. Some sources say as much as 40% of the food in the U.S. is never eaten, which is a mind-boggling statistic when you consider the food insecurity many citizens face.
Like I mentioned above, by buying loose produce, you often can buy just what you need, not what the stores pre-package. This is two-for-one in terms of sustainable grocery shopping tips, since it's environmentally friendly and also helps to reduce your grocery bill while you're at it.
Save Vegetable Scraps for Stock
This is one of my favorite zero waste living recommendations: save the edible, but less desirable, bits of vegetables and make your own vegetable stock! You can use it right away or freeze it to use in meal prep later on. For more information, please see my article about making your own vegetable stock here.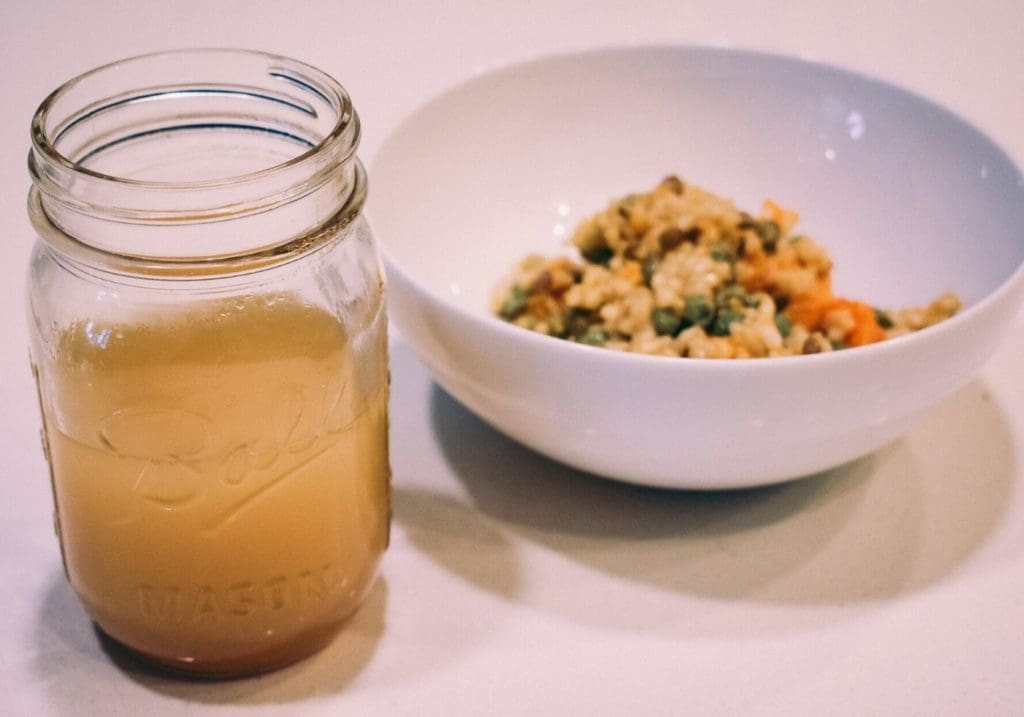 Invest in Zero Waste Swaps for Food Storage
Ditch Plastic Wrap and Plastic Sandwich Bags
This is a straightforward of my zero waste sustainable grocery shopping tips. Plastic wrap and sandwich bags are generally pretty wasteful — you use them once and then throw them out.
Sure they can be reusable, and I keep plastic sandwich bags around for special uses. They're really handy for keeping spare buttons or the like together, for example, or for travel. I keep a couple gallon plastic bags in the freezer and reuse them for opened bags of frozen foods.
Reusable Food Storage Options
But, as for on-the-go snacking and the like, I avoid single-use plastic sandwich bags and plastic wrap. There are plenty of great sustainable meal prep containers to go with in their place. First, Bee's Wrap food wraps work great for smaller lunch box items, or for covering lidless bowls in the fridge. Recently, I discovered Stasher bags, which are reusable, resealable bags that can be used for just about anything.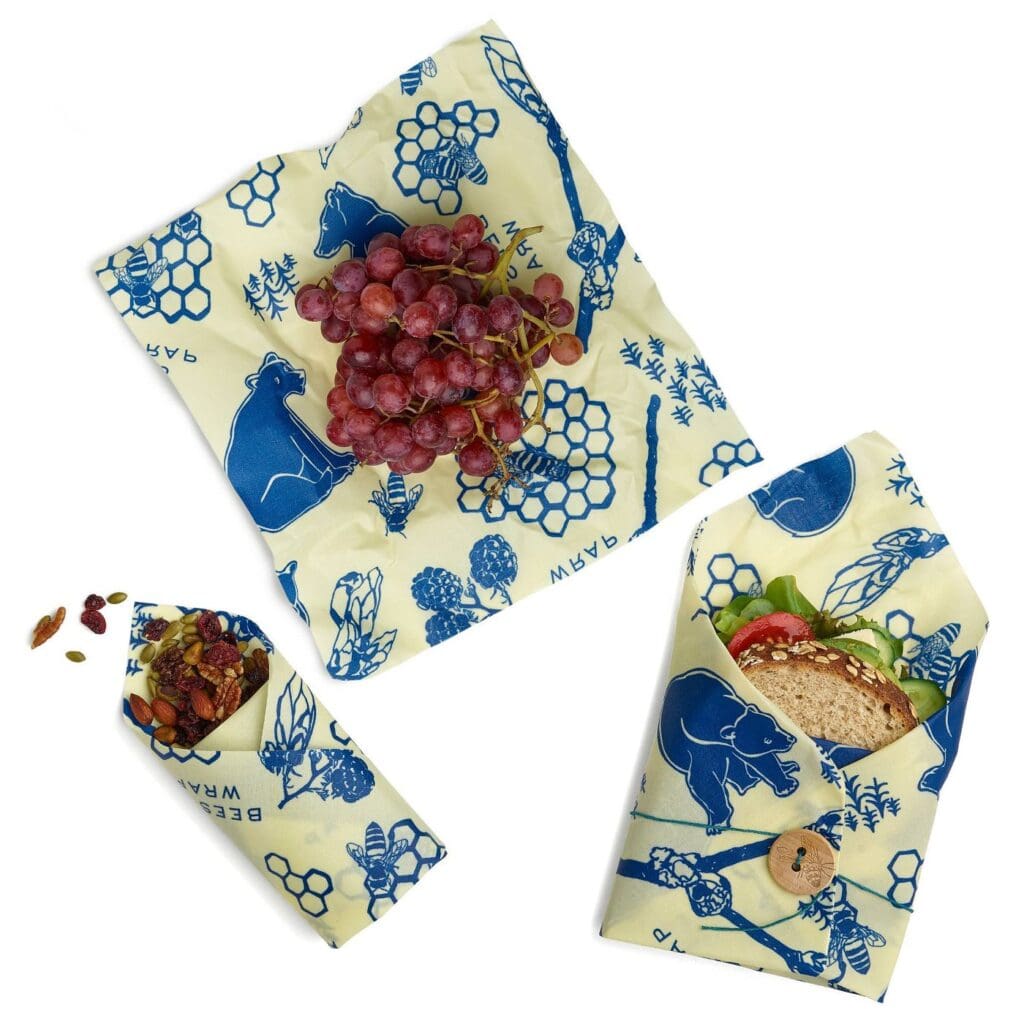 Bee's Wrap lunch Pack Reusable Food Wrap Set
Lastly, invest in a few great Pyrex food containers in various sizes for your meal prep and you won't look back; obviously, the larger glass containers are great for lunches, but the smaller ones are perfect for snacks that you would otherwise use a sandwich bag for! I have this set of three small storage containers and they're super handy for little bits of leftovers, cat food, and the like.
Best Long Term Food Storage Containers
Beyond glass storage containers, check out containers that are designed to extend the life of produce in the refrigerators. Products designed to do this are great ways to promote sustainable grocery shopping and reduce food waste.
I was skeptical about these, at first, but the Rubbermaid FreshWords Produce Saver Food Storage Containers are a great option for this. They really do a great job of extending the life of produce, meaning that they minimize food waste in the kitchen. The sets can be a bit pricy, but they last really well. I've had mine for over two years now and they're still in amazing shape.
---
Pin this post to save it for later
---
Read More on Sustainability:
---