Creating a Peaceful, Productive Home
Whether you're new to the work-from-home world, or you've been working from home for some time, you'll likely agree that little details can make a huge difference in productivity. For some, playing music of having background noise makes all the difference. For others, scent plays a bigger role. Plus, there is something so luxurious about a nice candle, whether you're looking to create a peaceful, relaxing moment or a productive workspace. Anything overpowering makes it difficult to focus or relax. The best candles, in my opinion, are subtle and evocative.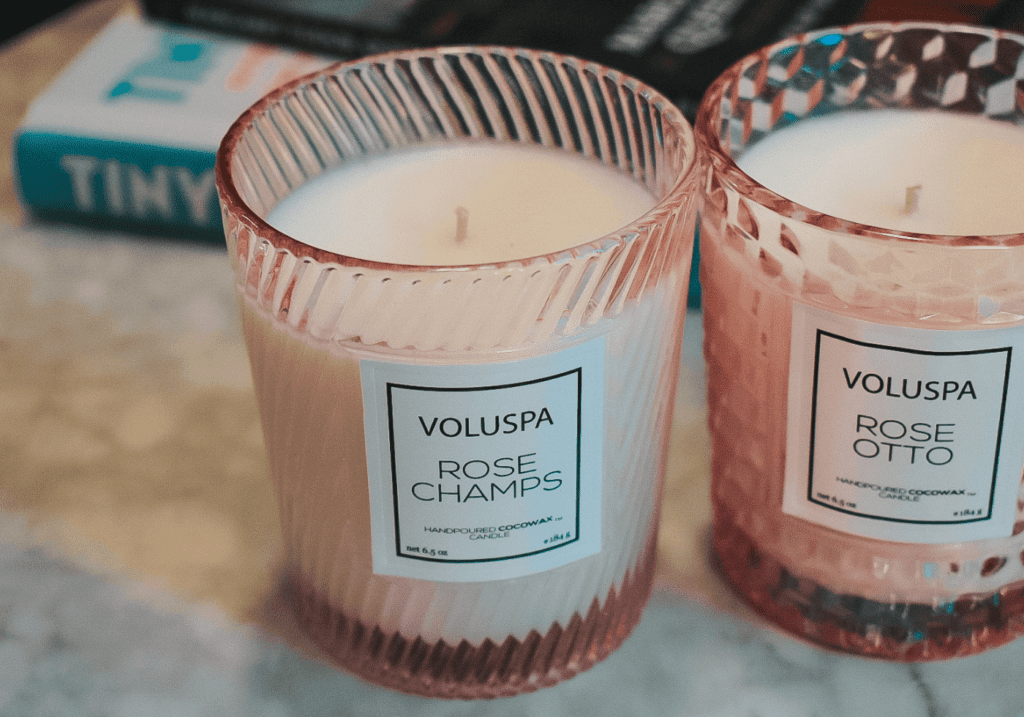 The Best Candles for Creating a Comfortable Live-Work Space
Picking the best candles for a peaceful and productive home is a personal experience, and everyone's taste is a bit different. However, I've come up with a few of the best candles which are generally crowd pleasers.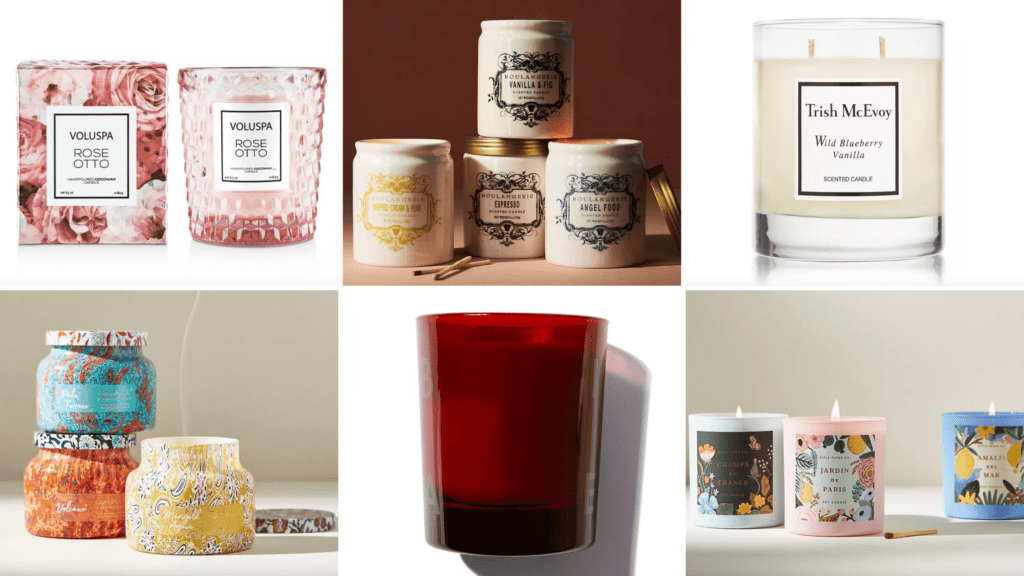 Top Row: Voluspa Rose Otto Candle | Boulangerie Jar Candles | Trish McEvoy Wild Blueberry Vanilla Candle
Bottom Row: Capri Blue Petite Glass Jar Candle | Beauty Pie Pomegranate & Baies Rose Luxury Candle | Rifle Paper Co. Boxed Candle
I'm a big fan of the Voluspa's rose scented candles. They have a wide variety of rose-based candles, so if you're a floral fan, I'd definitely recommend trying one of those. If you'd prefer something less rosy, Voluspa has a number of spice-based and fruity scents. Really, they're all winners. The Rose Otto and related rose scents are some of my favorites, including the more mild Milk Rose scent. This set of three is a great deal, either as a gift or for yourself!
This Trish McEvoy Wild Blueberry Vanilla is one of the best candles for the home of all time for me. The subtly sweet scent is gorgeous and the candle smells lovely whether it's lit or not. The candle is made with the maximum fragrance oil content, making the scent powerful but not aggressive. This option is a bit pricy, but is made of a slow-melting wax blend, making it longer lasting than the typical candle. In my view, it is well worth the price.
Anyone who has been to Anthropologie knows the scent of the Capri Blue Candle. And there's a reason why it's become so popular: it's simply a gorgeous scent. Honestly, probably one of the best scented candles in the world. The Capri Blue Volcano candle blends citrus with a sweet sugary scent that, like the Trish McEvoy option, is bold but not overpowering. Of course, you can pick up the traditional blue candle (ironically, no longer sold at Anthropologie). However, Capri Blue has expanded their design with many decorative options. For example, you could go with a more unique candle jar motif, like this pretty speckled jar or this wrapped seatstone option.
I impulse-ordered the Beauty Pie Pomegranate & Baies Rose Luxury Candle with my last shipment from the company. And let me tell you, it was a good decision. I really didn't know what to expect with the scent based on the name, beyond something fruity and vaguely floral. However, the scent was even better than I could have hoped. It's a light, warm scent, almost reminiscent of a woody or tobacco-based scent. Plus, the bold red jar is rather striking. Definitely worth checking out!
For this candle option, I'm featuring all three, but I want to shout-out my favorite of the five available scents: Vanilla & Fig. While I've always liked fig, I never realized how much I like it as a scent until this candle. It is unique and lovely, and the candle jars are cute. Beyond the Vanilla & Fig, I also found the Whipped Cream & Pear to be a nice, light scent, along with the Apricot Chantilly Creme. However, the names do make me want delicate pastries, so bear that in mind if you go out looking for them.
Last but not least: the Rifle Paper Co. Boxed Candles. I haven't actually bought one of these yet, but it's next on my list after smelling each of the scents at their Winter Park store. The Jardin de Paris Candle was a gorgeous scent, I thought; a bit bolder than some of my other choices here, but not overbearing by any means. The Champs de France was my second favorite, followed by the High Peaks of the Adirondack Forest. For that last one, it doesn't hurt that the jar is a gorgeous evergreen color — my favorite! Luckily, I won't have to pick just once, since Anthropologie has a set of five currently on sale!
What is your favorite scent for candles?
Do you prefer fruity or floral, earthy or spicy?

Are you looking for more ways to make your home
even more comfortable and complete?
Explore all of my favorite finds for the home here!
 *This post was originally published on April 28, 2020. It was most recently updated on June 20, 2022.