Why I Regularly Incorporate Sunscreen 
Living in Florida means tons of bright, beautiful sunshine. But lots of sunshine (or even moderate amounts of sunshine) can lead to skin damage. For those of us with sensitive skin, sunscreens can be a little intimidating. For a while, I wavered in my use of this easy, skin-protecting product because I was trying all the wrong sunscreens. However, the reality of skincare damage prompted me to change my ways.
Besides painful sunburns, over-exposure to sun can lead to drying and discoloration of the skin, as well as wrinkling and higher incident of bruising. Luckily, adding sunscreen to your daily routine can reduce the risk of melanoma by 50%, according to the Skin Cancer Foundation.
Sunscreen is an easy step to add in to a daily skincare and makeup routine. Sometimes, though, I have found that sunscreens can create a sort of oily layer that makes makeup run or pill. Others irritate my skin, which is sensitive and, I think, overly-temperamental at times. 
For a while, I assumed this was the case with all sunscreens. I assumed that the sunscreen itself was the problem, not the rest of the junk that gets added to facial moisturizers to make them smell good. This was my excuse for not using it, despite living in Florida.
The Best Sunscreens to Use Year-Round
In my early twenties, I started to get more serious about my skincare, and that meant sunscreen. I've bounced around from different kinds a bit, but largely settled on a couple favorites. Here, I'm sharing my favorite daily-wear sunscreens for body and face, along with my go-to tinted moisturizers with SPF:
Daily Sunscreens for Body and Face
As far as non-tinted sunscreens go, my top three choices are all from Supergoop! This brand has so many different styles of sunscreen, and I've liked each style I've tried, but these are my top favorites.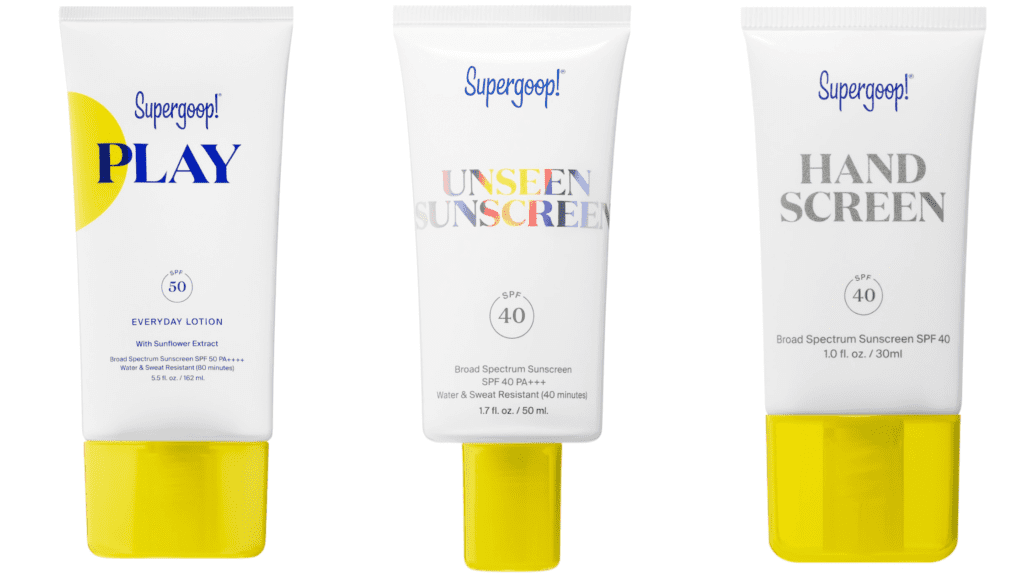 Supergoop! Play Everyday Sunscreen
The Supergoop! Play Everyday Sunscreen is the best all-over sunscreen I've tried. It's great for the face, as well as any other skin regularly exposed to the sun. It has SPF 50, and doesn't have the metallic smell or sticky residue that many other sunscreen lotions can have.
The Everyday Sunscreen is marketed towards all skin types. It definitely lives up to that. What's more, this sunscreen is listed as a solution for dry skin, and seems to act more like a moisturizer-sunscreen hybrid. 
Available at Amazon, Bloomingdale's, Nordstrom, Sephora, and the Supergoop! website.
Supergoop! Unseen Sunscreen
The newest addition to my Supergoop! library, their Unseen Sunscreen is quickly becoming my favorite base layer. I got a sample tube from Sephora a while back and recently purchased a full bottle with their latest sale. It works great with my skin, is non-irritating, and provides even coverage. Supergoop!'s Unseen Sunscreen is smooth and silky to the touch and blends well with makeup, all while providing brand spectrum protection and SPF 40. It is water and sweat resistant to a point, but definitely merits reapplication if you're out for a long time.
Available at Amazon, Bloomingdale's, Nordstrom, Sephora, and the Supergoop! website.
Supergoop! Forever Young Hand Cream
Like I said, I have to give this product honorable mention. The Supergoop! Forever Young Hand Cream was my first product from the brand. It has quickly become a staple in my car and bag. Like with the face and body option described above, this hand cream does not smell or feel like typical sunscreens. It dries quickly, just like a nice moisturizer, and has a lovely scent (cardamom, eucalyptus, and tangerine!). 
I love to keep this product around so I can apply it before driving on my hands and arms. Easy and effective! Plus, a little of this formula goes a long way.
Available at Amazon, Bloomingdale's, Nordstrom, Sephora, and the Supergoop! website.
Tinted Moisturizers with SPF Sun Protection
While it is generally a good idea to use a dedicated sunscreen beyond a tinted moisturizer with SPF (more on that here), I do have a few favorites that offer some sun protection. I rotate between these two foundations and honestly can't pick an all-out favorite between the two. They're both great!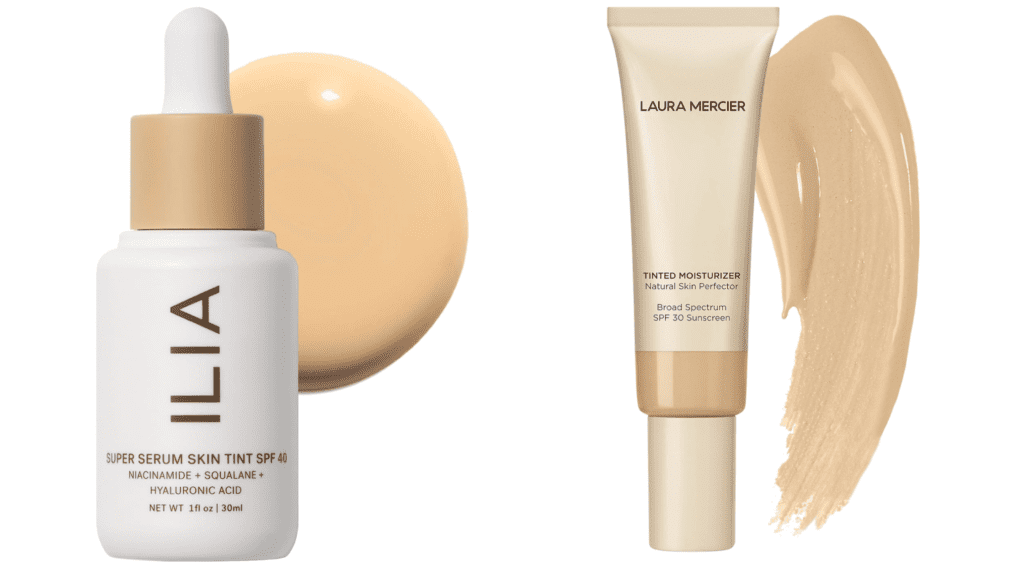 Ilia Super Serum Skin Tint SPF 40 Foundation
One of my all-time favorite foundations, the Ilia Super Serum Skin Tint is equal parts skin care product and makeup. A clean beauty option that offers hyaluronic acid without added fragrance or oils, this skin tint has mineral SPF 40 and a dewy coverage. Pair it with or without a powder foundation and you're good to go.
Available at Amazon, the Ilia website, Nordstrom, and Sephora.
Laura Mercier Tinted Moisturizer Natural Skin Perfector Broad Spectrum SPF 30
A long time favorite of mine, this Laura Mercier tinted moisturizer offers the perfect amount of coverage without being too heavy. It has SPF 30 in the formula, which is less than the Ilia option but still good for daily use. The Laura Mercier formula is quite hydrating and long-lasting and offers a natural finish. Great for spring and summer!
Available at Bloomingdale's, the Laura Mercier website, Nordstrom, and Sephora.
Looking for more beauty recommendations?
Explore the Cats & Coffee beauty archive here!
 *This post was originally published on March 22, 2019. It was most recently updated on May 17, 2022.