The Glass Knife in Winter Park, Florida
One of my all-time favorite restaurants in the Orlando/Winter Park area, The Glass Knife is equal parts bakery and cafe. With a delightful aesthetic and atmosphere, delicious savory foods, and sumptuous sweets, there is truly something for everyone at this little restaurant. Quite simply, it is one of the most photographic restaurants that exists. Their website sums my feelings up nicely: "Any time of day. From kickstart to nightcap. Something glorious and delicious awaits you at The Glass Knife."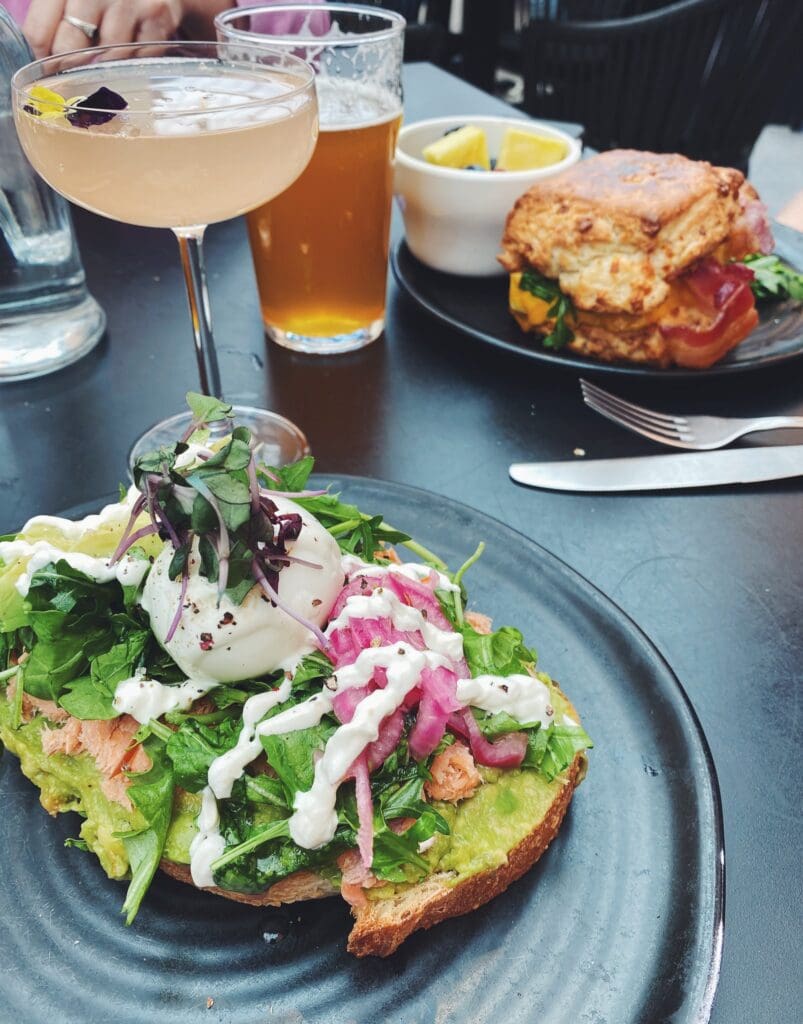 Eating at The Glass Knife
While you can certainly enjoy dinner at The Glass Knife, I always think of it as a lunch or brunch spot. With small tables available inside and outside, and a long communal table inside, there is a fair amount of seating for the size of the shop. Personally, I always like to sit on the patio. It is covered and has great fans for in the summer and heaters for the winter.
The Glass Knife is a cash-less restaurant, and you order your food before you sit down. Don't worry, though; you don't have to close out your tab right away. You'll pay later after you finish eating. This is important to note because you're going to want to get dessert, either to eat there or to take home. The glass cases of pastries are a bit overwhelming at first sight!
Savory Entrees
The Glass Knife has a series of robust menus, from their cakes to pastries, brunch to lunch. Their savory entrees are hidden gems. While the breakfast and lunch menu sometimes rotates, there are a number of staple entrees you'll be able to get time and again. Staples include the Avocado & Egg Toast, the Pimento Cheese Croissant, and the Cheddar Biscuit Sandwich Plate, among others. The breakfast and lunch menu overlaps with the brunch menu quite a bit, a well.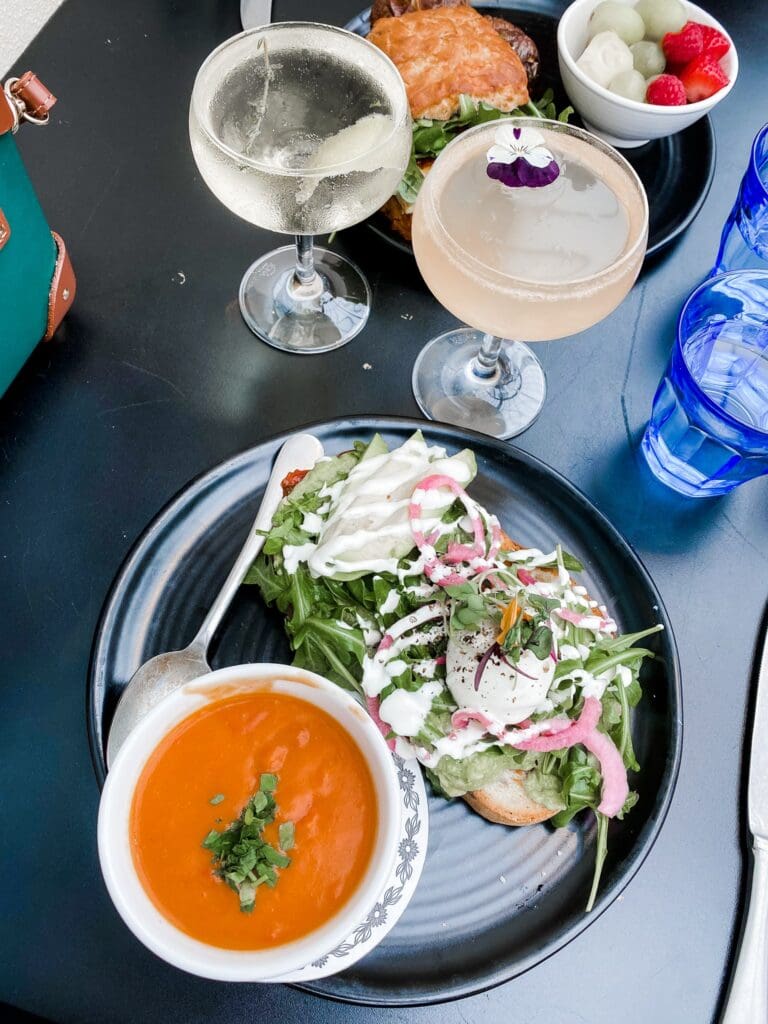 My go-to entree order at The Glass Knife is the Avocado & Egg Toast. I generally add smoked salmon to it. The addition is about a $5 up charge and worth every penny (they don't skimp on servings).
Coffees & Drinks
Everything that The Glass Knife makes is pretty, including the libations. Whether you order a Creme Brûlée Cortado, a traditional latte, a glass of wine, or a delightful mimosa, your drink here is an experience.
The Glass Knife serves Onyx Coffee Lab coffees, and I highly recommend ending your meal with a lovely cappuccino or latte from their coffee menu. I haven't yet tried their affogato, but it is on my list. I am confident that it is as delicious as it sounds.
What is brunch without a mimosa, though? The Glass Knife offers a variety of wine-based drinks (and a few local beers). My favorite has always been the Strawberry Lemonade Mimosa. There are a few flavors of mimosa available — including cranberry, spiked cherry, and blood orange, beyond the strawberry lemonade — and each come with a colorful little floating flower. For something a bit more herbaceous, the Herb Sparkling Wine is a winning choice, combining lavender with some more savory herbs in sparkling white wine.
Desserts & Pastries
Saving the best for last: the desserts! Eating at The Glass Knife is as much a visual experience as it is dining. Fans of The Great British Baking Show will be wowed by all the examples of mirror glazes this place manages in Florida heat, alongside the sheer amount of creativity that is exhibited in their patisserie.
Like with their savory menus, there are a few consistent options on the desserts and pastries menu, as well as their dedicated donut menu. However, you'll always find some seasonal options as well.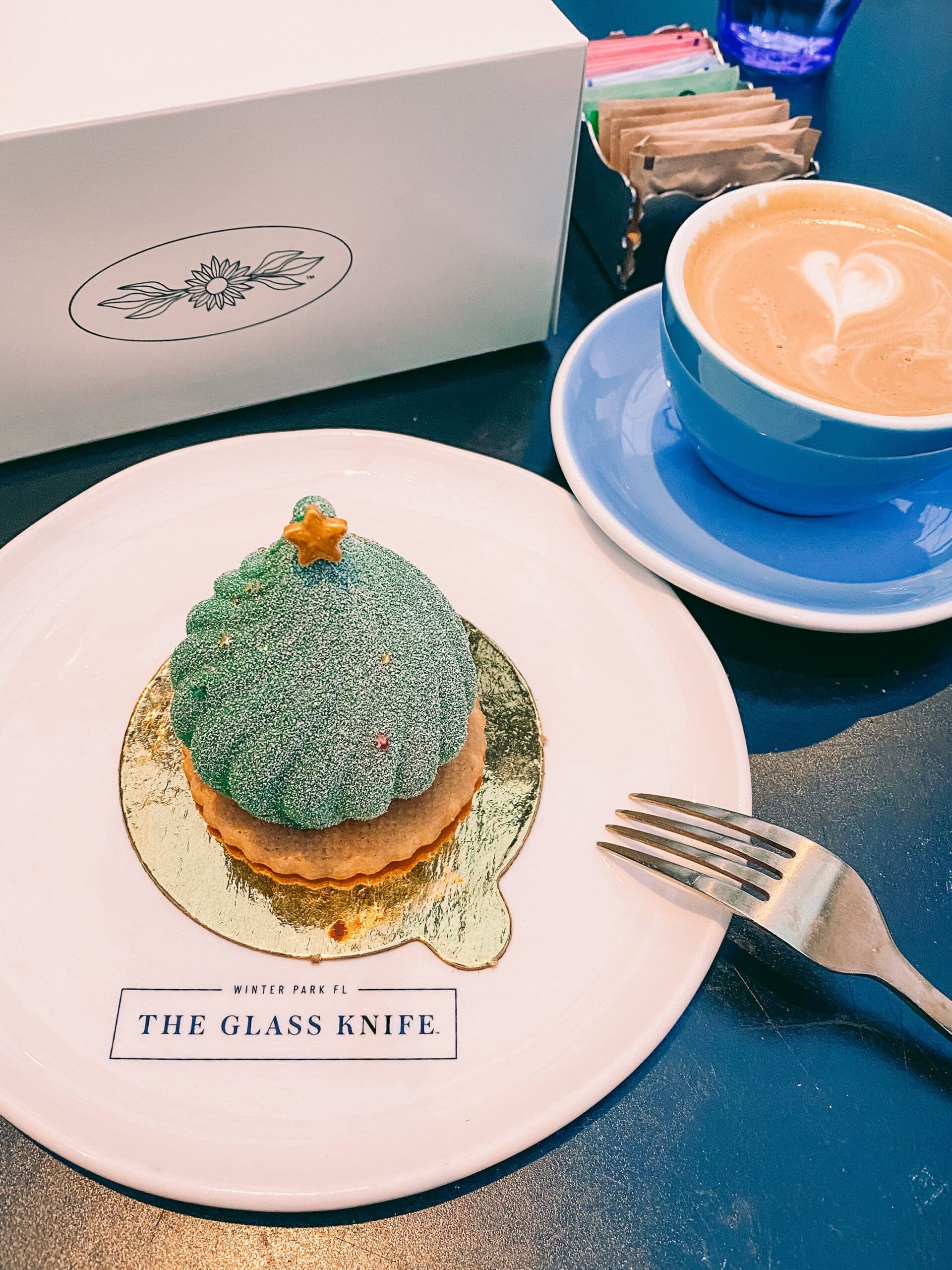 Top (L-R): Seasonal Christmas Cake with Cappuccino; S'mores Pop Tart;
Bottom (L-R): Crème Brûlée Donut; Tiramisu and Red Velvet Big Wheel
Seasonal options seem to show up in their cream puffs and small cakes, but they also add twists to classics like their Red Velvet Big Wheel. For this particular cake, they'll decorate it based on the season or holiday, and sometimes offer it in slightly different flavors. Whatever you do…get one of these. They're the best!
Pro tip: if you're hosting a party, The Glass Knife has a whole catalog of gorgeous classic cakes, featuring timeless flavors and a unique twist. These are all ready to be personalized and can be served whole or by the slice in the restaurant!
Visiting The Glass Knife
Address: 276 S Orlando Ave Winter Park, FL 32789
Hours: Sunday to Thursday: 8 AM – 10 PM; Friday & Saturday: 8 AM – 11 PM
Useful Links: Website | Menus | Instagram
P.S. if you want to visit The Glass Knife and make a day of it,
my favorite Orlando plant shop, The Heavy, is just down the street!
Learn more about this plant shop, also known as "Winter Park's Happy Place", here!
*This post was originally published on March 3, 2022. It was most recently updated on March 31, 2022.