Christmas Outfit Ideas
I've been starting to figure out what I need to pack for the holiday and decided to pull a few Christmas outfit ideas to see what seemed right. As a big tartan lover, I probably will use it as an excuse to wear as much of it as I can. As it stands, here are what my ideas are revolving around.
Statement Tops
My current front runner for Christmas Eve tops is my Petersyn tartan off-the-shoulder blouse. I bought this a few seasons ago and have gotten a couple wears out of it, but haven't broken it out in a while. I wish the brand was doing more tartan still, but they're kind of moving away from it at the moment. There's a pretty plaid option available at Shopbop that is somewhat similar, though, if you're interested.
I'd pair the Petersyn top with jeans — either the lighter wash 7 For All Mankind option or my dark gray Madewell's. It works well tucked in, based on past experience.
Alternatively, I have a velvet plaid tank top from J.Crew that I bought last year on sale after the holidays. This is a lower profile option than the Petersyn's billowy sleeves, and, since I live in Florida and it's generally still pretty warm, probably the more reasonable option. Time will tell.
Jewelry
While I'm still deciding on my Christmas outfit, I'm pretty certain on my jewelry. I splurged on some gorgeous Monica Vinader jewelry during their Black Friday sales. Amy Bell of the Little Magpie posted about brand and brought it to the front of my mind. My brother and sister-in-law had actually given me a gorgeous rose gold piece from this designer a few years ago that I love and wear all the time, but I didn't realize what the brand name was. So glad I saw the Little Magpie's instastory about the sale!
I wound up ordering the Siren Stud Earrings and the Siren Mini Nugget Necklace. The earrings are amazonite and the necklace has a kyanite stone. I posted about the pieces on Instagram already because I'm so obsessed. Both are set in rose gold so they will go nicely with my piece from my brother and sister-in-law. I think I'll try layering the necklaces. We'll see how that looks.
Shoes
Like I wrote about in regards to the Sam Edelman Felicia Flats, I do feel myself being pulled towards a pair of heels for the evening. The more reasonable shoe paring, however, would probably be the Felicia flats or the silver Jack Rogers I pulled here. I'll probably wind up wearing heels and bringing one of the pairs of flats. It's good to have options!
Similar Styles
As most of these are all older pieces, I'll tag similar styles currently available.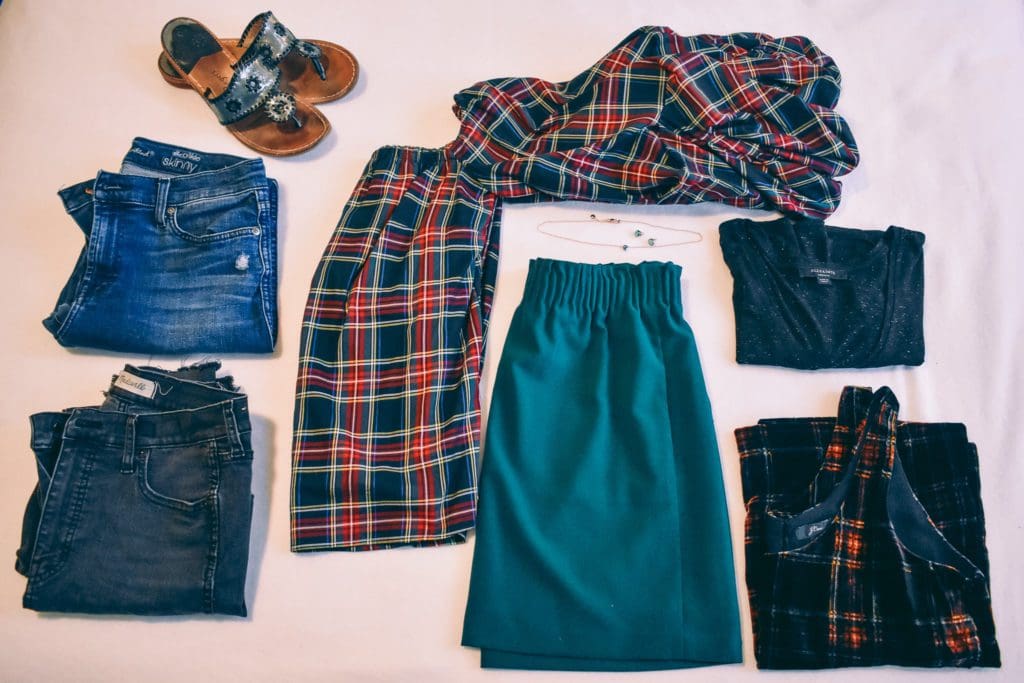 Jeans
7 For All Mankind B(air) Denim Ankle Skinny in Duchess (7 For All Mankind / Bloomingdale's)
Madewell Stovepipe Raw Hem Jeans
Madewell Curvy High Waist Skinny Jeans in Black Sea
Tops
AllSaints Emelyn Shimmer Tee (Nordstrom / Bloomingdale's)

Petersyn — Similar plaids currently available — Lucille Blouse, Bebe Top // Other plaids currently available — Free People Pacific Dawn Drawstring Plaid Shirt, Frank & Eileen Long Sleeve Plaid Button-Up (one of my favorites!), Vince Camuto Plaid Flutter Sleeve Chiffon Blouse

J.Crew Drapey Velvet Camisole Top (this year's velvet tank version; unfortunately, couldn't find the plaid style like they had last year)
Skirt
J.Crew Sidewalk Skirt — apparently, only available at J.Crew Factory now (I recommend sizing down in this style!)
Shoes
Jacks by Jack Rogers
Also recommended — Sam Edelman's Felicia Flats
Jewelry
Monica Vinder Siren Stud Earrings
Monica Vinder Siren Mini Nugget Necklace
---