The Cats & Coffee Curated Content Series
Welcome to the April Edition of Cats & Coffee's Curated Content Series! This series features weekly content round-ups of articles, videos, podcasts, and Instagram accounts. I find content that is worth your time so you don't have to!
This series features shorter-form content on a weekly basis. For longer-form content round ups, be sure to explore My Current Loves.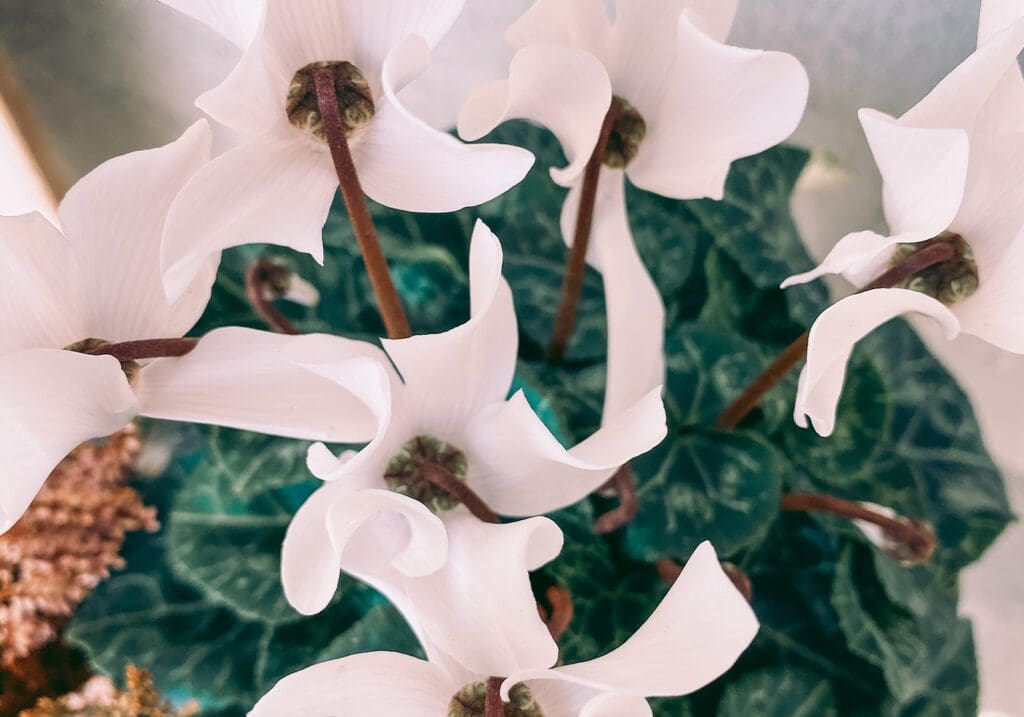 Cats & Coffee's Curated Content Series: April 28, 2021
Article: There's a Name for the Blah You're Feeling: It's Called Languishing, Adam Grant for The New York Times
"The neglected middle child of mental health can dull your motivation and focus —
and it may be the dominant emotion of 2021."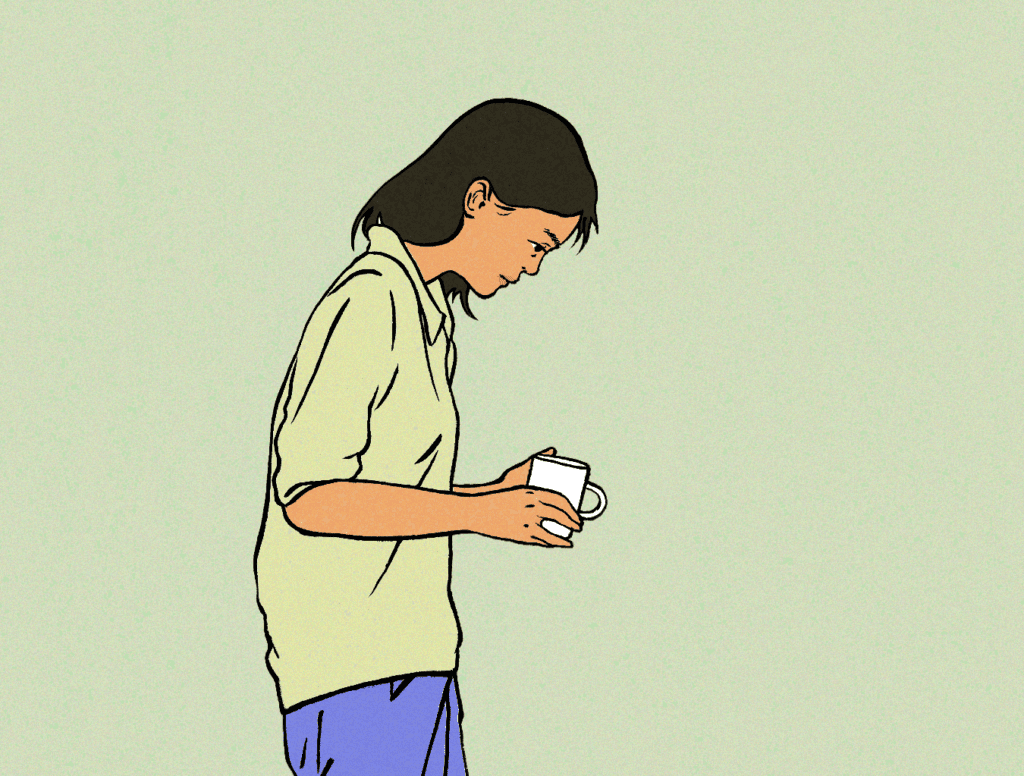 Photo Credit: Manshen Lo from Adam Grant's NYT Article.
Not for the first time since the start of the pandemic, I was struck by how well someone else described the weird things I was feeling. From a lack of concentration to a general aimlessness, I — along with many people I've spoken with — have felt frustrated by how hard it has been to get myself going lately. To propel myself to movement, to action. Starting work in the mornings has been hard, but not because of any depressive feelings or emotion; I've just felt kind of…well..blah.
Adam Grant walks through where this feeling comes from and why it's so widespread. He discusses how and why this emotion — an almost lack of good or bad emotion — has come to the forefront, particularly compared to our early pandemic responses (that is, grief, for the loss of normalcy).
In psychology, we think about mental health on a spectrum from depression to flourishing. Flourishing is the peak of well-being: You have a strong sense of meaning, mastery and mattering to others. Depression is the valley of ill-being: You feel despondent, drained and worthless.

Languishing is the neglected middle child of mental health. It's the void between depression and flourishing — the absence of well-being. You don't have symptoms of mental illness, but you're not the picture of mental health either. You're not functioning at full capacity. Languishing dulls your motivation, disrupts your ability to focus, and triples the odds that you'll cut back on work. It appears to be more common than major depression — and in some ways it may be a bigger risk factor for mental illness.
My favorite part of the article features some antidotes to languishing. Reading through the suggestions — the idea of getting into a "flow" or creating boundaries — is helpful on it's own. However, I felt that, reading these through really drove home how and why languishing is so hard to define. I struggle with my attention span on a good non-pandemic day, so it makes sense that it'd be a lot worse now. I have a hard time setting boundaries, especially with work, so it's unsurprising that those notifications are pulling at my awareness even more in light of things.
Overall, it's a quick, informative read that I think will boost your self-compassion and understanding. I hope it helps!
Read There's a Name for the Blah You're Feeling: It's Called Languishing from The New York Times here.
YouTube Video: Women's Pockets Weren't Always a Complete Disgrace | A Brief History: England, 15th c – 21st c | Bernadette Banner
Without fail, if I am complimented while wearing a dress with pockets, I say "thanks, it has pockets!" And I know I am not the only woman to do so. Pockets in women's clothing are a thing of wonder, since the majority of mass manufactured garments feature pockets hardly large enough to fit an iPhone, much less a wallet or keys.
Bernadette Banner, a favorite YouTuber of mine, takes viewers through a history of women's pockets, discussing a time when they were actually useful, and compares them with modern styles. Enjoy this quick, enlightening watch here:
I came across @annieuechtritz the other night during a late-night Instagram binge (see this week's recommended article on languishing). The entire account is about restoring and designing a 17th century French Chateau and Gardens property. Built in 1604, the house and property feature a variety of structures and assets, from a foaling barn to an orangerie.
Basically, if you've ever dreamt of running away to live in a beautiful chateau…then this content is gold for you. Besides general historical goodness, beautiful fabrics, and French countryside living vibes, Annie's dogs also features prominently, which is always fun.
Annie doesn't have a website, and she isn't selling anything — she's just telling the story of restoring this historical home. Give her a follow, but be warned that it will make you want to up and move to the French countryside!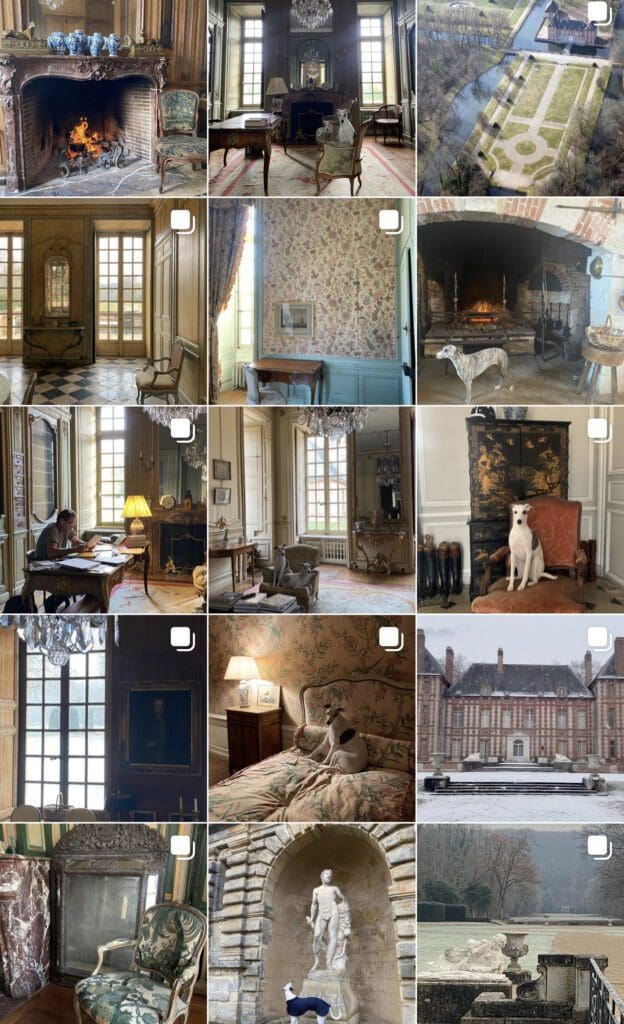 Cats & Coffee's Curated Content Series: April 21, 2021
Article: Chauvin received three guilty verdicts for one crime. Here's why and what it means for his sentence., Emily Bazelon for The New York Times
Source/Credit: Amr Alfiky/The New York Times (Crowds gather outside the Hennepin County Government Center in Minneapolis, Minn., on Tuesday.)
Derek Chauvin was found guilty on three counts for his role in the death of George Floyd in 2020. These three verdicts apply to the same crime. Emily Bazelon offers a succinct explanation of how this occurs, and what this could mean on appeal. The legal distinction between murder and manslaughter in this case is nuanced, since the jury wasn't required to determine Chauvin acted with the intent to kill, and Bazelon offers insight into why this was so.
Click here to read the full piece, Chauvin received three guilty verdicts for one crime. Here's why and what it means for his sentence.
YouTube Video: Plastics: Last Week Tonight with John Oliver (HBO)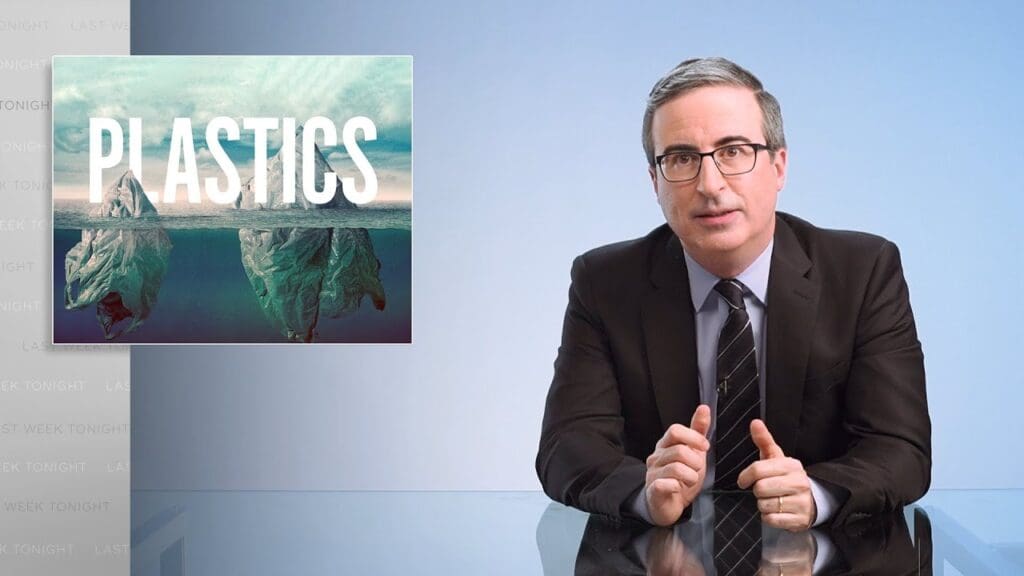 "Plastic is in everything, from the clothes we wear to the water we drink. John Oliver explains how plastics are harming the planet, why recycling isn't the solution you think it is, and why fixing the problem will be up to not just consumers, but corporations and policymakers."
While packing and moving over the past week, I've been very aware of how much waste — plastic waste, specifically — we've created. The most frustrating part is that both Brett and I worked really hard to keep the single use plastic to a minimum, and to use more sustainable solutions where possible. All this is to say, I don't have a solution, but this Last Week Tonight episode does a good job of exposing some of the major causes of plastic pollution (spoiler alert: it's largely corporations, not consumers).
Click here to watch Plastics: Last Week Tonight with John Oliver.
@soyouwanttotalkabout is a huge account on Instagram, with over 2.5 million followers. It covers a wide variety of topics, dissecting progressive politic and social issues in digestible, easy-to-follow slideshow forms. From imposter syndrome to police brutality in the United States, the account offers well-researched graphics and sources on each slide.
I've had @soyouwanttotalkabout on my list of accounts to feature for some time, but thought today was particularly appropriate in light of the Chauvin verdict. Give them a follow (if you haven't already).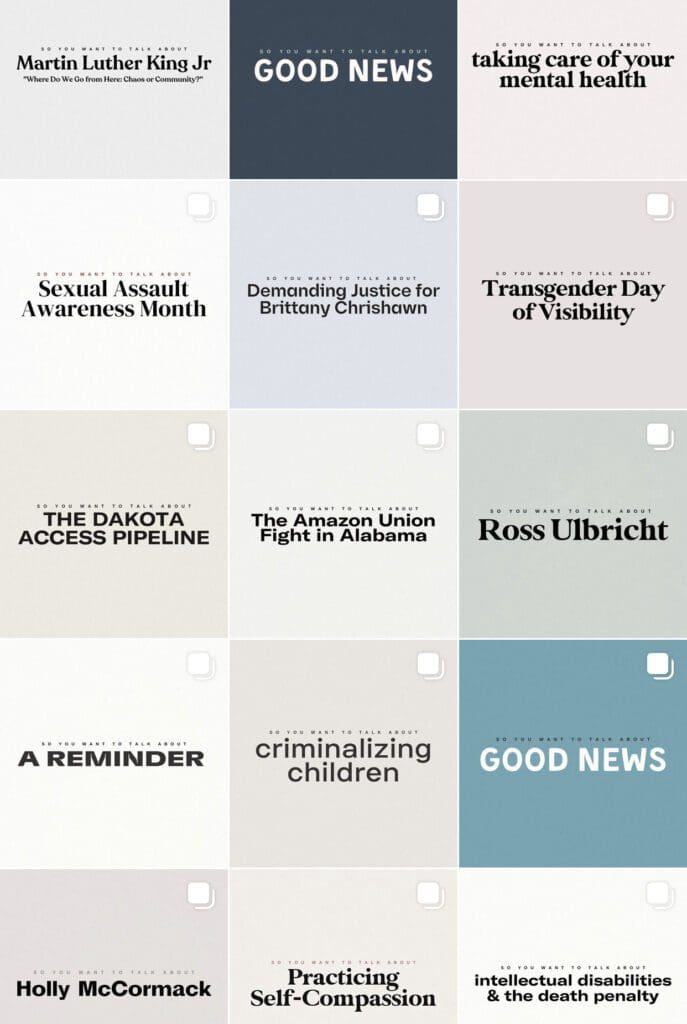 Cats & Coffee's Curated Content Series: April 14, 2021
Article: A Breakdown of Sustainability-Oriented Buzzwords, To Help You Understand What You're Actually Buying and Supporting, Erin Bunch for Well+Good
Environmentalism, for all its benefits and good intentions, has become a marketing tool for companies, Erin Bunch notes for Well+Good. This awareness, of course, is a good thing, but sustainability-related phrases used in commercial marketing can often be rather hollow. We are all busy people; it is easy to get things muddled, to think something is more eco-friendly than it really is, particularly when so many of the buzzwords and terms sound alike.
Bunch lays out definitions for 21 sustainability buzzwords and terms, from "biodegradable" to "zero waste." I found her definition of carbon offsets (number 5 here) to be particularly useful, since this is a term we don't see too often in marketing.
Read Erin Bunch's A Breakdown of Sustainability-Oriented Buzzwords, To Help You Understand What You're Actually Buying and Supporting on Well+Good's website here.
P.S. interested in more sustainability content?
Check out my articles on recycling with Terracycle, a free recycling service, here!
YouTube Video/Podcast Episode: We're Moving In Together! – The TryPod Ep. 104
I caught up on a few episodes of the TryPod last week and found myself literally laughing out loud at the April 8 episode. The Try Guys discuss communal living — particularly in light of college and post-grad — with their whimsical flair. If you're a fan of the Try Guys channel, be sure to check it out here:
Instagram Account: @thekitschystitcher
I love a good crafty Instagram account, and @thekitschystitcher really ticks all the boxes for me. Sara, the creative behind this colorful embroidery account, runs an embroidery shop (and Etsy) specializing in handmade stitched art, as well as patterns.
Sara's pieces are bright and colorful, with intricate designs and often topical references. Of course, I am a particularly big fan of Sara's Schitt's Creek pieces, like this Moira-inspired hoop, and anything cat related, like this mini Halloween cat craft. She also has some great Arrested Development inspired pieces in her shop here.
Whether you're looking to get into embroidery, or just like to admire the artwork, I think you'll love @thekitschystitcher's posts. If you are interested in getting started on your own embroidery practice, Sara has some reasonably priced embroidery kits available in her shop, which include everything you need for the pictured project. Give her a follow on Instagram and check out her shop for more kitschy cuteness! (P.S. looking for something custom? Sara has custom orders available here!)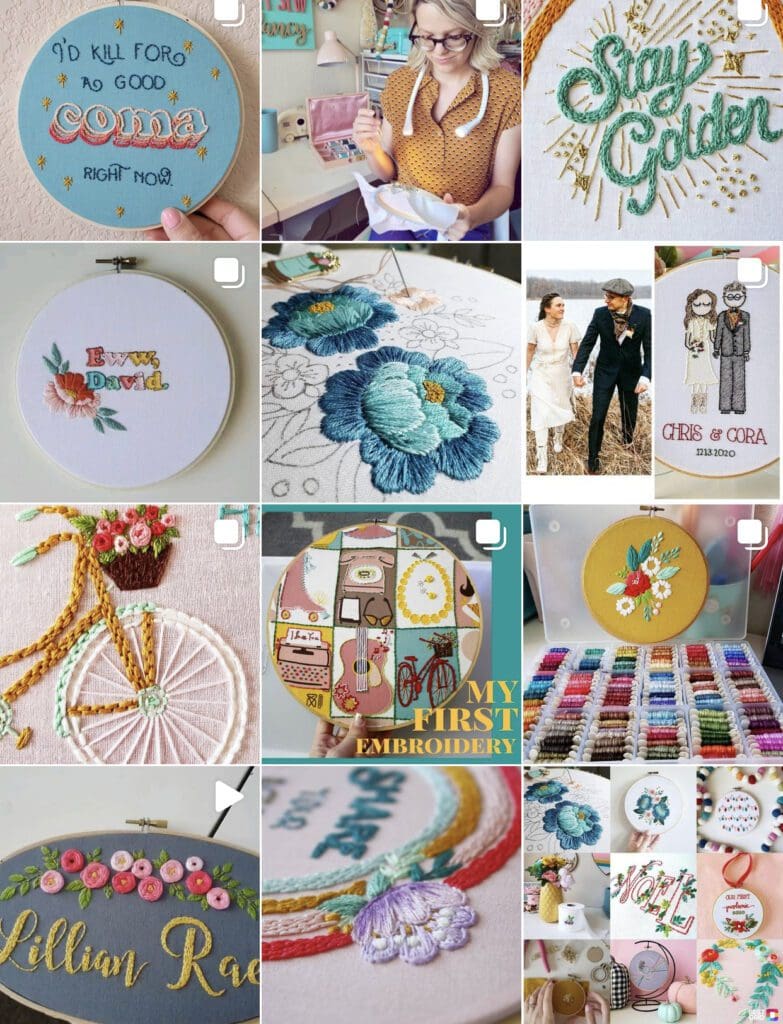 Cats & Coffee's Curated Content Series: April 7, 2021
Article: Inspired By Jessica Kellgren-Fozard: Activist and Multimedia Superstar, Travel Beautifully by SteamLine Luggage
I came across Jessica Kellgren-Fozard thanks to SteamLine Luggage's latest Inspired By interview for their Travel Beautifully blog. I debated sharing Jessica's Instagram and/or YouTube as the recommended videos and accounts of the week, but decided to go with this blog post because it gives a great glimpse into Jessica's shining personality. Really, you can't help but fall in love with her, her wife, and their growing family.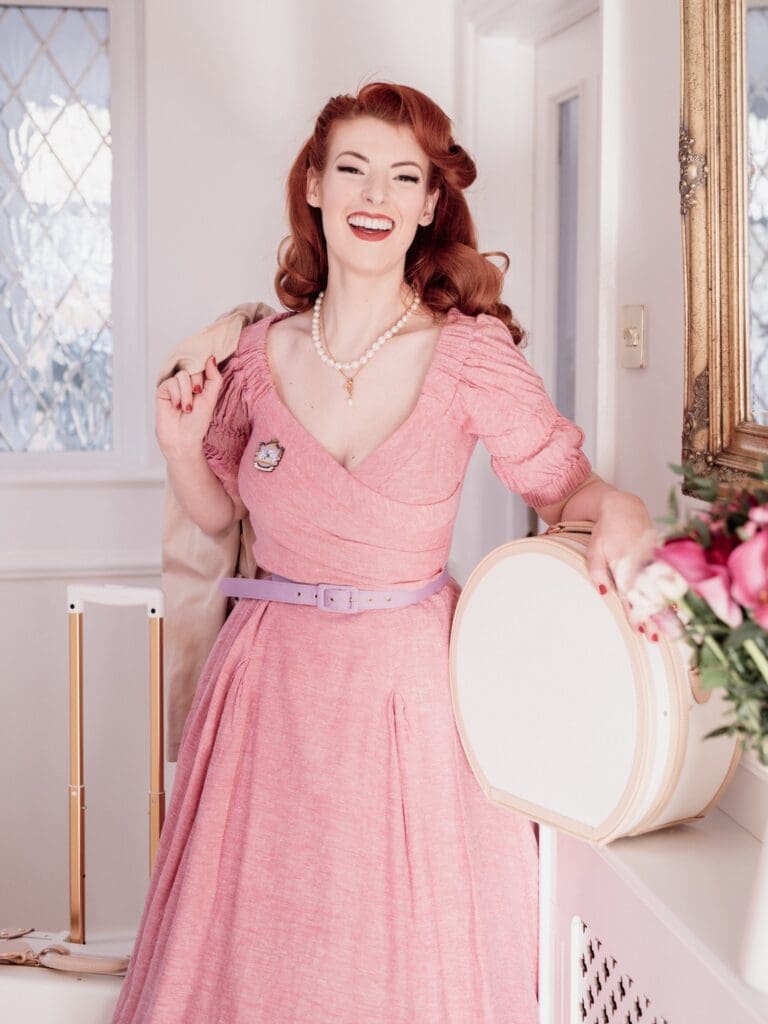 Photos from the SteamLine blog post, provided by Jessica Kellgren-Fozard.
"Instagram is where I share more about my fashion and style and YouTube is amazing for spreading awareness about LGBTQ+ and disability issues. But both quickly became the way I share my life with the world because representation matters and I wanted to be the role model I didn't have growing up."
Self-described deaf and disabled activist, Jessica Kellgren-Fozard uses her platform to educate her audience on disability related issues, as well as LGBTQ+ matters, particularly through history. Besides this, Jessica has a flair for retro and vintage inspired fashion — making her a great friend of the SteamLine Luggage brand. She often uses her style to help tell stories online.
Read Jessica Kellgren-Fozard's Inspired By interview with Steamline Luggage on their Travel Beautifully blog here.
YouTube Video: Four Vintage Outfits Inspired by Book Covers | A Clothes Horse
Continuing with a vintage style-related video, I highly recommend checking out this melodic piece from Rebecca of A Clothes Horse. (P.S. she is referenced in my cottagecore post here). I didn't realize Rebecca had a YouTube channel until I subscribed to her Patreon, which is well worth the nominal $3 a month for exclusive content. This particular video features four outfits inspired by book covers — a fun challenge that I might have to try myself!
Well, I didn't set out to make this edition of my Curated Content Series super cottagecore based, but here we are. This is the vibe that is really calling my name lately, I suppose! Rounding out this edition is my new favorite Instagram account, @goodwomanofthewoods.
While I originally followed this account simply for the aesthetic, I am drawn in further by the book reviews and slow living inspiration throughout the captions.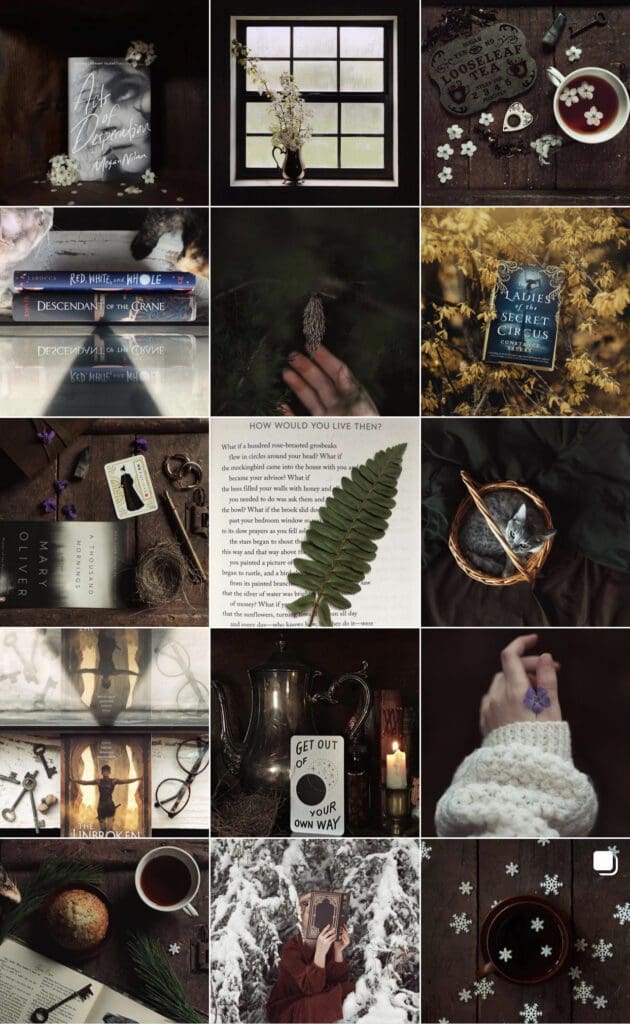 Follow @goodwomanofthewoods for gorgeous moody shots, plenty of beautiful books, tea shots, and cute cat content.
---
Want more great finds like these? Explore the March edition of my Curated Content Series for more great reads, listens, and Instagram accounts to follow!