The Cutest Pet Accessories for Cats & Dogs
It is so easy to fall down a rabbit hole when looking for cute pet accessories online. There are so many options out there, from cute and colorful, boho and floral, or even minimal or themed. Here, I'm sharing a round up of cute pet accessories for both cats and dogs. Accessories include smart dog tags, the best cat harnesses, personalized ID tags for pets, collar bows, and more!
This post contains affiliate links, meaning that when you click and purchase from my links, I may be compensated at no extra cost to you.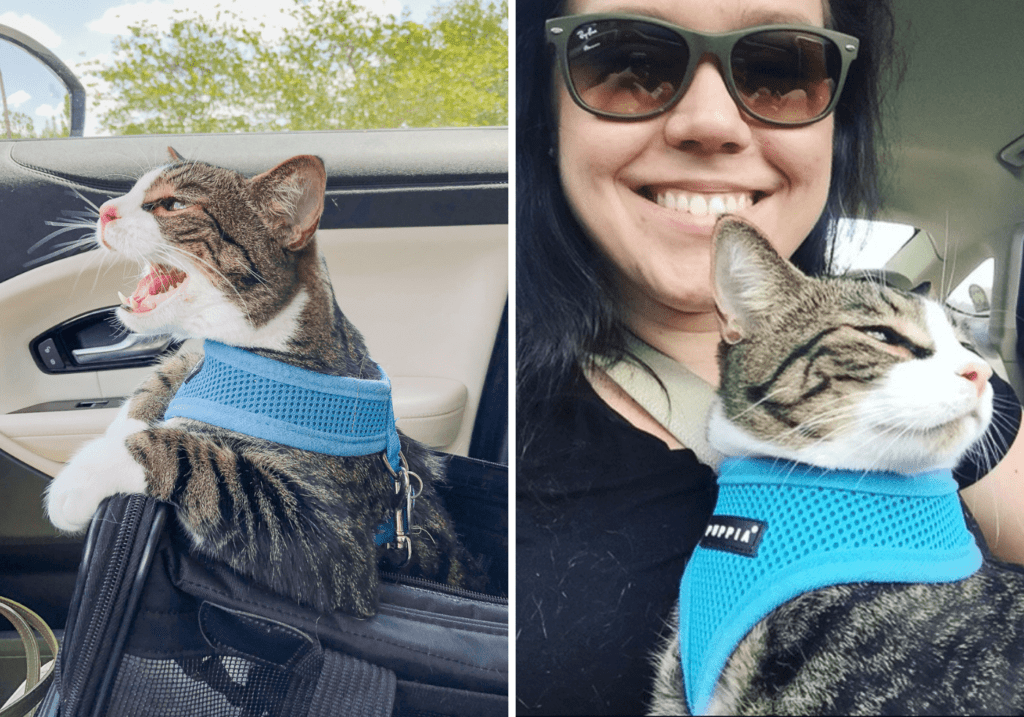 Cute Pet Accessories
Pinks and Patterns
From sweet pink plaid to leopard print floral collar tags, tie dye tees and rustic personalized dog bandanas, this section features some of the best in luxury dog accessories. If you're worried about an escape artist pet, the Pawsitively Safe Pet Finder Tag seems like a promising option. Beyond this tag, the Apple AirTag is a popular option. Plus, there are a ton of AirTag Accessories, some of which you'll see below.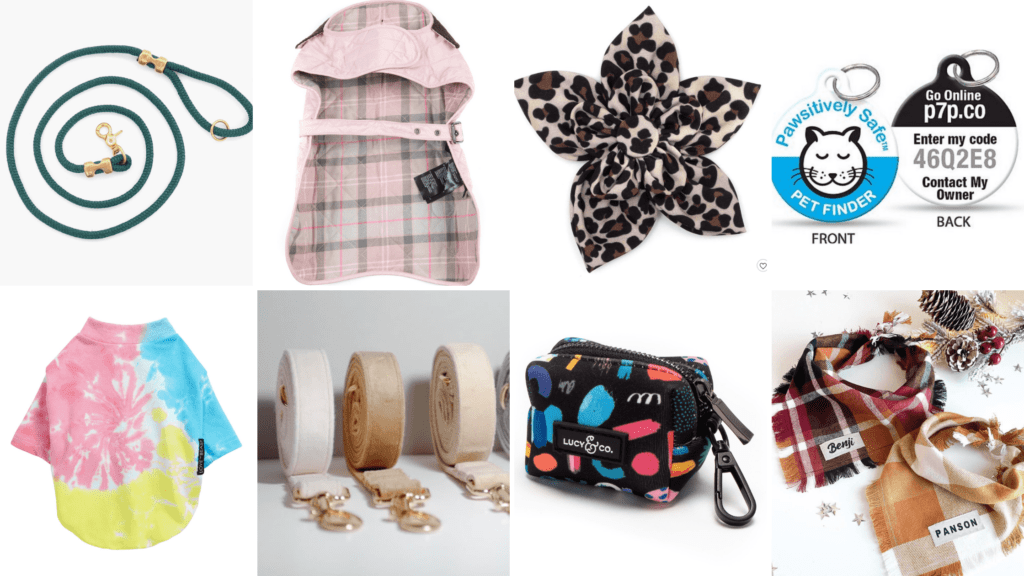 Top Row: Rifle Paper Co. Marine Rope Leash | Barbour Quilted Dog Coat | Leopard Print Floral Collar Attachment | Platinum Pets Pawsitively Safe Pet Finder Tag for Cats (Dog Version)
Bottom Row: LoveThyBeast Tie-Dye Dog Tee | Customizable Velvet Dog Collar | Lucy & Co. Bag Holder | Personalized Plaid Dog Bandana
Rifle Paper Co., Plaid, and More
This section features the bulk of the handmade pet accessories I chose to highlight in this post. Such pieces include adorable sushi themed cute cat collars, add-on tags telling readers your pet is microchipped, a cottagecore-themed breakaway collar, and a boho bandana.
Beyond the handmade options, I am really drawn to the Rifle Paper Co. find featured here. The brand has some gorgeous collars and matching AirTag holder cases. Pair a collar with one of their minimal rope leashes and coordinated AirTag case for an adorably secure pet collar and leash set.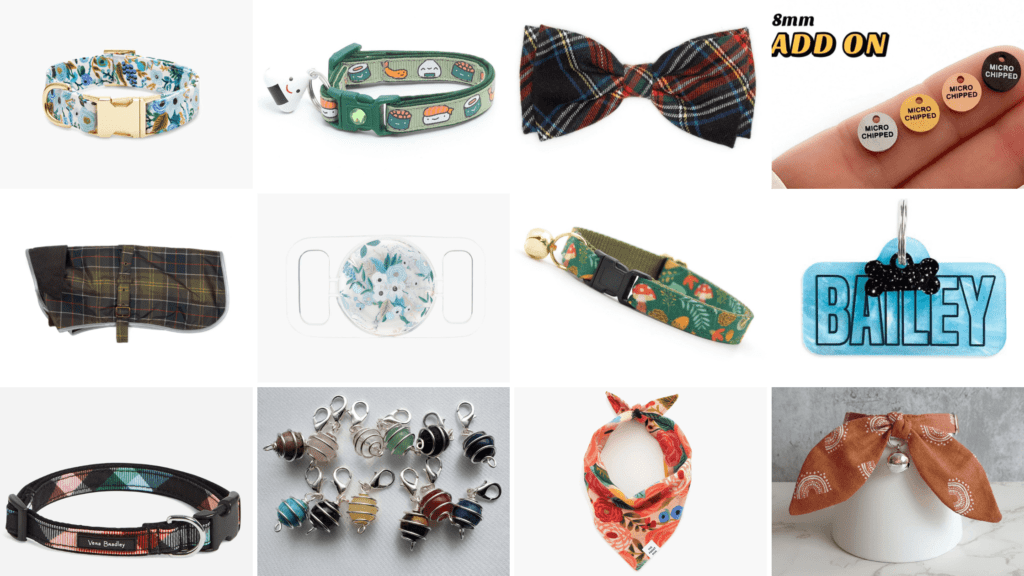 Top Row: Rifle Paper Co. Garden Party Blue Dog Collar | Sushi Rolls Cat Collar | Stewart Tartan Collar Bow | Tiny Microchip Dog Tag Collar Add On
Middle Row: Barbour Waterproof Tartan Dog Coat | Rifle Paper Co. Pet AirTag Case | Cat Collar in Fantasy Botanical Green | Rebel Dawg Personalized Pet ID Tag
Bottom Row: Vera Bradley Pet Collar | Crystal Pet Collar Charms | Rifle Paper Co. Garden Party Blush Bandana | Boho Rainbow Breakaway Cat Collar
Collar Sets and the Best Harnesses
I have the Puppia brand Polyester Back Clip Harness, as you can see in the photos of my cat earlier on. I find it to be the best travel cat harness and it has held up well over the years. Designed for dogs, the Puppia harnesses come in cat-friendly sizes, as well. They also offer a step in harness style. This style has worked well with my mom's small poodle, as you can see here.
Top Row: Cube Real Time GPS Dog & Cat Tracker | Vera Bradley Pet Harness | Personalized Floral Dog Collar Bowtie | Detachable Bowtie & Pearl Personalized Dog Collar
Bottom Row: Puppia Step In Pet Harness | Rebel Dawg Personalized Pet ID Tag | Puppia Polyester Back Clip Harness | Lucy & Co Reversible Harness
What is your favorite pet accessory from this page? I really love the Puppia harnesses, as well as the Rifle Paper Co. pieces!
Where do you normally find your favorite accessories for your furbaby?