Great Gift Ideas For Book Lovers
Some hobbies and interests really lend themselves to great gifting. Reading is one such interest. There are so many great gifts for book lovers available online! These range from wearable accessories to home accents, from seasonal finds to useful tools. I particularly love the abundance of library-inspired pieces, which feature prominently here. The majority of my picks in this guide to literary gifts are from Etsy and small creators. A handful are from larger companies or brands you likely know and love.
The Best Gifts For Readers 
Whether you're looking for a holiday gift or something more timeless, I've found a range of great gifts for book lovers. You could opt for something primarily useful, like this adorable Kate Spade book tote, or go for something a bit more whimsical, like this art nouveau-inspired necklace, both of which are great book worm gifts. I particularly like this Little Women inspired purse from Etsy, which mixes a classic style with a unique aesthetic.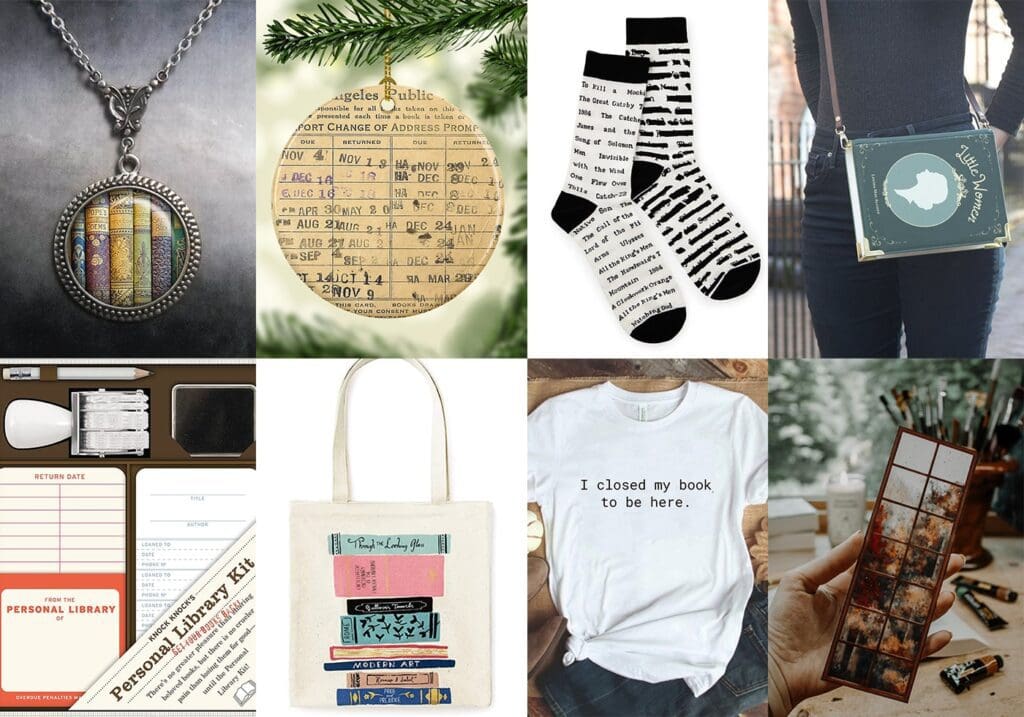 Top Row (Left to Right): Antique Books Necklace | Vintage Reproduction Stamped Library Card Ornament | Banned Book Socks | Little Women Book Purse
Bottom Row (Left to Right): Personal Library Kit | Book Tote Bag | Funny Book T-Shirt | Autumn Window View Bookmark
Where a book lover's interests intersect with other major interests — such as cats, coffee, or great TV — there are some great ideas that blend such loves together. For the coffee loving cat lady who loves to read, this coffee mug is a simple and special find. (P.S., I have some more great cat and book inspired finds here!) For an Schitt's Creek-loving readers, go for this funny handmade bookmark featuring one of David's most iconic quotes!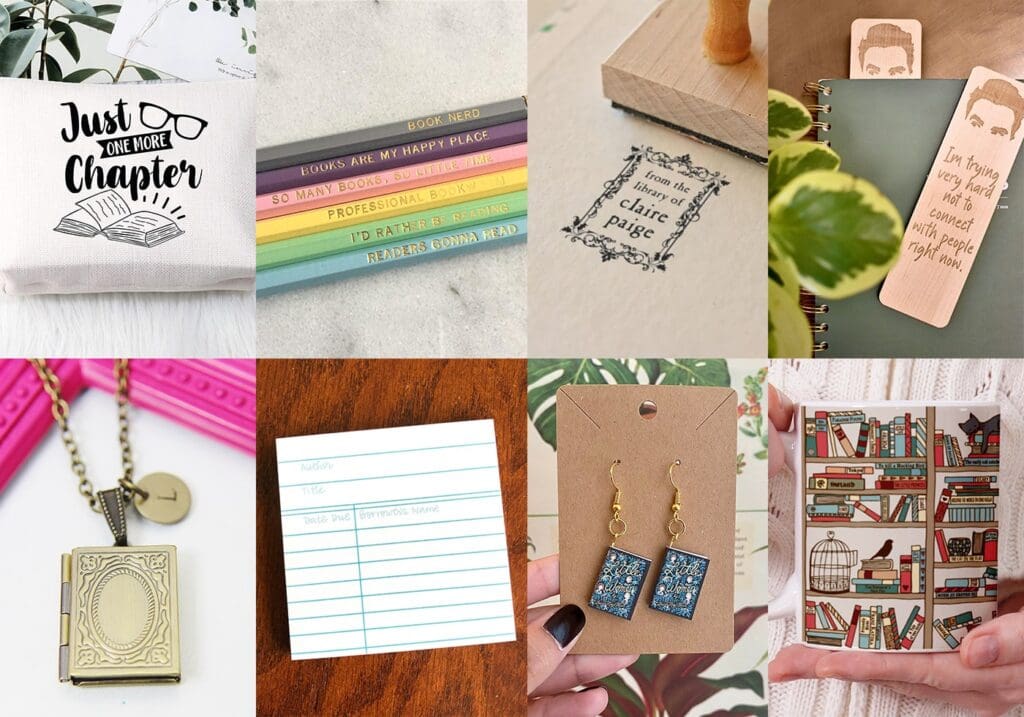 Top Row (Left to Right): Book Themed Zipper Pouch | Book Nerd Pencil Set | Floral Frame Library Stamp | David Rose Bookmark
Bottom Row (Left to Right): Book Locket Necklace | Library Card Sticky Notes | Miniature Book Earrings | Book Lover Mug
Whether you're shopping for a classic literature lover, or for a friend who keeps up with all the latest releases, you can't go wrong with some cute kitschy gifts, like these desk lamp clip on book lights or cute little these tea tins! With a mix of novelty and whimsy, these literary gifts are sure to make any bookworm smile. For the classic literary lover, then look no further than this candle set. Available in a variety of lovely scents, with motifs inspired by famous authors, these candles are doubly delightful.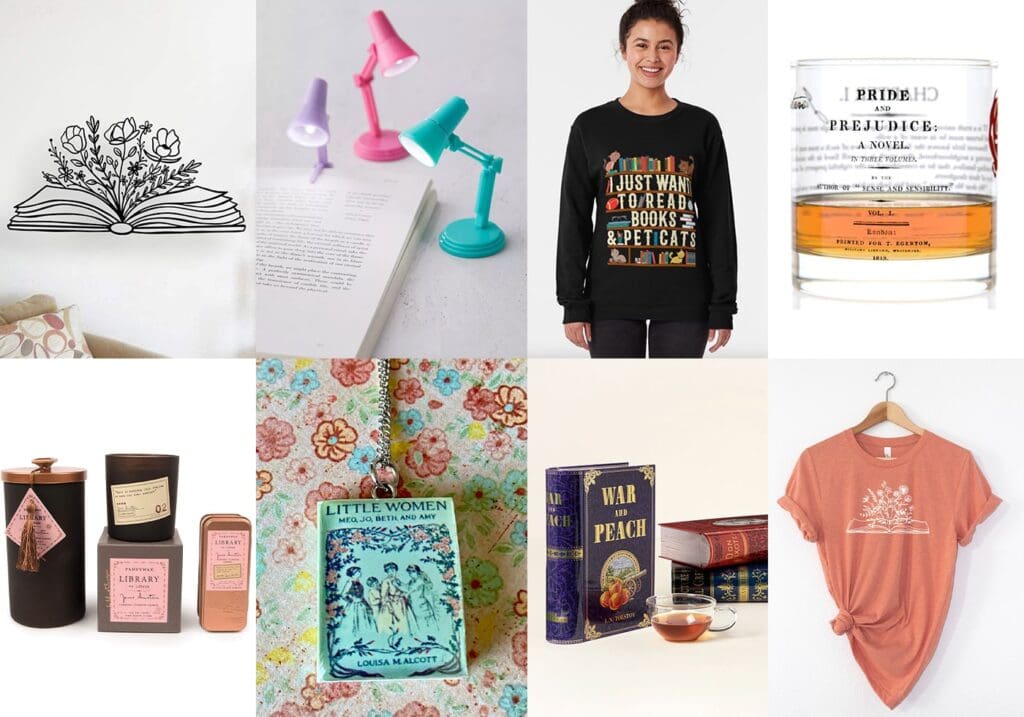 Top Row (Left to Right): Book With Flowers Metal Wall Art | The Little Book Light | Books & Cats Pullover Sweatshirt | Literature Rocks Glass
Bottom Row (Left to Right): Library Collection Candle Set | Mini Book Necklace | Novel Tea Book Tins | Book Lovers T-Shirt
Gift Guides & Boutiques from Cats & Coffee