Great Bags, from Totes to Cross Bodies
Warm weather often means that we spend more time outside. Spending more time outside in Florida can call for a great many things, whether it's sunscreen, a trusty Hydro Flask, or an umbrella for sudden afternoon showers. This means that great bags for spring and summer are a must.
My go-to summer bag is something durable, a material I can clean up easily. Canvas is always a safe bet for this, and it's a pretty quintessential summer fabric. A bright or colorful leather is a great option, too, and there are plenty of those this summer.
Whether it's a day spent out and about, or a quick dinner, here are some great bags for spring and summer that I found:
LOFT Striped Woven Tote Bag $69.50
Tote bags are a go-to for summer. They're great for running errands or going to the beach. This woven option comes with a pretty pop of color. Going to the beach for the day? Carry all the snacks, water, and sunscreen you could need in here!
Check out this Loft tote bag here.
Longchamp 'Le Pliage' Backpack, $125
Longchamp has been a favorite of mine since undergrad, when I discovered that their totes are virtually waterproof. This makes their bags absolutely ideal for Florida summers. The backpacks are great because they keep your hands free while still carrying a decent amount of stuff. I love using mine for going to theme parks, especially since I can hold a water bottle, umbrella, and all of my little summer essentials. Last, but not least, the backpack (like the other Longchamp bags) folds up and is super easy to pack!
This backpack is available at Bloomingdale's and Nordstrom.
Fallon & Royce Canvas Tote with Crystals, $88.00 (currently $52.80)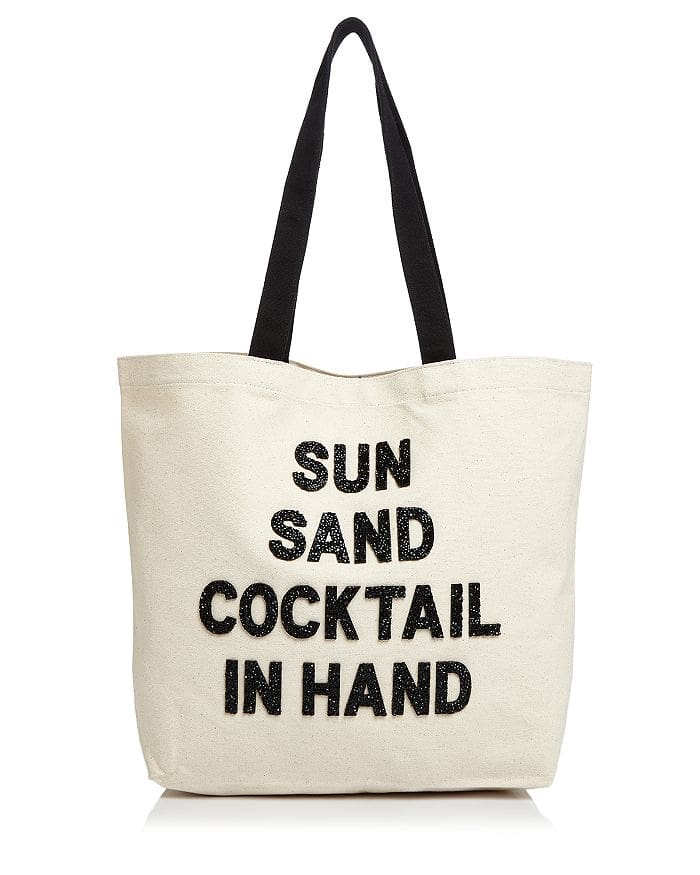 Like the LOFT tote up top, this canvas option is a fun option to haul all the essentials around. Whether you're running to the grocery store or going to ride the new Harry Potter ride, a bag like this should have you covered. Plus, it has some shimmer to it!
Gigi New York Genevieve Bucket Bag Red Pom Pom Raffia with Pebble Grain, $265.00
This little bucket bag is the perfect mix of extravagant and summery. With a variety of pretty pinks, bright leather details, and tassels, this Gigi option would be great for a casual day out or even a dressier dinner. The opening cinches closed and the bag can be carried by the handle or crossbody strap, making it super versatile.
This colorful option is available here.
Aqua Woven Tote (Bloomingdale's Exclusive), $78 (currently $54.60)
If you're looking for a dressier option than a traditional canvas or straw tote, this Aqua Woven Tote might be perfect for you. This option, only available at Bloomingdale's, mirrors a fancier shoulder bag, while maintaining a summer lightness. The black option could carry you through the year, and the tan is a great summer color.
Check out this woven tote here.
AllSaints Captain Leather Chain Crossbody Wallet, $108
This crossbody wallet is perfect for dinner and drinks out. With just enough space to carry the necessities — cash, ID, credit cards, lip gloss, and keys — this bag will stay close to you without requiring your attention. It comes in this great coral color, making it perfect for summer, and has a removable silver chain.
This AllSaints crossbody wallet is available here.
Splendid Leather Backpack, $225
This is a pricier option, but it is certain to carry you throughout the year. With a bucket-shape style and zipper, this bag would certainly hold all the necessities and then some. The pocket in the front would be handy for cell phones, lip balms, or parking garage and valet parking tickets.
Check out this backpack at Splendid here.
Modcloth Pop the Cork Clutch, $49
I love cork accessories, especially when they come with little flecks of color throughout like this crossbody clutch does. This Modcloth option is really versatile. It can be dressed up or down, or dropped into a bigger bag if you're out of the house all day.
This cute cork option is available here.
Target's A New Day Circle Crossbody Bag, $27.99
This super-affordable convertible crossbody/fanny pack bag comes in three color options — a staple black, the pictured light blue (my favorite), and a brighter yellow. With a securely zipped top, you can carry your go-to essentials with ease of mind. The adjustable strap can turn the little bag into a fanny pack, if you're interested, but I think I'd just keep it as a crossbody like this!