Holiday Home Gift Ideas
Home gifts are a great option for pretty much anyone on your list, especially the foodies. I've gathered a number of great home gift ideas here that are both affordable and crowd-pleasing. From trinkets and decor to kitchenwares and bar accessories, these pieces are perfect for pretty much anyone.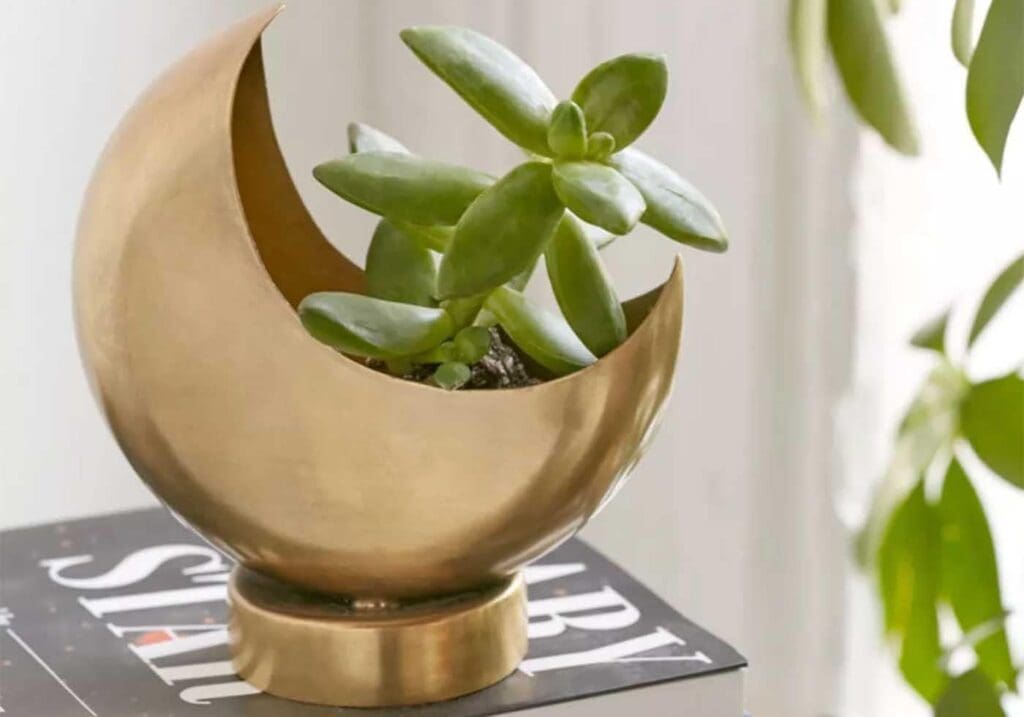 Home Holiday Gift Guide
Home Gift Ideas that Balance Practicality with Whimsey
I love a great gift that toes the line between useful and outlandish. You know, something that you know people will love but wouldn't necessarily buy for themselves. That is, whether because it's more costly, a luxury, or otherwise.
In this guide, I've split up the home gift ideas into six categories: (1) tech gifts and useful finds, (2) kitchen finds under $25, (3) decor home gift ideas under $25, (4) gifts under $50, (5) gifts under $100, and — lastly — (6) splurge gifts.
Home Tech Gifts & Simply Useful Finds
Bear with me a bit for this section, as it's a bit of a grab bag. However, these were all useful finds that didn't easily fit into my other categories. Overall, these home gift ideas are great for anyone on your list who kind of…already has it all? You know that one person that's really tough to shop for so you just want to find something fun and cute and useful to make them smile? Well, these are the perfect gifts for that.
Plus, the corgi toothbrush holder was just too cute to not include.
Top Row: Diffuser and Humidifier | Rifle Paper Co. Wireless Charger | Pura Diffuser Starter Kit | Bamboo Facial Rounds (I've had two sets 3+ years and they're the best!)
Bottom Row: Wool Dryer Balls | Corgi Toothbrush Holder (Sold out, similar style available here) | Wood Phone Stand | Silicone Travel Straws & Cases 
Cute Kitchen Gifts Under $25
Who doesn't love a cute kitchen gift? Ideal for the foodies and home chefs in your life, this section features a bunch of great kitchen finds, whether you're shopping for a couple, an individual, or even yourself. From personalized bottle openers to counter-saving organizers, your foodie friends will love these home gift ideas!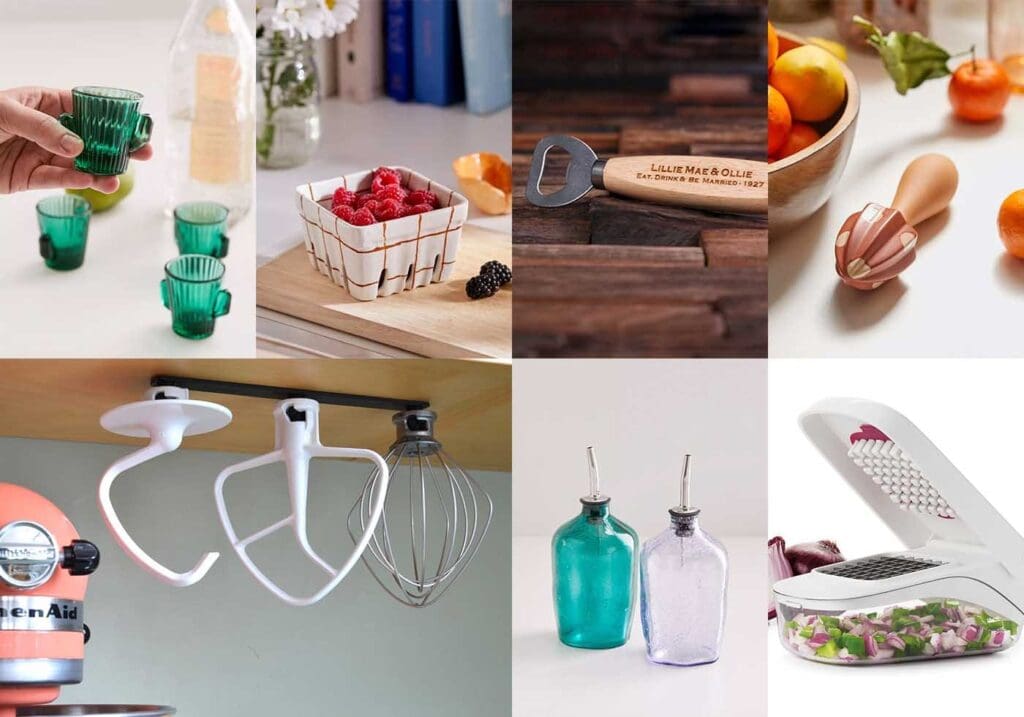 Top Row: Cactus Shot Glasses | Berry Colander Dish | Custom Wood Bottle Opener | Mushroom Citrus Reamer
Bottom Row: KitchenAid Mixer Mount | Glass Oil Curets | Vegetable Chopper
Most of these finds are from Urban Outfitters, which has a surprising amount of useful and cute home finds, as well as Etsy, another go to of mine. I for one would be thrilled with any of the pieces pictured here, as someone who enjoys cooking and has a penchant for accruing semi-useful kitschy decor. I am for sure keeping this KitchenAid Mixer Mount from Etsy (it's just $10!) in mind for when we can install such hardware, because I never know how to store these pieces well.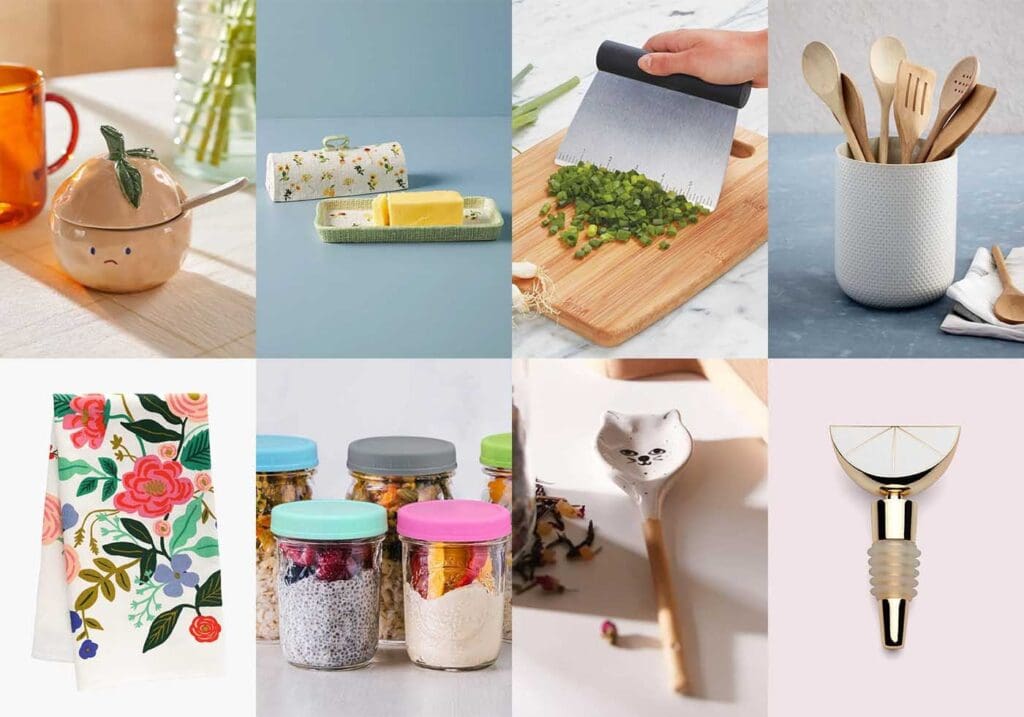 Top Row: Sad Peach Sugar Bowl | Fancy Butter Dish | All Purpose Scraper | Textured Utensil Holder
Bottom Row: Rifle Paper Co. Tea Towel | Plastic Mason Jar Lids (more on those here – I love them) | Cat Spoon | Fruity Bottle Stopper
Trinkets & Decor Home Gifts Under $25
These trinket gifts are perfect for anyone living in a small space. Think college kids and twenty-somethings or even new homeowners who need to decorate a new space. I found a few great home gift ideas for plant people, like this fancy mister and this propagation glass bulb planter from Etsy. For added whimsey, check out this little sloth air plant holder, ideal for a work from home desk set up!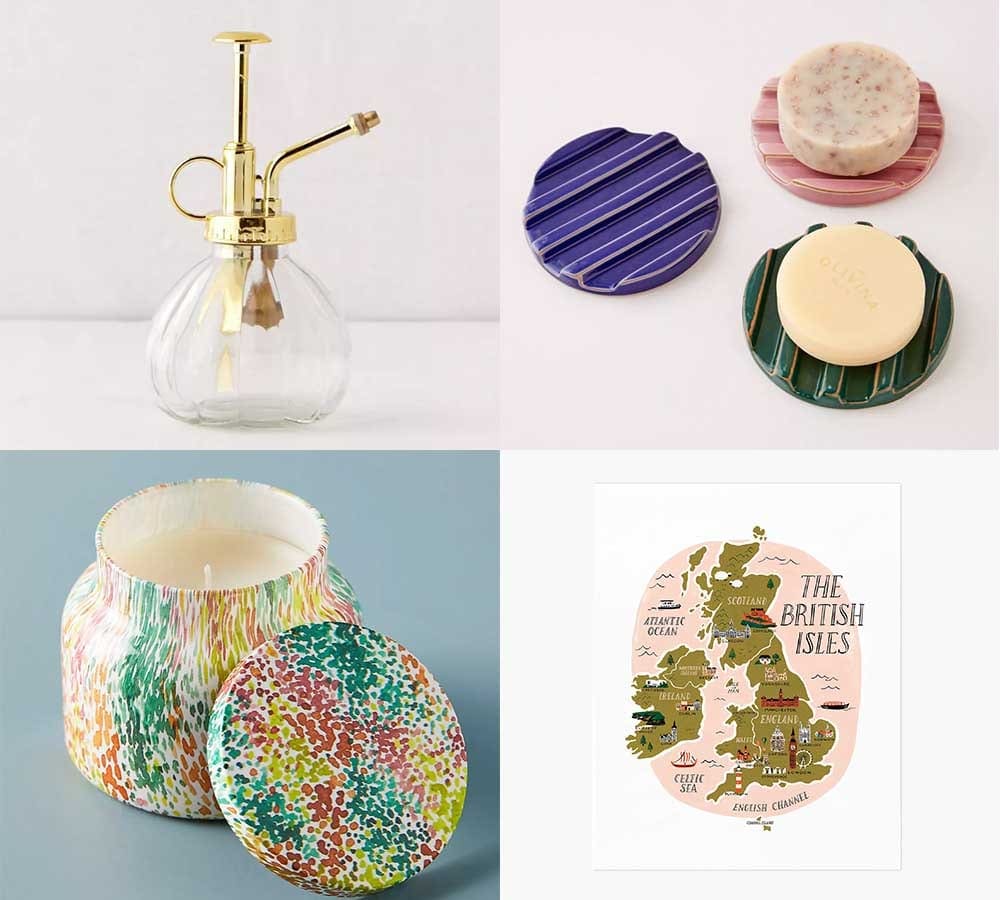 Besides planters and such, you can't go wrong with a catch-all tray, nice art print, or candle. Rifle Paper Co. is one of my go-to stops for any such gifts, as you can see by my choices. This British Isles print is just one of Rifle Paper Co's many art options, which range from flowers to animals, quotes to cities. Their catch all trays are available in a few sizes and styles, too. Theyare great for bedside jewelry dishes or for a desk accessory.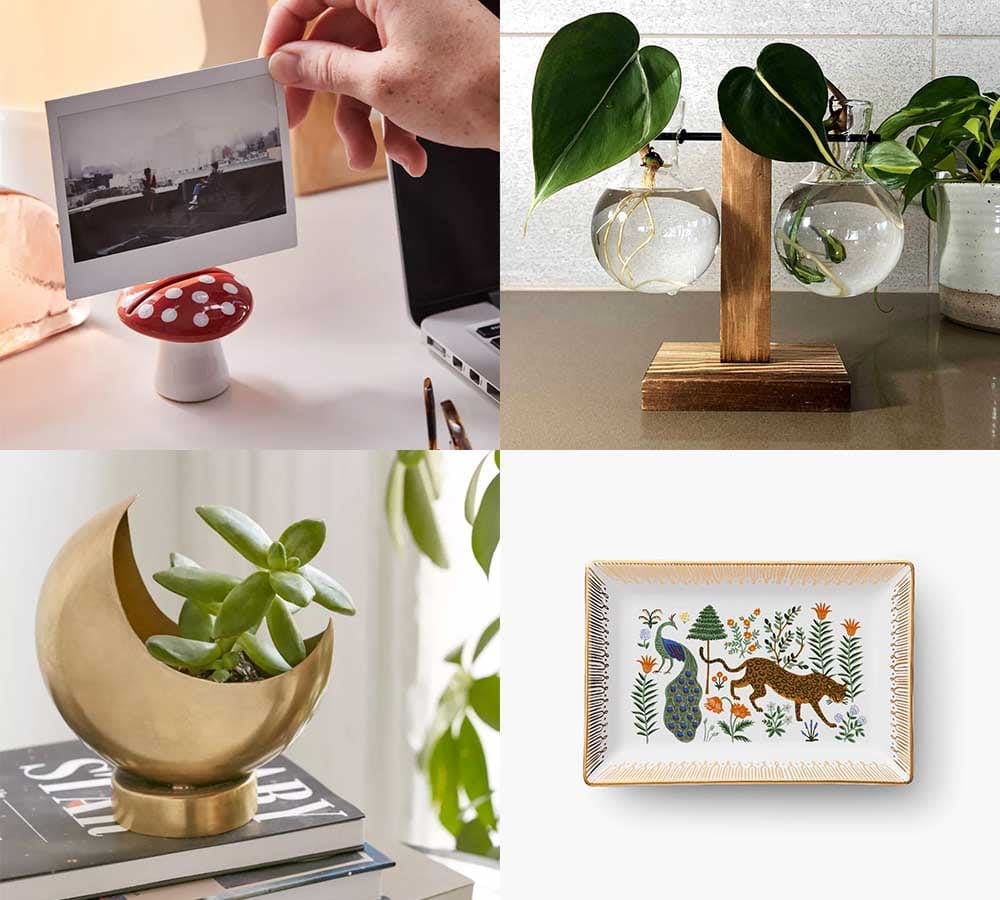 Useful Home Gifts Under $50
Cute, useful, and surprisingly affordable, these home gifts under $50 are crowd pleasing favorites. Whether you pick something to make the recipient's life easier, like this awesome drying rack, or to fulfill a niche interest, like this herb drying rack, it's sure to be a hit.
Particularly nice for new homeowners or couples, this blue spiral Kate Spade wine glass pair is super unique and just $40. Pair it with a nice bottle of wine and you're good to go! Alternatively, for the tea-lover in your life, make a little gift set with a handy Pinky Up teapot — my favorite! — and some nice tea and maybe a pretty tea towel and you're good to go. If you need a nice tea to pair, I highly recommend this earl gray from Whittard of Chelsea — one of my all time favorites!
Top Row: Kitchen Utensil & Stand Set | Charlotte Street Wine Glass Pair | Over the Sink Drying Rack  | Le Creuset Salt Mill
Bottom Row: Stacking Bowls | Herb Drying Rack | Cat Cheese Board | Pinky Up Teapot (my favorite style, also seen here)
This section offers some great ideas for host gifts, whether you gift them around the holidays or during the year. Lately, I've found that giving a nice frame with a special photo is a great gift. The hanging frames below are lovely, and great for such a personalized gift. For a more affordable option that stands on it's own, check out these antique style frames from Amazon; I've purchased five or more at this point and find them to be quite good quality. You can see an example of how I used one here.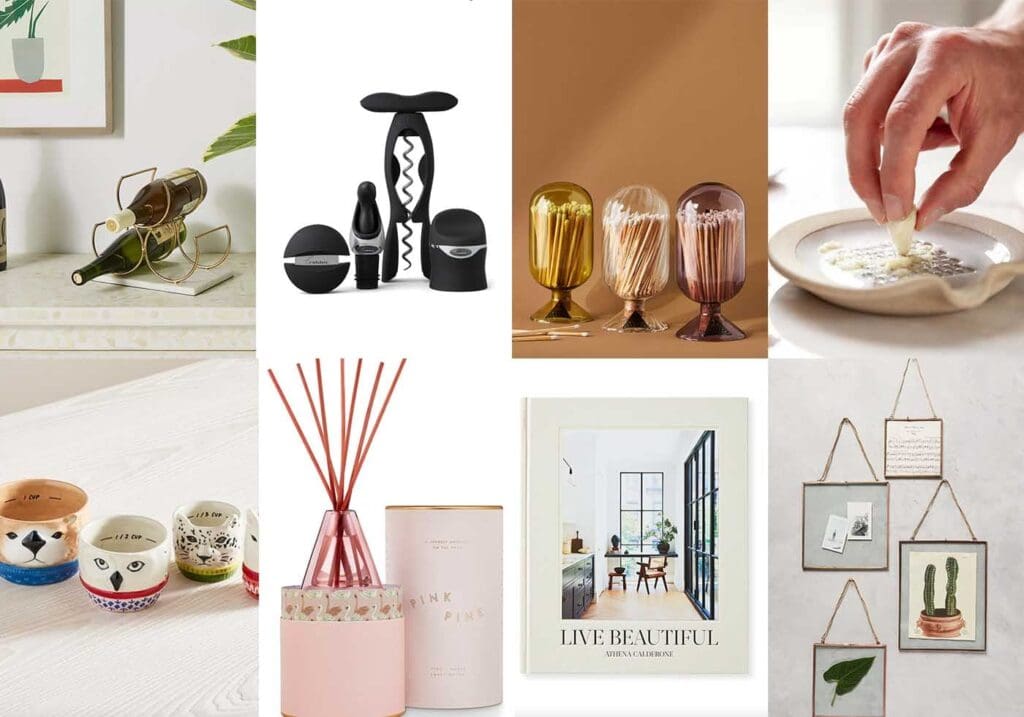 Top Row: Marble Wine Rack | 4 Piece Wine Tool Kit | Match Cloche | Garlic Grater (Sold out, similar style available here)
Bottom Row: Dapper Animal Ceramic Measuring Cups  | Winsome Reed Diffuser | Live Beautiful Coffee Table Book | Vintage Style Hanging Frames (Sold out, similar style available here)
Useful Home Gifts Under $100
This category of home gift ideas features finds between $50 and $100. For the home chef or entertainer, either of the cheese boards below would be ideal, as would the pretty rose pink drink pitcher or Le Creuset baker. I have this particular shape Le Creuset and can attest to it being 100% worth the money and the best for quickly and easily roasting vegetables. Plus, it's easy to clean, so win-win.
Besides the expressly kitchen related items, I also found this picnic cooler bag particularly interesting. It'd be super handy to have around, especially your loved one enjoys picnicking or tailgating.
For more of a self-care or home related gift idea, check out this luxurious bath caddy or cute little leather trinket case. The trinket case is from Monica Vinader*, a favorite brand of mine, and is available in a number of colors. For a larger size, check out this option.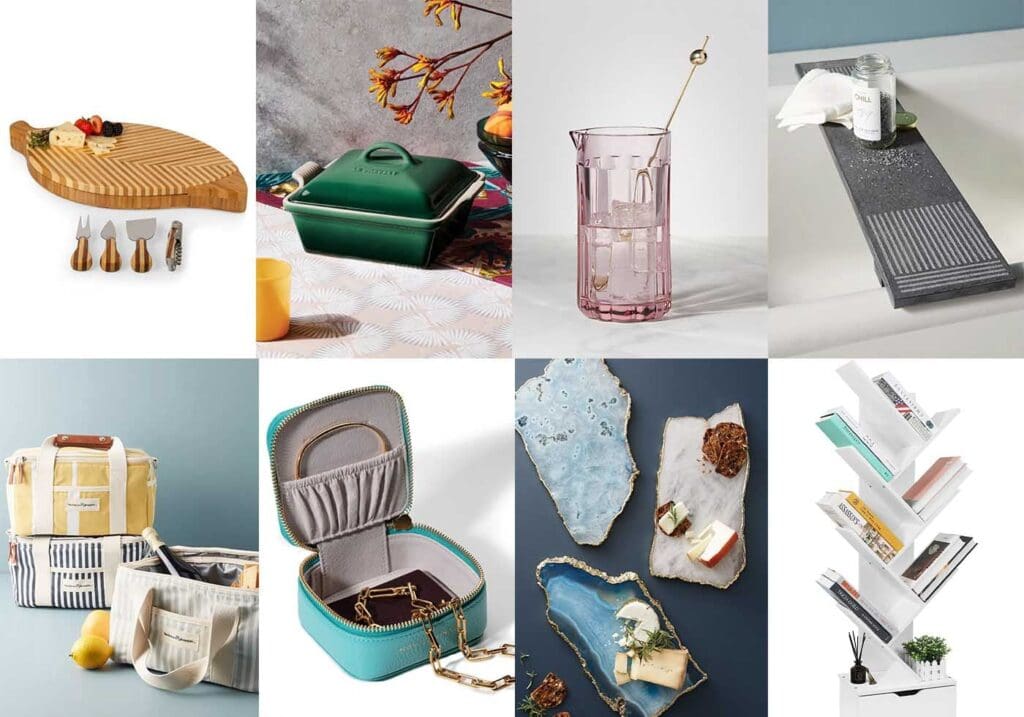 Top Row: Wooden Flora Cutting Board Tool Set | Le Creuset Stoneware Heritage Square Baker | Park Circle Cocktail Carafe | Slate Bath Caddy
Bottom Row: Cooler Bag | Leather Trinket Box | Agate Cheese Board | Tree Bookshelf
*If you're interested in the Monica Vinader case or any of their jewelry,
you can receive 20% off full priced items on their website with my code: US20RAFINSIDER-5681
Click here to shop!
Splurge Home Gifts
Not unlike the first section in this home gift ideas guide, the splurge home gifts I've included are a bit of a grab bag. They are generally pieces that immediately come to mind when I consider what has made my life easier or more comfortable. Common underlying theme here: they are all worth the money.
Click here to see exactly why each of these splurge gifts are worth the money!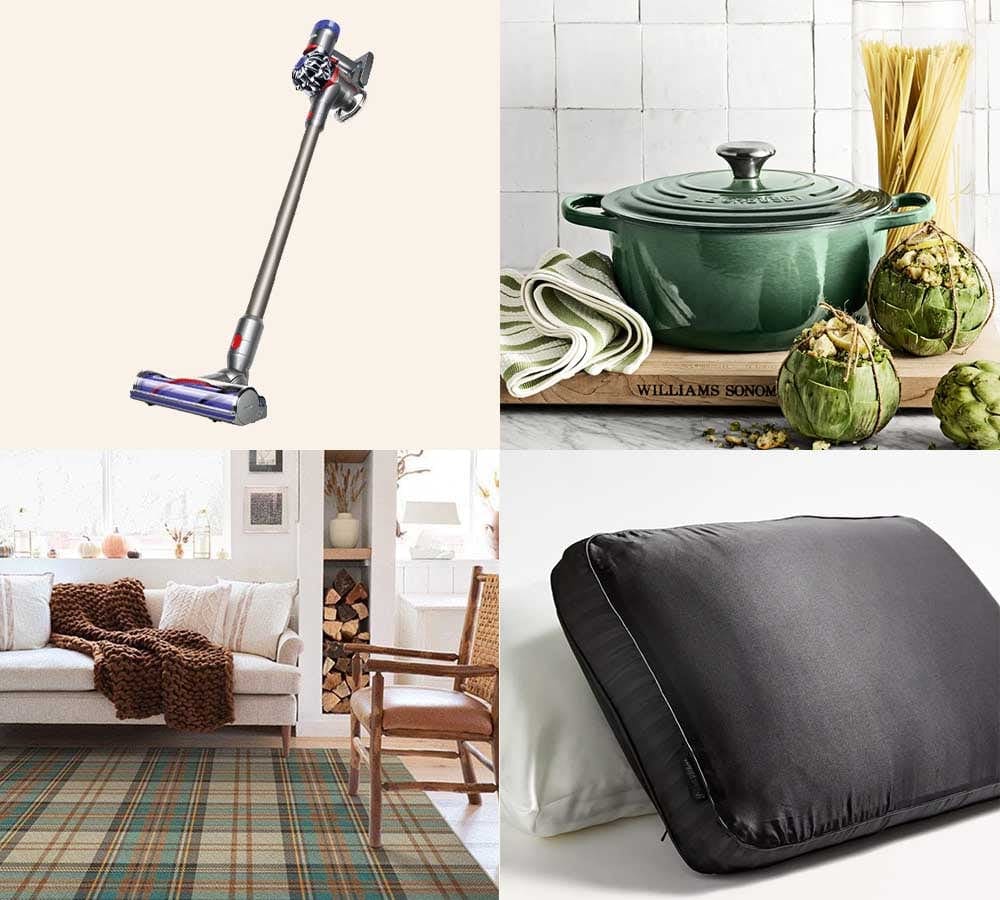 Top Row: Dyson V7 Animal Vacuum | Le Creuset Signature Enameled Cast Iron Round Oven
Bottom Row: Ruggable | Night Pillow
---
Explore More Gift Guides & Curated Boutiques:
*This post was originally published on November 23, 2020. It was most recently updated December 13, 2021.