Simple & Special Gifts for Her
This Gifts for Her guide was a really fun post to put together this season. While there are certainly a number of great sales going on for the holidays on clothes and travel pieces, I'm focusing on cozy and simple gifts that make the recipient smile. These simple and special gifts will make for great daily wear pieces or provide small moments of pampering that are sure to be a hit.
Great Holiday Gifts for Her
Cozy Work From Home Vibes
First and foremost — clothing. These eight style finds are great gifts for any women, from those who work from home to those who are on the go all day and need something comfy to rest and recharge. I am particularly drawn to the cozy side of things this year, so the cozy sweatsuit and simple hoodie are calling my name.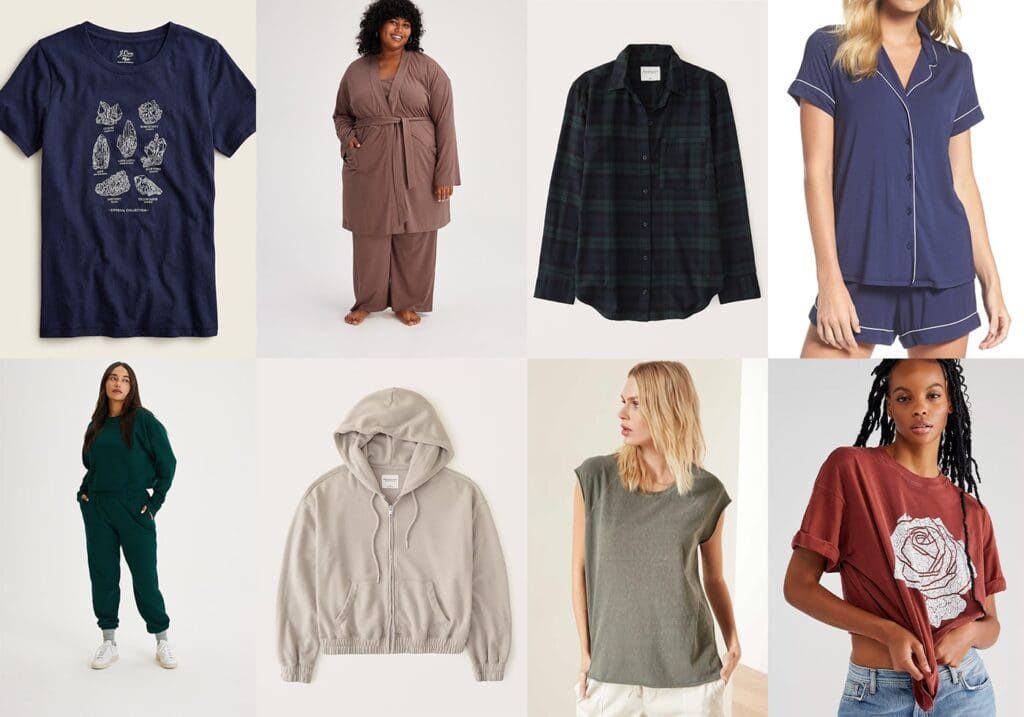 Top Row: Vintage Cotton Crystals T-shirt | Canopy Dream Robe | Boyfriend Flannel Shirt | Moonlight Short Pajamas 
Bottom Row: Biome 50/50 Classic Jogger | Cinched Full-Zip | High Twist Jersey Shell Tank | Rose Boyfriend Tee
Accessories, Beauty, & Stocking Stuffers
Accessories and stocking stuffers are always a great option for girlfriends. Pair a pretty hair accessory, like this satin bow, with a useful styling tool or other beauty find for the perfect duo. Beyond hair pieces, I love gifting cozy socks, lovely candles, and my latest favorite beauty finds. As far as cozy socks go, these cloud socks look beyond soft!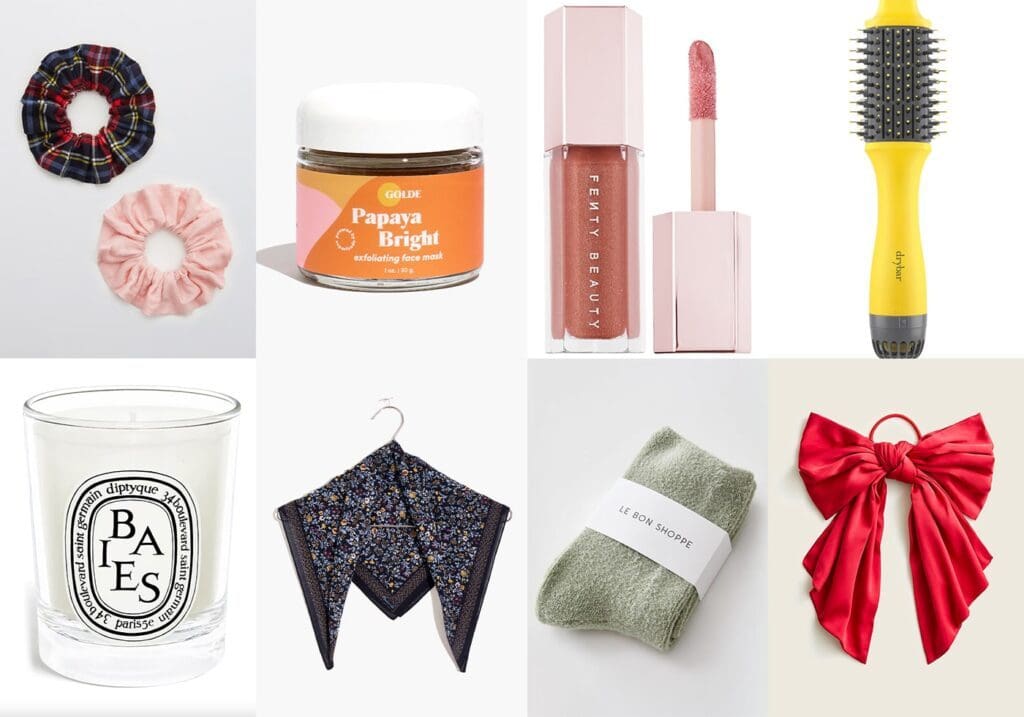 Top Row: Flannel Scrunchie 2-Pack | Papaya Bright Face Mask | Gloss Bomb Universal Lip Luminizer | Round Blow-Dryer Brush
Bottom Row: Diptyque Scented Candle | Patterned Bandana | Cloud Socks | Oversized Satin Bow Hair Band
Embellishments, Sparkles, & On-the-Go
I do love a sparkle, and there are so many great sparkly gifting options out there! Here, I've picked a handful of beautiful pieces of jewelry, including unique handmade finds from Etsy and local Tampa crafters. The crescent moon earrings in the top right of the grid below are from one of my favorite local crafters, Enchanted Yetti (see more about this shop here).
Top Row: Modern Sparkle Earring Set | Charm-Embellished Crown Ring | Jeweled Initial Necklace | Crescent Moon Dangle Earrings
Bottom Row: Cottagecore Mushroom Necklace | Custom Name & Birth Flower Necklace | Doina Huggie Earrings | Heritage Spade Flower Bangle
My favorite jewelry brand Monica Vinader has too many great deals right now for Black Friday. I featured a handful of their pieces in this guide. From simple huggie earrings to colorful rings, this brand offers something for every style, and the prices are very fair — even more so with the current sale! For more Monica Vinader jewelry finds, check out my favorites from the sale here.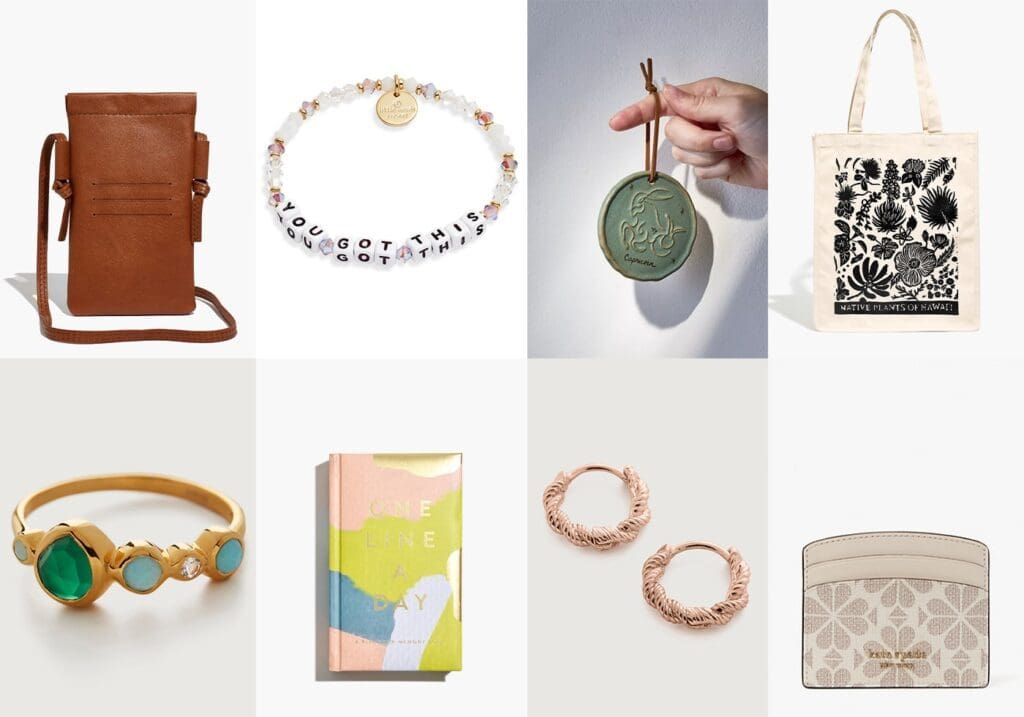 Top Row: Smartphone Crossbody Bag in Leather | Little Words Project Bracelet | Zodiac Ceramic Tile Wall Hanging | Plants of Hawaii Reusable Canvas Tote
Bottom Row: Siren Tonal Half Eternity Ring | Modern One Line a Day Five-Year Journal | Corda Huggie Earrings | Canvas Cardholder
Which of the finds in this gift guide most caught your eye?
I'm loving the jewelry finds, of course, as well as the loungewear at the top.
The cozy Abercrombie & Fitch hoodie is calling my name (and I already ordered the plaid flannel)!
---
Explore More Gift Guides from Cats & Coffee:
*This post was originally published on December 17, 2020. It was most recently updated November 22, 2021.