Spooky and Sweet Halloween
Halloween is a fun holiday, one that I've really started to enjoy more now that I'm more into learning about Celtic and Gaelic history. If you're looking for some fun historical facts, I recommend reading up on Samhain, which welcomes in the harvest and the "the dark half of the year." 
Besides liking the history of it all, though, I do enjoy a good Halloween party. While I'm not extra creative in regards to my costumes — I've been a cat of varying tabby themes for the past three years — I like the decorations and treat ideas. I don't keep candy around the house much, so it's always nice to have an excuse for fun sized Cookies 'n Creme bars, if you ask me.
P.S. Click here to check out my Fall Home Decor guide for more cozy autumnal home inspiration!
Halloween Decor Ideas
Whether you're looking to outfit your entire home, or just want to add a pop of spookiness, these decor ideas are great for celebrating spooky season!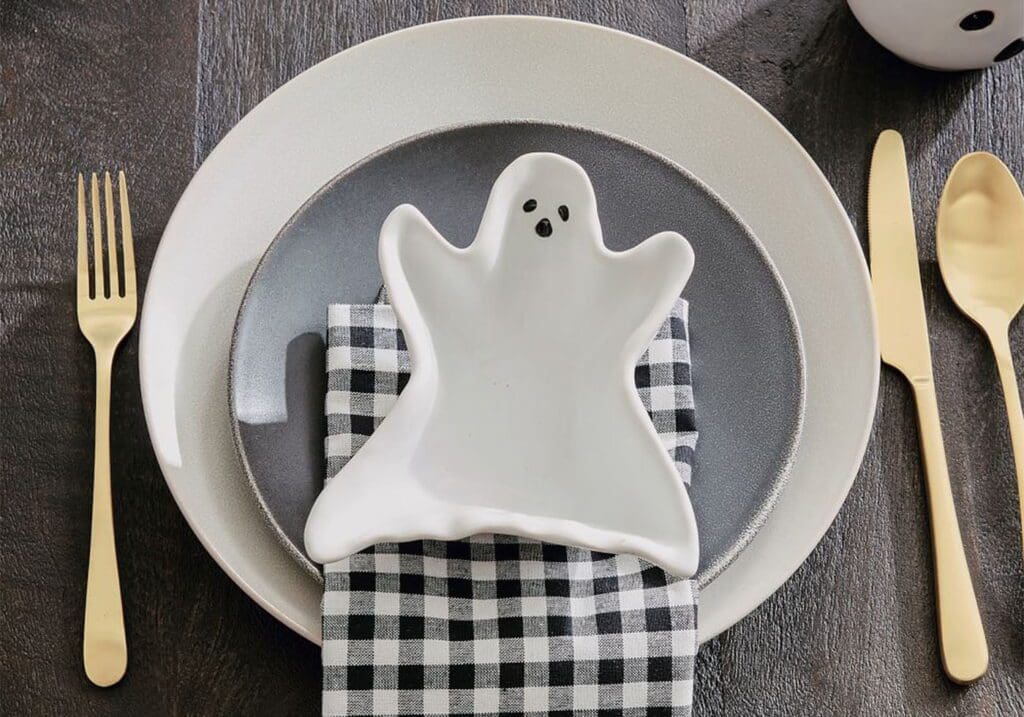 I love to look at Target, Etsy, West Elm, and Pottery Barn for home decoration inspiration. These shops did not disappoint when it comes to Halloween decor this year, either! I've gathered a range of items, from kitchenware to candles, wall art to fabric pumpkins that you're sure to love.
Spooky Season Doormats
Doormats are such a fun and easy way to add a bit of seasonal flair to your home. There are so many cute ones around our apartment complex right now that inspired me to look for Halloween options. The light up one is probably my absolute favorite, but I am drawn to the outlined ghosts in the top left, too!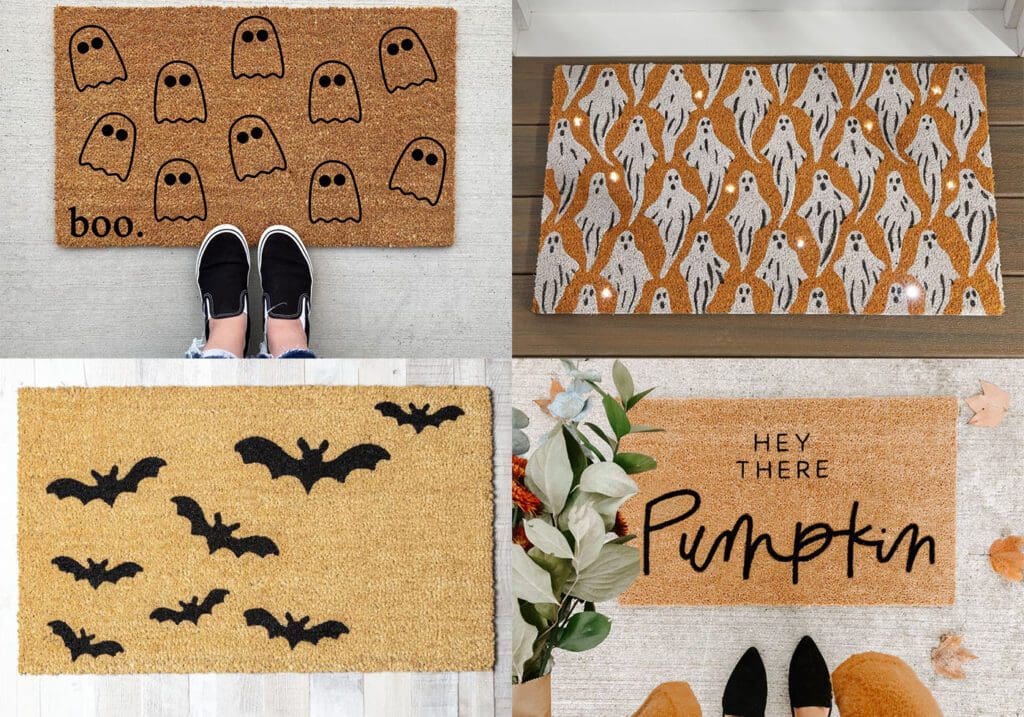 Top Row: Boo Doormat | Light Up Ghost Doormat
Bottom Row: Bat Flight Doormat | Hey There Pumpkin Doormat
Spooky Wall Art & Wreathes
Like with doormats, I like to use wreathes to decorate for the holidays. I recently decorated a plain wreath I had bought from a craft store, and while I didn't set out with the intention of making it for Halloween, many of the elements I used are seasonally appropriate. Other than wreathes, I am loving all the super cute prints available on Etsy, particularly the animal-themed options and this witchy text option. Many of these are downloadable files that you can use however you want in the home!
Top Row: Long Live Halloween Poster | Ghost & Plant Print | Cottagecore Ghosts | Happy Howlween Print | Pumpkin Wreath | Ghost Art
Bottom Row: Witchy Door Sign | Crow Wreath | Witchy Cats | Happy Meowlween Print | Rustic Pumpkin Print
Kitchen Finds for Halloween
As far as Halloween decor inspiration for the kitchen goes, West Elm and Pottery Barn have the best options out there. I love how minimalist many of the pieces are, while still being seasonally fun. The little ghost plate is one of my favorites, tied with the Dapper Animal plates.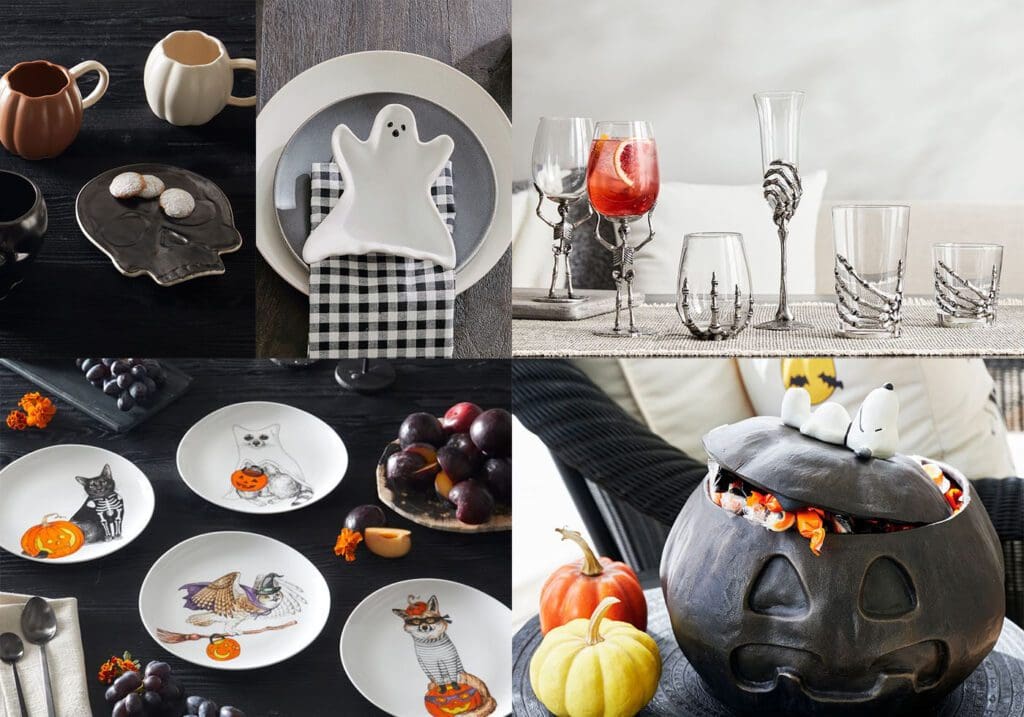 Top Row: Skull Plates | Pumpkin Mugs | Ghost Plate | Skeleton Drink Set
Bottom Row: Dapper Halloween Animal Plates | Snoopy Pumpkin Candy Jar
Candles, Lighting, & Pretty Pumpkins
There's nothing like candles and pillows to make a room feel super cozy. Luckily, there is no dearth of cozy Halloween decor ideas out there, particularly when it comes to great candles. Between the pumpkin spice candle, fall leaves twinkle lights, and cozy pumpkin pillows pictured below, you'll be all set for spooky season movie marathons!
Top Row: Pumpkin Spice Candle | Mini Ghost Candles | Quilted Pumpkins | Cozy Pumpkin Pillows
Bottom Row: Fall Leaves String Lights | Jack-o-Lanter Paper Pumpkin Lanterns | Quilted Pumpkins
Halloween Inspired Figurines & Accents
Last but not least…Halloween figurines! These are just fun little Halloween decor ideas that you can add to your bookshelves or coffee table — or front yard, in the case of the super cute Snoopy light up figurine!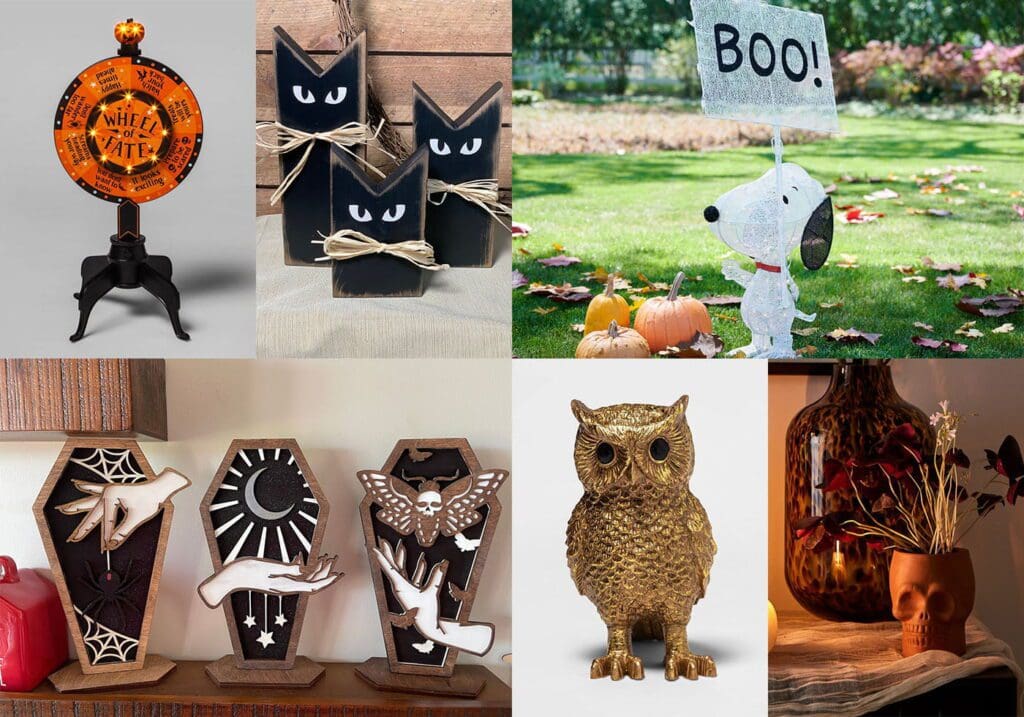 Top Row: Wheel of Fate Figurine | Black Cat Statues | Snoopy Lawn Figurine
Bottom Row: Coffin Figurines | Owl Statue | Terracotta Skull Vase Planter
Which of my Halloween decor ideas did you like the most?
I love the cat ghost prints, myself, as well as the little ghost plate!
*This post was originally published on October 1, 2019. It was most recently updated on October 11, 2021.