What is Poshmark?: How to Make Money on Poshmark
First things first, before I delve into how to use Poshmark, I should explain what the site is. Poshmark is an online market place — akin to eBay or ThredUp — that allows you to sell clothes directly from your home. It's one of the best apps for selling clothes online, whether those items are new with tags, vintage, or gently-used. It's not just for selling used clothes or new pieces, either (although clothing still seems to be the focus). Generally speaking, people sell second hand clothing or new pieces they've purchased but not worn. However, you can technically build a "boutique" on the site by buying wholesale pieces. This article will explore how Poshmark works and what you can do with it.
How Does Poshmark Work?: How to Sell on Poshmark
The model is a bit like a consignment store. The key difference is that you hang on to the pieces you're attempting to sell until they're purchased. It can take a bit of entrepreneurship or ingenuity, but Poshmark can be a great side hustle app if you're looking for a little extra profit in your wallet. Some people have even made small businesses out of it — although most users are far more casual sellers.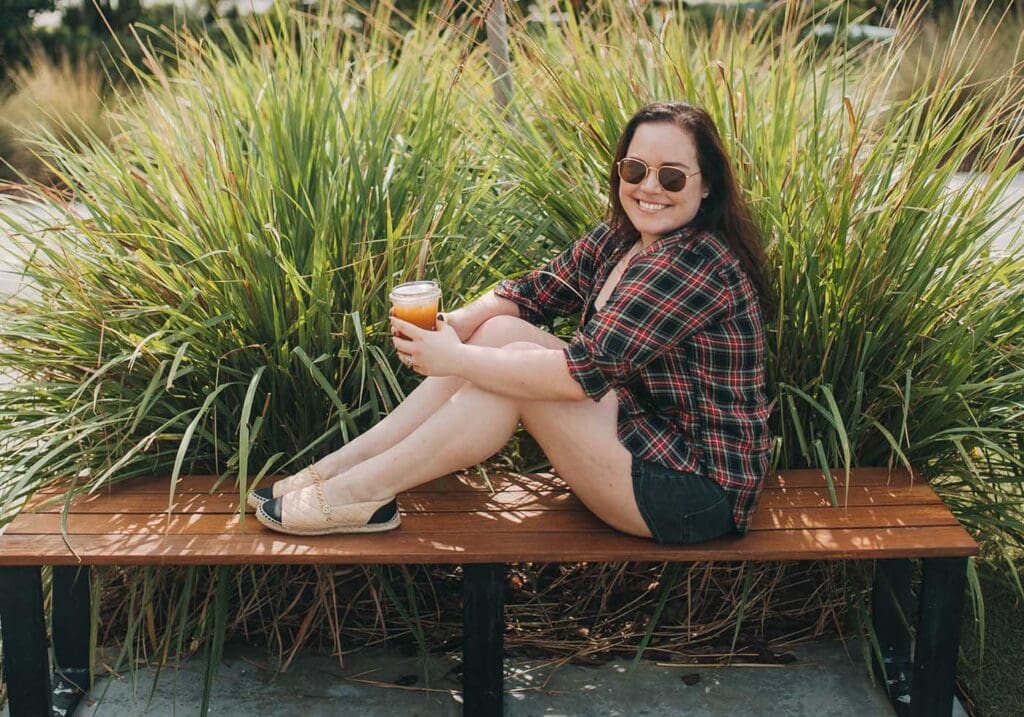 How I've Used Poshmark to Sell Clothes Online
I've been selling on Poshmark for a few years now. Overall, I've found that Poshmark is a great way to reduce clothing waste, as there is a growing market for second hand clothing in light of environmental concerns. I've been using it since my last year of law school, when I downloaded it in order to clear out my closet before moving out of Gainesville. The money I've gotten from my Poshmark sales has been handy spending money. This is especially the case since I've only sold pieces that I wasn't otherwise wearing.
I've used both the desktop version of the platform and the app for selling clothes on Poshmark. You really can use either the site online or download the app. In my experience, the app is pretty user friendly. I haven't tried many other platforms (besides eBay), but Poshmark seems to me to be the best app to sell clothes online, so I recommend going with that.
Is Selling on Poshmark Worth It?
While I do think it is worth it to sell clothes you're no longer using on Poshmark, it's not always a quick payout. Certainly, some people have had meteoric success with the platform, or have made businesses out of it, but this isn't really the norm.
For the typical user, I think Poshmark's strength is in its simplicity. While there is always the option to donate clothes we no longer want, many of us feel guilt in just getting rid of clothes. This is especially true for me if they still have the tags on them. Poshmark is a way to recoup some of that money spent, while expending relatively little effort.
Shop My Closet: Top Listings from my Poshmark Closet
J. Crew Velvet Stewart Plaid Tank, Size 8, New With Tags
The Laundry Room Light Pink Rosé All Day Crop Top, OS
Lululemon Cropped Leggings, Purple Motif, Size 10
Only Mine 100% Cashmere V Neck Sweater, Size M
Theory Karlista Admiral Surplice-Neck Crepe Top, Black, Size Large, New With Tags
How to Sell Clothes on Poshmark
What is a Poshmark Closet?
A Poshmark Closet is essentially your storefront on the site. Any time you list a piece, it'll show up in your Closet. On social media, you'll see the hashtag #shopmycloset, which refers to your Poshmark Closet.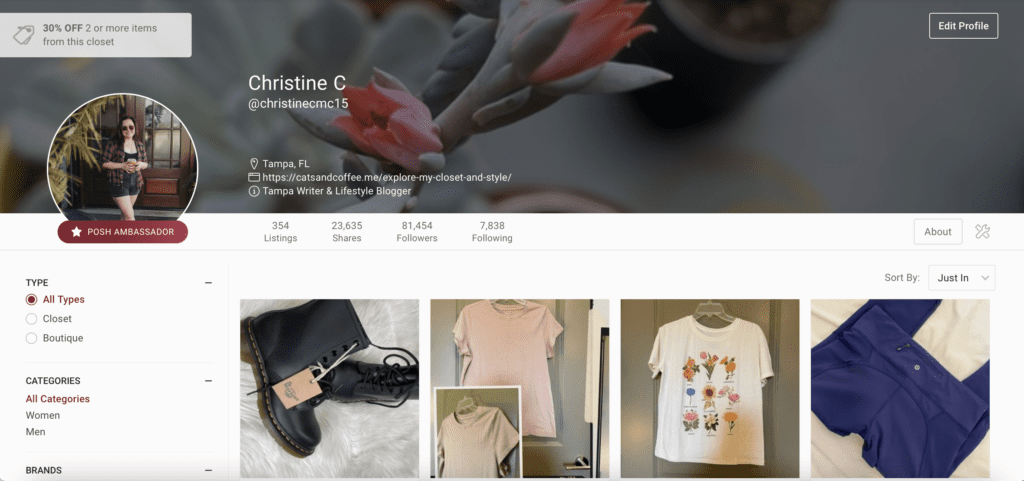 For example, this is my Poshmark Closet. Like most social media profiles, you have a cover photo, profile picture, a space for your name, username, location, and website. I'm a posh ambassador — which basically just means I was active on the app, sold a certain number of listings, and got a certain number of high ratings. I used to have this in my name space. However, I don't think being a posh ambassador makes any difference, really, so I dropped it.
How to Sell on Poshmark & Listing Naming Strategy
Listing items on Poshmark is pretty straightforward. You'll need the basic info of the piece — size, color, brand, etc. — and a few good pictures. Some people list product dimensions in the listing description, but most people don't. I'll measure things if people ask for the dimensions. Typically, I then add them to the description at that point. I've found it's not really necessary to put from the start unless it's an unusual piece.
I've found it works best when you know the actual name of the piece — for example, check out this Free People Birds of a Feather Skater Dress. If I didn't have the actual name of the dress, I would have put a more simplistic title in, like "coral embroidered Free People dress."
While the latter works fine, a lot of people seem to use Poshmark when searching for specific styles. So, if someone's a big Free People fan and know they want this specific dress, they'll probably search " Free People Birds of a Feather Skater Dress."
What Pictures Should You Put on Poshmark?
I go back and forth between taking pictures on my iPhone or on my Nikon D3400. On the one hand, pictures on my Nikon turn out better, to be sure. However, it can be quite a pain to edit everything and get the file compact enough for the Poshmark site. On the other hand, some pieces photograph well with a phone camera and work just fine.
So, generally, I take pictures on my phone unless the piece is difficult to photograph. This Velvet brand top is an example of a difficult piece to photograph. The color would not show up correctly on my phone. It took a while to get it right even with my Nikon.
When I can, I like to use stock photos of products. For example, see this Rails t-shirt. I've found those model shots are easy to find. I've heard mixed reviews about using these photos, but I know that I, as a buyer, would find them useful.
How Does Poshmark Work? How People Buy Your Clothes on Poshmark
Like eBay, people can bid on your listings or buy them outright. It is really rare that people will buy a piece outright (I think it's happened three times for me). People generally send you an offer, instead.
Generally speaking, the offer is around what you've listed the product at, and you can either accept, counter, or decline the offer. Once someone sends an offer, that offer is valid for 24 hours, in which you can do one of those three things.
In my experience, people who offer 25% to 33% below list price are seriously interested in buying the piece. They are generally willing to negotiate in the middle of the first offer and the listed price you chose. If people start out with a low-ball offer, I've found that rarely results in a sale.
What is a Poshmark Bundle?
Another way people can buy your clothes on Poshmark is by bundling them in their shopping bag. Typically, Poshmark users will give some kind of discount for buying more than one piece at a time. Sellers can choose to do so and what percentage discount they'd like to offer. I typically offer 20% off bundles of two or more.
I have an empty listing in my closet to advertise my bundle discount. Like the Poshmark Ambassador thing, I'm not sure how much of a difference this makes. Either way, I like making graphics and feel like it can't hurt.
When someone bundles items, they can either make an offer or immediately buy the bundle. When a buyer bundles items into, the Closet owner gets a notification. Many sellers will then send a personalized offer.
How Much Does it Cost to Sell on Poshmark? Does Poshmark Take a Percentage Per Sale?
Poshmark fees are different from other online sales channels. Unlike eBay, which has a small charge to list a product, Poshmark doesn't charge you to actually list items. Instead, Poshmark takes a cut out of the sale price. So, if you have a piece that never sells, there is no Poshmark fee and you don't have to pay to have it sitting in your Closet.
For sales under $15, Poshmark charges a flat rate of $2.95 (which is news to me, because I thought it was the same fee for all prices — I wonder if this is new?). For sales over $15, Poshmark keeps 20% of the order price and the seller gets 80%.
So, for the benefit of not having to pay an up-front listing fee, you do lose out on more money from the actual sale. I've not really minded this much; there are certain benefits that come from using an established platform like Poshmark. Shipping is standardized, which I'll discuss in a moment, and, as a whole, their customer service team is pretty good. For me, the general ease of use is generally worth the 20% cut. For higher value pieces, though, I might turn to the Real Real.
Shipping on Poshmark
Who Pays for Shipping on Poshmark?
It can be a bit confusing to answer the question of who pays for shipping on Poshmark.
The buyer theoretically pays for shipping on Poshmark. However, the seller has the option of offering discounted or free shipping. If the seller offers such discounted or free shipping, then the cost of shipping is deducted from the profits the seller would otherwise receive.
How Much is Shipping on Poshmark?
Recently, there has been some changes in the shipping structure on the site. Poshmark now charges a flat rate of $7.11 per package (up to 5 lbs). Previously, they had charged just under $7.
Shipping is simultaneously one of the most convenient things about this online marketplace, and also one of the most frustrating. One of the best things about Poshmark is that, once someone buys a piece of yours, they automatically email you a ready-to-print mailing label. All you have to do is print it, package the piece, affix the label, and drop it in the mail. Easy enough.
Sellers have the option to provide shipping discounts, especially if they make offers to those who have liked a listing. In fact, to make such an offer, Poshmark requires sellers offer some kind of shipping discount — whether that's a partial discount of $2.12 or a free shipping. The seller's profits are decreased by the amount of the discount.
There has been some controversy amongst sellers about this, since an incase in shipping prices further eats into profits on the site. That, plus the platform's pressure to use the Offer to Likers feature, has left a bad taste in some sellers' mouths. The convenience of the app, though, has kept sellers using the platform.
For more info on this, I'd recommend checking out their website guide and the FAQ from the site itself.
Poshmark Customer Service
I wanted to make a note on Poshmark's customer service department, because I have a certain love-hate relationship with them. Overall, they really do a good job. They're fairly responsive and, if an issue comes up, they typically resolve it to the benefit of both parties involved.
If you sell on Poshmark, someone is going to open a case against one of your items at some point or another. You can't please everyone, and people will get pissy over stupid stuff sometimes. For example, color discrepancies in photos versus the actual product, which is why I mentioned getting accurate color photos earlier.
If you're a reasonable, responsible person who takes time to get good product photos and listing details, I'd estimate that 9 times out of 10, a case opened against you would be frivolous. The Poshmark customer service teams can see this and generally side with the seller. Or, some times, they'll refund the buyer and let the seller keep the proceeds as well. Like I said about the Poshmark 20% fee, this is definitely one of the benefits of using a larger, established platform like this.
That being said, even if they do let you keep the funds, that doesn't mean they won't absolutely scold you for screwing up. I sold two pairs of Lululemon leggings and, in a moment of thoughtlessness, mixed up the shipping labels and shipped to the wrong people. Totally my mistake, but these things happen. Both of the buyers were super understanding and Poshmark ultimately let me keep the funds and refunded one of the buyers (the other buyer was happy enough with the incorrect pair, I guess?). Anyway, that was fine and good, but before they told me I could keep the funds, I asked to have the pair back whose sale they refunded. The email response I got felt like one of those howler letters from Harry Potter about how it was my responsibility to ensure proper shipping. While this was true, I didn't appreciate the tone.
How Do You Get Paid for Sales on Poshmark?
Once you sell a piece and the item arrives in the buyer's mailbox, the buyer has three days to inspect the item and accept the package. If the buyer hasn't done so by the third day, then Poshmark automatically releases the earnings to you at that point. If they accept it earlier, the earnings are available sooner.
From then, you can either hook it up to your bank account for direct deposit or get a check mailed to you. Super easy!
What Are the Top Selling Brands on Poshmark?: Best Things to Sell on Poshmark
I saved this question for last because it's not easily answered. If you asked me this a year ago, I'd say Free People, Lululemon Athletica, and Madewell, without a doubt. Lately — and disappointingly — these otherwise staple brands haven't been performing as well. Lately, Aritzia and Dr. Martens have been popular brands on Poshmark, which may speak to shifting style trends.
Ultimately, I think the app is getting a bit saturated, making it harder for your listings to be seen or, when seen, to be noticed. This is one of the reasons why specific style naming can be helpful, and why good photos can help set you apart.
---
Want to give Poshmark a shot for yourself?
Get $10 when you sign up with the code CHRISTINECMC15!
*This post was originally published in April 2020. It was most recently updated on November 21, 2021.