My Favorite Color: Green Jewelry from Monica Vinader
Monica Vinader has long been a favorite jewelry company of mine. And we all know that green is my favorite color. So when I saw that Monica Vinader had a number of gorgeous Green Onyx jewelry pieces to choose from, I knew I had to place an order! Here, I'm sharing about two of my favorite green jewelry pieces from Monica Vinader: the Green Onyx Siren Wire Earrings and Oval Siren Bezel Pendant Necklace.
Green Onyx & Gold Vermeil
What is Gold Vermeil?
No one does reasonably priced gold jewelry like Monica Vinader. Part of what makes their pieces so unique is the use of vermeil. Vermeil (pronounced ver-may) is a blend of precious metals, offering a tick layer of 18 caret gold atop sterling silver. This offers the classic look and quality of gold, without the hefty price tag.
Not only does vermeil allow the brand to craft affordable gold jewelry, but it also is created with 100% recycled and sustainable materials. Crafted by hand, each piece reduces CO2 emissions over 60% compared to traditional manufacturing.
Learn more about Monica Vinader's commitment to recycling
and sustainability with their gold vermeil here.
Natural Green Onyx
The natural green onyx stone is deep emerald in color with a highly reflective sheen and subtly translucent body. It originated in India and is responsibly manufactured, like all of Monica Vinader's pieces. The stone's meaning is protection.
Closing Thoughts on Monica Vinader's Green Onyx Jewelry
Both the earrings and necklace, like my other Monica Vinader pieces, are incredibly high quality and beautiful. Truly heirloom level jewelry! I wear them quite often and always receive compliments on them.
Beyond wearing them as a set, though, they also pair nicely with my other pieces from the brand. I like to layer the necklace with my Siren Mini Nugget Necklace. While the latter is rose gold, I find that the pieces actually complement each other quite nicely.
Another option is to layer the green onyx necklace with either my Large Coin Pendant Charm or with my personalized, engraved Large Siren Necklace.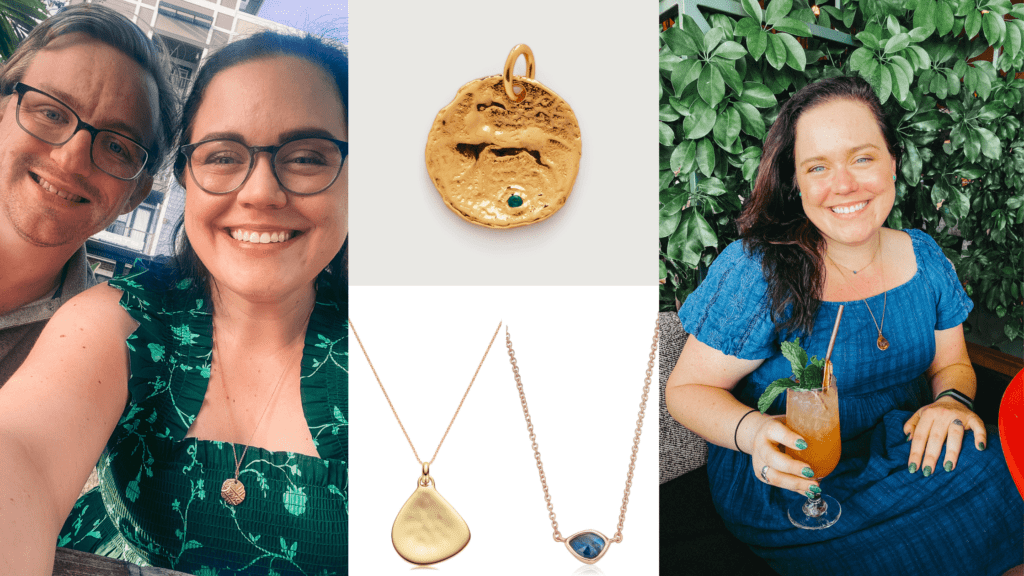 Shop Monica Vinader
I'm happy to share an exclusive discount code with you so you can pick up some beautiful green jewelry — or jewelry in your favorite color — yourself! Take 20% off Monica Vinader with my exclusive code US20RAFINSIDER-5681 by visiting the brand's website here.
*Thank you to Monica Vinader for gifting me the Green Onyx Siren Wire Earrings and Oval Siren Bezel Pendant Necklace. These are my honest thoughts and opinions on the pieces, and I have personally purchased and will purchase more from the brand in the future.
*This post was originally published on May 5, 2022. It was most recently updated on May 30, 2022.