Great Gifts for Cat Lovers
Most cat moms will agree, I'm sure, that cat themed gifts are always a hit. From home to style and everything in between, cat lady gifts are sure to make the recipient smile. I had so much fun putting together this gift guide, full of the best gifts for cat moms from some of my favorite stores and websites, including Etsy, Rifle Paper Co., Kate Spade, and more. I've split up these gift ideas into two primary categories: style and home. Style incorporates wearable pieces, including adorable graphic tees, bags, and jewelry. Home highlights a variety of gift ideas for cat lovers, including little statues, planters, candles, and more.
This post contains affiliate links, meaning that when you click and purchase from my links, I may be compensated at no extra cost to you.
Style Gifts for Cat People
There are a couple routs you can go with style gifts in this feline-inspired category. You could opt for something a bit more stylized, such as the cozy sweater below, or for something a bit more whimsical, like the cat tarot tank top below (or, dare I say, even this Meow Wars tee).
When it comes to cute feline-inspired tees, Etsy is by far the best. Between the "Pawmaste" tank top, "Easily Distracted by Books & Cats" tee, and the artistic Adam Creation Shirt, you really can't go wrong for cat lady gets. If you're looking for even more options along these lines, definitely check out the "Style & Accessories" tab in my Cats & Cuteness boutique here.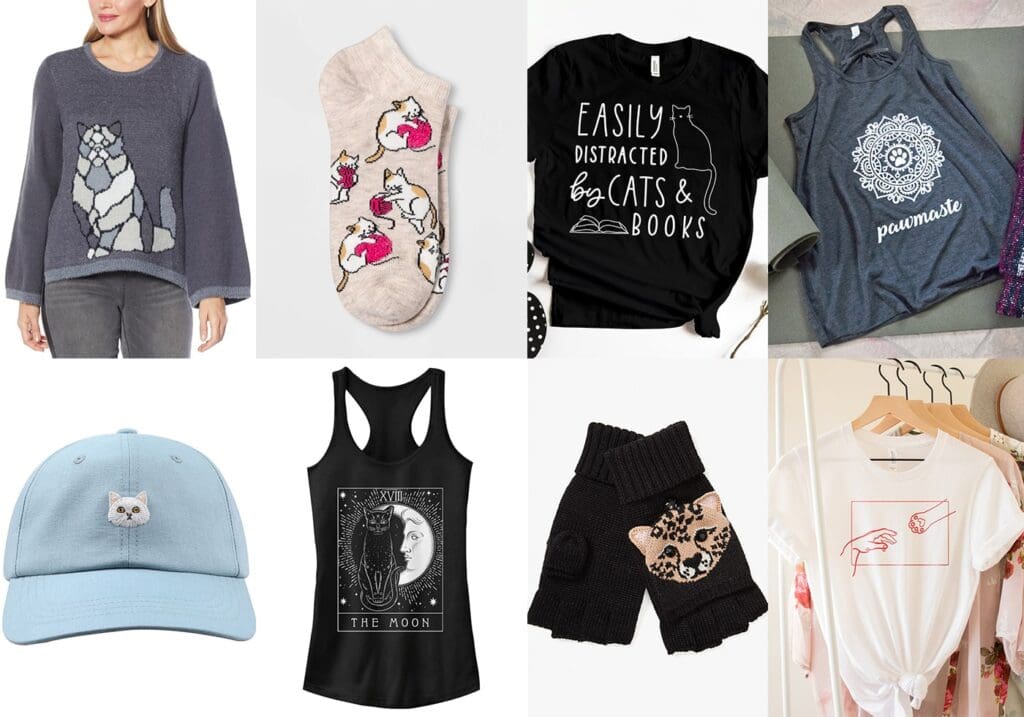 Top Row (Left to Right): Animal Swing Hem Sweater | Fuzzy Cat & Yarn Socks | Books & Cats Tee | Pawmaste Tank Top
Bottom Row (Left to Right): Soft Cat Embroidery Ball Cap | Celestial Cat Moon Tarot Tank Top | Leopard Face Pop-top Gloves | Adam Creation Shirt
Besides graphic tees, there is no shortage of feline related accessories available for the cat lovers in your life. For instance, my mom gave out these adorable purse holders a couple years ago as cat lady gifts and they were a hit. I still use mine! Alternatively, you can opt for wearable options, like a sweet cat pin or handmade bracelet. I'm also a big fan of giving gifts in tote bags. I included a couple great cat themed options here in case you wanted to create your own little gift bag set!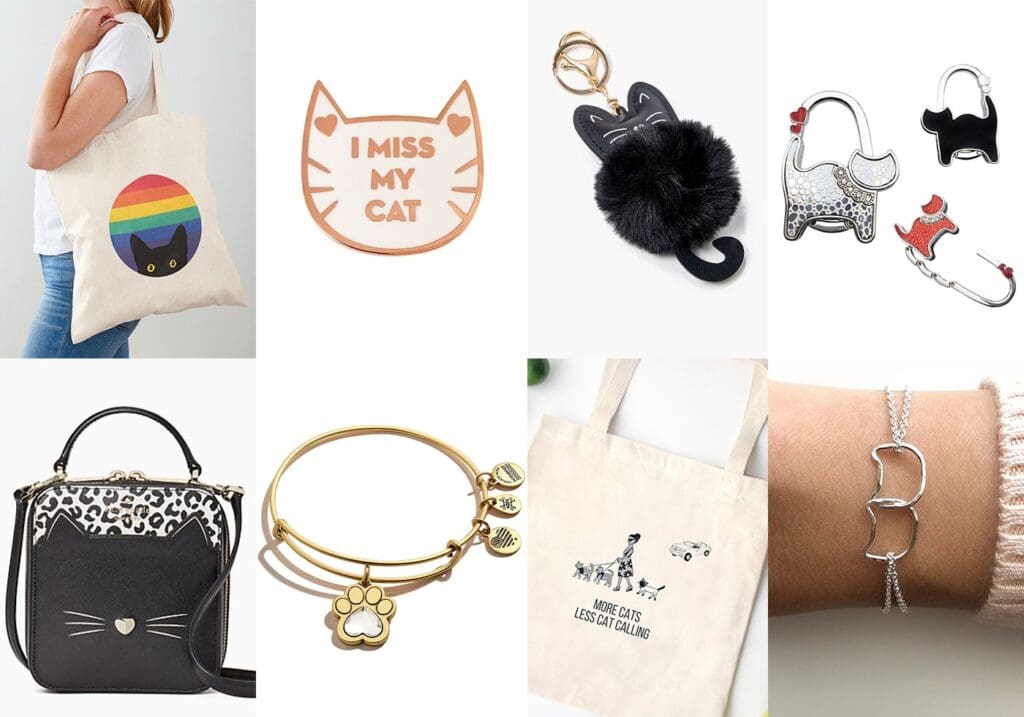 Top Row (Left to Right): Peeking Cat in Rainbow Circle Tote | "I Miss My Cat" Pin | Cat Pom Pom Keychain | Sparkly Cat Purse Holders
Bottom Row (Left to Right): Meow Cat Daisy Crossbody Purse | Paw Print Bangle | "More Cats Less Cat Calling" Tote | Handmade Cat Bracelet
Home Gifts for Cat Lovers
Home accents are another great rout when looking for gifts for cat lovers. Again, I find Etsy has an incredible range of options in this regard, from pretty stained glass statues to unique planters, ideal for cat-and-plant moms. I particularly love the range of feline-inspired art you can find on Etsy, either as a physical print or as a digital download.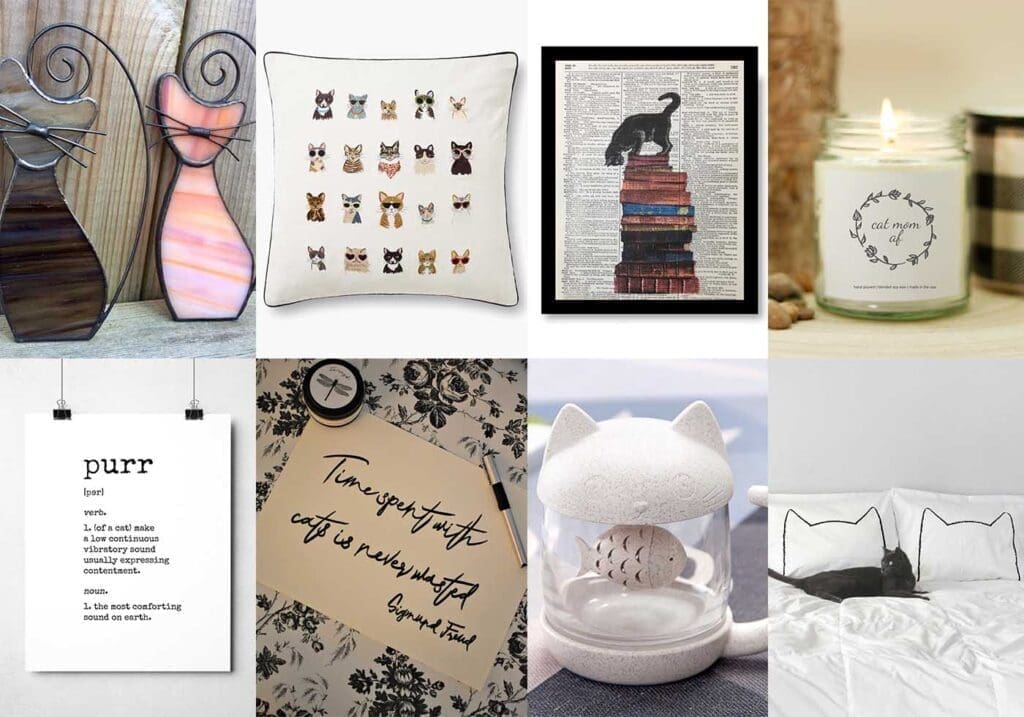 Top Row (Left to Right): Stained Glass Cat Sun Catcher | Cool Cats Embroidered Pillow | Cat & Books Print | "Cat Mom AF" Candle
Bottom Row (Left to Right): Purr Definition Print | Freud Cat Quote Print | Cat & Fish Tea Cup | Catnap Pillow Cases
Really, I truly believe you can't go wrong with a nice candle as a gift for pretty much anyone. That is doubly true when the candle features a pun or a cute animal on the jar, as both of my choices here offer. For a more subtle option, try this "Cat Mom AF" candle from one of my favorite Etsy Shops, Ciao Gatto Cat Market (they have the best catnip toys!). For a funnier option, this cat selfie candle is pretty perfect (excuse me, purrfect).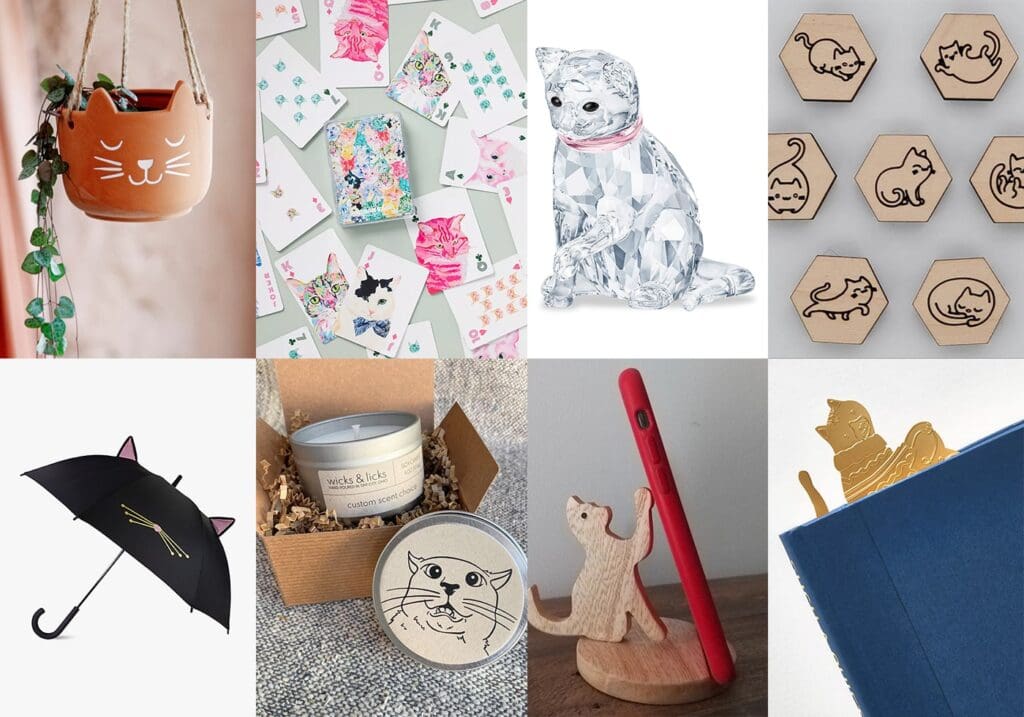 Top Row (Left to Right): Terracotta Cat Planter | Cat Playing Cards | Playful Cat Crystal | Cat Magnets Set
Bottom Row (Left to Right): Cat Umbrella | Cat Selfie Candle | Cat Phone Stand | Gold Cat Bookmark
Need Even More Gift Ideas for Cat Lovers?
For more cat themed gifts, check out my curated Cats & Cuteness boutique here!
This page features a variety of great finds by category, including:
(1) gifts for cat lovers,
(2) cat inspired finds for the home,
(3) cat lady style pieces and accessories, and
(4) favorite finds for cats themselves.