Outlander Finds for Fans of the Series
I'm kicking off 2022 with a renewed obsession with Outlander, thanks to the release of the ninth book in the series. Have you read it yet? Just after Christmas, I started reading Go Tell the Bees That I Am Gone. I am totally — and unexpectedly — hooked. As such, I've done some quick searches on Etsy and the like for new Outlander inspired gifts and finds, just as a little treat for myself. Let me tell you…the internet has not disappointed! Here are some great Outlander inspired gifts and finds:
Outlander Inspired Finds from Etsy & Amazon
Wearables & Sassenach Inspired Finds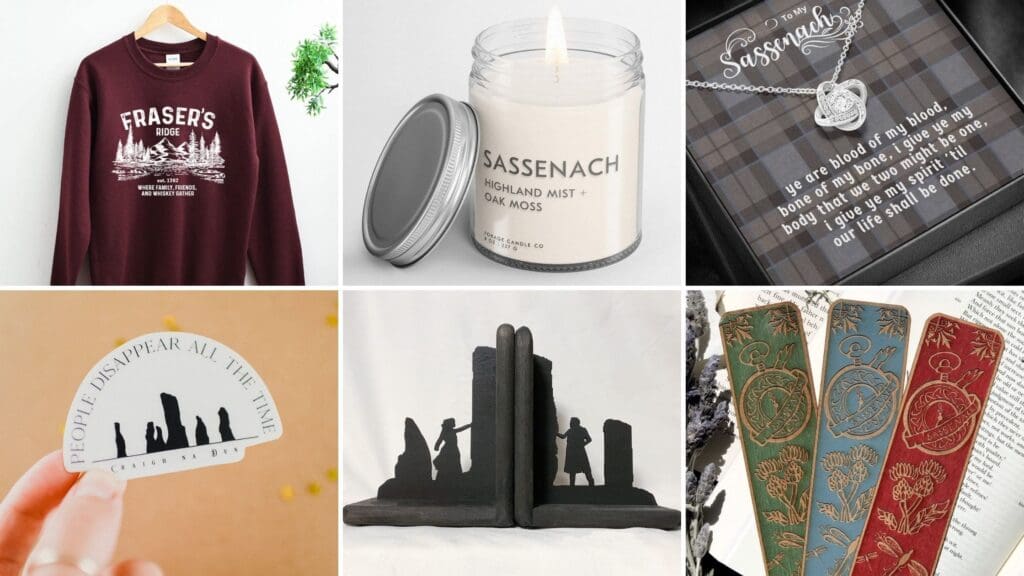 Top Row: Fraser's Ridge Sweatshirt (similar style) | Sassenach Soy Candle* | To My Sassenach Necklace
Bottom Row: Craig Na Dun Sticker | Outlander Bookends | Sassanach Woodmark Bookmarks

*The Smells Like Books Etsy shop has graciously shared a discount code for their products; use the code "BOOKFRIENDS15" at checkout for 15% off any of their products, including the Sassenach candle featured above!
There is no shortage of great Outlander finds on Etsy. I've always been a fan of their wearable options, with themed tees and sweatshirts. I'm sure many are drop shipped. However, I do still feel like I'm supporting small creators if I purchase them. I did branch out to Amazon a bit just for some variety. Many of the Amazon finds are from Amazon Handmade, so you're still supporting small creators with many of these options!
Skye Boat Song Themed Finds
There are lots of great home finds based on this series, as well, including no dearth of Skye Boat Song inspired pieces. I'm really loving this Vintage Skye Boat Song Tin Sign, as well as this embroidered hoop option. However, if you're looking for something more subtle, this Lallybroch watercolor print is a great option.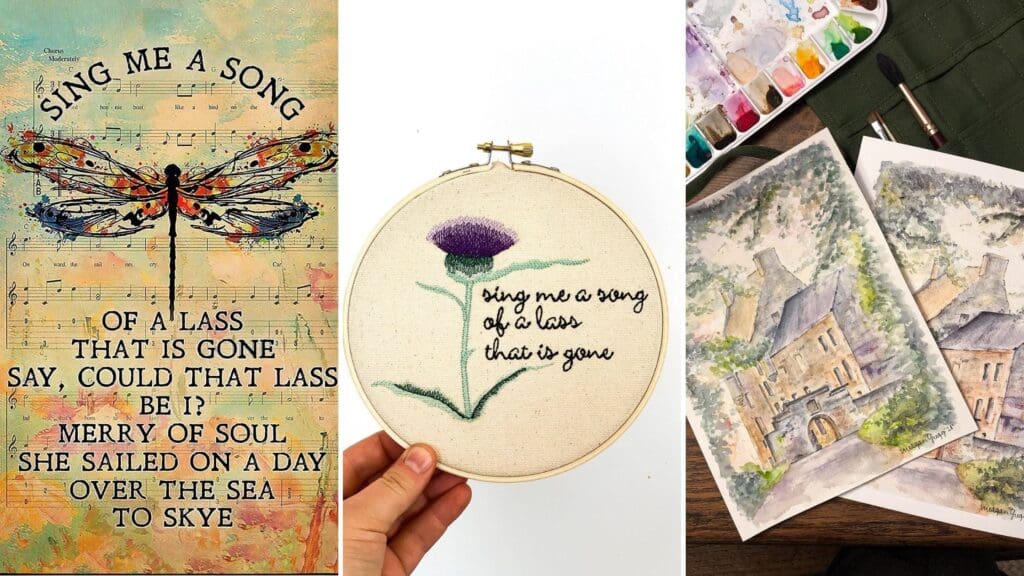 Left to Right: Vintage Skye Boat Song Tin Sign | Sing Me A Song of A Lass That is Gone Embroidered Hoop (similar style here) | Lallybroch Midhope Castle Watercolor Print
Smaller Outlander Inspired Finds
Overall, I am always drawn to Outlander and Scotland inspired jewelry. The Scottish Thistle Wax Seal Necklace below is really calling my name. However, the intricacy of this music box is totally mesmerizing.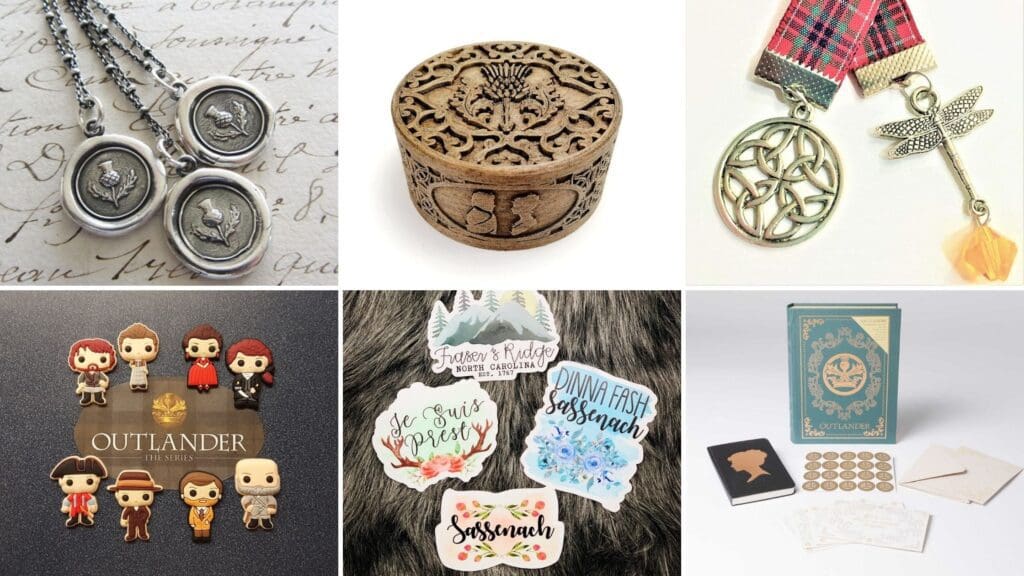 Top Row: Scottish Thistle Wax Seal Necklace | Outlander Music Box | Dragonfly in Amber Bookmark
Bottom Row: Mini Outlander Characters | Outlander Inspired Stickers | Outlander Deluxe Note Card Set 
Whether you're looking to treat yourself or just to window shop, I hope you enjoyed these Outlander inspired gifts and finds! I think that it is always fun to see how creative fans of the series express their interest and vision of the story. Let me know your favorites in the comments below!
Looking for more great Outlander content?
Click here for all my posts about the time traveling series!
*This post was originally published on January 3, 2022. It was most recently updated on February 24, 2022.