The Best Podcasts About History
As a devoted history lover, I have found a number of fantastic history-based podcasts over the years. Podcasts are a great way to learn about new eras, or to round out knowledge on favorite historical time periods. For me, that is Renaissance England and Scotland. I love listening to podcasts when I'm working, driving, or cleaning up, as you know from my Curated Content Series. The five history podcasts I'm sharing here are all well suited to these tasks.
Each of the five podcast series below range between a half hour and an hour or so per episode. Many of the series have hundreds (even thousands) of episodes in their libraries already. So, you'll have plenty of new content to listen to for weeks to come!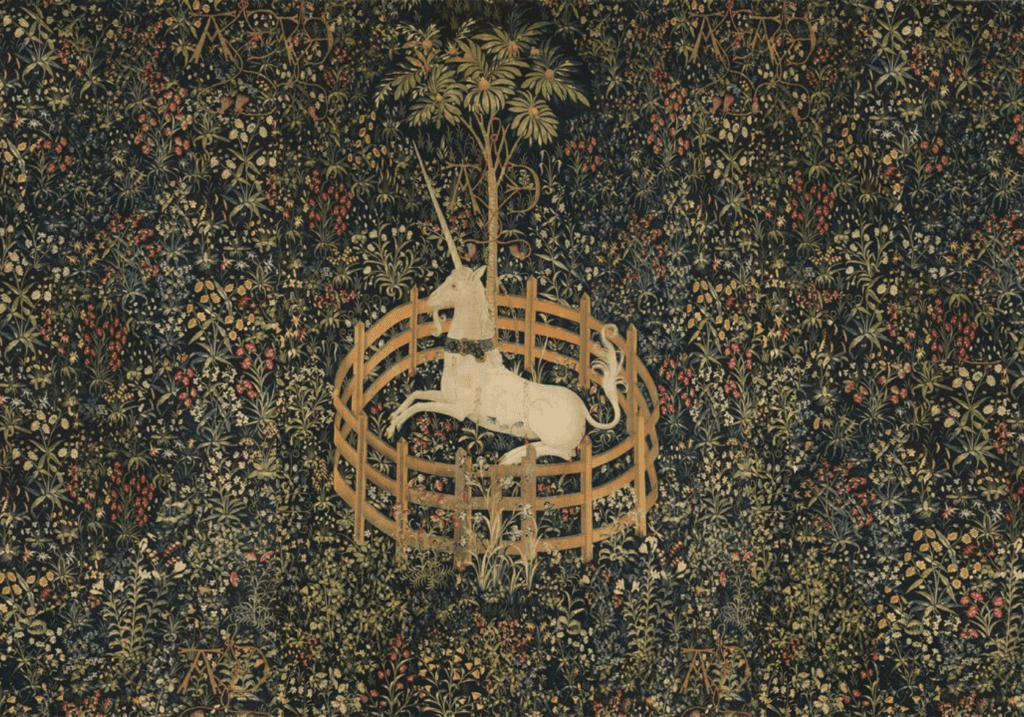 The Unicorn Rests in a Garden (from the Unicorn Tapestries) | Image Credit via Tumblr
My Favorite History Podcasts
As my area of interest focuses on Renaissance Western Europe — particularly England and Scotland — these podcasts also tend to highlight these areas. However, each of the shows featured here do branch out to include historical discussions of other eras and regions of the world, as well.

History, Etc. with Dan Jones 
You have to sign up for Dan Jones' Substack email newsletter in order to get the podcast feed. It's definitely worth it. His newsletter is also quite good, so you'll enjoy that, too. Overall, this quick podcast is conversational, winding, and covers a whole wide range of topics. Great for when you're running errands or cleaning up around the house. When you add your email, you'll get an email about how to download the podcast (or you might be able to download it to your app of choice here).
Email Sign Up | Books | Instagram | Twitter | Website
History Extra Podcast from History Extra
This is a long-running show, with over thirteen-hundred episodes. Most are around 30 minutes, with some extending to an hour. Like with Not Just the Tudors, this podcast hosts a ton of great guests, many of whom you may have heard of before, but plenty that will be new to you. The topics focus on Western Europe, but it is not limited in scope to say the least. 
Apple Podcasts | Spotify Podcasts | Instagram | Website
Noble Blood with Dana Schwartz
With episodes ranging from about 30 minutes to an hour, Noble Blood is an easily digestible podcast for history lovers. This is a newer find for me, so I don't have quite as many insights into it yet to share, but I am already hooked. Overall, I enjoy the host's American perspective; like with Talking Tudors below, it feels a bit like a friendly chat from a fellow history lover (and cat lover; see Schwartz's author image here). The episodes are generally quite well researched and detailed, without being overwhelming. 
Apple Podcasts | Spotify Podcasts | Books | Instagram | Twitter | Website
Not Just the Tudors with Suzannah Lipscomb
The Not Just the Tudors offers 30- to 50-minute on a wide range of historical topics. Topics include, but are definitely not limited to, Tudor England. It is produced by History Hit, which has a number of other great historical podcasts, as well. Suzannah Lipscomb is one of my all-time favorite historians and historical broadcasters, so I never miss her podcast (or her new newsletter). There are lots of great guests, many of whom are recently-published authors. This makes this podcast a great jumping off point for future history reads. There are niche topics, as well as more general ones. I find that Not Just the Tudors is one of the best podcasts for history that discusses the periphery topics, along with well-known events. 
Apple Podcasts | Spotify Podcasts | Books | Instagram | Twitter | Website
Talking Tudors with Natalie Grueninger
With most episodes clocking in around an hour, Talking Tudors offers an incredibly authentic and engaging discourse on history. In my opinion, this is one of the best podcasts on history because the host is not a trained historian in the traditional sense. Rather, it is hosted by fellow-history lover and educator, Natalie Grueninger. I think this makes the podcast feel even more like you're having a history lovers coffee date! There are almost 200 episodes, so you have plenty to catch up on.
Apple Podcasts | Spotify Podcasts | Books | Instagram | Twitter | Website
Do you have a favorite historical podcast?
Have you listened to any of the five podcasts listed here?
Further History Reading from Cats & Coffee