The Best Baby Yoda Merchandise
With the first season of Disney's The Mandalorian, Baby Yoda stole my heart. This little green alien isn't actually called "Baby Yoda" in the show, of course. His name is "Grogu" but is generally referred to as "the Child". Baby Yoda is an affectionate nickname viewers gave this little guy. Clearly, the nickname has stuck. If you search for any Mandalorian-themed gifts or Grogu products, almost all will refer to this tiny-but-mighty character as Baby Yoda.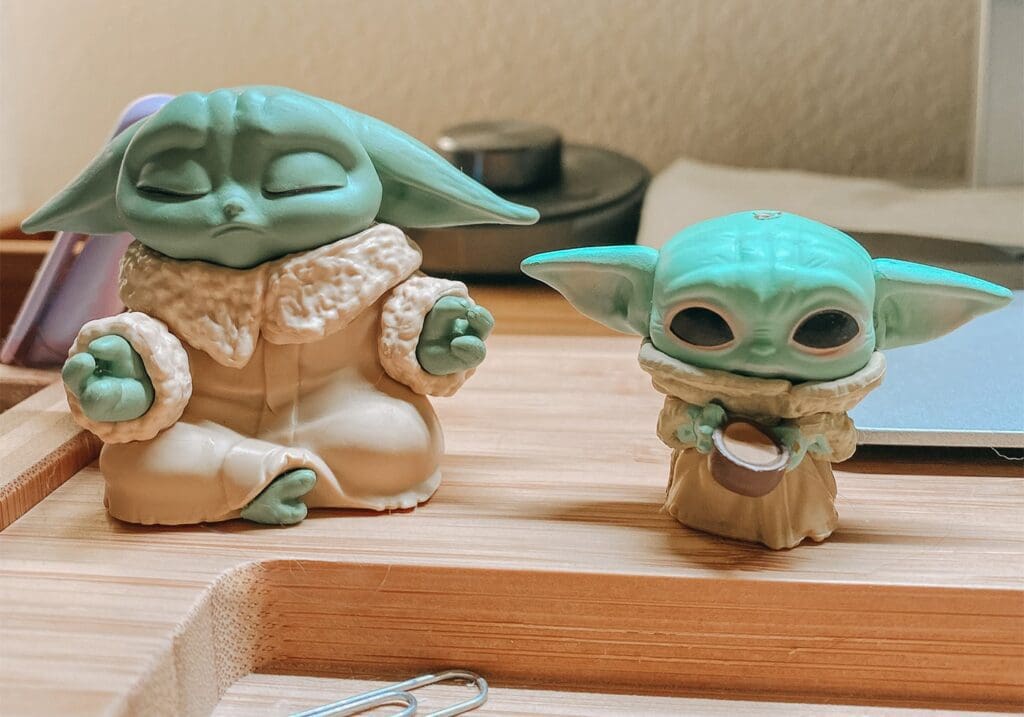 My Baby Yoda desk mates – on the left is this meditating figurine and
on the right is this keychain with the top clip removed.
Personally, I have a growing collection of Baby Yoda merch. With the characters' reappearance in the last few episodes of The Book of Boba Fett, I decided it was time to share a round up of the best Baby Yoda merchandise for adults.
This post highlights a variety of cute Grogu finds and Baby Yoda gifts. Such finds include: Baby Yoda women's clothing and unisex t-shirts; jewelry and accessories for him and her; Baby Yoda backpack and totes; themed coffee mugs and kitchenwares; home decor and figurines; and, lastly, Baby Yoda merchandise for pets!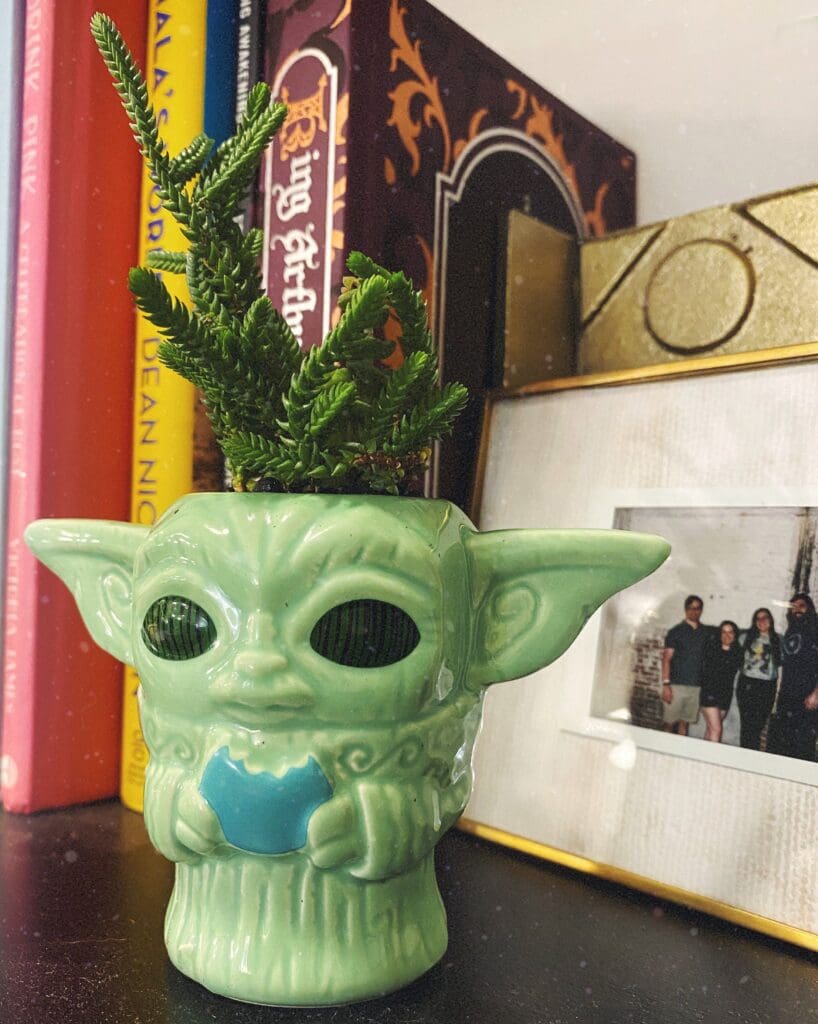 Grogu Star Wars Clothing & Accessories
Baby Yoda Shirts For Adults
Personally, I have at least three Baby Yoda t-shirts, and a handful of these are already calling my name. Trust me, it was incredibly difficult to pare down this section. Etsy is my first stop for cute themed tees, and it certainly didn't disappoint in the Baby Yoda department. Besides Etsy, Urban Outfitters, Target, and Hot Topic each had a great selection of graphic tees I think you'll love.
Top Row: Portrait Graphic Tank Top | Vintage Flower Child T-Shirt | Star Wars Graphic Sweatshirt & Sweatpants | Comic Book Style T-Shirt
Bottom Row: The Child Botanical Wash Sweatshirt | Star Child Tee | Baby Yoda Poster Tee | Baby Yoda Pajama Set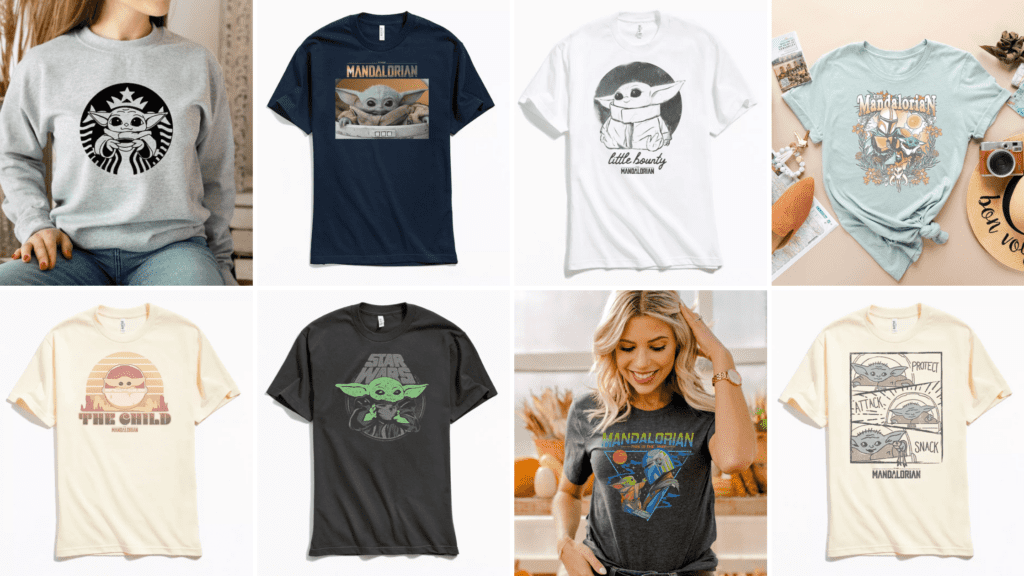 Top Row: Baby Yoda Coffee Top | Navy Graphic Tee | Little Bounty Tee | Floral Hippy Mandalorian Shirt
Bottom Row: The Child Tee | Star Wars The Mandalorian Tee | Mandalorian Grogu Shirt | Cartoon Tee
The Mandalorian Grogu Themed Accessories
Beyond graphic tees, there is no shortage of cute Grogu accessories — from jewelry to tech, wearables to beauty. For Valentine's Day, Brett got me a Pandora bracelet with two adorable Baby Yoda charms. Beyond the charm bracelets, Pandora also offers a necklace version, which is equally lovely.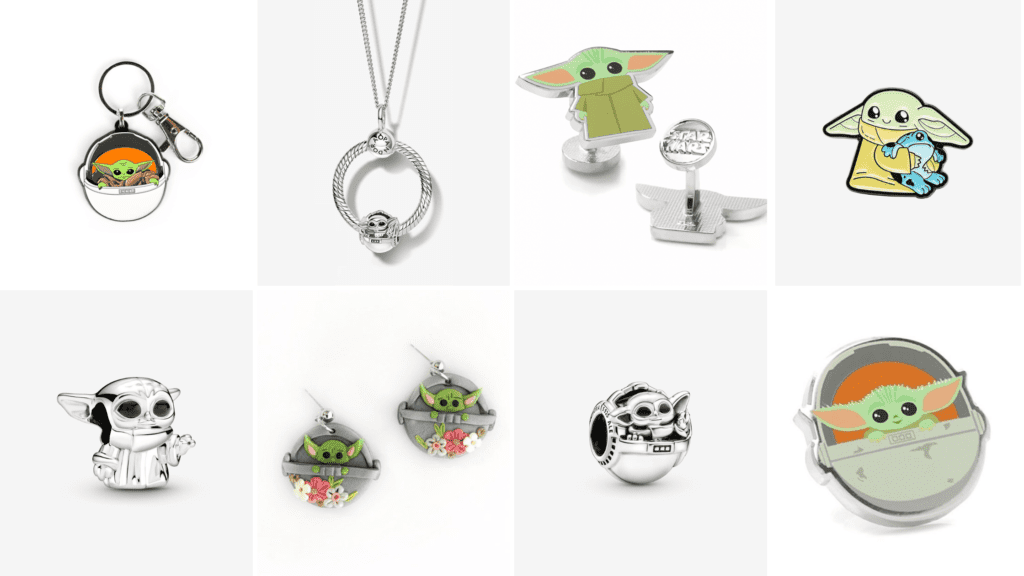 Top Row: Baby Yoda Keychain | Star Wars Grogu™ O Pendant Necklace Set | The Child & Frog Enamel Pin
Bottom Row: Star Wars™ Grogu™ Charm | Baby Yoda Collection Earrings | Star Wars Grogu™ & Crib Charm | The Child aka Baby Yoda Lapel Pin
Beyond jewelry, this Colourpop The Mandalorian™ Collection has been calling my name for some time. While some pieces are available individually, this Colourpop set is full of Grogu goodness. It doesn't hurt that green is my favorite color and I like to use greens and browns for eyeshadows. And, if I didn't have a phone case that looks just like my dear cat Olivia, I would totally need one of these Baby Yoda official merchandise phone cases. Two of my favorites pictured below.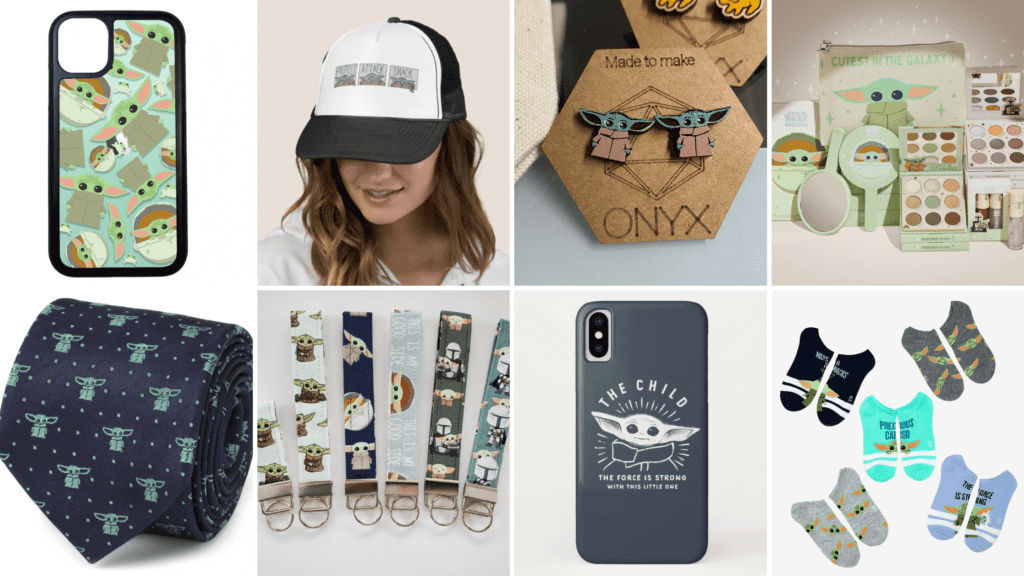 Top Row: The Child Phone Case | The Child Trucker Hat | Grogu Inspired Earrings | Colourpop The Mandalorian™ Collection
Bottom Row: The Child Silk Tie | Baby Yoda Keychain Wristlet | The Force Phone Case | The Child Chibi No-Show Sock
Star Wars Baby Yoda Bags
I love a good tote bag. We have collected a handful of reusable grocery bags featuring this little intergalactic traveler over the past couple years. This Baby Yoda merch Amazon find is a great deal if you're looking to bolster your reusable grocery bag collection. For a more durable option, I am loving this Sketch Art Tote Bag from Disney. It comes in a few different colors and sizes.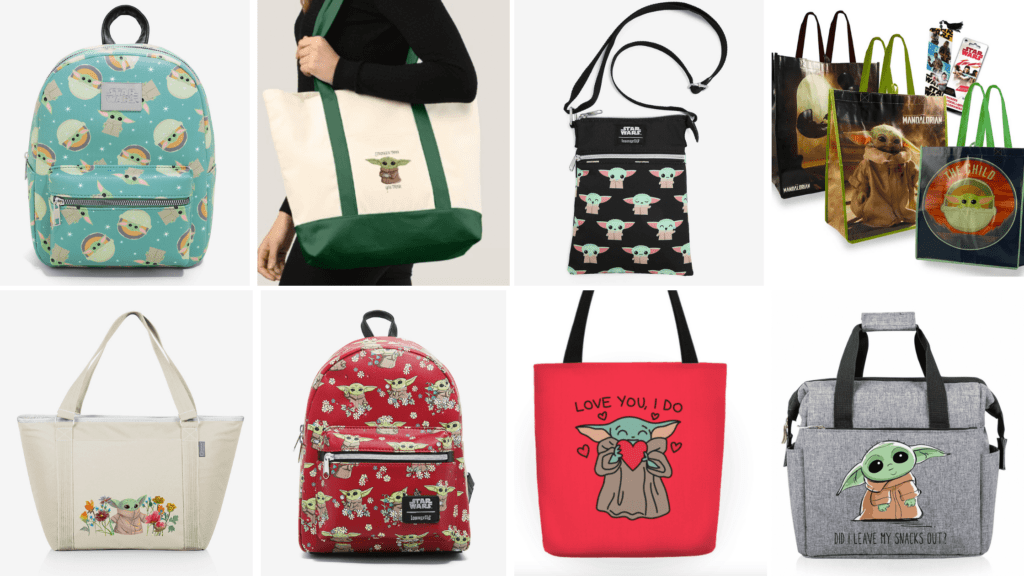 Top Row: Grogu Mini Backpack | Sketch Art Tote Bag | The Child Passport Crossbody Bag | Disney Baby Yoda Tote Bag Bundle
Bottom Row: The Child Floral Cooler Tote | Floral Mini Backpack | Love You, I Do Baby Yoda Tote | Snacks Out Lunch Cooler Bag
Baby Yoda Gifts for the Home
The Child Coffee Mugs & Glasses
What's better than Baby Yoda and coffee!? I have shared a couple of these mugs in my curated Coffee & Cupping boutique. I figured they merited inclusion here, as well. You can never have too much Grogu or Moira Rose, for instance!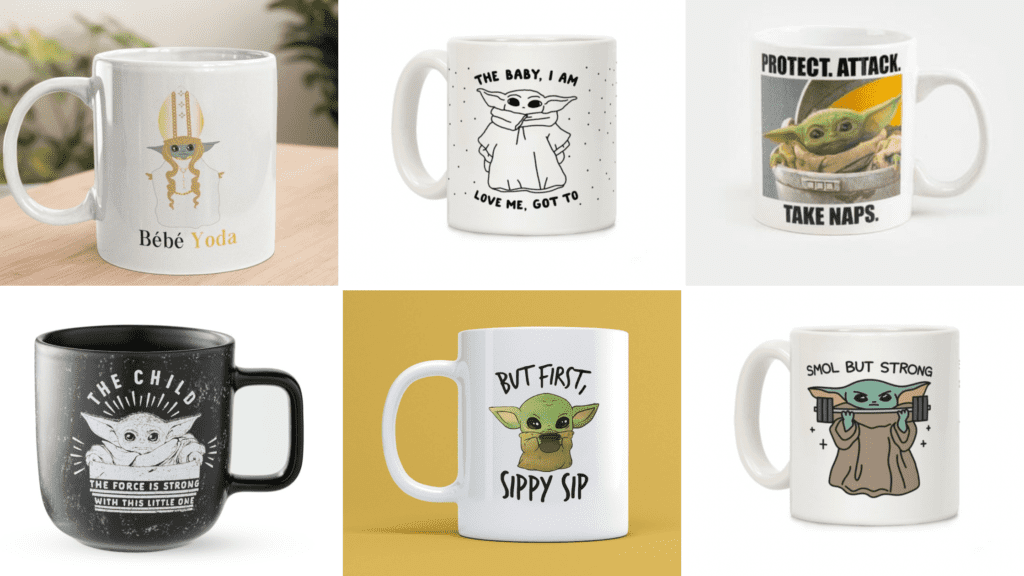 Top Row: Bebe Yoda Mug Moira Rose Mug | The Baby, I Am Coffee Mugs | Baby Yoda Mug
Bottom Row: The Mandalorian™ The Child Mug | But First Sippy Sip Star Wars Mug | Smol But Strong Baby Yoda Coffee Mug
Beyond coffee mugs, there are so many cute Baby Yoda glasses and travel mugs. Brett and I collect pint glasses, so my mom sent Brett this etched Grogu glass for his birthday. It was a great surprise! The perfect gift for the Grogu-lover. I discovered these Geeki Tiki mugs thanks to a local craft fair; I bought one as a succulent holder, and am so tempted to make a full set with this muglets trio!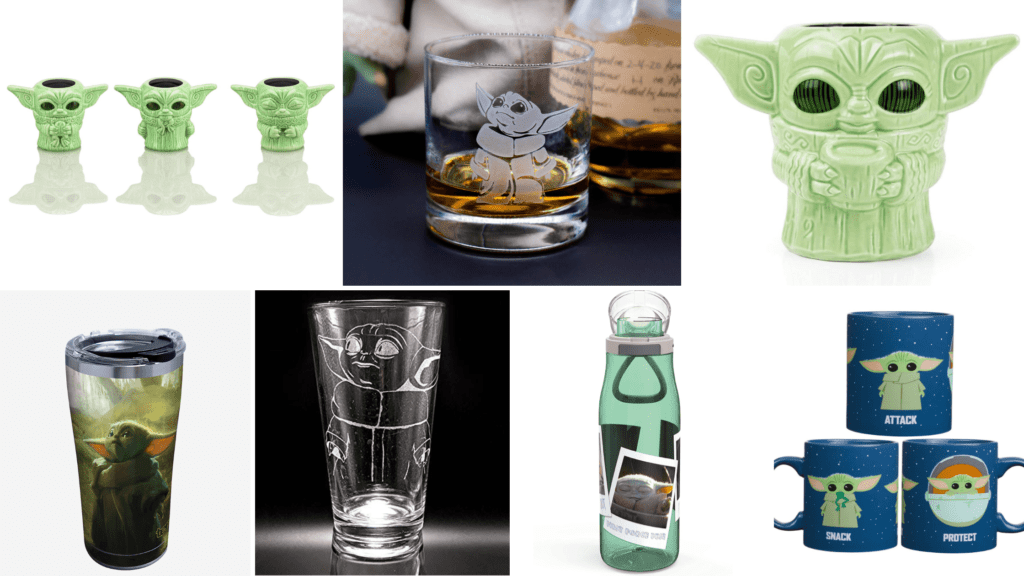 Top Row:  The Child Mini Muglets Set | Baby Yoda Glass Whiskey Glass | Geeki Tikis Star Wars "Baby Yoda" Mug
Bottom Row: Star Wars The Child Gazing Tumbler | Grogu Engraved Pint Glass | Zak Designs Water Bottle | Protect Attack Snack Ceramic Coffee Mug
Baby Yoda Kitchen Products
As someone who loves to cook, these Baby Yoda kitchenwares really tick a lot of boxes for me. From cute food storage solutions to niche sandwich makers, this section was one of the most fun to put together.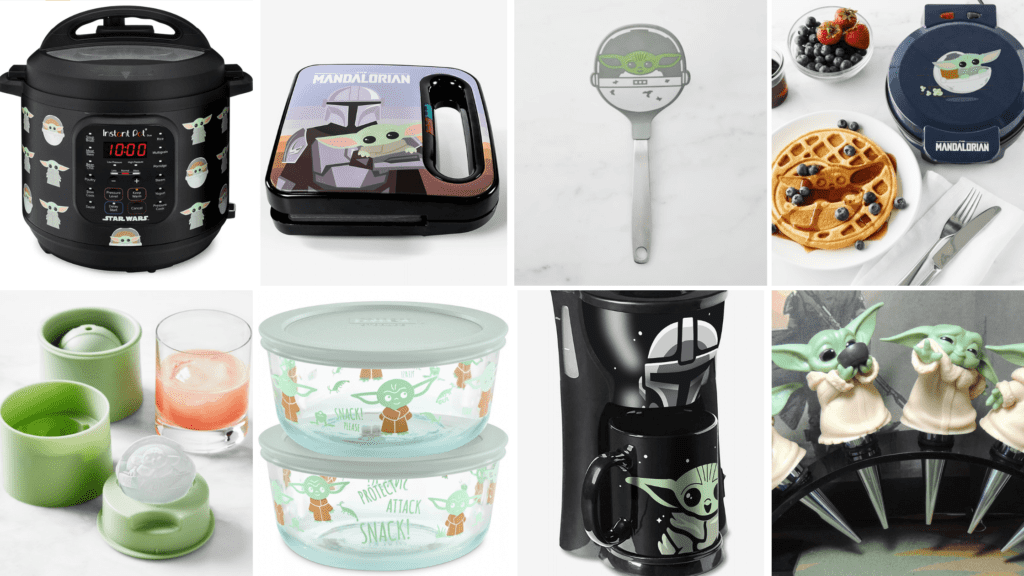 Top Row: Instant Pot Star Wars 6Qt Duo | The Mandalorian Grilled Cheese Maker | Star Wars™ The Child Flex Spatula | Star Wars The Child Waffle Maker
Bottom Row: Star Wars The Child Ice Molds | Pyrex Food Storage Set | The Mandalorian Single Cup Coffee Maker & Mug | Grogu Wine Stoppers
I love a nice cutting board, so I decided to feature two that I found here. The first is a more traditional bamboo design. The other is a more detailed design with hidden cheese knife set. Both are great Baby Yoda gift options!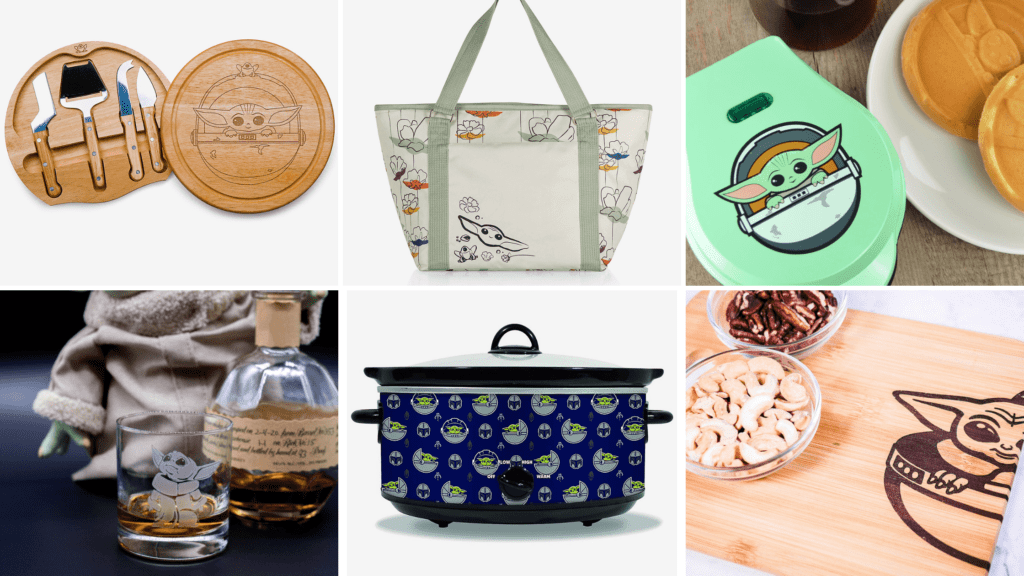 Top Row: The Child Circo Cheese Board & Tools Set | Floral Topanga Cooler Bag | Mandalorian The Child Waffle Maker
Bottom Row: Etched Whiskey Glass | The Mandalorian 5-Quart Slow Cooker | Baby Yoda Engraved Bamboo Cutting Board
The Mandalorian's Baby Yoda Wall Art, Planters, & Figurines
As far as home decor finds and wall art goes, the Baby Yoda gifts options are limitless. For those with a green thumb, try a floating Chia Pet planter or this monotone succulent pot from Etsy. For someone needing some desk accessories, this pen holder is perfect (coincidentally, I bought one for Brett for our anniversary; I keep meaning to order myself one!).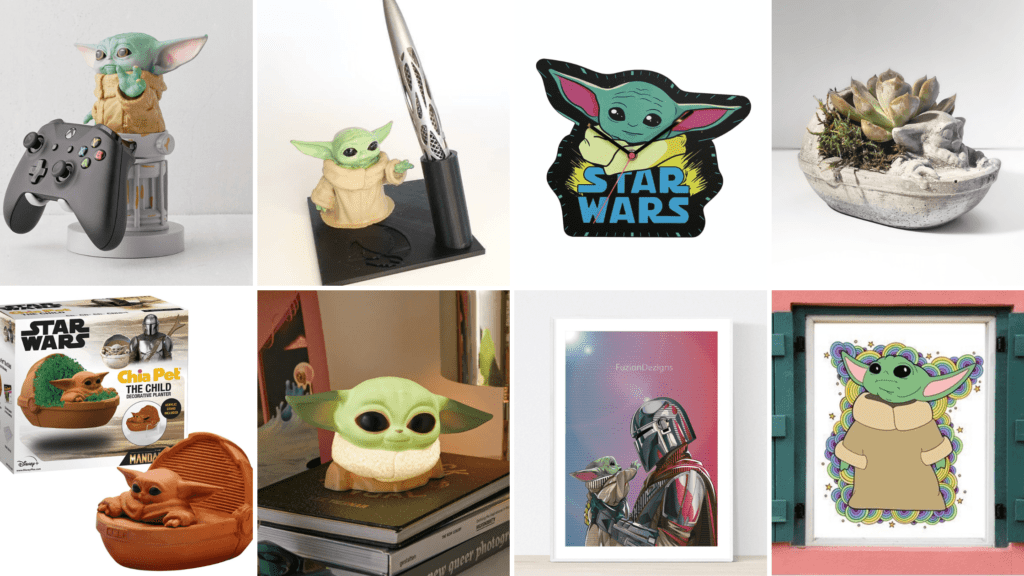 Top Row: Cable Guys The Child Device Holder | Baby Yoda Pen Holder | Baby Yoda Wall Clock | Mini Mandalorian Planter
Bottom Row: The Child Chia Pet Floating Edition | Star Wars Baby Yoda Light | The Mandalorian and Grogu Art Print | Baby Yoda Art Print
As for wall art, I highly recommend this Baby Yoda Art Print designed by my friend Lauren. She also offers this print as a magnet and sticker occasionally, so definitely message her about it on Etsy if you're looking for one of those! Beyond Lauren's Yoda print, this art nouveau style Grogu print is absolutely stunning and is also available on Etsy.
Top Row: Cute Baby Yoda Sticker | Baby Yoda Lamp Shade & Bulb | Glass Jewelry Box | The Art of Star Wars: The Mandalorian Book
Bottom Row: The Mandalorian Theme Music Box | Grogu Trellis Black Rug | The Child Folding Picnic Table | Star Wars Illustration Portrait Poster Print
Baby Yoda really lends himself to figurines. Whether you go with a Baby Yoda plush toy or with Star Wars' The Child Animatronic Doll, I'm sure it'll bring some smiles. Of course, the Funko Pop! Baby Yoda is a classic, and comes in a variety of poses and with a few different accessories. For instance, I have the Child with Cookie style, and it always makes me laugh.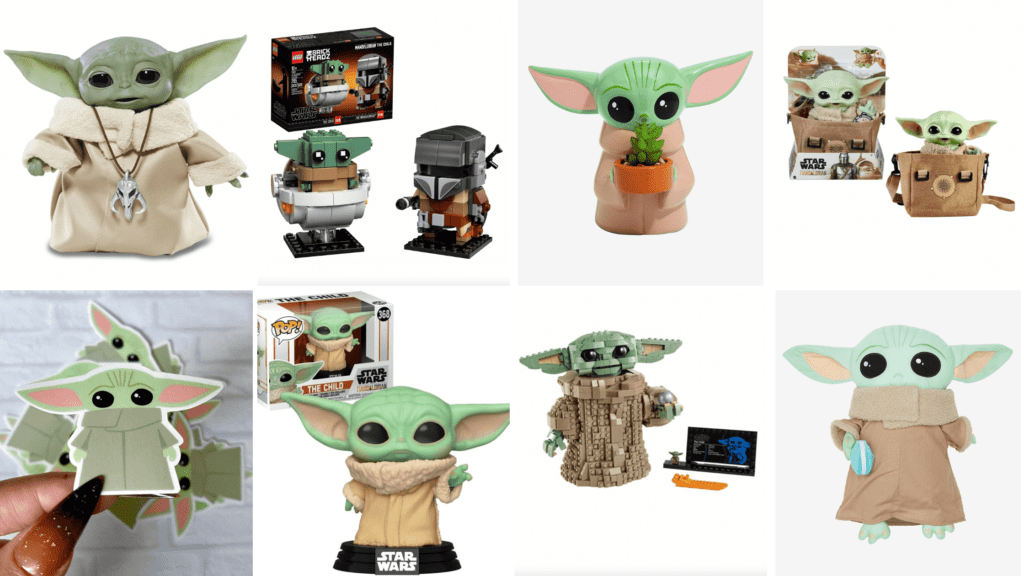 Top Row: The Child Animatronic Edition | The Mandalorian & The Child Toy Set | The Child Faux Succulent Planter | The Child Plush Toy with Bag
Bottom Row: Baby Yoda Waterproof Sticker | Funko Pop! Baby Yoda | LEGO The Child Toy Model | Macaron Pillow Buddy
The Child Inspired Pet Finds
Last but not least…pets! Chewy has the best Baby Yoda merchandise for cats and dogs. The Pram Covered Pet Bed looks so cute and cozy, and if we didn't already have a number of covered cat beds, I would already have this in my cart. Beyond beds, though, there are some great bowls and food accessories that would work for either cats or dogs!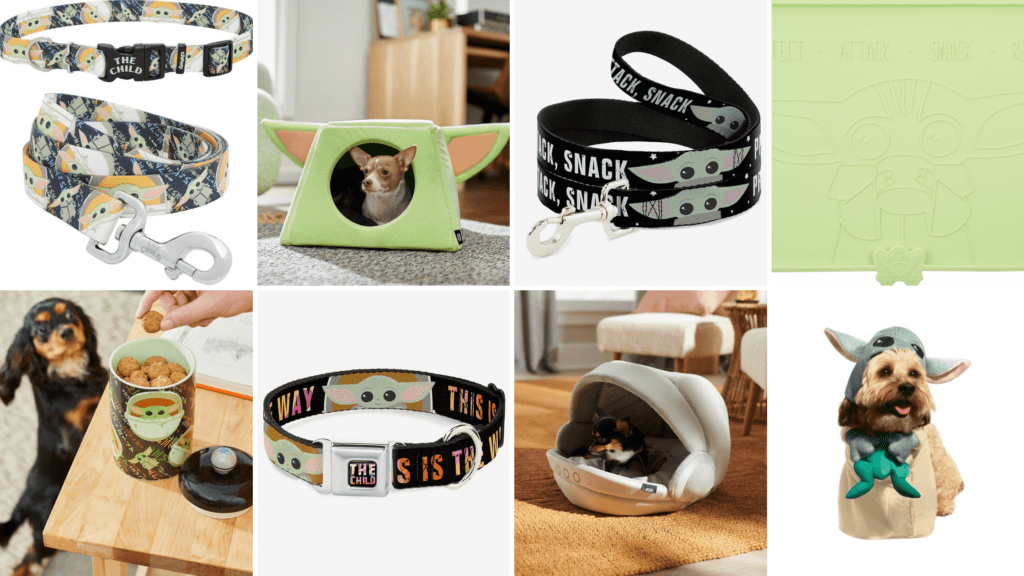 Top Row: The Child Collar & Leash Set | Grogu Covered Cat & Dog Bed | Protect Attack Snack Dog Leash | Grogu Snack Silicone Food Mat
Bottom Row: The Mandalorian Ceramic Treat Jar & Bowl | This Is The Way Seatbelt Buckle Dog Collar | Pram Covered Pet Bed | Baby Yoda Pet Costume
Which of these Baby Yoda gifts are your favorite?
Besides the graphic tees, I think the Pandora crib charm is one of my favorites,
along with this Moira Rose-Bebe Yoda coffee mug!
*This post was originally published on February 13, 2022. It was most recently updated on February 24, 2022.