Solid Gold SeaMeal Squeeze
This past month, Solid Gold sent me two packs of their new SeaMeal product, SeaMeal Squeeze, for the cats to try in exchange for my opinion on the product. I was so excited to have my cats try the new product because they've always done so well with other Solid Gold SeaMeal products. I wasn't sure what the Solid Gold SeaMeal Squeeze product would look like, but was thrilled to see it was a puree-style treat — a favorite in my house. The kitties have tested the product out and I'm thrilled to say that SeaMeal Squeeze is a hit!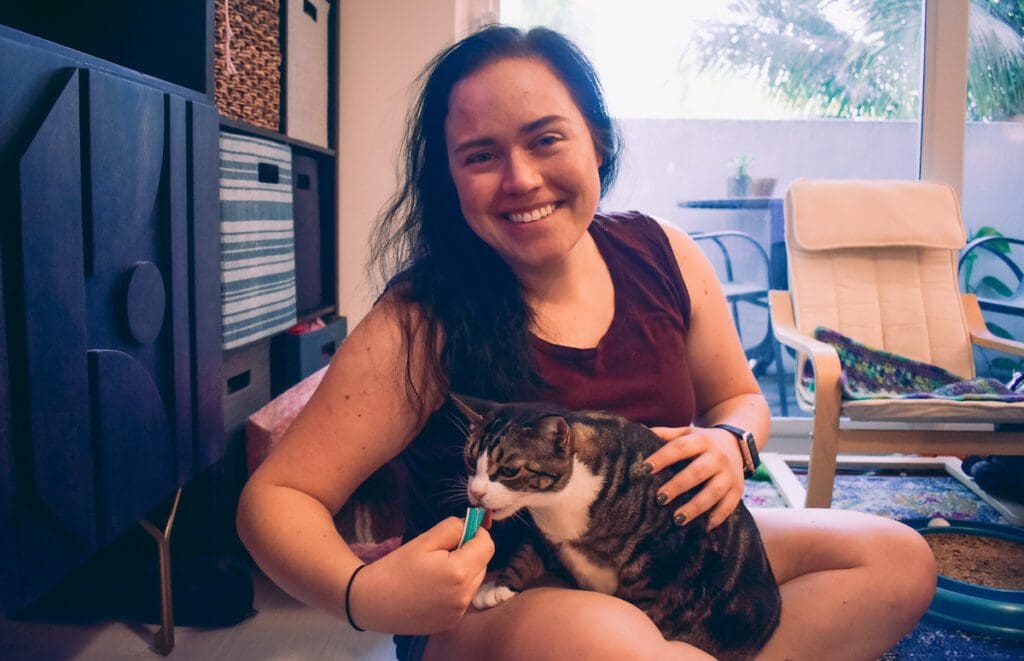 What Is SeaMeal?
First things first, what is Solid Gold's SeaMeal product line anyway?
SeaMeal is a wellness supplement made from a mixture of seaweed, flaxseed, and plant-based digestive enzymes. The mixture is designed to promote both coat and immune health in both cats and dogs. The superfoods in the supplement mixture help deliver essential vitamins and Omega Fatty Acids to your pet to help maintain a healthy coat, skin. Simultaneously, the chlorophyll and natural digestive enzymes promote immune system health and efficient digestion.
For more information, I invite you to check out my original review of the Solid Gold SeaMeal nutritional supplement here.
What Exactly is Solid Gold SeaMeal Squeeze?
Solid Gold SeaMeal Squeeze is a new product from the SeaMeal line, designed as a creamy puree-style treat for cats. It's an easy-to-feed cat treat designed to be eaten independently — whether directly from the tube or on a plate — or on top of food. Either way of serving it is a winner. I bet it would probably help with picky eaters if you give it to your cat with their wet food, too.
The Squeeze is full of SeaMeal's fiber-rich seaweed and flaxseed mixture, designed so cats enjoy the taste while also getting the nutritional benefits of this supplement at the same time. Quite the two-for-one when it comes to feline gut health!
Solid Gold SeaMeal Squeeze comes in two flavor varieties — chicken and tuna — and is sold in packs of four. It's suitable for a once-daily treat that your kitty is sure to love!
My Honest Thoughts on Solid Gold SeaMeal Squeeze
As I mentioned before, the Solid Gold SeaMeal Squeeze is a creamy, puree-style treat, so I was sure it'd be a hit once I opened the package. And, let me tell you, it certainly was!
How I'm Using SeaMeal Squeeze with My Cats
The SeaMeal Squeeze has a thicker consistency, making it easier to eat directly from the tube than other puree treats. It mixes into wet food quite easily, though I think we'll stick to serving it as a treat independent of other foods because the cats are loving it so much.
I've found that this treat has been great for giving the cats' pills, as well. I simply mix a crushed pill into the mixture and watch the cats devour it without a second thought.
Will SeaMeal Squeeze Replace the SeaMeal Powder Supplement for My Cats?
The SeaMeal powder, which we already use in our cats' food daily, has been my favorite of the SeaMeal product line. I usually mix up the cats' wet food ahead of time in a small container, adding in their SeaMeal supplement and any other vet-recommended supplements along with some water to promote hydration. This system has worked quite well for me, streamlining the feeding process in the mornings and evenings.
While I don't think the Solid Gold SeaMeal Squeeze will necessarily replace the SeaMeal powder, I do think it is a great way to treat the kitties while also promoting their general health. The treats are affordable and easy to split between cats, so they're worth the money in my opinion.
I am adding these treats to our pet food autoship, for sure. All three cats are loving both flavors, so I'll probably go ahead and get both types. I am excited to have a health-centric treat to give King Lou and Co. at night when they're waiting for snacks!
Where to Buy Solid Gold SeaMeal Squeeze
Solid Gold SeaMeal Squeeze is available at Amazon, Chewy, among other retailers listed on the Solid Gold website.
A pack of 4 of either the chicken or tuna flavor costs between $3.99 and $4.25 respectively. There are options to purchase in bulk if you test it out and find your cats are as big of fans as mine are! Plus, by reading this blog you can save 20% on SeaMeal Squeeze on Amazon!
---
Looking for more info on Solid Gold?
Check out my other Cats & Coffee posts on the brand here!
---
Pin this post to save it for later!
---
*Thank you to Solid Gold for sponsoring this post!