Great Cat Toys for Even the Most Fickle Cats
Cats can be pretty picky. Whether they're iffy about trying new foods or lack interest in fancy new cat toys, it can be hard to figure out what they like or don't like about something. Luckily, my kitties have been pretty good about trying new foods and liking their usual kibbles, but the same can't always be said for their toys.
Like most pet parents, I've purchased a fair number of cat toys that wound up being total flops.
Luckily, there are a few tried and true favorites in my little cat family. Here are the winners, according to Louis, Olivia, and Emory:
Sparkly Pom Pom Balls, a Crafty Favorite
Originally, I found this toy option at a pet store. A tube of four pom pom balls was something like $8. I thought it was expensive, but was intrigued and a new cat mom so I bought them. They were an instant hit. Louis absolutely loved them. He would dribble with them across the apartment or chase them when I threw them. They're great.
The issue: Louis also loved to knock the sparkly pom pom balls under large appliances and furniture — refrigerator, stove, washing machine, dressers, etc. — where I couldn't reach them.
After we had lost the last of the original pack, I found out that there are entire packs of these pom poms at craft stores for super cheap! Most of the packs I have seen come with a variety of sizes, so I weed out the smaller pom poms and only give the kitties the bigger ones that they won't eat.
Check out the pack of the affordable alternative I found on Amazon.
---
Wide-Gauge Spring Toys
Plastic springs are probably Olivia's favorite toys ever — at least tied with the sparkly pom pom balls. Olivia loves to run around chasing the springs that I toss for her or that she manages to kick hard enough (they fly pretty well!).
Unfortunately, like the pom poms, the springs suffer from the same flaw: they get stuck in unreachable places. Fortunately, Chewy has big packs of these cat toy favorites for under $3. Similarly, at Amazon, the wider variety pack is $2.99. As far as great affordable cat toys go, these tick all the boxes.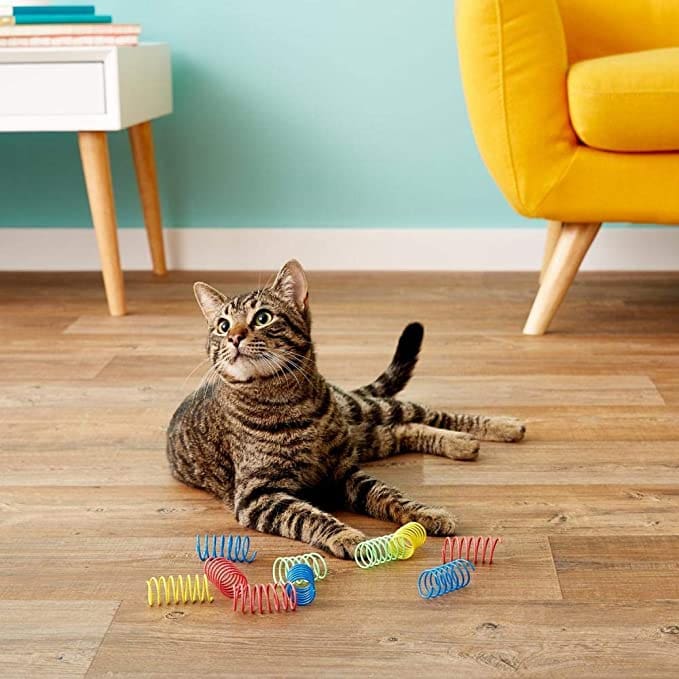 I recommend the wider variety pack. They're Olivia's favorites. I like them because there's a chance that they don't fit under all of the household appliances. Plus, we had a pack of the thinner ones, which Olivia also loved, but she was able to break really easily. She's never been able to snap the bigger ones!
---
The Cat's Meow, a Crowd Pleaser
This cat toy has been a favorite of Louis' since he was a kitten. It's the priciest of the great affordable cat toys on this list, but it's well worth the $20. Basically, it's a motorized wand that randomly spins under a piece of fabric. So simple, and yet so great.
As you can imagine, with a spinning wand, this is a hard toy to photograph. So, instead, here's a video:
The Cat's Meow is entertaining for everyone involved — the cats and the cat parents. We love to watch the cats play with it. Louis tends to take the lead with the toy, but the girls get in on it, too.
Louis has worn out at least two of these by just laying on the spinning wand. This is the only real downside to the toy. However, it does have an automatic shut off after 30 minutes, which is good to know. I've managed to keep our current Cat's Meow in working order by turning it off when Lou lays down on it. We have an understanding.
---
Cat Nip Banana, a Calming Option
Like the Cat's Meow, we have gone through our fair share of these Yeowww! Catnip Yellow Banana Cat Toys. The kitties love these so much that they tear holes in them from time to time. Sometimes I can patch them; other times, it's just a sign we need to refresh our stash.
I'm not sure what it is about Yeowww!'s brand, but they have the best nip. They stay potent for a while, too, so we only ever have to get rid of a toy if the cats actually destroy it.
The banana is the perfect size for bunny kicking, which is why our kitties love it. Yeowww! has a few other styles, which have been crowd pleasing in the past. The pollock fish is also a great size for bunny kicks.
Pro tip in regard to these great affordable cat toys: You can often find the catnip bananas in sets of three.
P.S. Do your cats prefer loose nip? Chewy has some loose catnip varieties available here.
---