Catlady: A Love Letter to Women and Their Cats
While we all know that the internet loves cats, cat people have known about the captivating appeal of our feline friends for centuries. Catlady: A Love Letter to Women and Their Cats brings together intelligent and witty essays by various women exploring the nuances of cat mom life and the bonds we form with cats.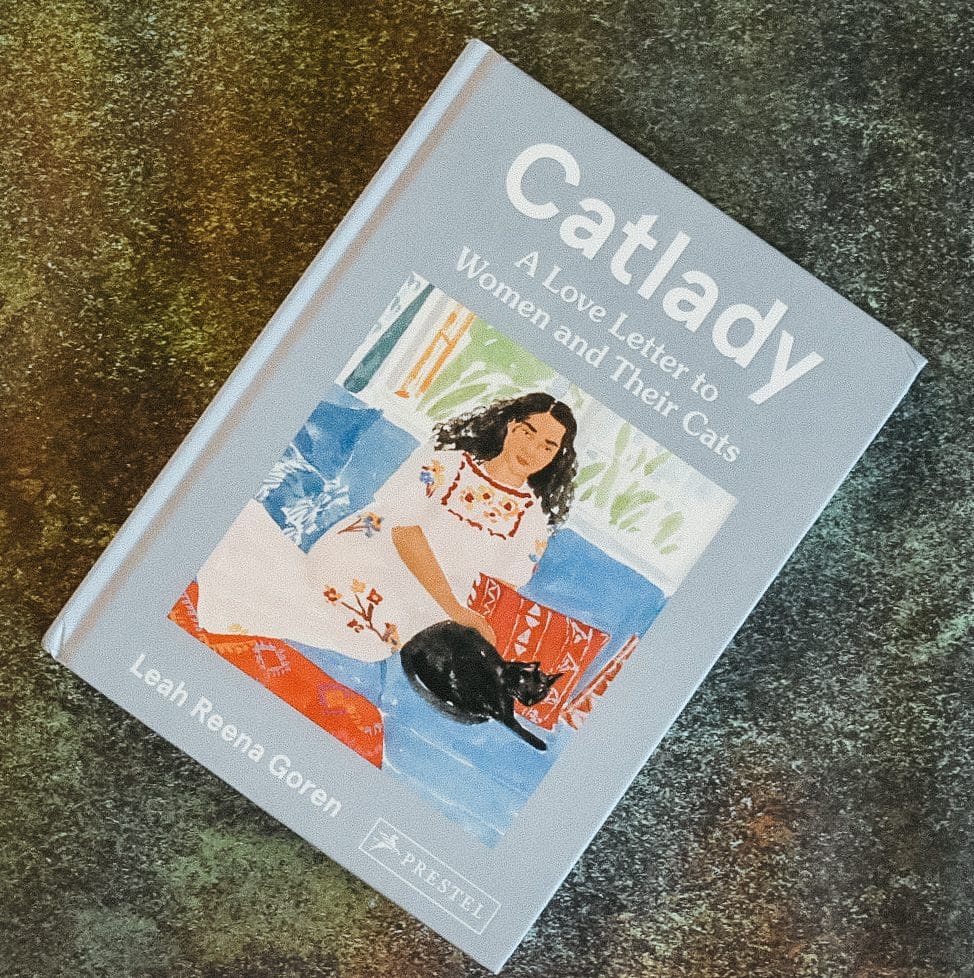 Prestel publishing sent me a copy of Catlady: A Love Letter to Women and Their Cats to review. It was such a fun surprise, especially since I had seen a few great notes about it online.
Catlady features twenty-five notable contributors and gorgeous artwork by Leah Reena Goren throughout. Goren, an illustrator and pattern designer, has extensive experience in designing cat-inspired goods for some large retailers, like Anthropologie, Kate Spade, and West Elm. Her work in Catlady is simple, colorful, and reflective.
Stories of Cats and Cat Ladies
The book opens with a brief discussion of Leah Reena Goren's first cat, Moses. Its beautifully written and made me cry, so I recommend having your own cats nearby to smother with love immediately after you read it.
"The cat was an accessory to a quiet moment. An image of a solitary woman could mean any number of things, but a woman shown with a cat is safe to indulge in her inner monologue. A woman with a cat is safe to be alone. She is home."

Catlady: A Love Letter to Women and Their Cats, page 11
Besides covering her own feline history, Cat Lady features interviews with notable feline aficionados, including Kitten Lady Hannah Shaw. One of my favorite little features in the book is about American painter Mary Cassatt (see page 110). I had never noticed the felines featured in Cassatt's work before this — art history is not my strong suit — but I loved the insights about how the cats in her paintings add warmth to common domestic scenes. Besides these, Mara Altman's short essay about men who are, for lack of a better term, cat ladies is a great peek into the universality of cat parenting (see page 137).
Great Cat Content, in Art and in Words
Whether you're looking for short, poignant essays about influential cats, or simply beautiful illustrations of cats, Catlady is sure to please. Interviews with writers, stylists, cheetah conservationists, and other influential cat ladies discuss the role of cats as compelling companions. The book features beautiful observations about the roles of cats in history, fashion, mythology, and art, as well as in daily life of cat ownership.
Catlady: A Love Letter to Women and Their Cats by Leah Reena Goren is available April 7, 2020 from Prestel Publishing.

It is available for preorder on Amazon here.