The Cats & Coffee Curated Content Series
Welcome to the April 2022 edition of my weekly Cats & Coffee's Curated Content Series! This series features weekly short-form content round-ups of articles, videos, podcasts, and Instagram accounts that inspire and entertain me or make me think. In short, I find content that is worth your time so you don't have to! This month's Curated Content Series highlights include an article about hidden details in Bridgerton Season 2, a video about the Asher House dog sanctuary in Oregon, and a colorful content creator you're going to love. Read on for more!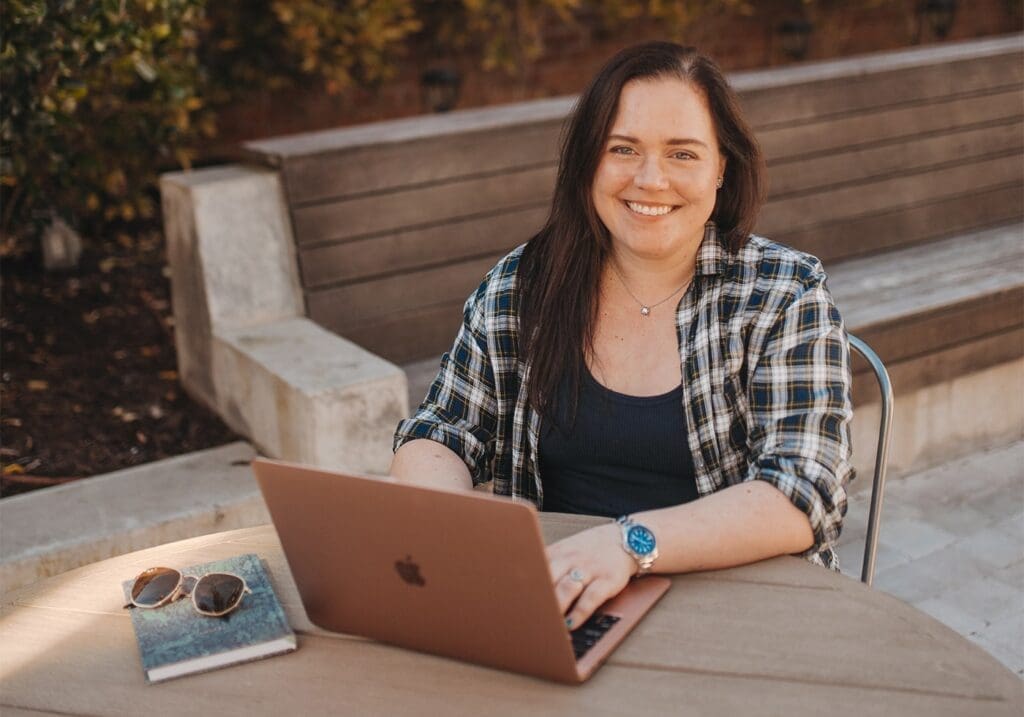 Here, I'm wearing one of my favorite plaid button downs ever! It's the "Eileen" style in the Featherweight fabric from Frank & Eileen. There are some plaid versions available at Revolve, and some linen versions on the brand site here. I am hopeful that the brand will do more in plaids and tartans next Fall! Fingers crossed. // Photo by Carter Fish at Hyde Park Village in Tampa, Florida.
Favorite Finds of the Month

Cats & Coffee's Curated Content Series: April 27, 2022
Article: Can Fashion Designers Really Learn to Be Sustainable?, Bindu Bansinath for The Cut
Sustainability in fashion is a tricky subject, and one that has gained more and more attention over the past few years. Reconciling growing interest in sustainable living with seasonal style shifts is tough, and fashion houses have to combat this dichotomy in order to maintain their businesses.
In this article for The cut, Bindu Bansinath discusses how pledges to use "sustainable materials", recycled fabrics, and greenwashing permeate the sustainability discussion in fashion. "[Good] intentions only go so far," she writes. And this is true, especially when you incorporate other issues like living wages for workers.
Read Bindu Bansinath's Can Fashion Designers Really Learn to Be Sustainable? on The Cut here.
YouTube Video: I Got An 18th Century Makeover | Safia Nygaard
As a lover of historical dress, I have always enjoyed Safia Nygaards' references to her own interest in Colonial Williamsburg. I had (ok, still have somewhere) a Felicity American Girl doll, after all. In her most recent video, Safia visits the reenactment and gets an 18th century makeover in Colonial Williamsburg. Plus, she references so many of my favorite historical YouTubers I've featured in previous Curated Content Series, including Sewstine, Cheyney McKnight, and Bernadette Banner, among others. All in all, I'd be lying if I said I wasn't a little bit jealous of Safia's trip. Enjoy!
I love a good astrology Instagram account, and this one combines that with cats, so it's a win-win. The Pulp Girls are "two sisters makin' magic" online with their art and astrological insights. With one quick pass over their Instagram profile, it is easy to see why their work is so popular!
The Pulp Girls have developed quite a following thanks to their iconic, consistent, and colorful style. They post often, and as a fellow creative, I am awed by the amount of quality art they are able to create! They're so good at what they do and their posts are always quite thoughtful. Lots of fun for astrology enthusiasts or those who are just looking to follow some more artists online.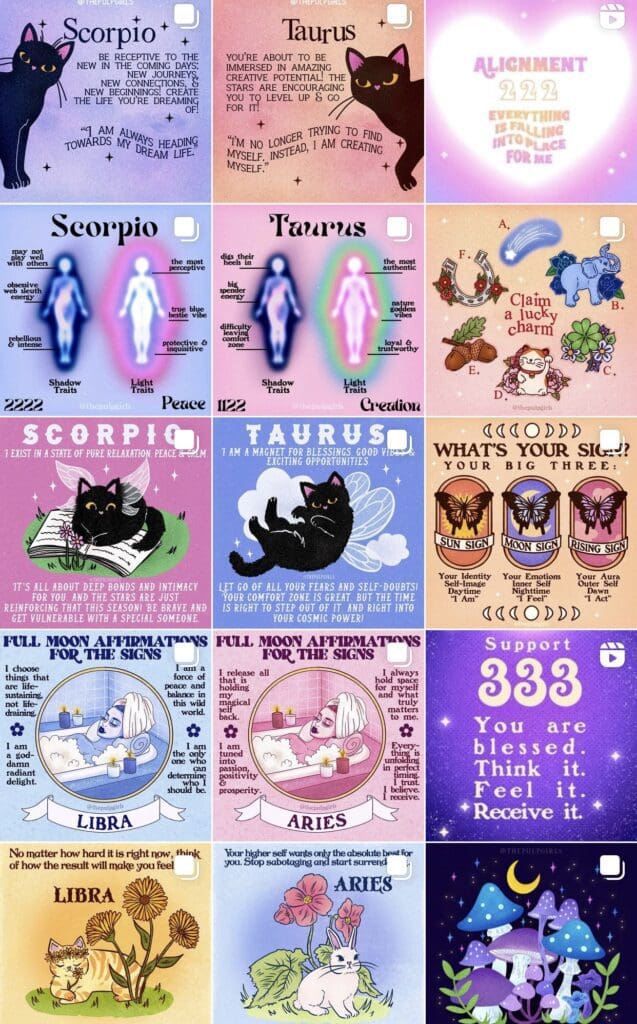 Follow The Pulp Girls on Instagram here! Beyond their Instagram posts, The Pulp Girls have an online shop where you can get many of their popular designs on shirts, sweatshirts, and the like. I particularly like this "Light Catstrology Houseplant" option!
Cats & Coffee's Curated Content Series: April 13, 2022
Article: "What I Eat in a Day" TikToks Can Be Triggering for People With Eating Disorders, Ashley Broadwater for HelloGiggles
So many of us have complicated relationships with food, and diet culture permeates social media. The combination can be particularly triggering, especially when it comes to TikToks and videos about "what I eat in a day."
First things first, what is a "What I Eat in a Day" video? Basically, they're pretty aptly named and creators will walk viewers through what they eat in a day. Many are made with the best of intentions, but the videos can cause harmful comparisons. Dr. Rebecca Leslie, a licensed psychologist, explained: "The message is 'These are the foods I eat to have my body look the way it does.' In reality, someone's body size is not just determined by what they eat…." Overall, not a great message.
Overall, Ashley Broadwater's article offers useful information on why these videos are harmful and what to do if you feel triggered by them. She closes her piece with this thoughtful paragraph: "Ultimately, know that feeling triggered by these videos is valid—and most importantly, you're stronger. You can handle your emotions and overcome your eating disorder, and you don't have to do it alone."
Read "What I Eat in a Day" TikToks Can Be Triggering for People With Eating Disorders by Ashley Broadwater on HelloGiggles here.
P.S. One of my favorite nutritionist accounts on Instagram, @thenutritiontea, has a great reel on this topic here.
YouTube Video: Meet The First Cat of The White House | The Dodo
Get ready for some kitty cuteness! This week's must-watch video is a short feature on the First Cat of the United States: Willow Biden! Once I saw the title of this YouTube Short, I knew it'd be my must-watch video of the week. Plus, I think Willow looks a bit like my Olivia, too, don't you think?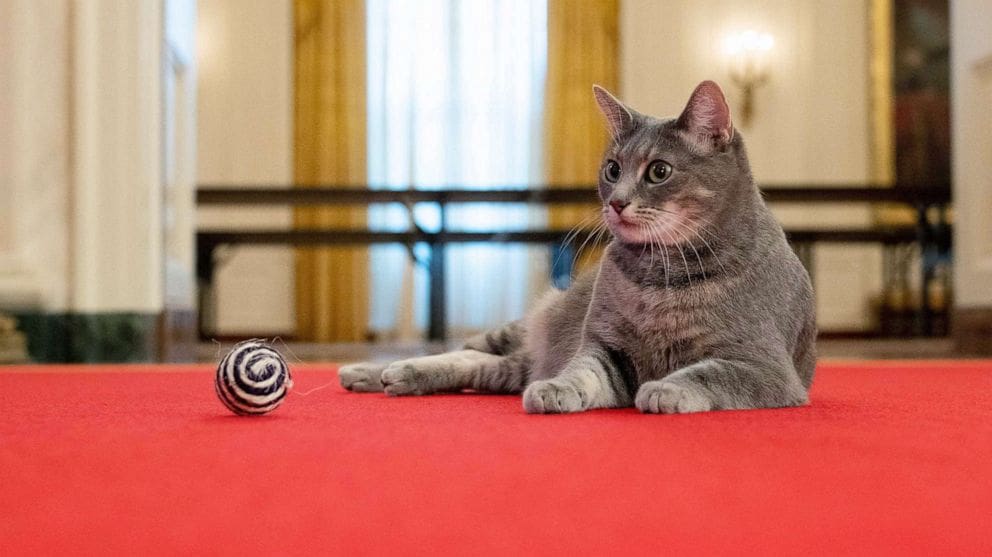 Click here to watch The Dodo's YouTube Short on the First Cat, Willow Biden!
Morgan Eckroth, the award-winning Barista behind the incredibly popular @morgandrinkscoffee Instagram account, creates clever videos and shares enticing photos of beautiful coffee that always make me want to reach for a cup myself. Morgan's coffee art game is above and beyond, so it's not a surprise that she was named the 2022 US Barista Champion the other day!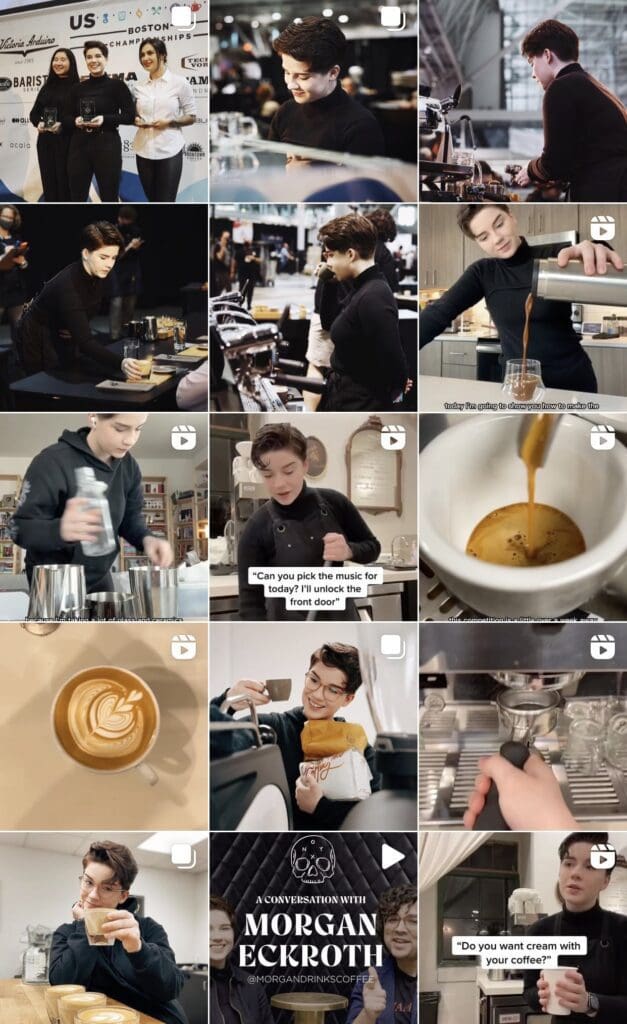 Whether or not you've worked as a barista yourself, Morgan's coffee shop parody videos are universally enjoyable. With jaunty music, consistent captions, and excellent comedic timing, we have all either seen or been the customers Morgan references, and can appreciate the instances she acts out:
Basically, I came across Morgan's account for the funny videos and stuck around for the gorgeous coffee content. Give her a follow on Instagram here and be sure to check out the Morgan Drinks Coffee merch store here (I need this cropped sweatshirt!).
Cats & Coffee's Curated Content Series: April 6, 2022
Article: I Can't Stop Thinking About "Bridgerton" Season 2, So Here Are 25 Details I Spotted While Watching, Nora Dominick for Buzzfeed
Ok, I KNOW that last month's Curated Content Series was Bridgerton heavy but bear with me on one last article about the show's second season. Basically, I kind of loved to hate on the series — I loved the style and costumes, and hated some of the storylines (IE: the questionable relationship dynamics of Daphne and the Duke). When talking to a friend about season two the other week, I said as much:
"I don't really like the show. I mean, I like the costumes and the set design and the continuity of themes throughout. And I like the historical tie-ins and the ways in which they've made this pseudo-British-Regency era world, but…. Well, maybe I do like the show."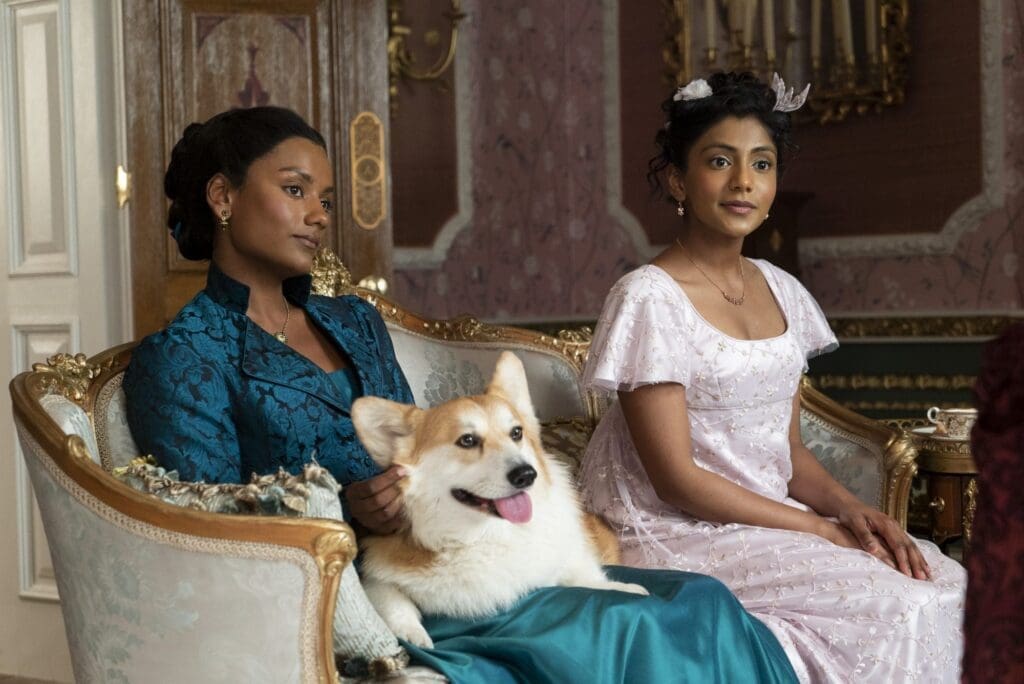 Plus, who doesn't love a corgi? (Photo credit: Netflix)
So, over the weekend, I finished binging the second season and found I really really enjoyed it. Besides the fact that it makes me want to swap all my clothes for Bridgerton-esque dresses, the storyline was so enticing and the characters all really well thought out and well-rounded. Plus, all of the Pride & Prejudice Easter eggs (discussed in this Buzzfeed article) just made it better and better.
Louis was really into the show, too, as you can see here!
Read I Can't Stop Thinking About "Bridgerton" Season 2, So Here Are 25 Details I Spotted While Watching on Buzzfeed here.
YouTube Video: Lucy Had Given Up On Life…Until She Met The Pack | The Asher House
I know I am famously a cat lady, but I wanted to share a video from a cute dog channel on YouTube. My mom introduced me to the channel when I visited her the other weekend and we watched a number of the videos all in a row. Basically, The Asher House is a sanctuary for dogs who need homes, and Lee Asher takes in dogs of all sizes to his Oregon property. You can see all of the dogs in his care on his website here. Check out this sweet video of Lucy, a sweet dog who had been used for breeding. Her transformation when she joins the Asher House pack is so amazing!
Amanda Johnson, the blogger behind Sequins and Sales, is a bright and bubbly content creator based in Dallas, Texas. Amanda shares beautifully shot content that is both thoughtful and entertaining. For example, she did a full Women's History Month series where she highlighted notable women in history, many of whom you may not know about.
When she isn't using her platform to promote women's equality and other important social issues, Amanda shares fun style and lifestyle posts. Plus, she makes amazing costumes (like this Harry Potter ensemble) and recreates some fun iconic movie outfits, which are always fun to spot.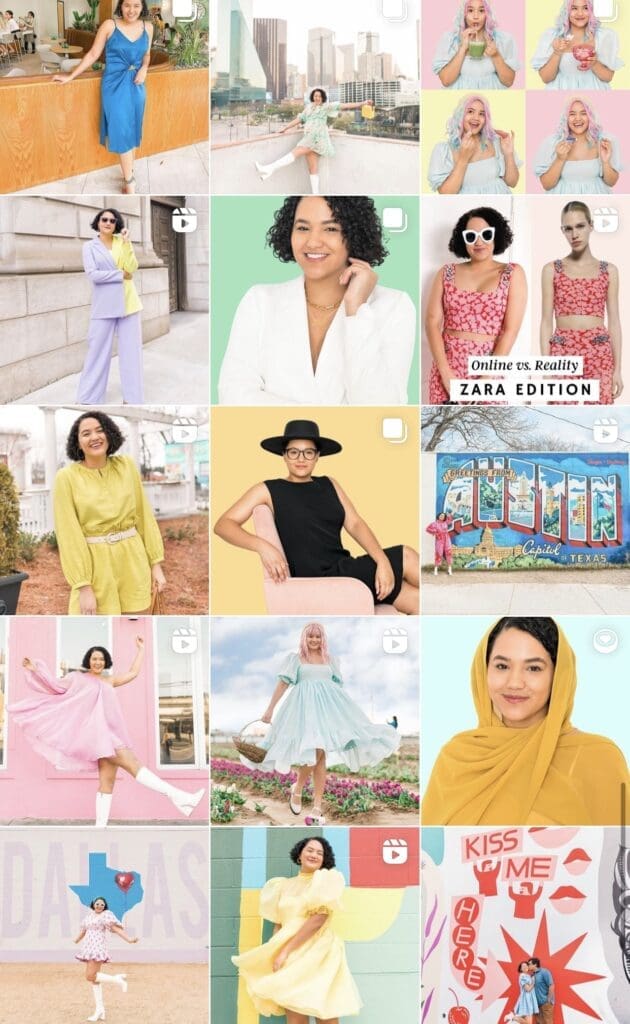 Give Amanda a follow on Instagram to add some thoughtful and colorful content to your IG feed. Also, check out her on Twitter, because her tweets are always so funny and/or relatable!
---
Want more great finds like these?
Explore the March edition of my Curated Content Series for more great reads, listens, and Instagram accounts to follow.