The Cats & Coffee Curated Content Series
Welcome to the March Edition of Cats & Coffee's Curated Content Series! This series features weekly content round-ups of articles, videos, podcasts, and Instagram accounts. I find content that is worth your time so you don't have to!
This series features shorter-form content on a weekly basis. For longer-form content round ups, be sure to explore My Current Loves.
Explore the February edition of my Curated Content Series for more great reads, listens, and Instagram accounts to follow.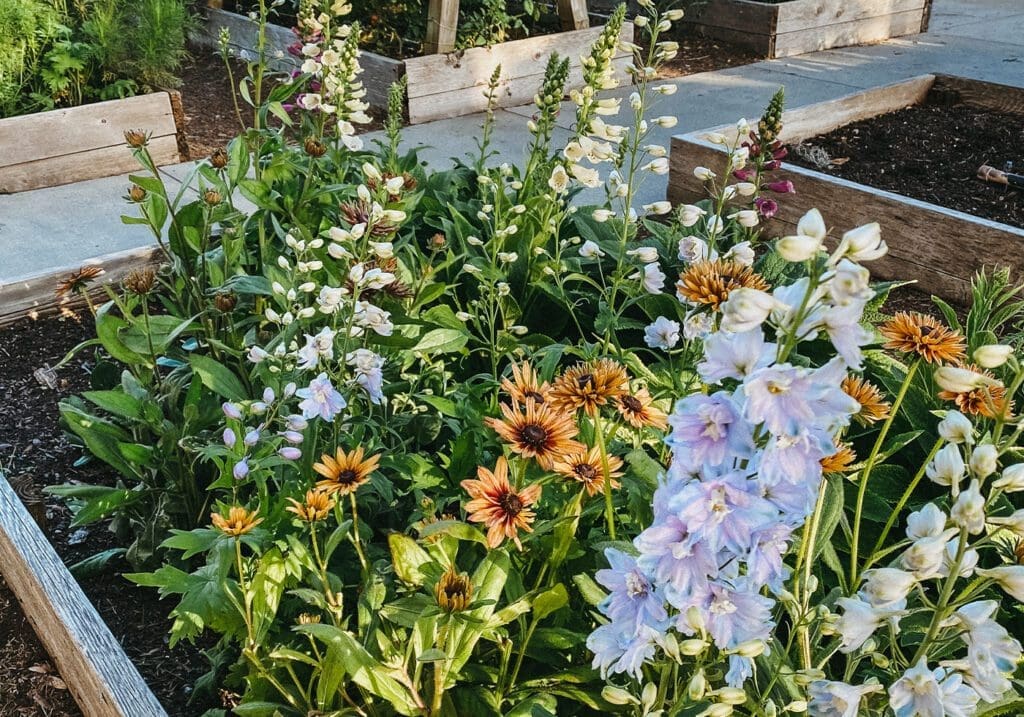 Cats & Coffee's Curated Content Series: March 31, 2021
Article: Yes, Impostor Syndrome Is Real. Here's How to Deal With It, Abigail Abrams for TIME
I shared a bit on Instagram stories yesterday about how I was feeling a lot of imposter syndrome lately. It's not super unusual — and something that my law school friends and I often discussed feeling even while still in school. The long and short of it is this: imposter syndrome can be boiled down to the idea that you've only succeeded based on luck, not because of talents or qualifications. Women are uniquely affected by imposter syndrome (this was identified as early as 1978), but it certainly doesn't only affect women. This phenomenon tends to affect perfectionists, for example, or "soloists" — people who feel they have to accomplish a task on their own, and that asking for help is a sign of failure. Abrams' article discusses other personality types that tend to fall into this imposter syndrome thought process.
Abrams' article offers some insight on combatting imposter syndrome, and some of it is quite simple. "One of the first steps to overcoming impostor feelings is to acknowledge the thoughts and put them in perspective." By observing the thought, rather than engaging with it, we can approach the issue more critically and see what is prompting the thoughts. Reframing the thoughts can help, but I find this to be easier said than done.
"Most people experience moments of doubt, and that's normal. The important part is not to let that doubt control your actions…."
Read Abigail Abrams' article on Imposter Syndrome for TIME here.
YouTube Video: I tried my own tutorial – FROM TEN YEARS AGO || Elizabethan Shirt Sewing | Morgan Donner
I've been really enjoying nice, chill sewing videos on YouTube lately. I don't sew, but maybe I should…. Either way, I found Morgan Donner through Bernadette Banner's videos and am really loving Morgan's content. It's just so relaxing to hear about how she creates different crafts, and the thoughts she puts into projects. This particular video is a new favorite of mine, because she recreates one of her early projects. In it, she discusses how much her confidence has grown in her craft since posting the original tutorial, and it really just struck home for me as a content creator. The early stuff is always going to be flawed — well, everything is flawed in some way — but you can't get to the really great work without just starting out in the first place! (I guess this goes along with my article of the week, too, in a way.)
A friend of mine forwarded me the post below this week and before I even read the words, I was obsessed. How I hadn't come across @snakes.n.roses before is a mystery, but I'm glad I found them now! Cristina González, the artist behind the account, is an Ecuador-based graphic designer. She creates beautiful imagery that almost strikes me as somewhat art nouveau inspired (I am not, by any means, well-versed in art and art history, so this is just my opinion!). Plus it's full of cats, so of course I'm going to love it.
Cristina González's work, in her own words, "talks about sexuality, mental health, self-love, and equity, supporting all gender expressions and diversity of races and body shapes, with the desire to empower women of all ages to feel comfortable and confident with exactly who they are." I don't know about you, but this kind of positivity and activism is always welcome in my Instagram feed!
Follow @snakes.n.roses on Instagram and check out the account's online shop for gorgeous prints of the artwork!
Cats & Coffee's Curated Content Series: March 24, 2021
Article: Decisiveness Is a Learned Trait—Here Are 11 Tips To Master the Art of Decision-Making, Erin Bunch for Well + Good
I don't know about you, but I struggle quite a bit with second guessing my own decisions. Fundamentally, I think this has always been an issue for me because of anxiety, but once I got out of school, it definitely felt like it got worse. Whether that's because of the way law school makes one think, or the fact that I really was on my own without a structural system to fall back on, I have had a hard time feeling really good about any decisions.
The goal is not to get the decision exactly right, because you can't predict perfect outcomes, no matter how much you agonize over your options before choosing.
In this article, Erin Bunch shares eleven pieces of expert-approved advice for learning how to be more decisive. Anyone who has dealt with anxiety will recognize some of these issues, like evaluating a decision's true impact. It's so easy to get wrapped up in our own heads and catastrophize (it is an actual word!) situations beyond all reality; and that negatively impacts our mental health and decision-making ability. Further, the idea of considering whether there is more information that you can gather to inform a decision rings true to me, as I am prone to jumping to conclusions.
Read Erin Bunch's Decisiveness Is a Learned Trait—Here Are 11 Tips To Master the Art of Decision-Making here.
YouTube Video: NECK & SHOULDER THERAPY | All Levels Yoga | Cat Meffan
If you work at a computer all day — and especially if you have a penchant for working from the couch, like I've been lately — you're going to want to bookmark this yoga practice. I did this practice the other day (Olivia helped) and felt so much better afterwards. Cat Meffan shares some of the best anti-desk-job stretches for the head, neck, shoulders, and chest in this video. Beyond making you feel so much looser and less rigid, the flow is a good light workout, too; nothing too strenuous, but you'll finish feeling like you've done something really good for your body.
Yoga Practice Favorites

I don't remember exactly how I came across @whimsyandwhile, but I'm very glad I did! Ashley York's account is full of beautiful photography, sustainable living resources, and slow living inspiration. In tune with the seasons, Ashley shared most recently about Ostara, the first day of spring, with a new fuzzy friend.
Ashley is also a herbalist and shares about plants and gardening. So, if you're inspired by Claire in Outlander (like I am), you will certainly love her nature-centric Instagram feed. I mean, who can look at this beautiful tea photo and not want to make a cup for one's self?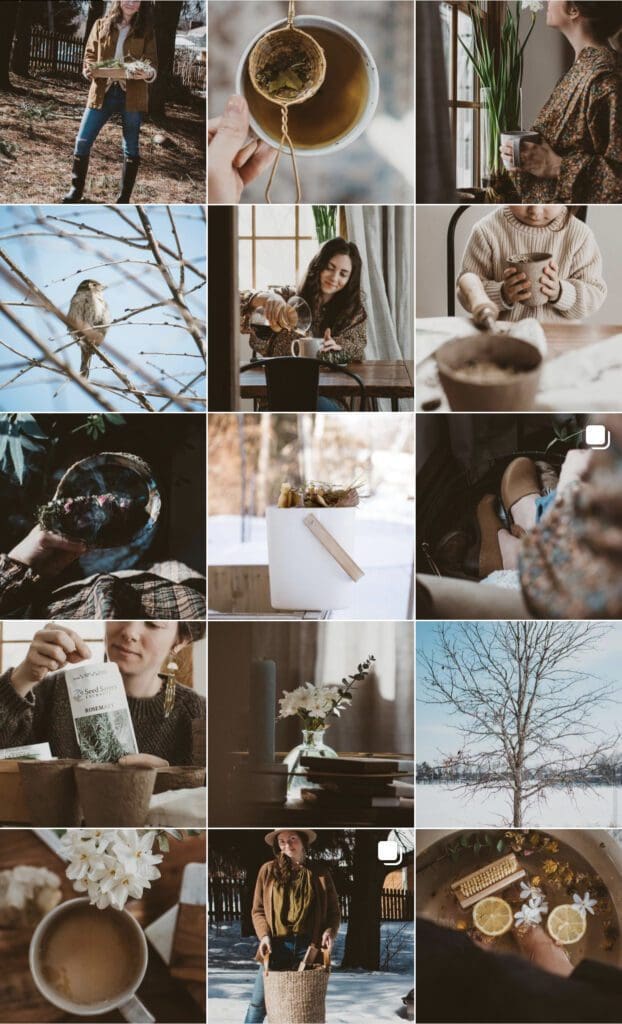 Give Ashley a follow if you're looking for more earthy tones and heart-centered posts on your Instagram feed. Be sure to check out her website for her photography offerings!
Cats & Coffee's Curated Content Series: March 17, 2021
Article: It's Okay to Feel Burned Out, Caroline Mimbs Nyce for The Atlantic
"Our lives are different now. One year in, you might've picked up some weird pandemic habits, or maybe you're just battling chronic burnout. It's all okay."
I'm an introvert, to be sure, but the one-year-mark of the pandemic hit me really hard. I've dealt with a lot of frustrations, depression, and anxiety surrounding the pandemic — certainly, I'm not alone in these feelings. Caroline Mimbs Nyce's article is the gentle reminder that I think we all need: it's ok to feel burnt out, to feel like you're forgetting things, to feel vain, and so on.
"The pandemic has made our lives strange, small, and stressful. No wonder so many of us feel like we have 'spent the past year being pushed through a pasta extruder,'…."
A quick read, Mimbs Nyce's article gives brief explanations to some common issues people are having, and even addresses a reader's question about perfectionism in the times of uncontrollable stress.
Read Caroline Mimbs Nyce's article, It's Okay to Feel Burned Out, on The Atlantic's website here.
YouTube Video: Queen Elizabeth I Makeup Tutorial | History Inspired | Feat. Amber Butchart and Rebecca Butterworth
I came across the English Heritage account thanks to Bernadette Banner's channel. I've only watched a couple of their videos so far, but this Elizabethan makeup video is rather entertaining. With discussions of what products and mixtures would be used and how, it is interesting to see how the standards of beauty have changed so dramatically — specifically with regards to eyebrows and blush placement.
I have been big into cottagecore inspiration on Instagram lately, which is how I came across Nadine's profile. With incredible photography and style, Nadine creates dreamy and romantic imagery with beautifully intentional pops of color throughout.
Besides having a talent for photography and imagery, Nadine is a "fairy making music" — an apt description, to be sure. She also runs an Etsy shop featuring handmade corset bodices, sustainable linen scrunchies, cottagecore inspired embroidery, and more. Explore her whole shop here and give her a follow on Instagram!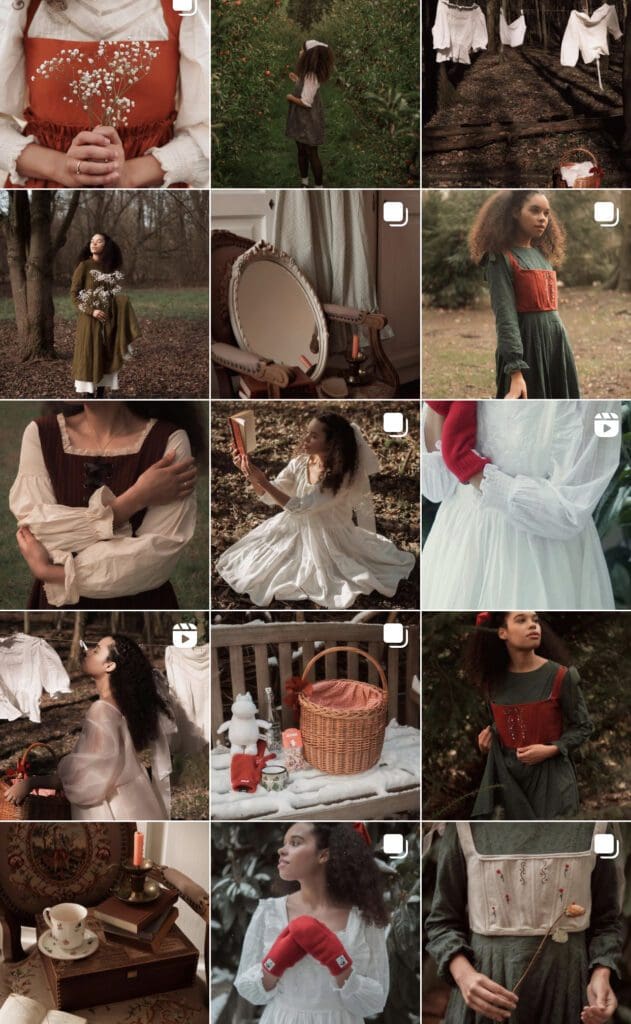 Cats & Coffee's Curated Content Series: March 10, 2021
Article: A Safe World For Girls Starts With Taking Them Seriously, Masuma Ahuja for Elle
If you didn't know, Monday (March 8th) was International Women's Day, a day that celebrates the strides women have made in the hard fought (and continuing) battle for equality.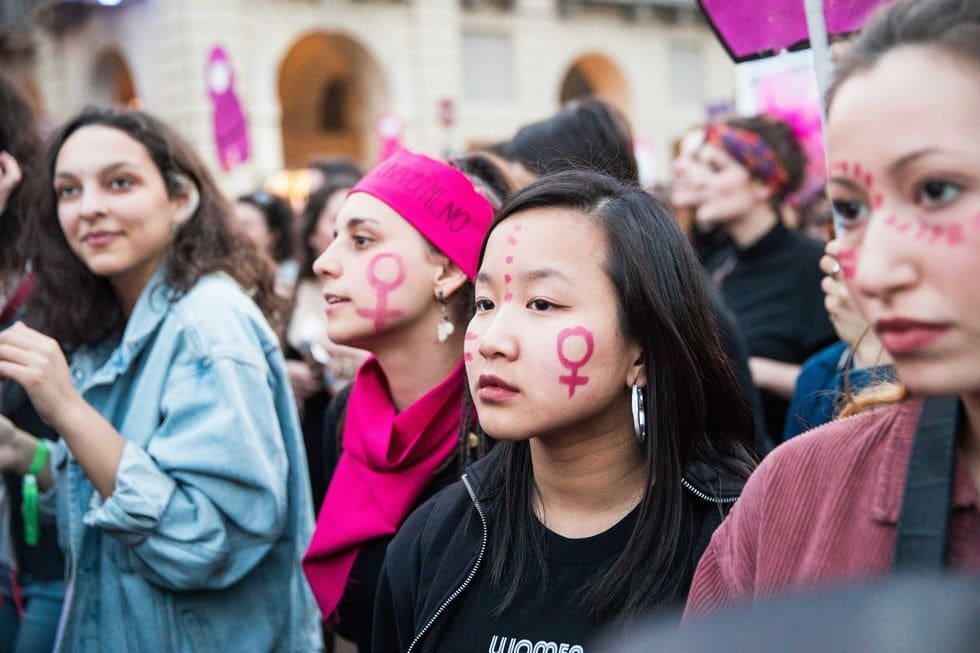 Photo from A Safe World For Girls Starts With Taking Them Seriously, Masuma Ahuja for Elle | Source: Nurphoto
Masuma Ahuja's article for Elle discusses the ways in which the pandemic has "threatened to undo decades of investment in girls' and women's access to education, economic opportunity, and safety." In a world of intersectionality, the pandemic has created another layer of complexity to the issue of gender equality.
Ahuja discusses how to rebuild these foundations in the months and years ahead, with insights on a complex situation that is at once universal and individualized. Her points generally boil down to the fact that the first step towards rebuilding what ground we have lost is to start taking girls and women seriously, truly hearing what they have to say and valuing these insights.
"Instead of just imagining a future where girls have a seat at the table, let's hand girls the mic to shape the future."
Read Masuma Ahuja's article, A Safe World for Girls Starts with Taking Them Seriously, on Elle here.
YouTube Video: Antique Hunting at New York City's Weekend Flea Markets | Bernadette Banner
I've been watching an awful lot of Bernadette Banner videos on YouTube lately because they're intellectually compelling and generally really soothing at the same time. This particular video is a vlog of Bernadette's flea market trips in NYC. Basically, just a nice bit of pre-pandemic escapism.
I follow no shortage of writers and poets on Instagram and have been finding so much joy in their wordy, beautiful posts. Bestselling author and speaker Jennae Cecelia is one such account.
Focusing on self love and care, body positivity, and living well, Jennae crafts thoughtful, pithy stanzas that just make you feel a little less alone in an isolated world.
Plus, if you like following cohesive, well-designed Instagram feeds, this is sure to be a fast favorite of yours. As we move into March and springtime, her feed has been featuring some new blooms and colors to align with the season.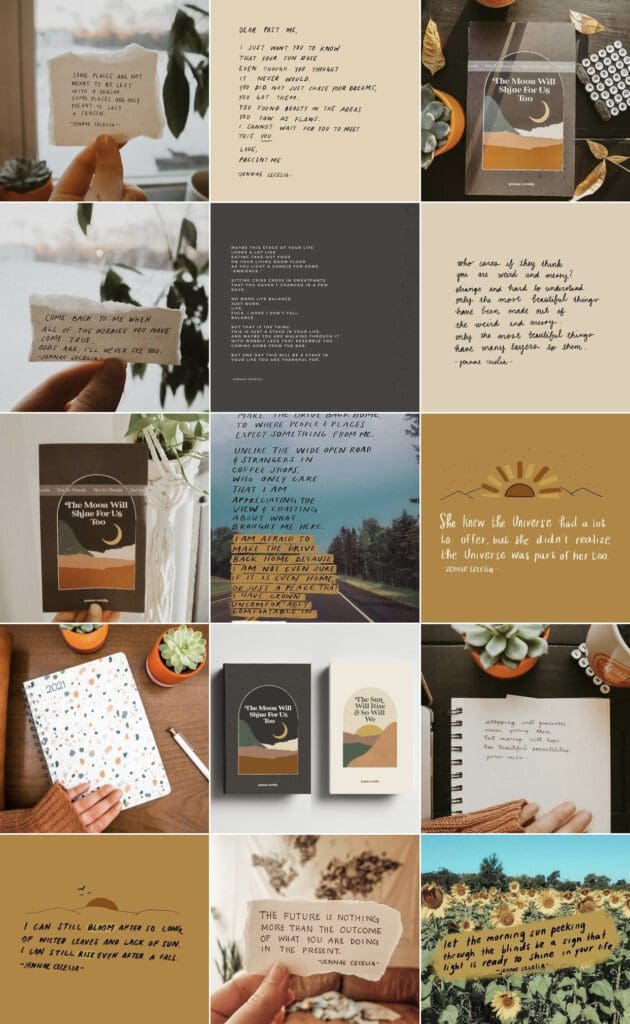 Give Jennae a follow on Instagram, and explore her library of best selling books on Amazon here.

Cats & Coffee's Curated Content Series: March 3, 2021
Article: Why You Should Find Time to Be Alone With Yourself, Micaela Marini Higgs for The New York Times
This is an older article, but poignant nonetheless. I came across it while researching for another project, and it seemed appropriate based on the social distancing we've been living with for many months now.
Social distancing is lonely. Many of us have felt the isolation very deeply, and this is something that is often overlooked. As an introvert, I began to wonder why I felt like I no longer liked solitude, it no longer helped reenergize me.
Well, based on this article, the issue is that this solitude is not a choice.
"Choosing to spend time doing things by yourself can have mental, emotional and social benefits, but the key to reaping those positive rewards comes from choosing to spend time alone. In a culture where we often confuse being alone for loneliness, the ability to appreciate time by ourselves prevents us from processing the experience as a negative thing. In fact, getting better at identifying moments when we need solitude to recharge and reflect can help us better handle negative emotions and experiences, like stress and burnout, said Emily Roberts, a psychotherapist."
Read Micaela Marini Higgs' New York Times piece, Why You Should Find Time to Be Alone With Yourself, here.
YouTube Video: Men in Kilts | Premiere Cookalong | STARZ
Last month, I shared about the new Men in Kilts miniseries on Starz. This thirty-minute YouTube video is a good mix between something like the Great British Bake Off and Heughan and MacTavish's new show. Plus, I really want to try the Sassenach Scotch!
Men In Kilts Inspired Finds

P.S. learn about the companion book for the Men In Kilts series here!
While I know how to French braid my hair, my hair styling skills ends there. Molly of @scarlett.o.hair creates the most gorgeous braids and hair styles with her literal yard+ of hair. Seriously, she recommended Olaplex and I have never been influenced so quickly.
Besides creating fun hair styles, her videos and photos are beautifully curated and creative. Plus, she's a fellow Floridian, so I really enjoy seeing all the beautiful spots in my state that she's found (such as this gorgeous castle, seen on Molly's feed here, which is outside of St. Augustine).
Give her a follow and enjoy her beautiful imagery and maybe give some of her braids a try! I know I have!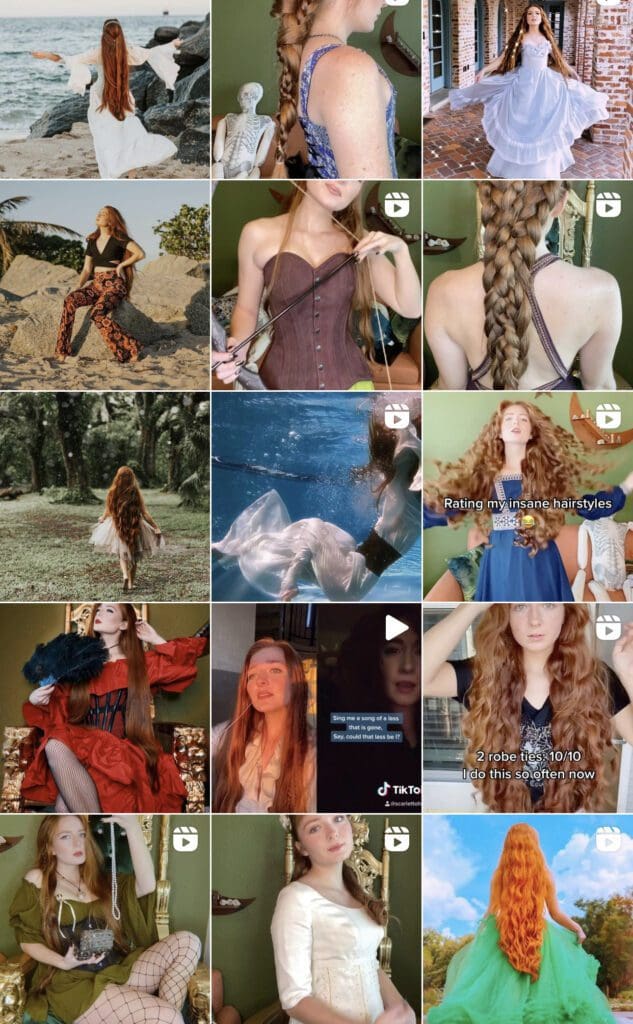 ---
Looking for more recommendations?
Explore some of my favorite TikToks and creators from the platform here.