The Cats & Coffee Curated Content Series
Welcome to the November Edition of Cats & Coffee's Curated Content Series! This series features weekly content round-ups of articles, videos, podcasts, and Instagram accounts. I find content that is worth your time so you don't have to! This month features insights into new features on the Poshmark shopping platform, slow living content creators, YouTube videos I'm loving, and more.
This series features shorter-form content on a weekly basis. For longer-form content round ups, be sure to explore My Current Loves.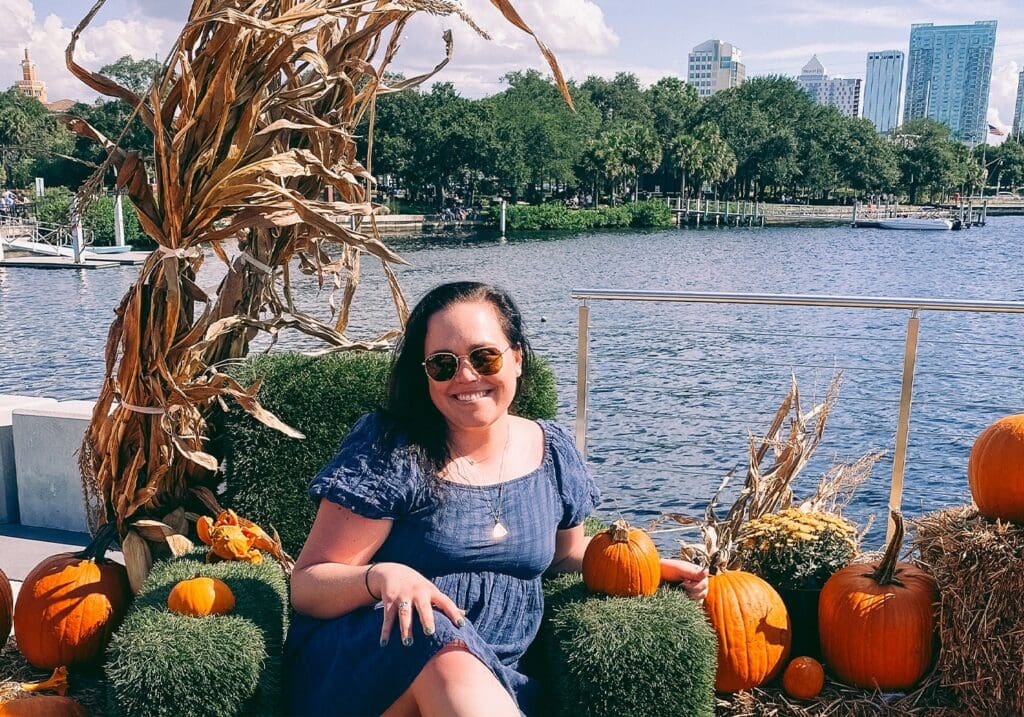 Doing my best Pumpkin Queen impression at a local Fall Festival in Tampa!
Dress and accessory details can be found here.
Favorite Finds of the Month

Cats & Coffee's Curated Content Series: November 24, 2021
Article: A Slippery Slope: How I Feel About Instagram, Creativity And Boundaries, Krystal Bick (This Time Tomorrow)
I came across a great article by Krystal Bick on her blog, This Time Tomorrow, and it really resonated with me. In the article, Krystal discusses the "slippery slope" of establishing boundaries with Instagram as a content creator. The stress that comes from creating and sharing on a platform you do not own is ever present, even for those of us who maintain a robust blog alongside these social accounts.
Overall, Krystal puts down in words the general ennui I've been feeling with Instagram (and Facebook, to a certain extent), with their changing algorithms and underlying business motives that push content creators to pay for ads in order to be seen.
But what I do take issue with is when the playbook isn't transparent. When the rules are always changing. When the tips and tricks for success seem to be a constant game of copycatting between social media platforms. And when I or you, as human beings do, experience something personally profound and decide to take time off from social media and dare to live OFFLINE for a few days, we can't seem to regain any of the footing we had before (which mind you, wavered day to day as it is).
I do genuinely love social media; I love the sense of community, the fact that you get snippets into people's lives who you can't see every day, and the knowledge sharing that exists on various platforms. Krystal touches on this, too, highlighting the push and pull between creating for one's self and one's readers versus playing in to the ever-changing business whims of a large corporation.
Whether you're a creator yourself or not, I highly recommend giving Krystal's article a read. You can find it here on This Time Tomorrow.
YouTube Video: I Went To An Amazon Returns Store | Safiya Nygaard
This came up as a recommended video for me and I found it completely fascinating. Over the course of 30 minutes, Safiya takes her viewers through an Amazon Returns Store, which sells returns from the online shopping behemoth that have been purchased in bulk. Apparently, most Amazon returns are handled this way: auctioned off in bulk, without buyers knowing what is included in the package, and then resold at high discounts, particularly to re-sellers. Some of the finds are good, others are broken or not worth the standard price at the resell shop. Overall, though, it's an interesting insight into what happens to returns once you package them up.
@Brennadoodles is a colorful and joyful Instagram featuring motivational quotes and self-care reminders — basically, what we all need more of in our Instagram feeds. Brenna, an artist based in Brooklyn, New York, created the account in hopes of "[adding] a little joy to your feed" and she certainly has succeeded in that!
Like a number of creatives, Brenna's account grew out of a hobby, and gained steam after the start of the pandemic, when she was furloughed from her full time job. Brenna channeled her creativity into the account, growing it to over 86,000 followers as of November 2021.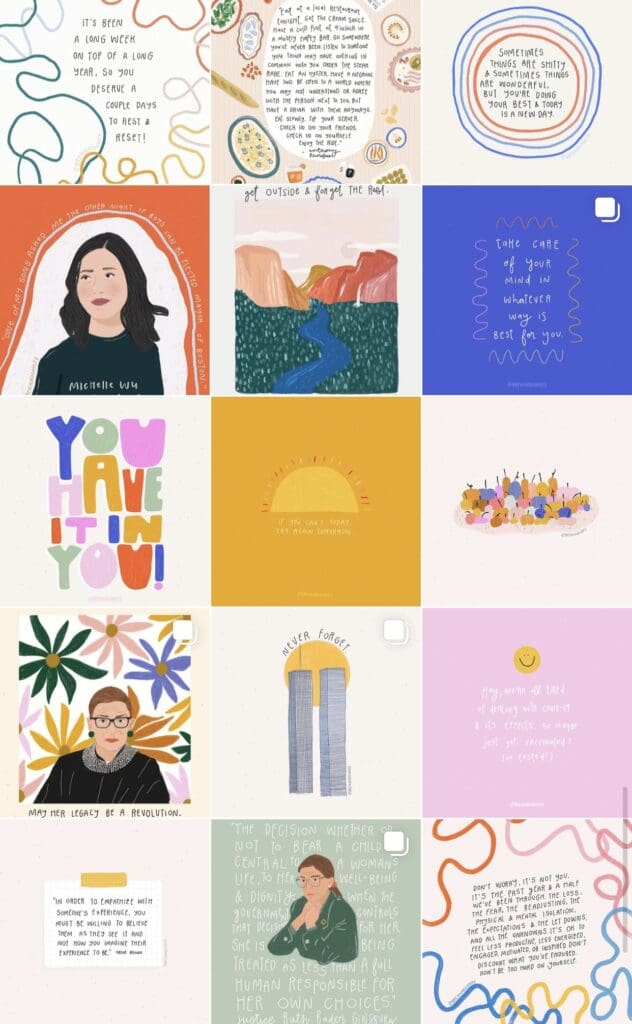 Give Brenna a follow on Instagram for more colorful, joyful goodness. Read more about Brenna in her website bio here. Check out her art shop, featuring great collections like "Liberty & Justice for All" and "When There Are Nine – The Ruth Collection."
Cats & Coffee's Curated Content Series: November 17, 2021
Article: Harry Potter 'Return to Hogwarts' Special to Reunite Daniel Radcliffe, Emma Watson, Rupert Grint for HBO Max, Todd Spangler for Variety
The original Hogwarts wizarding trio are reuniting to recount their adventures from two decades ago.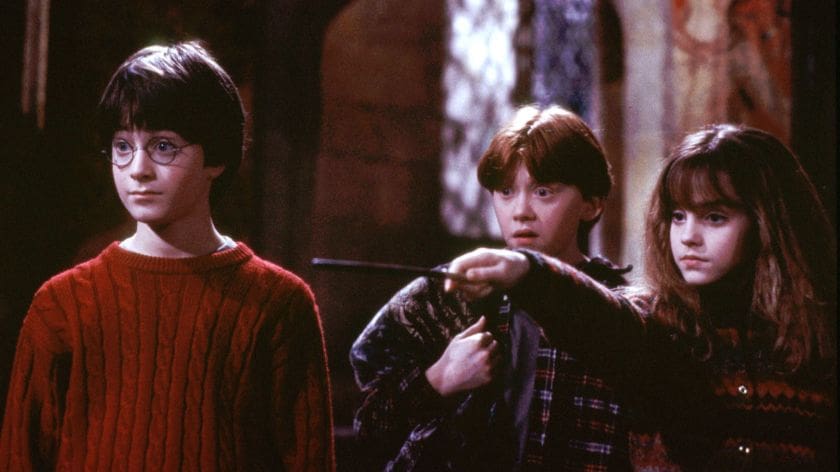 Image 1: Peter Mountain / Warner Bros.
Image 2: Everett Collection
Get ready for some serious Harry Potter nostalgia because, on January 1, 2022, HBO Max is releasing a special "Return to Hogwarts" to celebrate 20 years since the original film was released.
According to Variety, the feature will "tell an enchanting making-of story through all-new, in-depth interviews and cast conversations." It'll have the core three cast members, of course, along with many of the actors from the full series, including those that weren't yet in the first film. The cast members announced the special simultaneously on Instagram, sharing the following video:
Read more about this upcoming "Return to Hogwarts" special on Variety here.
YouTube Video: DOWNTON ABBEY: A NEW ERA – Official Teaser Trailer
At the risk of having a Maggie Smith-filled post, I thought I'd share the latest teaser trailer for the forthcoming Downton Abbey film, set to come to theaters on March 18, 2022.
I recently rewatched this full series and, let me tell you, it is as much of a gem on the rewatch as it was on the first go-around. The costumes, the sets, the actors…all-in-all, just a delightful experience. So, I was quick to jump online to watch the teaser once I heard it had been released. It really is a teaser at just over one and a half minutes, but it gives a good glimpse of what we can expect: the Dowager Duchess of Downton wowing everyone with her dramatic past.
If you're as excited as I am about the new Downton movie, you're going to love the story about the "real" duchess of Downton.
I featured it in my historical reading list round up here!
I'm not quite sure what it is about cottagecore aesthetic bookstagram accounts but I'm really into them right now. I always enjoy them and have followed a number of such accounts for a while, but I think the change in seasons has me really loving these curated accounts. And @ladyofbookshire is just one such account.
Krysten Idoni, the creator behind the Lady of Bookshire account, offers gorgeous photography that will seemingly transport you to a cozy reading nook with your favorite beverage and sweater. Plus, she has some of the coolest sticky notes I've ever seen (did you know they came in non-highlighter colors!? Because I didn't).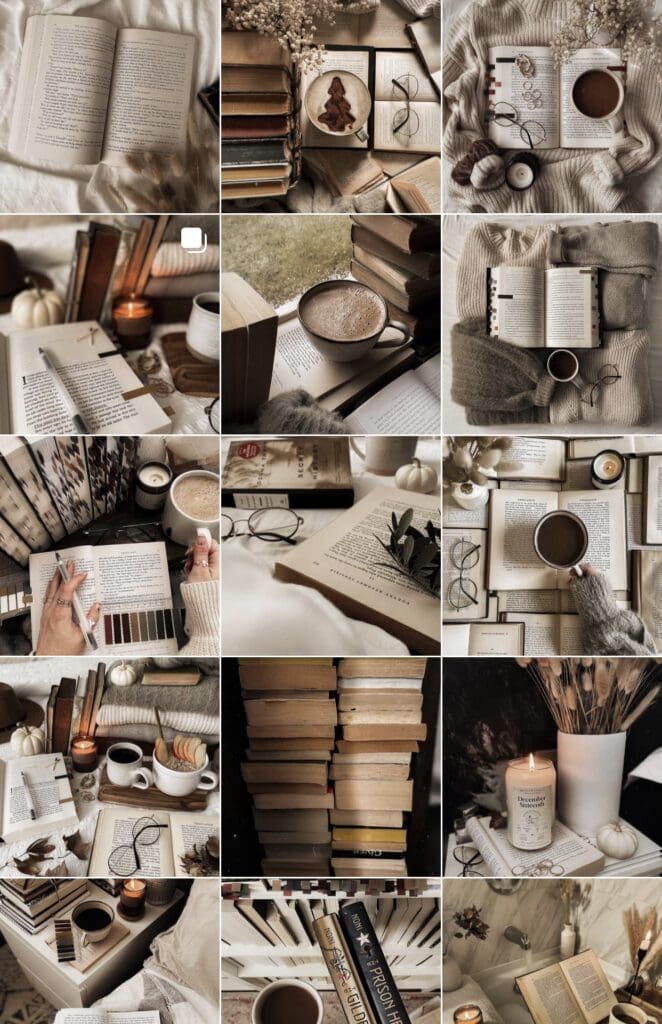 Whether you're looking for book recommendations or simply want to fill your feed with more beautiful literati photography, I highly recommend giving @ladyofbookshire a follow. If you're looking for more reading recommendations, check out her GoodReads page here (which includes the Outlander books! Some of my favorites).
Looking for more great cottagecore accounts to follow?
Check out my post about some of my favorite content creators in this genre here!
Cats & Coffee's Curated Content Series: November 10, 2021
Article: Wooden bird that once sold at auction for $100 belonged to Anne Boleyn, Hannah Ryan & Katharina Krebs for CNN
I follow a whole slew of British historians on Twitter, and my feed was going wild on Monday with news of an Anne Boleyn related find: a 16th century wooden falcon. The figure was originally sold at auction for around $100 in 2019, before it's historic origins were known. Now, the falcon is believed to be worth closer to $270,000.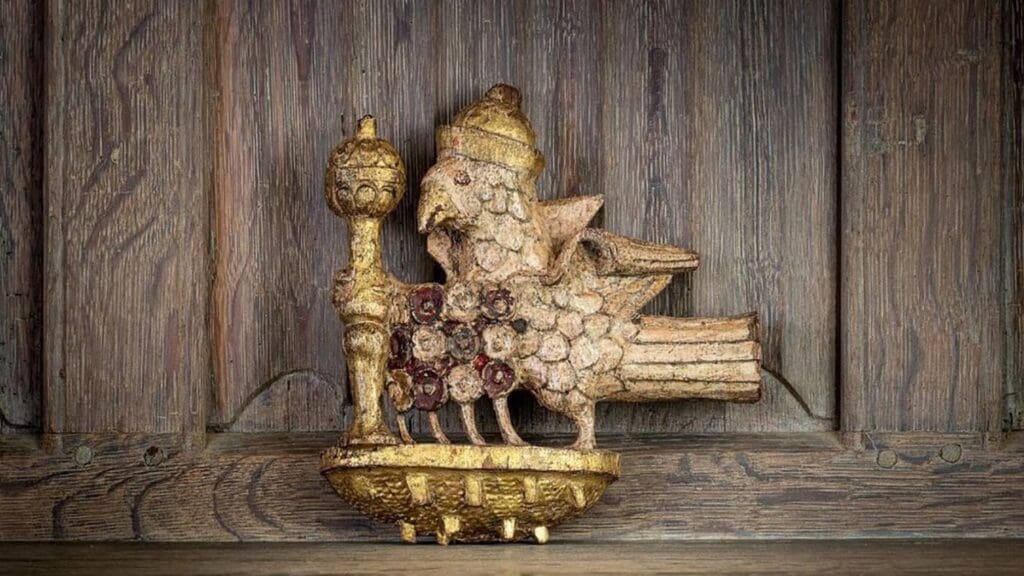 Image 1: Wooden falcon figure believed to have belonged to Anne Boleyn. Credit: Paul Fitzimmons/Marhamchurch Antique
Image 2: A 19th-century painting depicting the Henry VIII of England and Anne Boleyn's first meeting. Credit: Heritage Images/Hulton Fine Art Collection/Getty Images
The falcon is believed to have belonged to Anne Boleyn, and likely adorned her private quarters at Hampton Court Palace. Paul Fitzsimmons, the antique dealer who acquired the artifact, intends to return the figurine to Hampton Court.
Tracy Borman, one of the British historians who alerted me to this find on Twitter, noted the significance of the find, saying that "artifacts relating to Anne Boleyn are incredibly rare, thanks to the fact that Henry VIII wanted all traces of her removed from his palaces after her execution in 1536." It seems likely that a supporter of Anne saved the figure from destruction.
Read the full article "Wooden bird that once sold at auction for $100 belonged to Anne Boleyn" from Hannah Ryan and Katharina Krebs for CNN here.
YouTube Video: Stealing The World's Most Expensive Necklace • Puppet History | Watcher
I have recently become quite obsessed with Watcher's Puppet History show on YouTube. My friend explained the show's appeal so well when she noted that it is the epitome of millennial humor, which I think is spot on. It's bizarre, but amazing all at the same time. And, luckily for me, there is quite the library of episodes built up, since the show started in January 2020 (with an *ironic* first video topic in light of the pandemic). For my video of the week this week, though, I am going with the second episode of the show, which is all about the Affair of the Diamond Necklace, which famously tarnished Marie Antoinette's reputation. We all know I have a thing for doomed queens (see, e.g., Mary Stuart), so this topic caught my attention right away.
This week's IG of the week has been on my list to share for some time but I wanted to do them justice. I intend to do a fuller post about our art pieces from this artist when I get my act together and get frames for our new prints. But I'm getting ahead of myself….
Basically, there are no words to describe how much I enjoy WhizBang Meow's Instagram. This digital artist is in a league of their own, creating some of the most amazing digital feline art ever. I've been following them for years now, and was absolutely blown away when they drew Louis back in December 2018 as part of their Project Caturday series. This was a total surprise feature for Louis and I had no idea it was happening until I saw this sneak peek and thought, "hey, that looks like my cat!" It's such a striking portrait, and I have it on all kinds of products, including a travel mug, laptop sleeve, and a canvas pouch.
Anyway, fast forward to September of this year when Brett and I were lucky enough to get a double commission from @whizbangmeow for Emory and Olivia. Both of the girls' portraits came out stunning and are so uniquely them. The way WhizBang Meow captures the personality of each of the cats they paint is absolutely amazing. Take Olivia's pose, for example. When Brett and I unrolled the (super high quality) print of the portrait, Olivia was rolling around in the same pose on the kitchen mat! As for Emory, the crossed paws and curious gaze, combined with the inclusion of Emory University colors, is so strikingly her that you can almost hear her chirp from the print! Now, I just have to decide what products I want to order of Emory and Olivia's portraits!
Give WhizBang Meow a follow on IG here and check out all of the Project Caturday merch here!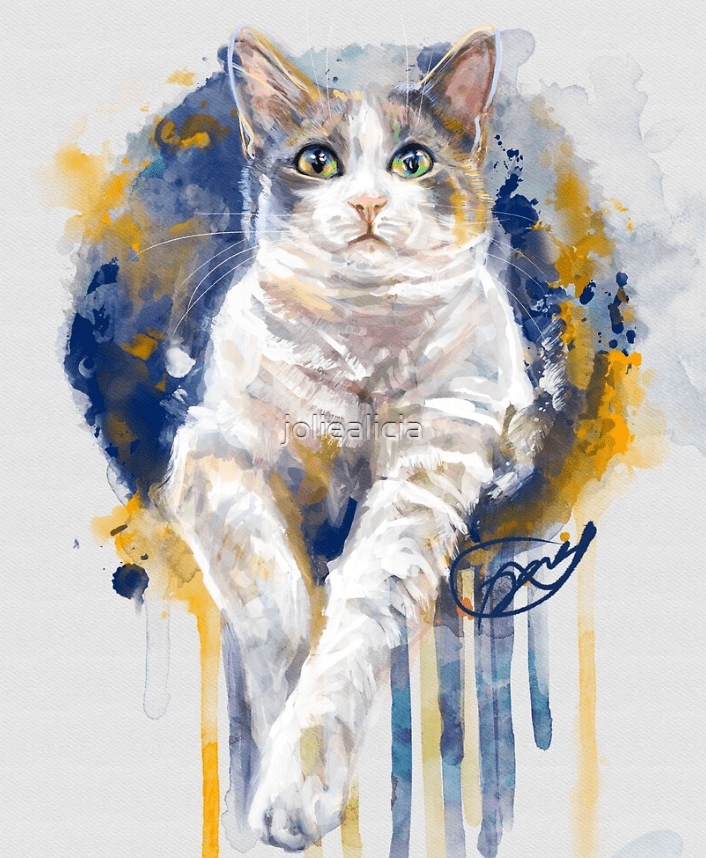 Explore King Lou & Co Merch with Art by WhizBang Meow!

Cats & Coffee's Curated Content Series: November 3, 2021
Article: Poshmark, Inc. Launches First-of-its-Kind "Brand Closet" Program, Opening its Social Marketplace to Brands, Cision PR Newswire
New initiative enables large-scale brands to access Poshmark's social commerce platform and highly engaged community while fueling a more circular shopping engine.
Poshmark has been my favorite way to clear out space in my closet for some time (you can check out what I have available in my closet here!). With the app, users are able to sell new or gently used clothing in a relatively seamless manner. Unlike some other online selling options, Poshmark deals with the shipping labels, customer service (to an extent), and other admin related tasks. This generally makes the seller's life easier and taking a somewhat-nominal fee. (Ok, maybe not nominal; more on that here.) In its most basic form, the platform supports the reduction of clothing waste. It offers a straight-forward path to reselling and buying second hand clothing.
Bearing this in mind, I was a bit surprised to see that Poshmark is launching a "brand closet" program, whereby it is opening its social marketplace to the brands that users are selling on the platform already. However, I suppose it's not too much of a surprise, since Poshmark offers a "boutique" option for sellers. With boutiques, users can buy new pieces in bulk and resell them on the platform. This understandably draws criticism about supporting fast fashion.
Anyway, like with any other social platform, I guess it's not too shocking to see Poshmark expand its offerings in this way. I just hope it doesn't negatively impact small sellers too much, since the platform has been built on their efforts anyway. Time will tell.
Read the full press release about Poshmark's Brand Closet program here.
Are you interested in starting a Poshmark seller's closet of your own?
Read up on the pros and cons of the platform, along with how to use it, here!
YouTube Video: Apple Watch Chatelaine || Historical Remix | Not Your Momma's History
Cheyney McKnight, founder of Not Your Momma's History, teamed up with one of my other favorite YouTubers, Bernadette Banner, to create a modern version of a historical every-day-carry accessory: the chatelaine. A chatelaine was a set of short chains attached to women's belts, used to carry keys and other small necessities. Using pieces from this gorgeous Etsy shop, Cheyney and Bernadette walk viewers through the history of the chatelaine and how they create a contemporary version.
If you like pretty photos of books and autumnal foliage, then this account is for you. Polly Florence is a freelance photographer and content creators with a love for all things travel, books, and interiors. I've been following Polly Florence for a while now and am always struck by the dimensionality of her photos. I find that she captures the mundane and makes it entrancing, something that is far easier said than done!
From slow living ideation to book recommendations, home styling (and cat cameos!) to travel inspiration, Polly Florence's account has a little something for everyone. I particularly enjoy her use of color. She has a defined earthy palette featuring a variety of rusty reds, oranges, and yellows, combined with my favorite: green.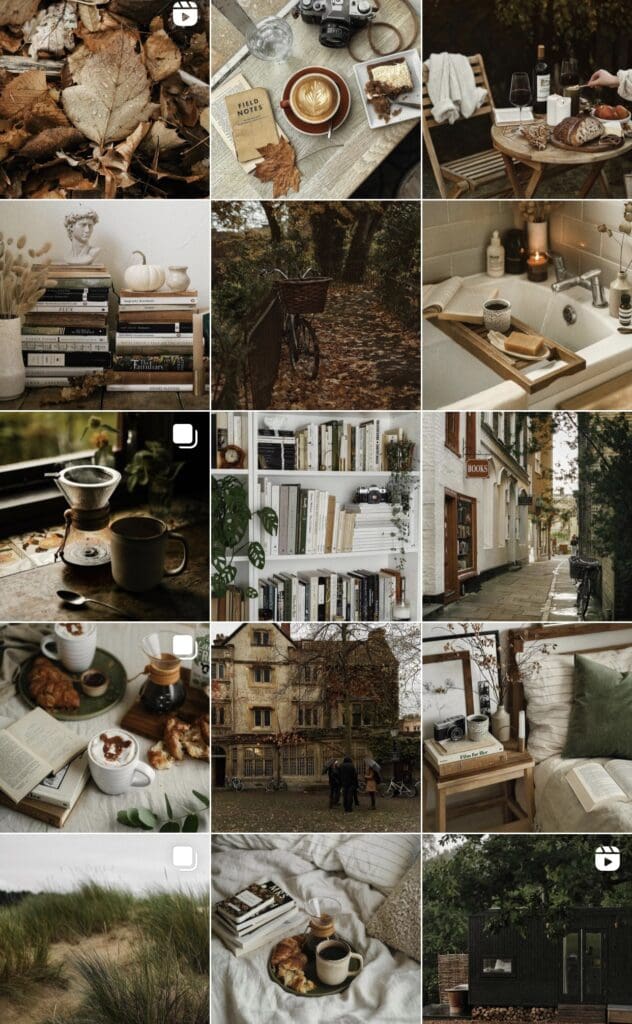 Give Polly a follow for more beautiful photography and insightful captions. I also recommend checking out her blog, on which she shares more about books, travel, and the like. Polly also runs a monthly book club on her second IG account here.
---
Want more great finds like these?
Explore the October edition of my Curated Content Series for more great reads, listens, and Instagram accounts to follow!