Colorful & Cute Workout Outfits
Between the already-summer-like temperatures here in Florida, and my renewed interest in yoga, I'm in the market for some cute workout outfits for spring. One way I motivate myself when starting up a new workout routine (or, in this case, getting back into one after my wrist surgery) is with cute new clothes. It's really just best thing when workout outfits and athleisure are cute enough to wear around as regular clothes. Here, I'm sharing a round up of cute workout clothes that are perfect for spring (and summer!):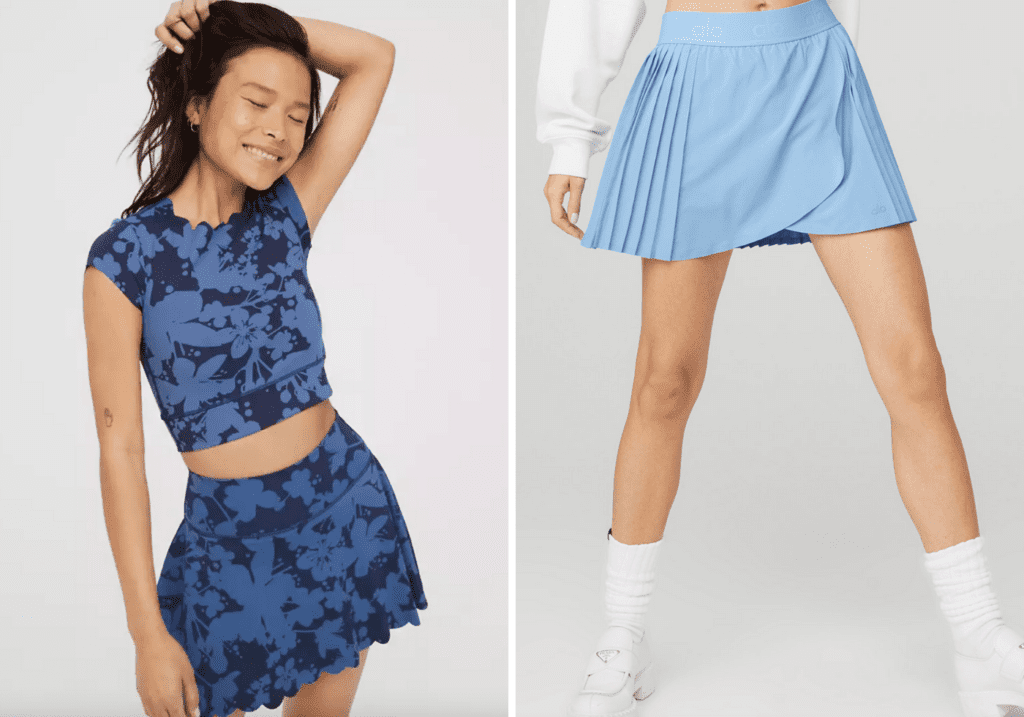 Cute Activewear Outfits & Workout Styles
I'm splitting this guide up into two sections: first, tops and sports bras and, second, shorts and leggings. I snuck a dress in for the first section, as well, because the pleated skirt was calling my name (second graphic below).
Colorful Tops & Sports Bras
Overall, I really love all the cute crop top sports bras that are available right now. As a petite woman, many of these work out as regular tops for me, like this Beyond Yoga option or this Aerie style that I adore. Basically, they're great for workouts and they're great for layering. I pair them with an older version of this Alo top, for example, and it's perfect for to-and-from yoga!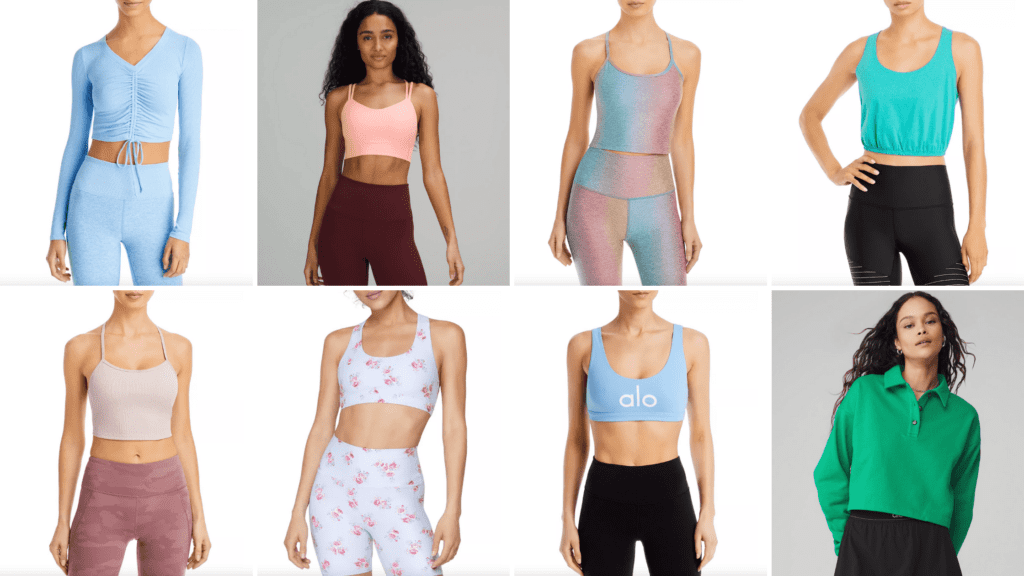 Top Row: Alo Yoga Ribbed Cinch Cropped Top | Lululemon Like a Cloud Longline Bra | Beyond Yoga Spaced Printed Crop Top | Alo Yoga Cool Breeze Cotton Tank Top
Bottom Row: Alo Yoga AloSoft Ribbed Crop Top | Spiritual Gangster Studio Sports Bra | Alo Low-Impact Sports Bra | Alo Yoga Polo Henley Pullover
Beyond the long-line sports bras and crop tops, Aerie and Lululemon have particularly good selections of basic workout tanks. This Aerie option, for example, is affordable and comes in a variety of colors, whereas this Lululemon style offers a slightly more fitted look.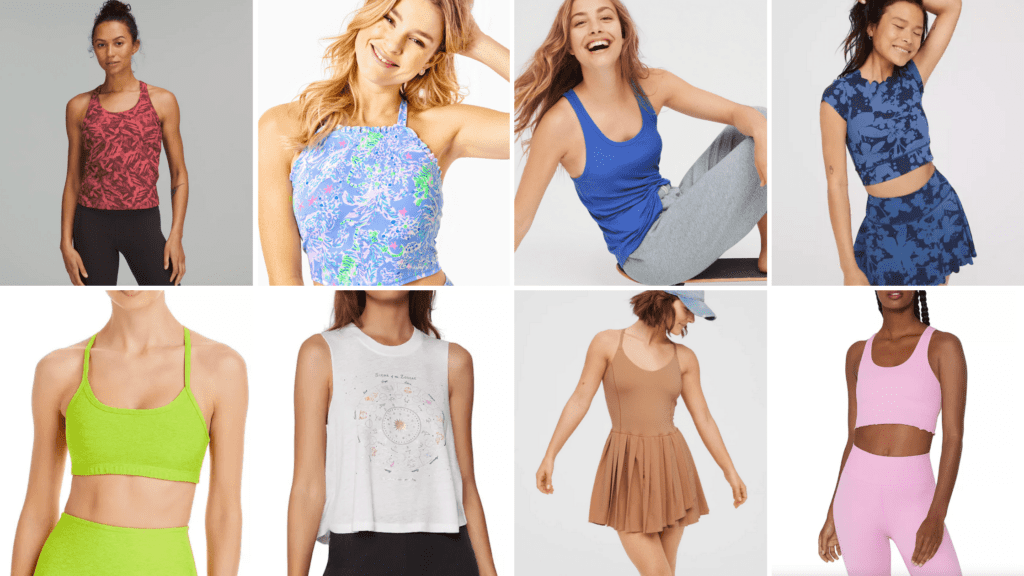 Top Row: Lululemon Cool Racerback Short Tank Top | Lilly Pulitzer Luxletic Letitia Bra Tank Top | Aerie Offline Thumbs Up Ribbed Flowy Tank | Aerie Offline Goals Scallop Tee
Bottom Row: Beyond Yoga Space Dye Slim Sports Bra | Spiritual Gangster Zodiac Crop Tank Top | Aerie Offline Nylon Pleated Tennis Dress (sold out, similar style here) | Spiritual Gangster Amor Cropped Tank Top (sold out, similar style here)
Shorts & Leggings for Spring
As someone that lives in workout shorts and leggings for working from home, this section has me pulling for my wallet. In regards to shorts, I had to include my all-time favorites: the Lululemon Speed Up Short and these Attraco High Waist Biker Shorts from Amazon. The latter have almost supplanted my love of the Speed Up Short, thanks to the handy pockets. For more cute bike shorts, check out the Sweaty Betty options in the second graphic below — they're made with sustainable materials!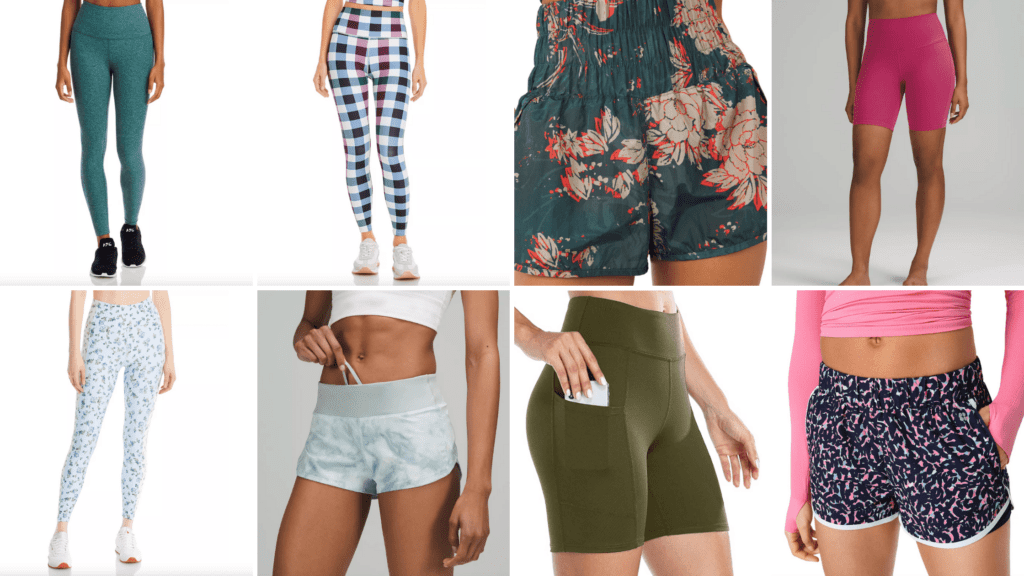 Top Row: Beyond Yoga High-Waist Midi Space-Dye Leggings | Aqua Athletic Gingham Super High Rise Ankle Leggings | FP Movement The Way Home Shorts | Lululemon Align™ High-Rise Short 8″
Bottom Row: Aqua Athletic High Rise Floral Print Leggings | Lululemon Speed Up Low-Rise Lined Short | Attraco High Waist Biker Shorts | Sweaty Betty On Your Marks 4 Running Shorts
One thing I don't have are workout skirts, but I'm feeling like they're now a staple for cute workout outfits for this spring. As someone who tends to wear more dark colors, I was surprised to find myself so drawn to this Lilly Pulitzer workout skort. I'm just really loving the colors in it! This Alo Yoga Aces Tennis Skirt really has my eye, though, with its pleats and subtle styling.
Top Row: FP Movement Pleats & Thank You Skort | Alo Yoga Muse Rib-Knit Sweatpants | Lilly Pulitzer Luxletic Anika Skort | Sweaty Betty Track Speed 3.5″ Running Shorts
Bottom Row: Terez TLC Super High Waist Leggings | Alo Yoga Aces Tennis Skirt | Sweaty Betty Super Sculpt Sustainable 8″ Biker Shorts | Sweaty Betty Super Sculpt 7/8 Workout Leggings
My Favorite Styles
For tops, I'm loving a cropped sports bra paired with the Alo Yoga Polo Henley Pullover (it's green!). As for bottoms, I tend to go for solid color leggings, so these Beyond Yoga leggings are calling my name. At the same time, the Alo Yoga Muse Rib-Knit Sweatpants seem like they could be part of my new favorite work-from-home uniform.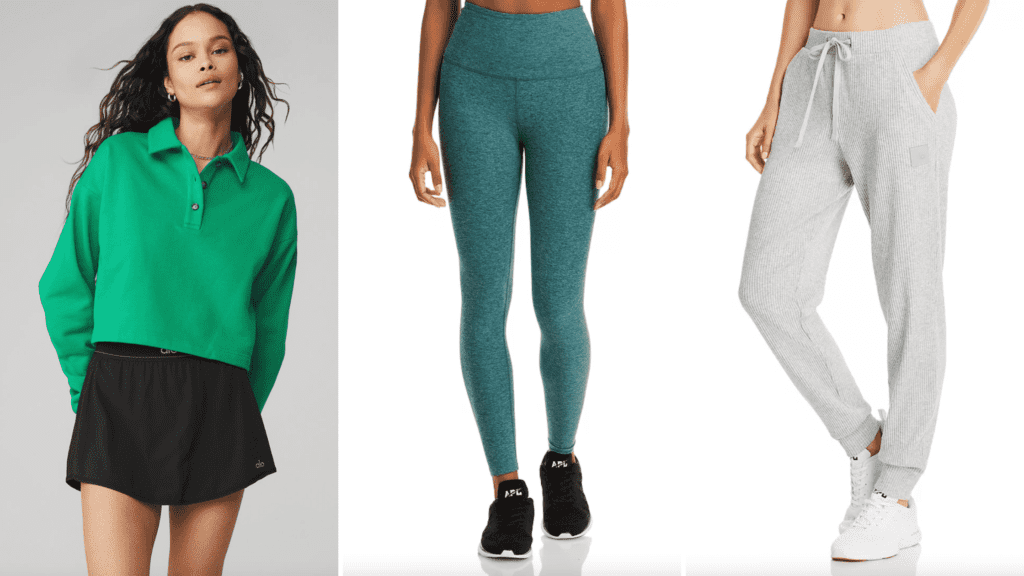 What are your favorite pieces? Do you prefer solid color workout styles
or would you rather opt for a bright pattern?
---
Shop more of my favorite styles and finds on ShopLTK!
I post about a mix of petite fashion, themed finds, home decor, beauty, and more.
*This post was originally published on April 3, 2022. It was most recently updated on May 19, 2022.