Brew Fests, Generally
I've been a big fan of brew fests for some time now. The Hogtown Beer Fest in Gainesville has been a personal favorite, in part because of the array of local microbrews that always participate. South Florida has a ton of these events, like Funky Buddha's latest fest, which is fantastic.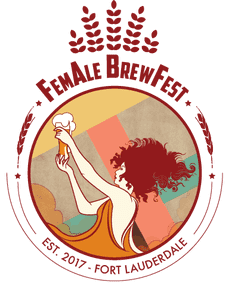 The FemAle Brew Fest 
The FemAle Brew Fest was founded a few years ago to celebrate female brewers. Craft beer and feminism? Sign me up. Anyway, we decided we had to check it out. I'm so glad we did, too, because it was such a fun day!
The FemAle Brew Fest was held in the Gulfstream Pegasus Park, a super cool park in Hallandale with a giant Pegasus statue. The statue seemed kind of random, but it was interesting to see either way. 
The beer tents were set up along the path around the statue. We ended up bouncing around from side to side of the park to get refills for our small glasses, so we got a lot of steps in. In doing so, we also got to see all the adorable dogs that came to the event, either with their humoms and hudads or with the Abandoned Pet Rescue, a sponsor of the event.
The Hoppy Variety
There weren't a ton of breweries at the event — at least, it didn't feel like there were because everything was so spread out (the park was rather large)— but there was a good mix of established and smaller breweries. 
Most of the participating breweries had women working the booths. It was fun to talk to them about their favorites and why they like the industry. 
Even though our favorite local brewer, Swamp Head, wasn't able to attend, a number of our other favorites participated. Lauderale, Funky Buddha, MIA, Cigar City, Islamorada Beer Company, and Concrete Beach stand out as my favorites for the day. Most places brought staples, like Concrete Beach's Havana Lager, but some brought newer, more experimental styles to try, like Funky Buddha. 
Funky Buddha is pretty well known for crafting unique flavors of beer (case in point, their maple bacon coffee porter). The brewery has a new line based on traditional mixed drinks; they brought their Manhattan style beer for attendees to sample. The likeness of the beer to the drink was pretty spot on. Sweet but not too sweet at all. I don't know if I'd want to drink very much of it at a time, but it was a unique flavor to sample. 
IPAs, Please!
In all, this Brew Fest stands out as one of the best we've been, primarily because they had a great range of IPAs–my favorite! The Funky Buddha event was great fun, but most of the beers they had there were sours, which aren't my favorite. 
There were a number of food trucks at the Brew Fest. There was a surprising number of vegetarian options, which was pretty great. When I saw that they had a mac n' cheese truck, I knew what I was going to indulge in! Customized mac n' cheese and great, female centered craft beer camaraderie? Win-win!  
Cheers!
P.S. brew fest pro-tip: bring sunscreen.
I brought my Supergoop! Everyday Sunscreen, which was a great decision. Unfortunately, I missed a big portion of my shoulders, so I wound up with a bit of a sunburn anyway. It would have been way worse without the sunscreen, though!