Holiday Gifts for Beauty Lovers
For the holidays, I love gifting my favorite beauty and skincare products from the year. Simple gifts for beauty lovers are my cup of tea. Whether it's a sweet gift set or a unique new product I've tried and loved, I always find it's the most fun to shop for the beauty lovers on my list.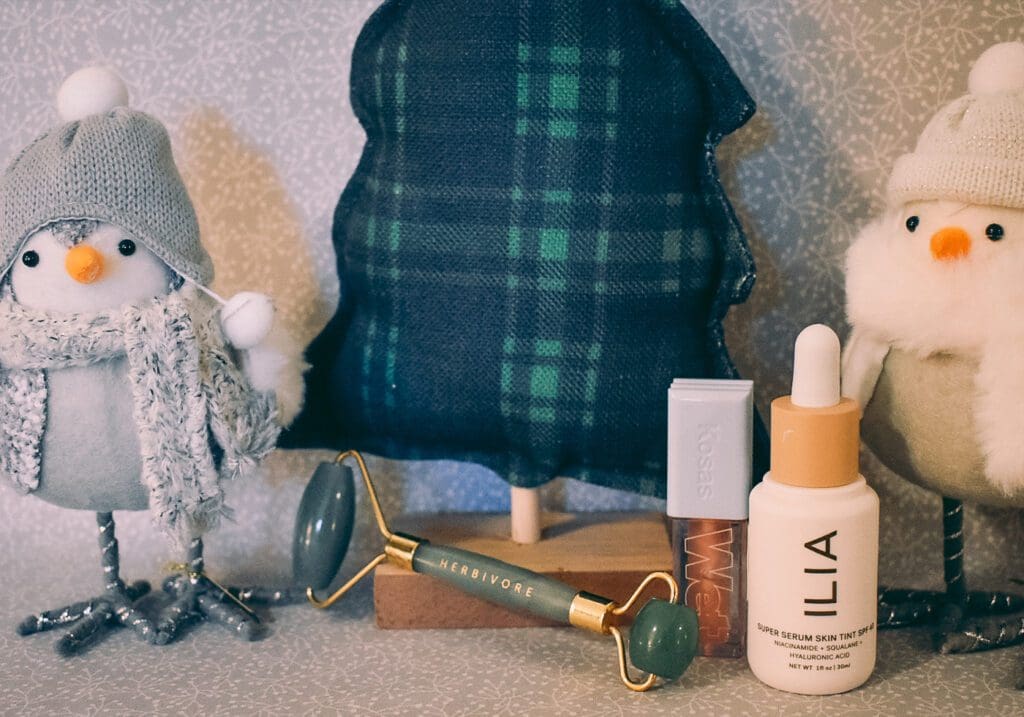 Beauty Lovers Gift Guide
As someone who gets really excited about skincare and beauty, I love to give my favorite beauty products as gifts. Plus, you can craft a really unique and useful little gift bag out of a couple great beauty minis and a nice pair of earrings! Here are my favorite beauty gifts that pretty much anyone can enjoy:
Crowd Pleasing Staples for the Beauty Aficionado
You really can't go wrong with Mario Badescu facial sprays, let me just start with that. These are a beauty favorite for a reason: they're simple, affordable, refreshing, and easy to use. Besides working as facial toner, they're just a great way to pamper one's self. Similarly, everyone can use L'Occitane hand cream, whether you gift them as a set of three or split it up for three recipients.
Jade rollers are a fun skincare tool that beauty lovers might not splurge on for themselves. The Herbivore Jade Roller is $30 and really well made. Use it nightly for relaxing and de-stressing, while simultaneously spreading serums or facial oil for optimal coverage. 
L'Occitane Hand Cream Trio | Bumble & Bumble Hair Care Set | Anastasia Brow Set | Herbivore Jade Roller| Mario Badescu Mini Mist Set
Beauty Gift Sets, Brushes, & Organization
This year, I've been really impressed with the gift sets available at Sephora. They have a huge variety of mini sets available, which are great as stocking stuffers, or full size sets of luxury items if you're looking to really treat someone.
I'm a big fan of the Sunday Riley Multivitamins Kit, both because I love the products themselves (read about the Luna oil here) and because of the price (just $28!). The Power Couple set (also Sunday Riley) and the Biossance set below are both a bit pricier at $72 each, but also well worth the money in my opinion. Both give you great products and enough of them to really determine whether you like them.
If you're looking for more beauty and less skincare, I recommend this gorgeous Kosas lip oil trio, available at both Sephora and Net-A-Porter for just $25. I have the lightest pink jellyfish color of the trio and it is the perfect pop of color.
Top Row: Sunday Riley Multivitamins Kit | Biossance Uplifted & Bright Set | Luxe Makeup Organizer System | Invisibobble Hair Rings
Bottom Row: Glitter Makeup Brushes | Sunday Riley Power Couple Routine Set | Kosas Wet Set Lip Oil Trio | Madewell x Crown Affair Calm Hair Care Kit
Skin Care & Simple Beauty Favorite Finds
Last but not least, we have skin care and simple beauty favorite finds. These are some of my favorite finds from the year — particularly the Ilia Super Serum Skin Tint and Ole Henriksen Dark Spot Toner. The Dark Spot Toner, besides being quickly effective, also has a unique and lovely scent; I can't quite put my finger on it, but I like it.
As for the Ilia Skin Tint, I came across this serum because I wanted something light and low-maintenance that I could put on without other makeup and still feel put-together. This serum is a clean formula featuring light coverage, superpowered with hyaluronic acids, plant-based squalane, and SPF 40 (great for Florida!). I use it on its own or with a bit of powder on top. Either way, it is a great product.  
Relatedly, the Ole Henriksen Truth Serum is a tried and true favorite of mine (I wrote about it in an early My Current Loves), and generally comes in a few sizes, making it ideal as far as gifts for beauty lovers go.
Top Row: Supergoop! Glowscreen Sunscreen | Ilia Super Serum | Ole Henriksen Truth Serum | Sephora's Mini Perfume Favorites
Bottom Row: Peter Thomas Roth Facial Set (here's another great PTR mask set) | Briogeo Hair Care Kit | Kosassport CBD Lip Balm | Ole Henriksen Dark Spot Toner