Catch Up on Great TV During Your Holiday Time Off
One of the best parts of the holidays is the fact that we generally get to spend more time with the people we care about. That being said, there is also some more down-time, particularly after Christmas and before New Year's Eve. Why not take advantage of that time off to catch up on some great, binge worthy TV? Here are some recommendations of great TV shows to watch that I think you'll love.
*Update 11/22/2021 Note: this post was originally only about great TV shows, specifically, but I expanded it to include some great YouTube channels and videos that I think you will love, as well!
Great TV Shows to Binge Over the Holiday
Outlander
Ok, this is probably not a surprise coming from me; I'm a huge Outlander fan. I could not have a great tv shows list without it. Between the fact that it's one of my favorite shows, and the fact that season five comes out in February, how could I help but recommend it?
If you're looking for a period drama that marries history, fiction, and time travel, then Outlander is the show for you. It is a bit of a time commitment, but I honestly believe once you get hooked on season one, you won't want to stop. Each season is so distinct, that it makes for a really unique viewing experience. Season one is, unsurprisingly, the most quintessentially Outlander, as it takes place entirely in Scotland. After that, the setting varies a bit. Season two has amazing gowns, so if historical costuming is your thing, it'll probably be your favorite.
Want some more info on the series before you get started on it? I wrote a guide to frequently asked Outlander questions here.
The Crown
If you're looking for a more contemporary period drama, I highly recommend The Crown. Plus, it's the perfect time to catch up ahead of the next season.
The second rendition of the royal family shares main actor from Outlander, Tobias Menzies. This series is unique in that it maintains one set of actors for the first two seasons and then introduces an entirely new one for season three; this may potentially seem disjointed, but don't let that scare you away. Each season is remarkably well done and gives an incredible look into the current British royal family. Of course, it's almost certainly dramatized compared to reality, but that doesn't make it any less fascinating and entertaining.
The Durrells in Corfu
If you're looking for a heartwarming post-war family tale featuring comical teenage angst, animals, and a welcome dose of whimsy, then The Durrells in Corfu is a great option. This show follows the Durrells — Louisa, the widowed mother, and her four children (three sons, one daughter) — a British family who moves to Corfu, Greece after World War I. Unsurprisingly, comedy and chaos ensues, since the Durrell children had varying levels of interest in moving and no one speaks the language once they get there. The eldest Durrell son, Larry, is an aspiring writer played by Josh O'Connor, who just so happens to play Prince Charles in season three of The Crown.
It's hard to say which of the Durrells are my favorite. Larry's character is great, but so is the youngest son, Gerry, an aspiring naturalist who seeks to rehabilitate pretty much any animal that crosses his path. Margot, the middle child and only daughter, delivers one-liners with such ease that I think she may have to be my favorite. Regardless, the whole cast is great, the show is sweet, smartly written and funny, and the production is rather impressive. I highly recommend it.
Oh, and the best part: the show is based on books by Gerald Durrell — that is, Gerry! The books are on my to-be-read list, for sure.
Good Omens
I recently got into Good Omens, a 2019 series featuring David Tennant and Michael Sheen as a demon and angel duo trying to stop armageddon:
The End of the World is coming, which means a fussy Angel and a loose-living Demon who've become overly fond of life on Earth are forced to form an unlikely alliance to stop Armageddon. But they have lost the Antichrist, an 11-year-old boy unaware he's meant to bring upon the end of days, forcing them to embark on an adventure to find him and save the world before it's too late.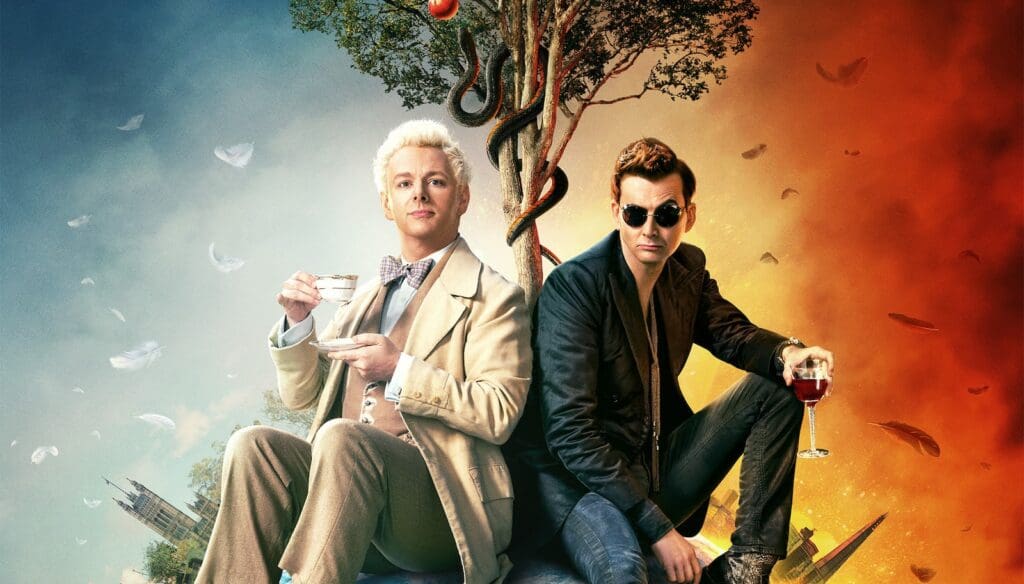 It's a shorter series, but really well done and easy to get into right from the start. It's based on a book by Neil Gaiman and Terry Pratchett, which I think I'll pick up once I finish the series.
VEEP
While it may not be the best course of action to bring up politics at the holiday dinner table, I would argue that Veep is a great way to decompress after the holidays. I've been saving the last season of this show — it's one of my favorites, and I was so sad to see it end — and will probably binge that over the break.
Veep is witty and fast-paced, circling the proverbial vice-president-not-president Selena Meyer, played by the amazing Julia Louis-Dreyfus. Between Selena, Amy (her right-hand woman), Gary ("bag man" and assistant), Mike (her somewhat competent speechwriter), and Dan (her advisor/opportunist staffer), the cast will leave you in stitches.
YouTube Channels to Check Out
As you know, I generally share a must-watch YouTube video each week in my Curated Content Series. I have lots of great individual videos I think you'll love in those, but I wanted to share some specific channels to try. These are some of my favorite content creators, and most have huge catalogs of videos to keep you nicely entertained!
Ali Spagnola 
Ali Spagnola has two channels — a fitness channel and a channel based on crafts and general outrageousness. Both are light and comedy based, but the crafts are generally my favorite. Ali creates outrageous art and craft projects, or extensive musical productions, with chaos and comedy ensuing at every turn. For example, she turned her car into a chia pet, and then drove it around LA.
One of my all-time favorite videos of Ali's is when she recorded an Olivia Rodrigo song as if it were by Blink-182:
Here are some of my other favorites:
Rachel Maksy
I featured Rachel's Instagram back in July on my Curated Content Series. Rachel is a filmmaker and storyteller with a penchant for history, folk music, and hobbits. Much of her content revolves around cosplay and costuming she creates.
I've been really into her sewing creations, especially this adorable mushroom sleeve ensemble she made. Her humor and creativity is just so relatable, and her videos always make me smile.
Here are some of my favorites:
P.S. if you're interested in more sewing content, I highly recommend checking out Bernadette Banner and Morgan Donner for more crafting videos.
The Try Guys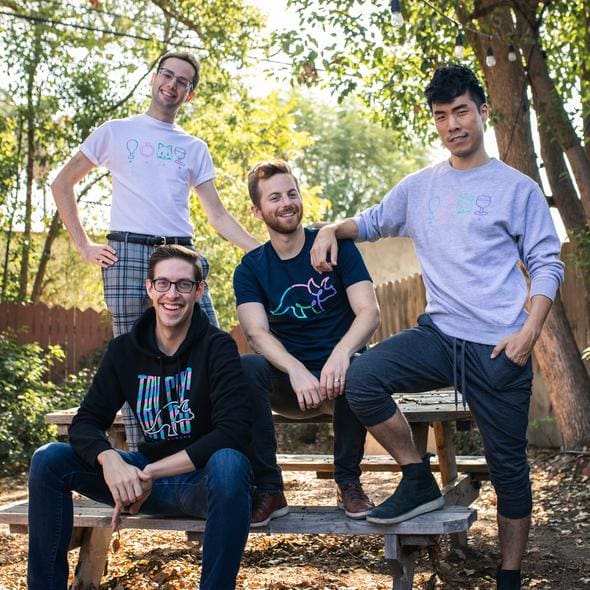 The Try Guys YouTube channel has just as extensive a library as any of these other great tv shows I listed here. The Try Guys' channel is based on four ex-Buzzfeed content creators trying new things, but their content has really expanded lately.
When the Try Guys left Buzzfeed in 2018 and started their own channel — "new, completely independent channel, featuring the same guys, with better videos." — the format of the videos changed a bit, moving away from the list-based style of Buzzfeed and towards a more creative style. Overall, I've really enjoyed the new platform, especially the cooking without a recipe videos (they're putting out four of these this month!). Check out all of their New channel's videos here and here for all of the videos from when they were still with Buzzfeed.
P.S. Check out my review of their 2019 book, The Hidden Power of F*cking Up!
Watcher
Watcher is another ex-Buzzfeed group, like the Try Guys, and it features a wide variety of themes and topics. The channel is built out of hosts Shane and Ryan's Unsolved ghost-mystery series, so there is plenty of spooky content if that's what you're looking for.
While I enjoy these spooky options, I really love the channel's Puppet History, Too Many Spirits, Weird Wild Wonderful, and Dish Granted.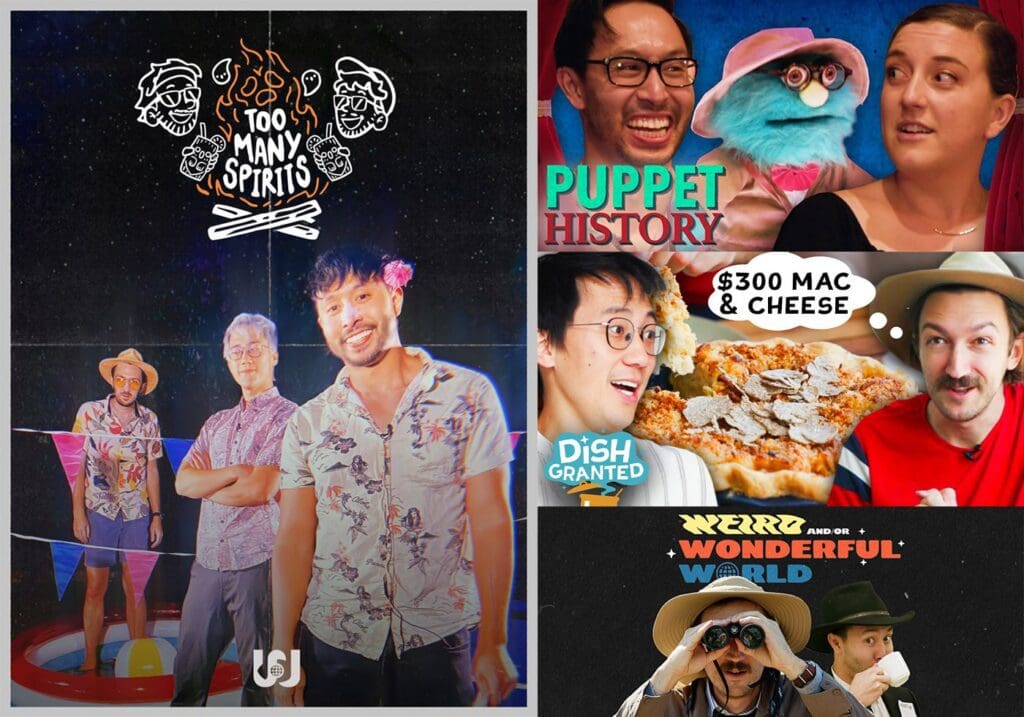 Learn more about all of the Watcher shows here.
---
Looking for more show recommendations?
Explore show round-ups, book reviews, and more here!
*This post was originally published on December 23, 2020. It was most recently updated on November 22, 2021.