The Best TV Shows to Rewatch: Why I Play the Same Shows Again and Again
I'm a big fan of TV shows, generally more so than movies even, and I have a lengthly list of the best TV shows to rewatch. New shows are great, but I have little self control if I discover a show with at least a handful of available episodes. I'm not patient and I don't like cliffhangers. As such, I tend to blow through seasons and series rather quickly. Plus, the comfort of an old friend of a show is always nice.
Besides the time commitment binge watching a new show requires, a novel series requires a certain level of attention. Often, I'm not really interested in devoting that level of attention. It's one thing on weekends or during breaks, but for the day-to-day, I like having something on that is familiar and that I don't have to pay super close attention to.
My Rewatching Show Rotation
I typically rotate through a handful of shows at a time, which seems typical based on a basic understanding of my friends' viewing habits. The shows in my rotation are old favorites that I know well and can pick a random episode and enjoy.
Shows like these are great for when I'm cooking or cleaning around the house and want background noise that isn't just music. It's a sort of simple entertainment that I find quite comforting after long days or while I'm doing otherwise mindless tasks.
Etsy Finds for My Favorite Shows

---
The Best TV Shows to Rewatch
Parks & Recreation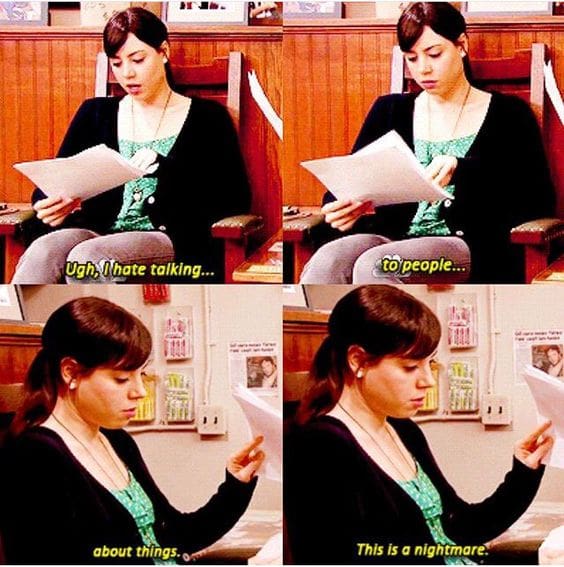 If we watched my Parks & Rec DVDs, as opposed to streaming the episodes, I think we would have worn through the disks by now. I've completely lost track of how many times I've seen this series all the way through. It's probably somewhere close to double-digits (ok, it's definitely double-digits).
April Ludgate's dry wit never fails to make me laugh, and Leslie's incessant optimism is entirely endearing. The screen capped scene with April above is one of my favorite Parks & Rec quotes ever. Each of the main characters manage to be well-rounded and consistent, without becoming caricatures.
In my opinion, the series really picks up when Rob Lowe and Adam Scott join the ensemble. The writing really came into its own in seasons two and three. Plus, Chris Traeger is literally the best.
Like any good sitcom, Parks & Rec episodes can stand alone. Sure, there are threads that continue through multiple episodes, but, for the most part, the storylines truly are episodic.
Parks & Rec never gets old. Any episode with Lil' Sebastian or Champion the dog will certainly make me laugh aloud. I don't even mind that I get 500 Candles in the Wind stuck in my head all the time.
---
Reign
I'm pretty much 100% obsessed with Reign. (See, eg, my Reign subsection on Pinterest and my write up for the Laundry Room with their Reign-inspired tee). As I write this, I have season 2 playing. Clearly, this is one of my favorite shows to rewatch.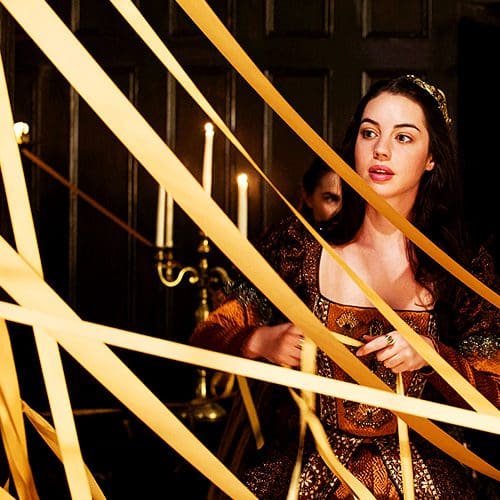 For all of its CW-ness, I find it perfectly entertaining and really quite feminist in its message. Its a well-written show, as a whole. It's also more historically-accurate than I ever expected it to be. That doesn't mean that it is historically accurate…just more than I anticipated).
I started the show a few months after it first aired, curious about how bad it was surely going to be. After all, Reign was billed as the CW replacement for Gossip Girl — an entertaining show, but far from historical.
I made it basically to the Lumineers' intro theme when I realized I was obsessed.
The Reign cast featured a number of newcomers, but also a handful of strong actors, like Megan Follows and Anna Popplewell. Adelaide Kane's Mary was endearing from the start. Anna Popplewell had been my favorite part of the Narnia series, and I immediately took to her character, Lola.
Interestingly, Lola — and Mary's other ladies — are sort of historically accurate; Mary had four ladies, like she does in the start of Reign, but they were all named Mary. Surely, this would have been more confusion than the writers wanted to deal with. In season 4, we find out that Lola's surname is Fleming, a testament to Mary Fleming, one of Mary Stuart's ladies. Fun historical fact there.
I have very strong feelings on how the series was cut short, especially with how truncated the last season felt. Mary Stuart is my favorite historical figure, and I feel like the show was really picking up feminist and historical steam in season 4.
Besides the historical aspect, the clothing is just out of this world. Totally not historically accurate — although season 4 is far more period-appropriate than the earlier seasons — but absolutely beautiful (see, eg, Mary's Monique Lhuillier wedding dress). There are entire Tumblr accounts dedicated to finding out where these dresses and accessories are from. Interestingly, many of them are actually fairly affordable (if still available).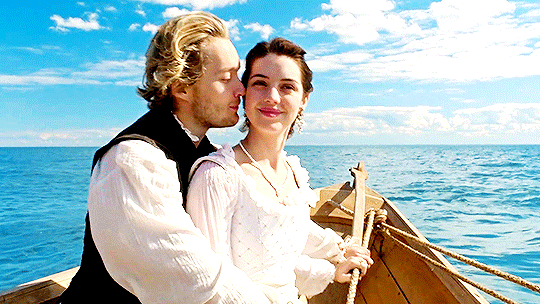 ---
Schitt's Creek
I don't know what I did before I had Schitt's Creek in my life. This robust comedy is the lighthearted ray of sunshine I've needed this year. If you haven't watched it, I highly recommend trying it out, especially after the Schitt's Creek Emmy 2020 sweep.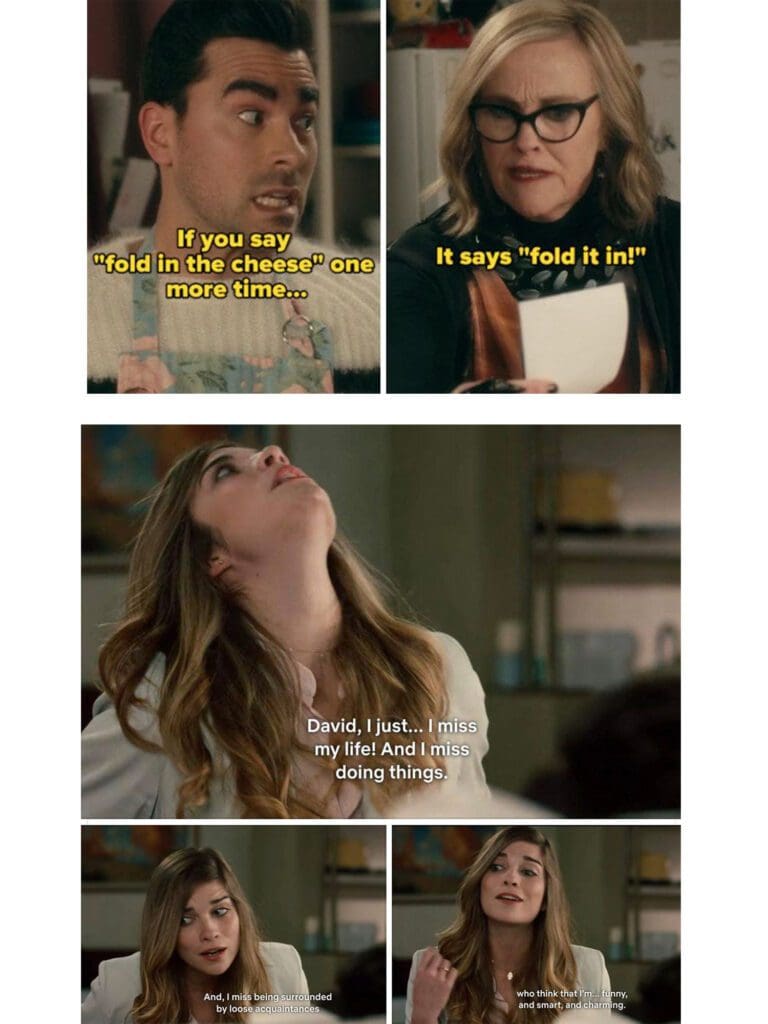 Also, Alexis Rose conveys my social distancing feelings quite well.
In short, Schitt's Creek follows the Rose family in a wealth-to-rags story. Having lost their fortune, the Roses fall back on the small town that Johnny Rose purchased as a joke for his son, David. Comedic whimsy ensues.
It's hard for me to pick a favorite character or story line, as they're all so endearing. David and Alexis Rose, twenty-something siblings, have some of the best interactions (IE: "ew, David!"). Still, Moira Rose, played by the impeccable Catherine O'Hara, has some of the best one-liners. A favorite of mine? When she tells David to "stop acting like a disgruntled pelican."
Besides providing quotable quips, the show is a bastion of equality. Schitt's Creek is applauded as normalizing LGBTQ relationships and supporting a community that sees love as love without view of gender.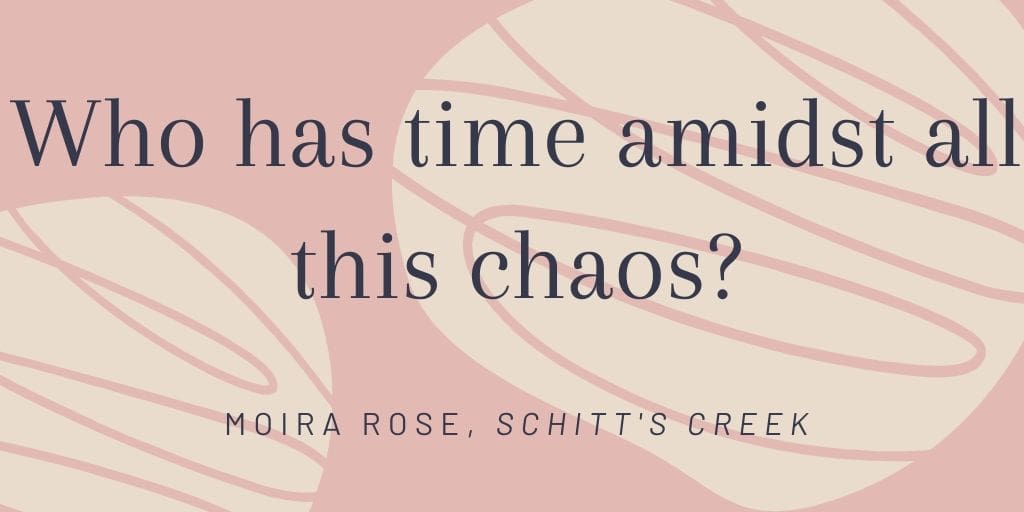 ---
New Girl
I didn't get into New Girl until it had a few seasons under its belt. It is a particularly binge-able and quotable show. From the mis-matched besties, Jess and Cece, to pretty much anything Schmidt says, the show is pure gold.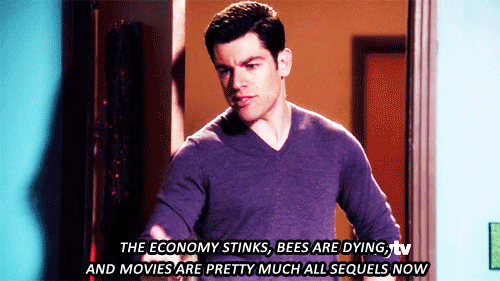 The cast of New Girl has impressive chemistry. Like Friends, the nearly-dysfunctional roommates of apartment 4D interact like they've known each other for years. They act against each other with realistic reactions. The dynamics and realities of mid-twenties may be exaggerated, but they really are relatable. This relatability is part of what makes the show so binge-able.
Lastly, a note on Jessica Day. Jess is a consistently funny and quirky character. At first, I was convinced her character was going to annoy me. She's quirky, sings a lot, and wears nearly-exaggeratively bright outfits. She borders on manic pixie dream girl at times (see, also, Zooey Deschanel in 500 Days of Summer). However, thanks to deft and consistent writing, Jess bypasses the archetype.
---
Friends
Friends is the original binge show for me and a go-to on my list of best tv shows to rewatch. Since elementary school, my mom and I have blown through season after season of DVD sets (pre-Netflix days). When the show came up on Netflix, it quickly fell into my queue. I'm going to have to break out the DVD player now that Netflix removed the show from their streaming.
Rewatching Friends in 2019 is an interesting experience. There are definitely a number of problematic comments, storylines, and characters (looking at you, Ross). In some ways, I think this has made me enjoy rewatching it more. It is almost a testament to the development of society between the late '90s/early 2000s and now. I grew up with the show, so its so familiar, but I'm also seeing it through a different lens, which makes it like a new experience in some ways.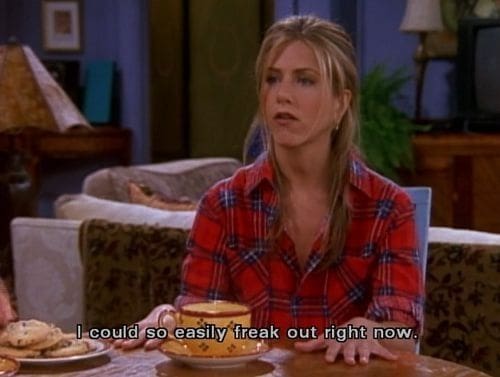 More topically, I love seeing the way fashion changed from the beginning of the series to the end. Rachel's outfits vacillate from dated to current style goals.
---
VEEP
The fact that VEEP is last on this list is no way an indication of how much I love this show. VEEP is one of my all time favorite TV shows, that's for sure. I have always been drawn to political shows, but the VEEP characters are entirely their own, which is what makes this one of my best TV shows to rewatch.
Between the ethos of the series and the VEEP cast, VEEP is a completely different beast. VEEP is a master class in the intersection of satire and situational comedy. The writing is so nuanced that some jokes can easily be missed the first time around.

The VEEP characters are at once hyperbolic and realistic. Each of the main characters are extremes of whoever they are. Amy is probably my favorite character — at least tied with Selena. Amy is a woman with power, grappling with what that means, and trying to wield influence over the distractible Selena. She is often called "shrill," a trigger word in feminist studies. Amy bears the burdens of her sex by being everything women aren't supposed to be — mouthy, driven, intense, and even caustic. I aspire to string together curse words as deftly as she does.
Besides Amy's neuroses and what she represents as a woman climbing the political ladder, the cast is simply fantastic. Selena is a manic political power-house who often leaves her staff wondering how she got to be VEEP I the first place. Julia Louis-Dreyfus is simply fantastic as Selena, using every inch of her tiny frame to build this hyperbolic-yet-realistic character. I haven't started the last season yet, but I am so excited to see what she gets up to this year!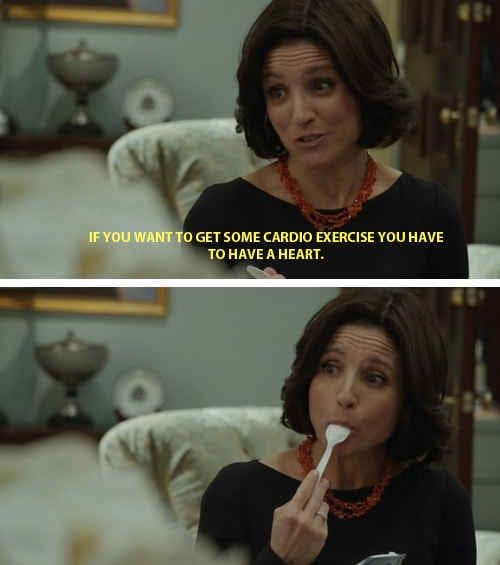 ---
Want more entertainment recommendations? Check out all my favorite movies, TV shows, podcasts, and books here!
Photos taken from Pinterest,
most of which can be found here.
---
Pin this post to save it for later!