The Outlander Books
First and foremost, I want to point out that the Outlander series is based on a whole huge set of books by the great Diana Gabaldon. If you haven't started the books before the show, I would recommend you give them a shot.
The sheer size of the Outlander books can be a little intimidating, especially since there are eight volumes. This is to say nothing of Gabaldon's various novellas, which explore different character's backstories or follow some of the more minor characters outside of the Jamie-and-Claire scene.
But I'm getting ahead of myself here. My point is that the books are great, that you shouldn't be intimidated by the length of them, and that, in your spare time, you should check out the different novellas.
Outlander the Books v. Outlander the Show
If the Harry Potter franchise taught us anything, it is that a behemoth book series simply cannot fit every little detail into the on-screen adaptation. There is never enough time, money, or manpower to bring every minute detail to life. Outlander is no exception.
Gabaldon is a fantastic writer, but her strength comes from her academic background. There is an immense amount of detail and history in the Outlander books, such as explanations as to customs and cultural references.
Strangely enough, Gabaldon's academic roots are not really in the liberal arts at all. I had assumed she had some sort of history background because of the way she weaves so many intricate stories, cultures, and time periods together. She holds three degrees, according to her website bio, in Zoology, Marine Biology, and Quantitative Behavioral Ecology.
Regardless of Gabaldon's studies and degrees, she is clearly a fantastic researcher. In a number of the books and in the Outlandish Companion, Gabaldon elaborates on details in the books. She even provides a list of resources she consulted to write the series. If you get to the end of a book and want to know more, I would highly recommend checking out the Outlandish Companion.
Now That We Spoke About the Books…
The Starz Outlander Series is a whole new experience compared to the books. Starz has a good track record with period shows, but there are big differences between the Outlander books and show. This is why I really do recommend starting out with the books if you are able.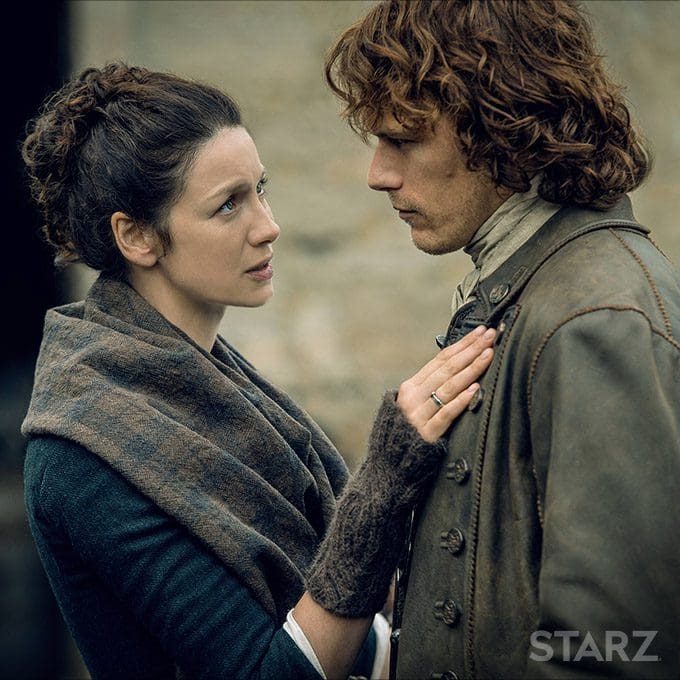 What I find most unique and intriguing about this show is not how much it shapes the images in my head of how characters and locations look. Instead, the show simply brings to life the images that the books evoke. This is a testament both to Gabaldon's descriptive ability, as well as the show's production team.
So, if I haven't convinced you that you're going to love everything Outlander yet, here's my top 5 reasons for you to start the show today.
1. The imagery is absolutely stunning.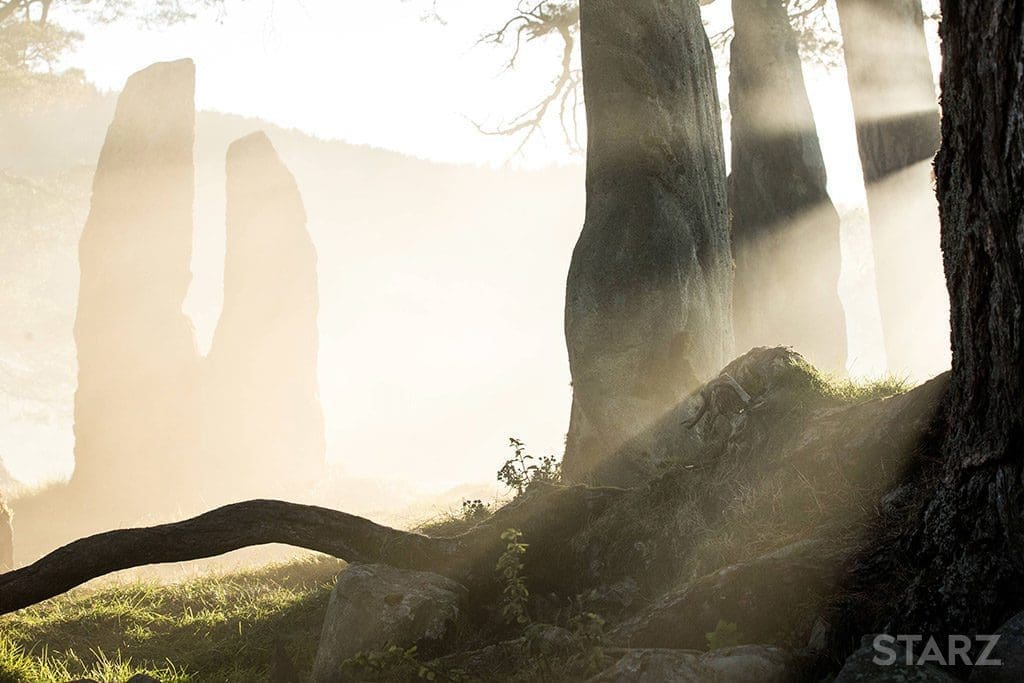 The series starts off in Scotland — Inverness, to be exact. Scotland itself becomes a character in the series. There is something living and breathing in the way that the show (and books) illustrate the Highlands and Lowlands of the country. Its history is almost a tangible entity or sprite that weaves throughout the scenes. This is especially so in seasons one and two, which revolve around the cumulation of the Jacobite rebellion in 1746.
Basically, if you didn't already want to go to Scotland, the show will certainly change that.
2. The history is lifelike and like nothing you learned in school.
I've always loved history — especially European and, specifically, Celtic and British history — so even if the show was dry, I would probably still like it. However, the history in the show is anything but dry. The series brings to life a mixture of actual historical figures (IE: Lord Lovat, Bonnie Prince Charlie, and King Louis XV to name a few) with ultra-realistic fictitious characters to make up the hoi polloi.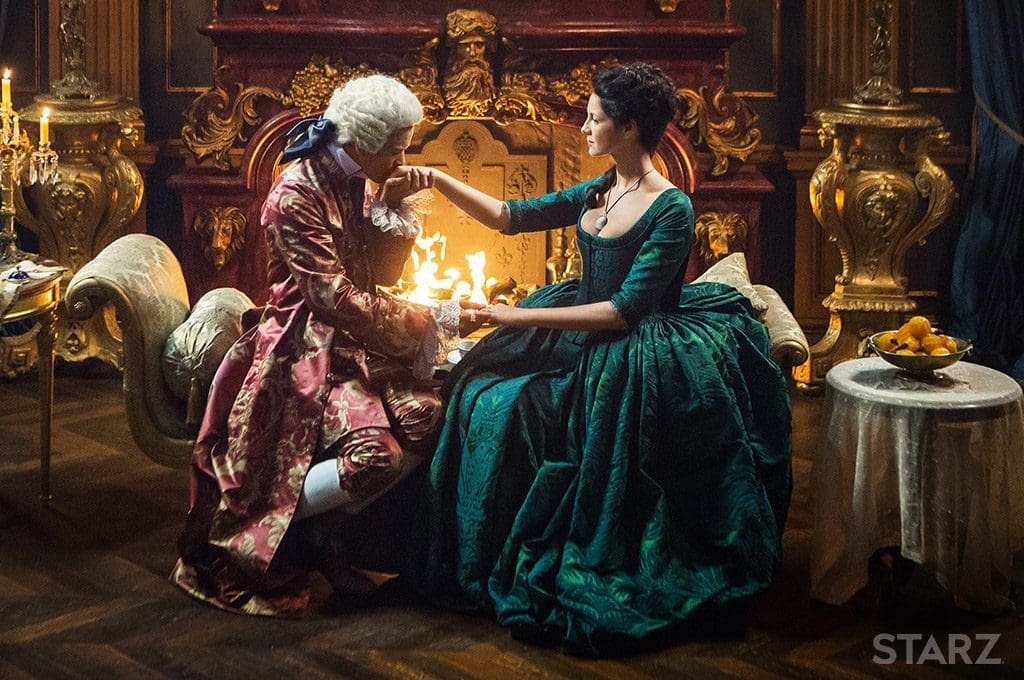 Basically, the show subliminally teaches its audience all about Scottish history. There are historical references throughout, too, which are fun to discover.
A favorite of mine deals with Mary Stuart, Queen of Scots. In Season 1, Episode 13 (The Watch), a member of the Black Watch is talking to Jamie on horseback and shows Jamie an engraved skull watch. The watch was a gift from Mary to one of her ladies.
Mary doesn't really play much of a role in the show, which I find to be a little surprising. Temporally, Mary Stuart is fairly removed from the events depicted; however, her son was the genesis of the Jacobite cause. Fun fact: she is the great-great-great-grandmother of Bonnie Prince Charlie.
3. The costumes are impeccable.
Season 1's costumes may look a bit drab compared to those from Season 2, but the level of detail in both is really quite amazing.
The clearest image of what goes into the costumes can be found in Season 1, Episode 2, when Claire is outfitted with new clothes. The juxtaposition of Claire's tattered 1940's slip and bra — which she has to explain to the woman helping her change — with the corset and pleated bustle of the tartan dress she is given is pretty strong.
Season 2's costuming really speaks for itself. When Jamie and Claire go to France, they get all kinds of wardrobe upgrades. Even the peripheral characters, though, have some of the most detailed costumes I have ever seen.
The best part about all of the costumes in the show is that they seem to be really and truly historically accurate (for the most part).
4. It will make you want to start your own healing garden.
Claire is a healer. Really, Claire is a World War II nurse and later a doctor whose medical knowledge is valuable but dangerous. Throughout the series, she has to work her healing magic using plants and herbs, since Castle Leoch didn't have a big supply of Advil or penicillin.
I don't pretend to follow or understand, really, what all the different plants referenced do. So, the relationships between the plants and their healing qualities could be totally off and I wouldn't know.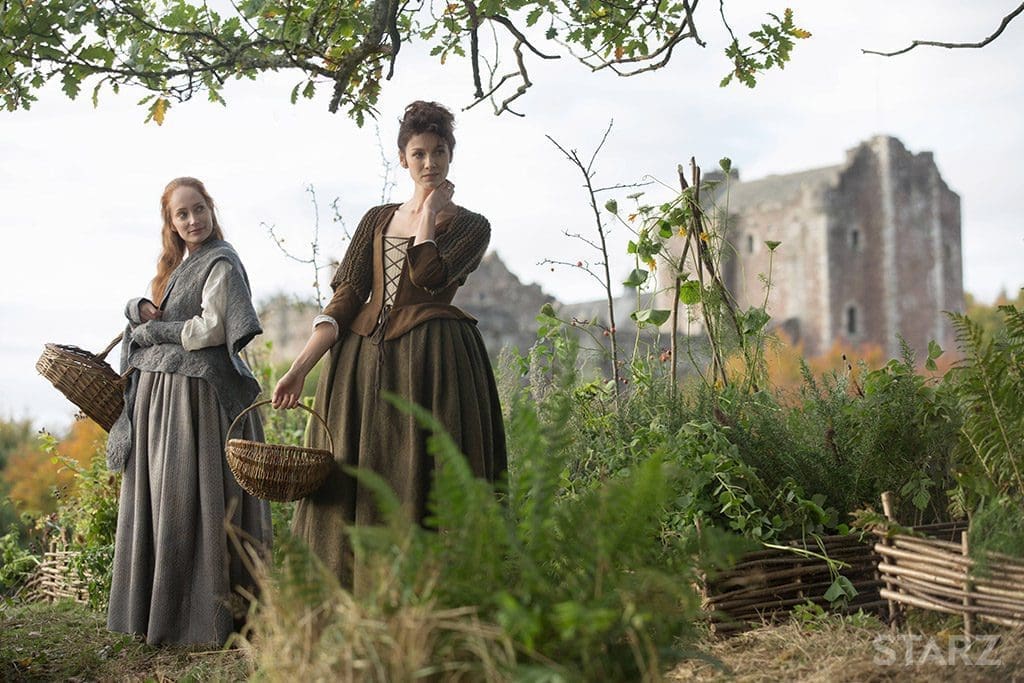 However, I kind of doubt it. In the Outlandish Companion, Gabaldon lays out some of her research method not only for the history but also for Claire's herbal healing.
5. Jamie and Claire are just perfect.
Well, not 100% perfect. Their relationship, though, is very interesting to follow. The pair is thrown together by circumstance and end up making it work. Both are pretty stubborn and opinionated, which leads to some dramatic fights, but they always seem to find their way back to each other.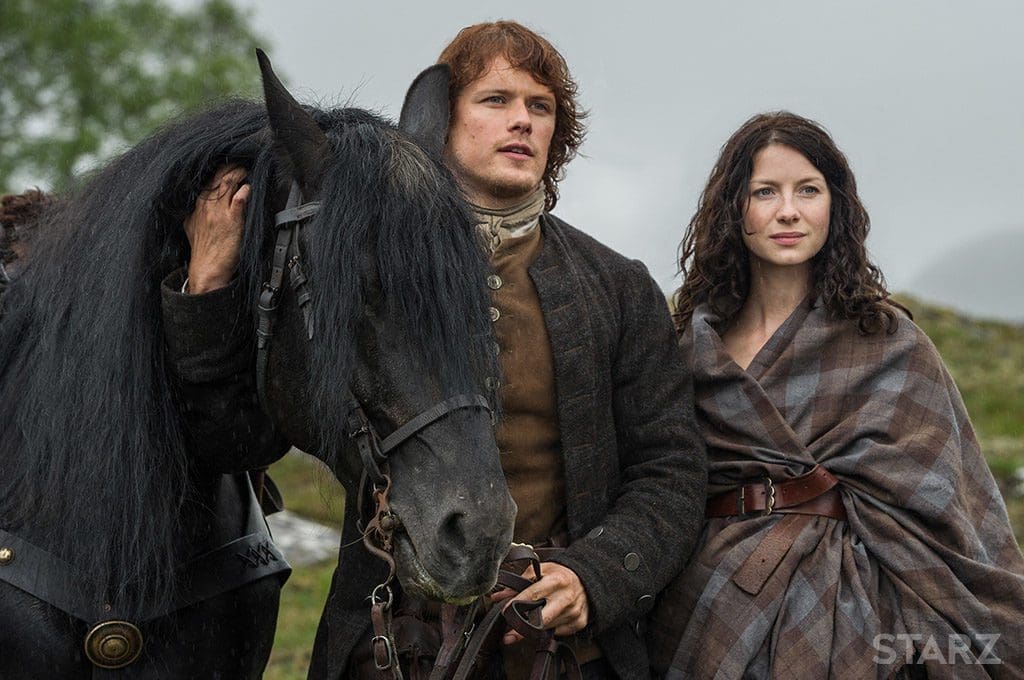 The relationship really toes the line between storybook romance and reality check. There are scenes throughout where the pair have eyes only for each other, when the world falls away when they're together. However, this romanticized image comes into contrast with the antiquated views Jamie sometimes has about Claire's place as a woman. Part of me chalks these clashes up to the two eras colliding — Claire's 1940's "equality" compared to the place of women in the 18th Century rural society — but there are some toxic and controlling undertones from time to time.
Claire is an usual lady and not the meek and obedient type (ha, Outlander reference). My feminist heart is cheered when she challenges the strict gender roles that she encounters. Most of the time, when she does, everyone is better for it.
In Conclusion
Outlander is wonderful. Read the books first (or get them as audiobooks!) if you can. Re-watch the show a few times. Buy some Scotch whiskey. Buy tickets to Scotland to search for some buzzing standing stones.
Outlander Inspired Gifts

The photos in this post are from the Starz website, except for the costuming photo, which is from Harper's Bazaar (see link below photo or click here).
---
Interested in period dramas and TV in general?

Check out some of my favorite shows to watch over and over, featuring a different iteration of Mary Stuart, Queen of Scots, and my list of Shows to Watch if You Love Outlander
---
Explore Popular Entertainment Posts from Cats & Coffee