Outlander Costumes Are Detailed, To Say the Least
On top of loving Outlander for the story and characters, the costuming is second to none. Throughout the series, no matter the time period, the costumes are amazingly detailed and intricate. Though it's hard to pick the best Outlander costumes, I know I've thought to myself "that's my favorite one!" over and over again.
Whether it's the eighteenth century or the 1960's, Outlander's costuming is compelling. As much as I love the colorful and flamboyant styles from France in Season 2, the highlander styling is fascinating, too. There is so much history and background in the details that you really have to watch the show a few times to notice these things.
Side note: I'm curious how the costuming will develop now that the primary costume director, Terry Dresbach, is leaving the show.
In appreciation of the costuming, here are my five favorite looks from the show:
Top Five Outlander Costumes
1. Claire's Impromptu Wedding Dress
An obvious choice, but a necessary one. This gray-blue gown has it all — kilt-like pleats, a giant skirt and bustle, frilly sleeves, and metallic detailing. Also, can we just point out that neckline? Because wow.
2. Louise de Rohan's Teal Blue Brocade
Louise as a character is over-the-top, so it's fitting that her costuming matches her personality. She is a fun addition to the cast, a juxtaposition between the thoughtless nonchalance that led, in part, to the French Revolution, the heartfelt friendship she ultimately has with Claire, and her doomed romance with Bonnie Prince Charlie. This promo photo of Louise is, in my opinion, one of the best in the Outlander series. It looks like a compelling blend of a painted portrait and modern photography.
3. Bri's Attempt at a 18th Century Frock
Bri's self-designed highland outfit may not be as detailed and accurate as the water proof design Claire put together, but Bri gets an A for effort. The outfit she puts together for when she goes through the stones is a mix of the 1960's and the stories Claire told her. Plus, Bri wouldn't have had the internet to look for a design, so she did a decent job all things considered.
4. Anything Jocasta Cameron Wears
I couldn't pick a single outfit for Jocasta, because they were all so unique. Jocasta is wealthy and a member of high society. As the matriarch of River Run, she has resources that they could only dream of at Lallybroch. This peach ensemble is one of my favorites, I think, because you can really see all the details. The lace cuffs and collar are fine and intricate; I really wonder how many yards it took to make the sleeves! Beyond the lace, the peachy coral jacquard is understated, like Jocasta herself, but a powerful look nonetheless.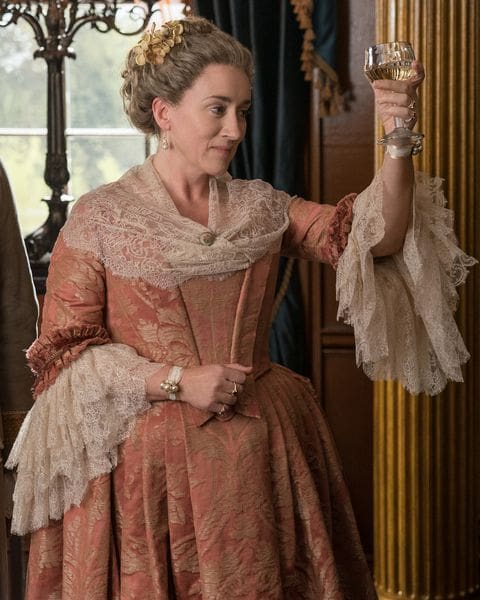 5. Annalise de Marillac's Pink & Purple Ensemble
Annalise is a minor character who pops up a couple times in Season 2 of the show. Jamie's former girlfriend is the epitome of Parisian chic. She's compelling, flirty, and friendly. The gown Annalise wears during her Versailles walk with Claire is definitely a favorite of mine. Somehow, Annalise makes pink, purple, and blue all go together.
See also: Claire's gown because the details are amazing and the yellow proves Caitriona Balfe can wear literally any color.
---
New Additions: Season 5 Favorites
Bree's Wedding Dress
In the first episode of season 5, we see Bree and Roger properly married at Fraser's Ridge. Bree wears a beautiful off-white gown featuring Scottish cultural tie-ins in the thistle accents and 20th century inspiration. In the books, Bree's wedding dress was blue, but the costume department decided to diverge from this and go with a pretty eggshell cream color. I think this was probably a good choice for how the scenes panned out, because it made Bree pop more amongst the partygoers, especially since a lot of the episode was at night.
Bree and Claire's Beach-Going Dresses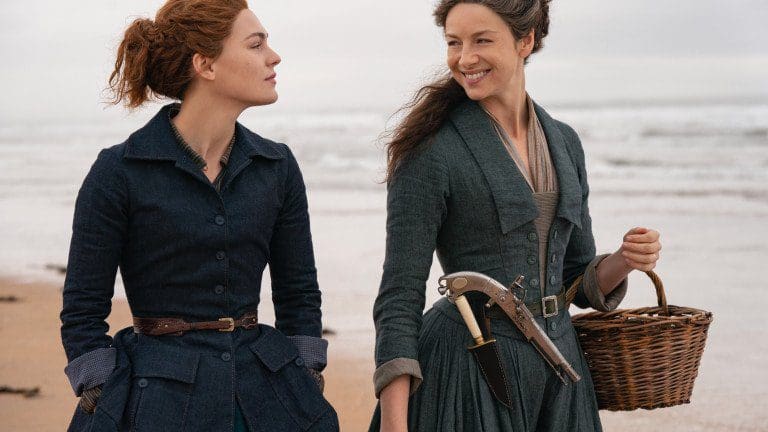 As much as I love the early Outlander costumes and all the detailing Terry Dresbach wove into the pieces, I really enjoyed season 5's costumes. Dresbach left the show after season 4 and season 5 was designed by Trisha Biggar. The dresses Bree and Claire wore to the beach in season 5 episode 10 (pictured above) struck me as truly illustrative of their time-traveling characters. Both seemed largely accurate for the time, but also struck me as a bit modern. Maybe I felt this way just because I loved the colors used and would 100% wear them myself, but, either way, they deserve honorable mention here.
Everyone's Outfits in Never My Love's 1960s Dream Sequence
The season 5 finale is a wild ride and deals with some very dark content, but it also provides some of the best Outlander costumes. The darkness is juxtaposed by a bright and colorful thanksgiving montage where Claire dreams of being together with everyone — time travelers or not — in the 1960s.
Not only did I love that almost everyone was back together in the 1960s dream sequence, including Jocasta and Murtagh, but I loved how bright and colorful the outfits were.
Trisha Biggar did a great job telling story through color, with Claire's bright red bringing the eye directly to her. Further, she managed to tell a story about how Claire sees the other characters, and how she imagines they would be in modernity. According to Biggar, designing these costumes required "not only thinking what would Marsalie wear. It was also, what would Claire visage Marsalie wearing in the 20th century?"
Check out this interview with Biggar for more great insights into the costume design and production of this episode. (Photos, owned by Aimee Spinks, found in this article)
Contrastingly, Jamie's outfit is low key and seems only slightly modernized from his regular 18th century garb. Like how Bree and Claire seem to keep some of their 1960s flair throughout season 5, Jamie maintains a hint of tradition, even in this hallucination.
---
Interested in more Outlander content? Click here!
---