Outlander Season 5 Recap
As you know, I'm a huge Outlander fan and was basically counting down the days until Season 5 came out on Starz. I was so surprised that they released the first episode early for Valentine's Day and eagerly watched it as soon as I had the chance. Looking back, with all the premier coverage, it made sense that they went with an early, surprise release. Either way, it was a nice surprise! We are now two episodes into the new season and I, personally, am loving what we've seen so far.
This Outlander season 5 recap post contains spoilers.
Season 5, Episodes 1 & 2
The Fiery Cross
Season five opens with a beautiful Fraser's Ridge wedding. Following Bree and Roger's reunion in the end of season four — when Roger finally decides to come back to Bree even if the child she had might not have been his (I have issues with how long it took Roger to come back but maybe I should let this go) — the pair are properly married in all due circumstance.
While the wedding itself was rather lovely, my favorite part of this whole episode is probably when Jamie was gathering something old, something new, something borrowed, and something blue for Bree. You can see the tail-end of that particular scene here, but I highly recommend checking out the whole episode (obviously).
Besides the wedding, we get a glimpse into some of the drama that is going to unfold throughout the season.
Notably, Bree overhears that her rapist, and the possible father of her child, Stephen Bonnet is still alive. Queue the flash backs and reminders that Bonnet really sucks. There's not really a better way to say it. I was chatting with a friend about Bonnet as compared to Black Jack Randall and came to the conclusion that, while Randall is clearly sadistic and awful, he was seemingly fighting for something he believed in — the British government. Bonnet just likes to watch the world burn. Two different kinds of evil who mess up otherwise perfectly nice parties (or strolls through Versailles).
Jamie's duty to the royal British governor is becoming a problem, and he's being called upon to raise an army to fight against what would become the revolutionary colonists. Jamie, in full highlander regalia, calls upon the men of the ridge to support him by lighting the Fiery Cross. All in all, it's a pretty impressive scene.
Murtagh, Jamie's godfather and holdover from early Outlander, is decidedly on the side of the Regulators, or rebels. Since his character perished at Culloden in the books, I think this is a really interesting trajectory for his resurrected character in the show. This is problematic for Jamie because Jamie is stuck supporting the British. In a heart wrenching scene, we see Jamie release Murtagh from the vow Murtagh made to Jamie's mother to protect him. Basically, I don't see things ending well for Murtagh.
Beyond the political struggles, we also get to see a bit more about Claire's surgery, her growing medical practice, and her place in Fraser's Ridge as healer. This side of Claire is expounded upon in episode two.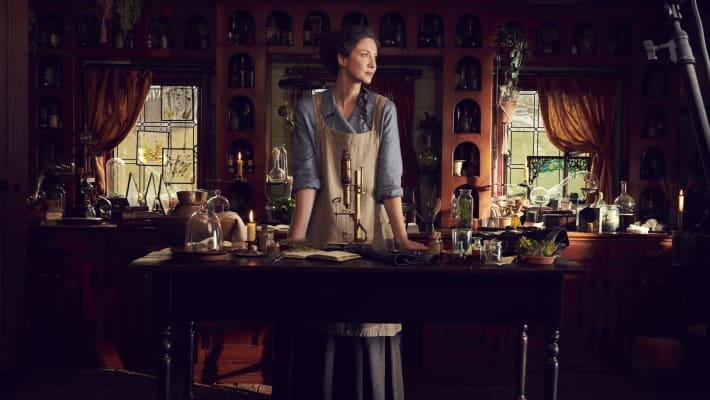 Between Two Fires
Now for part two of my first Outlander Season 5 Recap. Where episode one was a relatively light and breezy episode — except for the whole releasing Murtagh from his vow to Jamie's mother and Stephen Bonnet being alive thing — episode two starts off bloody and just keeps going that way. There's tarring and feathering, mercury poisoning, super realistic butchery of an animal, and an 18th century autopsy (a result of said mercury poisoning). All that is to say…don't watch this as you sit down with a bowl of mac n cheese for lunch.
Anyway, a lot of people online seem to have disliked episode 2. Before I watched the episode, I had heard it was boring and pointless, but I largely disagree. Episode two sees major plot development for a few strands of the story — namely, Claire's medical experiments, a possible return to modernity for Roger and Bree (and baby Jemmy), and Jamie's internal conflict with working for the British.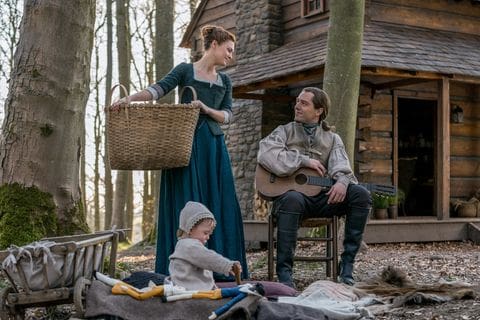 Of these three story lines, I'm probably most excited about Claire's medical experiments at this point. In this episode, we see the beginning of her trying to develop penicillin, born out of her frustration at the antiquated (though, at the time, novel) "medical" treatments her patients were taking before coming to her.
In seasons one and two, Claire had issues being taken seriously as a healer because she was a woman. When she returned to her time, she went to school to become a doctor. Now, she's back in the 18th century…not being taken seriously as a healer because she is a woman. In a candle-making scene with other women of the Ridge, you can't help but feel frustrated for her as a couple of the women discuss some kind of powder that should be ingested to heal a topical burn on one's hand.
Anyway, with Bree's help, Claire starts to develop some medical information to spread around to the families on Fraser's Ridge under a sort of male surgeon pseudonym. This, along with her autopsy of a settler whose death his wife inadvertently hastened through "medicinal" mercury, Claire sets out to inject some modern medical knowledge into early colonial life.
There is a notable character change from the books in this episode, as well, one that I, personally, think it going to work out well. Marsali appears to be taking the place of Malva Christie, Claire's medical apprentice from the books. To be honest, I didn't remember much of Malva from the books. I remembered that Claire had an assistant, but that was about it. I like Marsali, and I think Lauren Lyle is a great actress for the role. I'm really enjoying the wit and comedy she is bringing to her character. I'm eager to see more of Marsali helping Claire in the surgery.
While Claire, Bree, and Roger remain on the Ridge (alternating between different modern day references and playing 1960s music for Jemmy — I do love the historical anachronisms these time travelers bring with them!), Jamie leaves with Lieutenant Knox (his military baby sitter, basically) to find Murtagh. They go to a local town where a regulator riot had broken out — the source of the tarring and feathering I mentioned before.
Jamie does his best to play both sides, but this doesn't go as smoothly as he probably would have hoped. They don't find Murtagh, but Knox manages to sort of accidentally kill one of the jailed regulators who spit at him. Jamie goes back to release the other two and gives them a message to send back to Murtagh — basically, to stay away.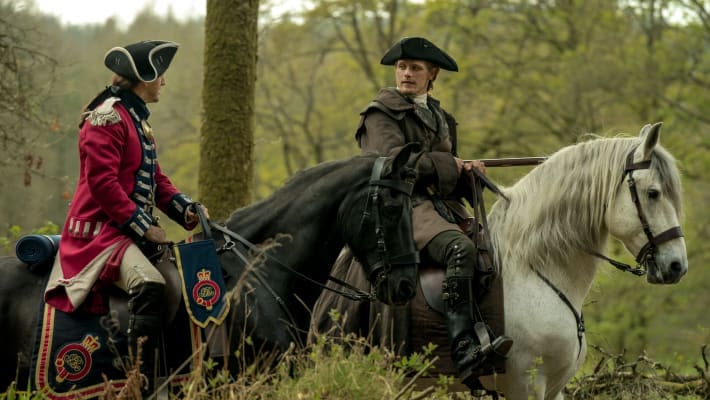 Oh, and then there's Stephen Bonnet. After some gratuitous blood letting, Bonnet makes it clear that he (1) knows (or at least thinks) he's a father now and (2) isn't going to ignore that. I have a feeling episode three is going to have some kind of interaction between Bonnet and at least one Fraser, whether that's Jamie or the Frasers remaining on the Ridge.
---
Catch up on all of my Outlander content here!
Photos are all from Starz and/or owned by Aimee Spinks and Starz.
---