The Easiest Homemade Pasta Sauce
There is something so comforting about a big bowl of pasta. You know how you can make that even better? Homemade pasta sauce. If you've ever wondered how to make your own marinara sauce, I'm happy to share that it's actually a very easy process. This hearty marinara sauce recipe is an easy way to dress up a big bowl of pasta. With just a few ingredients, you can elevate your comfort food into an Italian delicacy.
I'm a big fan of canned sauces, don't get me wrong; they're super quick and easy to doctor up. However, it's not quite the same as tossing a bunch of ingredients into a deep saucepan and watching them simmer into a rich sauce almost all on their own. Being able to make marinara sauce from scratch is one of the essentials of classic Italian cooking, so I recommend at least testing it out for yourself.
A Note on Ingredients and Heat
While the ingredients are listed below, I wanted to make a note on the different tomato products I used for my homemade marinara sauce. First, for the canned tomatoes, I would recommend going with a plain option — something that isn't flavored with basil, salt, pepper, etc. This way, you can control exactly how your sauce tastes. Second, in regards to the cherry and Campari tomatoes, I prefer to use these to bolster the canned tomatoes' sweetness. Colorful cherry tomatoes are a personal favorite of mine and whenever I find a good batch, I try to thing of ways to incorporate them into my meal prep. Roma tomatoes also work great, however, so really you can pick up whichever look best to you when you're at the store.
As for the tomato paste, my life was forever changed when I discovered that you can buy tubes of tomato paste, as opposed to little cans. I never used up a whole can, and it was annoying to buy the whole thing for a few tablespoons (not that they're very expensive, but it's just wasteful). The tubes of tomato paste are so handy and last for a while. They're a little more expensive, but definitely worth it.
This particular tomato sauce recipe is not designed to be spicy, but it is rather customizable. if you're looking for more of a spicy marinara sauce, simply add some heat with some of your favorite spices.
Serving Marinara Pasta
Marinara sauce is a great sauce for vegetarian cuisine and even vegan cooking. At its core, it's just vegetables and oil, after all.
If you eat cheese and want a creamier version, try adding mozzarella or ricotta to your homemade marinara sauce to give it some complexity.
Marinara Sauce from Scratch: Ingredients & Instructions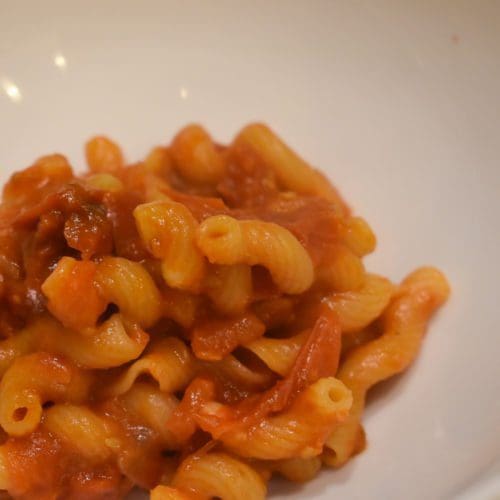 Homemade Marinara Sauce
Homemade marinara sauce is an easy way to dress up a big bowl of pasta. With just a few ingredients, you can elevate your comfort food into an Italian delicacy.
Ingredients  
2

Cans

Petite Diced Tomatoes

1/4

Large

White Onion

2-3

Large Cloves

of Garlic

1

Container

Cherry Tomatoes

1

Container

Campari Tomatoes

2

Tbsp

Tomato Paste

2-4

Tbsp

Olive Oil
Instructions 
Roughly chop two to three cloves of garlic. Add the chopped garlic to a deep sauce pan with approximately 2 tablespoons of olive oil. Set stove heat to medium.

Dice approximately 1/4 of a large white onion and add the diced onion to the pan. Incorporate the onion with the garlic and olive oil. Add salt and pepper, as you prefer.

Let the garlic and onion simmer until the onion starts to become translucent and the garlic starts to become aromatic.

While the garlic and onion are simmering, roughly dice the cherry tomatoes and compari tomatoes. Add the diced tomatoes to the pan with the simmering oil, onion, and garlic and incorporate.

Add the two cans of diced tomatoes to the suace pan and incorporate.

Top off the mixture with approxmately two tablespoons of tomato paste and incorporate. Add a bit more olive oil and salt and pepper.

Allow the sauce to simmer for 20 to 30 minutes. A shorter time will allow for a chunkier sauce whereas a longer cooking time will make it smoother.

Once your sauce is the desired consistency, toss your favorite pasta in it and you're good to go!
---
Pin this recipe to save it for later!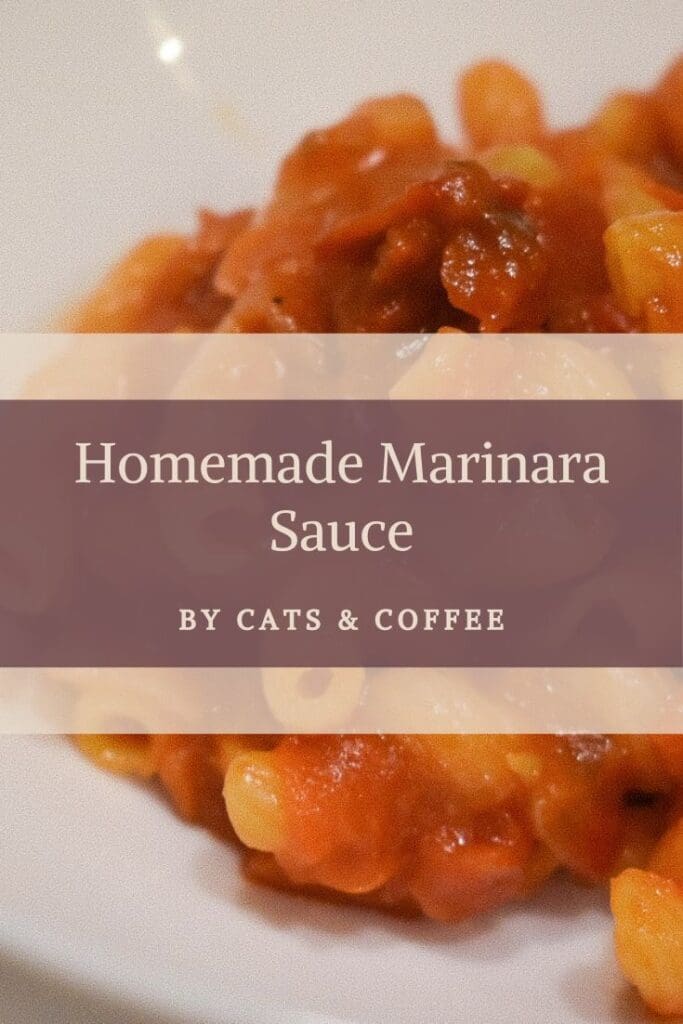 ---
Find more recipes and meal prep ideas here!
---