Why You Should Make Your Own Iced Coffee
Lately, I've perfected my strategy on how to make the perfect iced coffee at home. A major benefit of this is that it has kept me out of the Starbucks drive through, lately. This isn't a 100% of the time thing, but even before social distancing, I was trying to reduce my dependence on Starbucks for my coffee fix. I found that I was often going to Starbucks out of habit, not because I was actually wanting to go. It's one thing to spend money on a store-bought coffee when you really want it, but it began to feel wasteful (even if I brought my own reusable cup). So, I've been ramping up my at-home coffee production for the perfect iced coffee.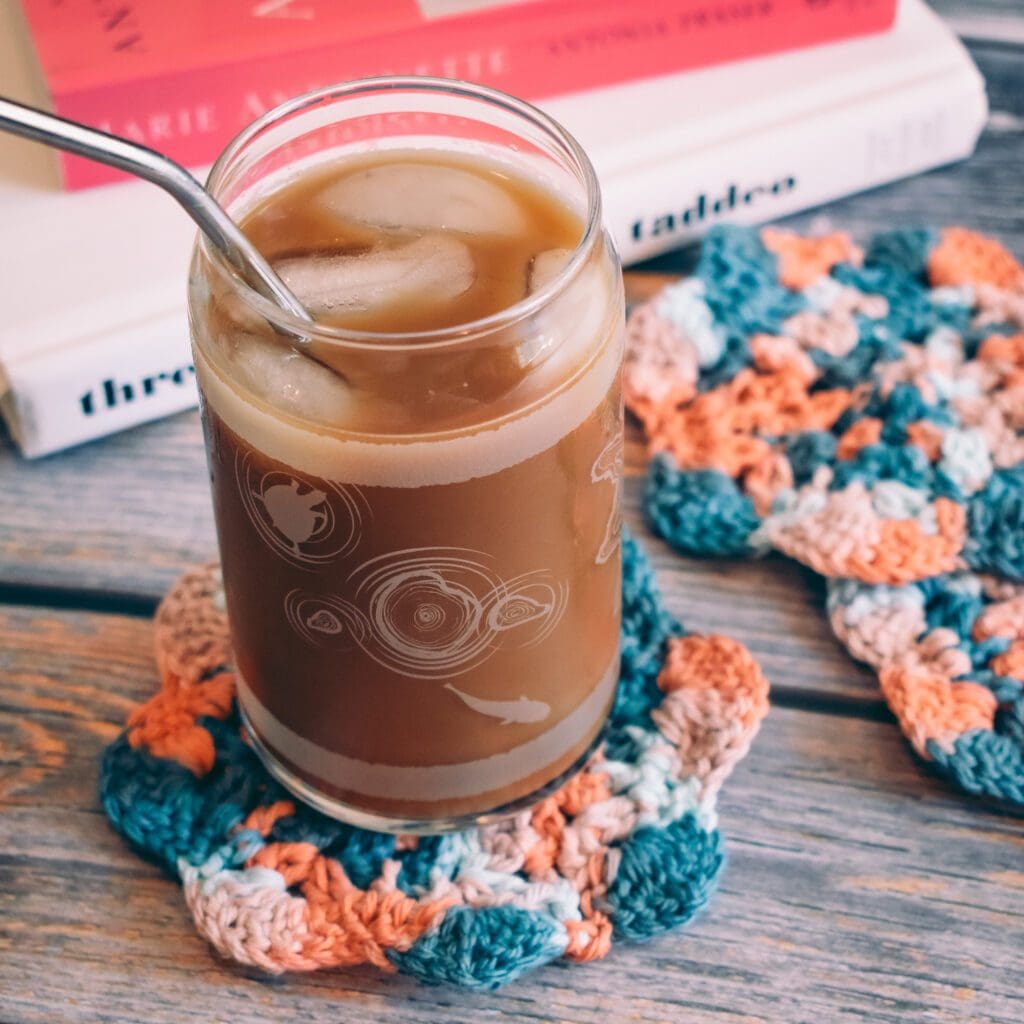 How to Make the Perfect Iced Coffee
Can You Just Add Ice to Coffee?
Theoretically…yes. This is not my preferred method, as I find it generally waters down the coffee too much and depletes the flavor.
There are different strategies out there to avoid this problem. However, I prefer to batch the coffee ahead of time and skip this issue all together.
What You Need to Make the Perfect Iced Coffee
Iced coffee is simple. You really only need ground coffee beans, a coffee maker, filters, and some kind of carafe to chill the brew in.
Why Cafe Bustelo is my Coffee of Choice for Iced Coffee
My personal favorite coffee for iced coffee is Cafe Bustelo ground espresso. Cafe Bustelo is a rich, dark, strong coffee, which makes it work well for iced coffee. Plus, it's super affordable. Most of the time, I can find it at the grocery store or on Amazon for under $2.50 for a vacuum-packed brick.
Alternatively, Starbucks has some great options for at home. If you like stronger coffees, this whole-bean set – including Starbucks' Caffe Verona, French Roast, and Sumatra blends – is pretty great. If you prefer something a bit less intense, this medium roast variety pack looks great. I sometimes switch away from my favorite Cafe Bustelo for a seasonal Starbucks blend.
Simple Drip Coffee Makers do the Trick for the Perfect Iced Coffee
As for a coffee maker, you don't need anything fancy. As much as I want to invest in a fancy espresso maker, I do like using my Mr. Coffee 12-Cup Coffee Maker for iced coffee. If you're planning to make larger batches of iced coffee, like I do, definitely go with one of the larger pots, though, as opposed to the mini coffee makers.
Mason Jars are Simply the Perfect Canisters for Make-Ahead Iced Coffee
To chill the coffee, I simply use three-cup glass mason jars. I'll typically brew 10 cups at a time, according to the coffee maker's metrics; this fills two of the three-cup mason jars at a time.
Lastly, don't forget coffee filters. I use these filters and a single pack goes a long way when you batch make coffee.
Measurements for the Perfect Iced Coffee
Typically, when I make iced coffee for the next few days, I'll brew 10 to 12 cups, according to the coffee maker carafe, at night before I go to bed.
For 10 coffee maker cups, I use 10 tablespoons of ground coffee. Simple enough.
Like I said, 10 coffee maker cups fills two of the mason jars I use.
Before pouring the coffee in, I add a handful of ice cubes to each jar — probably five or six each. If you want to retain the full strength of the coffee, skip this step. However, the little bit of ice doesn't water it down too much.
Lastly, let the coffee chill in the refrigerator overnight. Then, you're all set in the morning!
P.S. Dress up your daily iced coffee with some fancy crochet coasters from my shop! My coasters are handmade, easy to clean, and the perfect addition to any coffee table. Check out all of the available styles and colors here!
---