Why You Should Clean Your Makeup Brushes
A simple but important task in any beauty and skin care routine is cleaning the tools you use. If you're wondering why and how to clean makeup brushes, I'm happy to tell you it's even easier than it may seem. Cleaning makeup brushes makes a huge difference both in how the makeup itself is applied as well as general skin health. This post will tell you all about how to properly clean makeup brushes, what cleansers or soap to use, and offer other best practice advice from your fellow sensitive skin beauty lover.
Why I Care About Cleaning My Makeup Brushes
As someone with sensitive skin prone to acne, I've seen first-hand that washing brushes regularly helps reduce flare ups. Washing brushes prevents build up and removes existent acne-causing bacteria. Particularly in light of maskne, I've been washing my brushes even more often than I did in the B.C. times.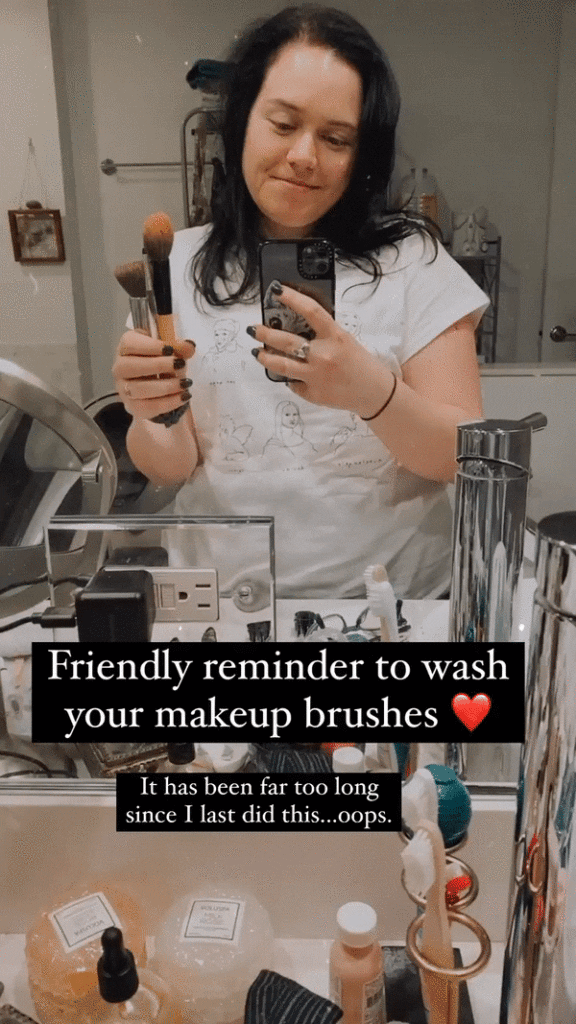 How to Clean Makeup Brushes
What Cleanser to Use
As for what soap to clean makeup brushes with, you have some options. While there are a number of dedicated brush cleansers out there that you can buy, I generally prefer to stick with a gentle body wash, face wash, or hand soap.
Hand Soap Cleanser Options
Before I get into the first two options, when I say hand soap, I don't mean just any old hand soap. I mean something like Dr. Bronner's Castile Bar Soaps. Castile soap is gentle on the brushes and removes dirt, grease, germs, and makeup particles. Similarly, I have used L'Occitane Shea Butter bar soap with my brushes and found that seemed to clean them quite well.
Body Wash & Face Wash Cleanser Options
I have recently been using my Beauty Pie body wash and find that it removes makeup quickly and easily. In the past, I have used an Aveeno body wash. While this option works, it definitely takes more time to remove the lather completely from the brushes.
Similarly, Obagi or Indie Lee face washes make quick work of this task. And this makes sense, since they work to remove the same things gently from the skin as they are on the brushes. However, I tend to save the face washes for my skin, since they're comparatively pricier.
My Favorite Cleanser Options

How Often Should You Clean Your Brushes?
There are a number of different recommendations out there on how often to clean your brushes. However, the general consensus is more often than you already are.
Some dermatologists recommend washing the heavy-lifting brushes — foundation, concealer — at least once a week. Typically, you can probably get away with washing eye shadow and liner brushes less often. This is so since they're not used as much and generally use dry products (as opposed to liquid foundation or concealer).
However, if you've got the time and you're already washing the others…why not throw those in, too?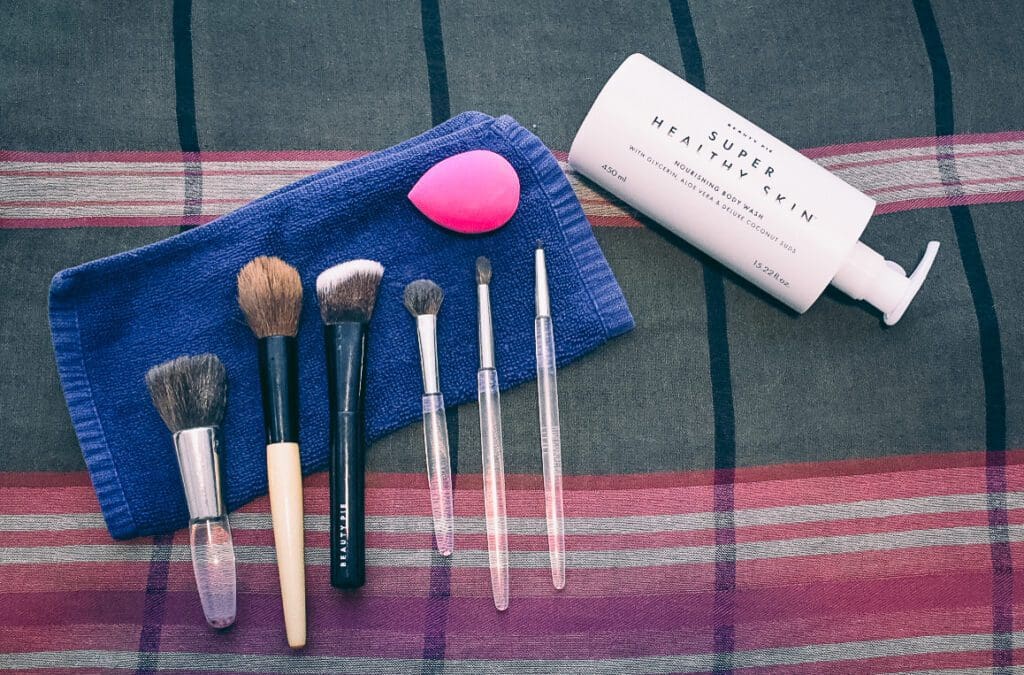 Washing Makeup Sponges & Beauty Blenders
Similar guidelines exist for sponges and blenders. This is where I need to do better in my tool cleaning routine. Makeup sponges should be cleaned after every use. Wet sponges are a breeding ground for acne-causing bacteria, and the sponges themselves can hold mildew and mold. Makeup sponges should be washed as soon as you finish using them, according to L.A. makeup artist Berenz Castro and IPSY.
Oops.
How to Clean Makeup Brushes, Step-by-Step
How to wash makeup brushes is not exactly rocket science, but there are a few things to look out for. Just like left-over shampoo or soaps leave buildup on skin, the same can happen with makeup brushes if you rush the process. Here's what I do:
Rinse the makeup brush bristles in warm water.
Add a small amount of cleanser to your palm or lather up the bar soap in your hand. For smaller brushes, go with about a dime size of cleanser, and up to a quarter for larger brushes; you can always add more if you need it.
Swirl the makeup brush bristles around the palm of your hand, adding water if the lather becomes too much of a paste. Revel in the variety of pinkish hues you create in the process, realizing just how much blush, powder, etc. was trapped in the bristles….
Rinse the bristles out and ensure the water runs clear. You may need to repeat the swirling motion on your hand without cleanser in order to get rid of stubborn soap and buildup.
Once the water runs clear, gently squeeze out the excess moisture and re-shape the brush if necessary.
Lay flat on a clean washcloth or hand towel to dry.
How to Dry Your Makeup Brushes
Reasonable minds may differ on point six here — regarding drying the brushes. Some articles say that you should let the brush bristles hang off the edge of the counter to dry. Honestly, the rational makes sense, but I don't do this.
This is fine advice for some, but two things prevent me being able to do this well. First, some of my brushes are smaller and don't balance as well, and, second, cats.
I've been washing my brushes and letting them dry on towels for years and haven't had an issue, either in regards to mildew or loss of shape. So, maybe give both options a try and see what you prefer. Either way, you will love how smoothly your makeup applies the next time you use your clean brushes!
---
What cleansers do you use to clean your makeup brushes, beauty blenders, and other beauty tools?
* This post was originally published on February 15, 2021. It was most recently updated on February 25, 2022.