*Trigger warning: Maid on Netflix is about a survivor of emotional domestic abuse. This article briefly discusses domestic violence and intimate partner violence. If you or someone you know needs help with an abusive relationship, please visit the National Domestic Violence Hotline website for assistance.
Maid on Netflix
I was going to save this for a different post, but the show was too powerful for me to wait. I just finished Netflix's new original limited series Maid last night and I am still reeling from the emotional power of it all. After law school, I worked with survivors of domestic violence and saw so many parallels in Alex's story and those of my clients.
Domestic violence touches all areas of society, regardless of socioeconomic status, race, or age. Maid on Netflix does a resounding job in illustrating the many pitfalls in the government and legal systems designed to handle such situations. A former co-worker of mine described this series well: "This show is really good and a heartbreaking reality. All that she goes through and still, she's white and born in the US, and speaks English. Imagine the additional barriers people face, it's unfathomable."
The Premise of Maid
After fleeing an abusive relationship, a young mother finds a job
cleaning houses as she fights to provide for her child and build them a better future.
This 10-part mini series follows Alex as she leaves an abusive relationship with her boyfriend, Sean. Alex is young — twenty-five — and caring for her three-year-old daughter, Maddy. Sean is abusive both verbally and financially. He controls Alex's ability to provide for herself or have contact with the outside world. He throws things, but hadn't actually hit her when she left in the middle of the night with Maddy.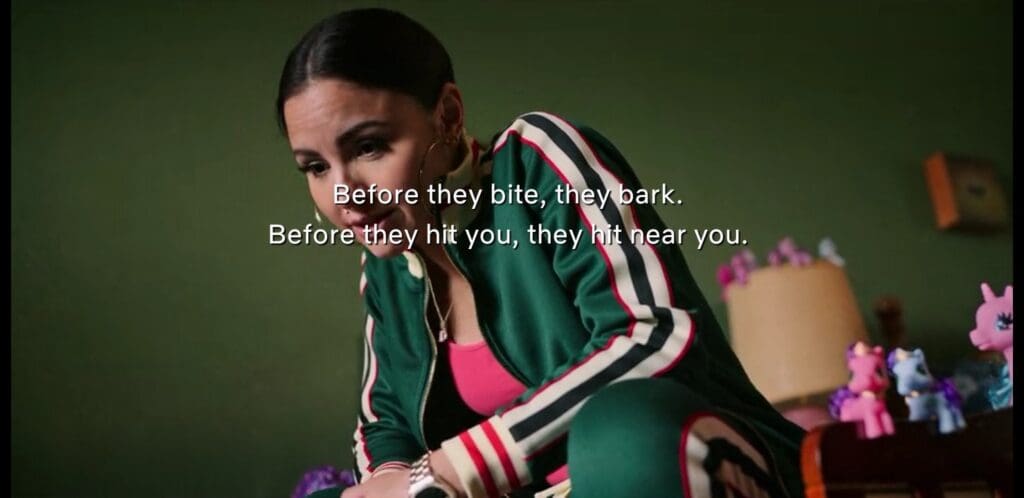 Photo from a tweet by @anishhka2
Of course, emotional abuse is domestic violence, but it is a difficult topic to cover. The show handles it well, and delineates the cycles of abuse that exist in intimate partner violence. At first, Alex denies she's a DV survivor because she hadn't been physically hurt; however, by the end of the series, she recognizes that she is, in fact, a survivor who has broken free of the cycle of abuse.
Emotional abuse is just as real as physical abuse, with the scars to show for it. That was a great watch! #MAIDNetflix pic.twitter.com/gIPrwaIIwS

— Kat (@KatNiasss) October 15, 2021
If you need information on how to identify abuse, please visit this website. I also recommend reviewing the Power and Control Wheel, available on the National Center of Domestic and Social Violence website here.
What Maid on Netflix Achieves
Netflix's Maid is a robust portrayal of what survivors of domestic abuse go through, particularly when small children are involved. Previously, I worked in DV doing injunctions and protective orders (restraining orders).* I saw so many similarities between Alex's story and the other stories told throughout the series to those of my clients.
*If you need assistance with a protective order, please reach out
to your local Legal Aid office and they should be able to help.
One scene in particular, where Sean opens the door to an acquaintance who is checking up on Alex, really resonated. A toxic mixture of fear, depression, and hopelessness prevents Alex from speaking out. And the cycle begins again.
I came across a compelling Facebook post by Whitney Ballard that lists out the show's achievements. In this post, I'm just touching on the surface of the series and what it achieves. However, there are so many facets to the characters and different archetypes that show up that they could be the basis of a thesis. First and foremost, the "gray" characters — no one is perfect, not one is perfectly evil. As Ballard notes, the show captures the "humanness" of the story so well. This illustrates just one reason why it is so hard for survivors to leave these cycles of abuse:
What Maid is Based On
Alex's story is based on that of Stephanie Land, author of Maid: Hard Work, Low Pay and a Mother's Will to Survive. The book was a best seller and is sitting in my shopping cart as I type. Barack Obama featured Land's book on his 2019 reading lists. He described the story as "A single mother's personal, unflinching look at America's class divide, a description of the tightrope many families walk just to get by, and a reminder of the dignity of all work."
---
Watch Maid on Netflix here.

Visit Stephanie Land's website for more information about her work and publications.

If you or a loved one are in need of assistance or information from a domestic violence advocate, please visit the National Domestic Violence Hotline website.