The Cats & Coffee Curated Content Series
Welcome to the October Edition of Cats & Coffee's Curated Content Series! This series features weekly content round-ups of articles, videos, podcasts, and Instagram accounts. I find content that is worth your time so you don't have to! This month features insights into the cult of the Nap Dress, great Instagram creator finds, podcasts I'm totally hooked on, YouTube videos I'm loving, and more.
This series features shorter-form content on a weekly basis. For longer-form content round ups, be sure to explore My Current Loves.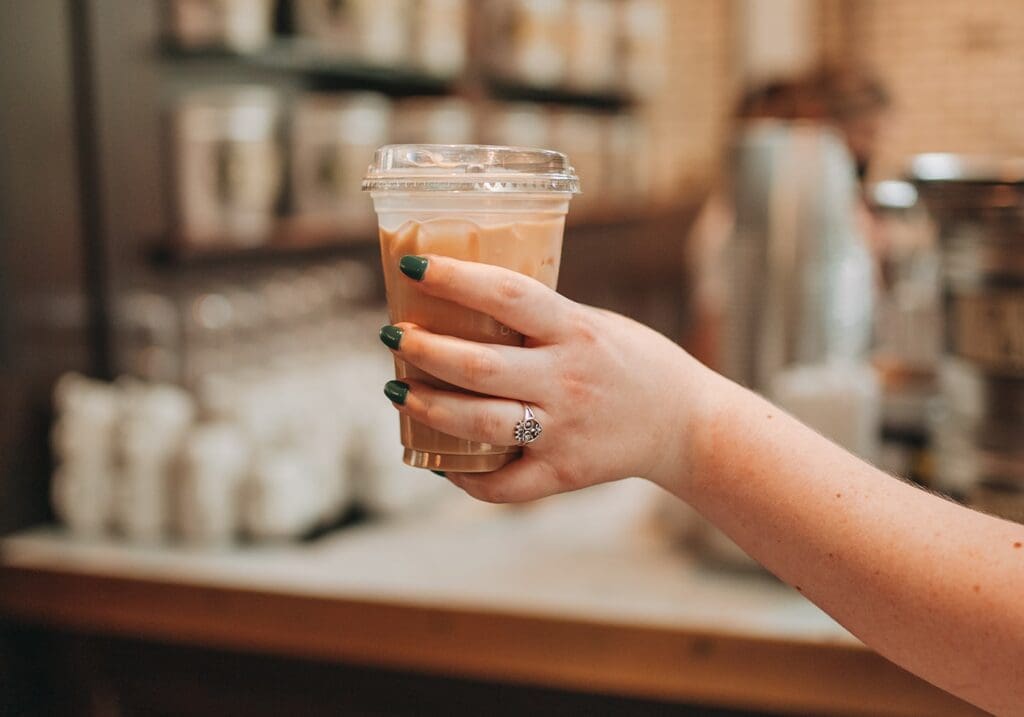 Enjoying some Buddy Brew coffee at Oxford Exchange, photo by Carter Fish
Favorite Finds of the Month

Cats & Coffee's Curated Content Series: October 20, 2021
Article: For the (Renewed) Love of Vintage Dressing, Marisa Meltzer for the New York Times
After several years of all things simple being the height of fashion, there is a pleasure to be found in the messy eccentricities of individualistic, pre-owned items.
At the risk of sounding trite, a lot has changed with the pandemic, including fashion and personal style. The world has moved on from 2019/early 2020 styles and people are having to reevaluate their closets based on fit. For the New York Times, Marisa Meltzer analyzes why vintage clothing is seeing a renewed popularity, and how the in-store experience compares to online shopping on places like Poshmark (more on that here) and eBay.
Photo from For the (Renewed) Love of Vintage Dressing, showing James Veloria, a shop in Chinatown that deals in designer pieces. Credit: Dolly Faibyshev for The New York Times.
Vintage clothing has been seeing a resurgence for a few reasons, including that it "can be a fun way to play around [with style] without spending so much money (not to mention being conscious of sustainability)."
Regardless of whether you're looking to get into shopping for vintage finds yourself or not, Meltzer's article is an insightful read on how fashion has changed over the past eighteen-to-twenty-four months. And, if you're in the New York area, the article offers some recommendations on vintage stores to explore.
Read Marisa Meltzer's For the (Renewed) Love of Vintage Dressing on the New York Times here.
YouTube Video: My Guinea Pig Reviews Halloween Costumes | Bernadette Banner
I hope you are ready for 8 minutes of fluffy cuteness! In this video, Bernadette Banner's guinea pig, Cesario, models some adorable Halloween costumes, to varying degrees of success. Bernadette's commentary is, as always, on point. I highly recommend watching it with subtitles on, because the descriptions of various songs played while Cesario models are *chef's kiss* amazing.
Speaking of pet costumes, check out more Halloween pet cuteness in my costume round up here!
I kept seeing these super cute graphic tees and sweatshirts on Instagram, equal parts dark academia and cottagecore, and did some digging. Turns out, they were all from this adorable shop, @thecommonroomshop!
The creative behind this shop, Hallie Bush, is a book loving dog mom living in Salt Lake City. She has channeled her passion for books and various fandoms into this adorable shop, full of themed clothing that is subtle and intricately designed.
The Common Room's "Wizards" fandom selection is my favorite, closely followed by the Little Women collection. The shop collaborates with artists like Kelly Prince Wright to create unique designs that you can't find anywhere else, such as this Castles Secret dark academia inspired crewneck sweatshirt.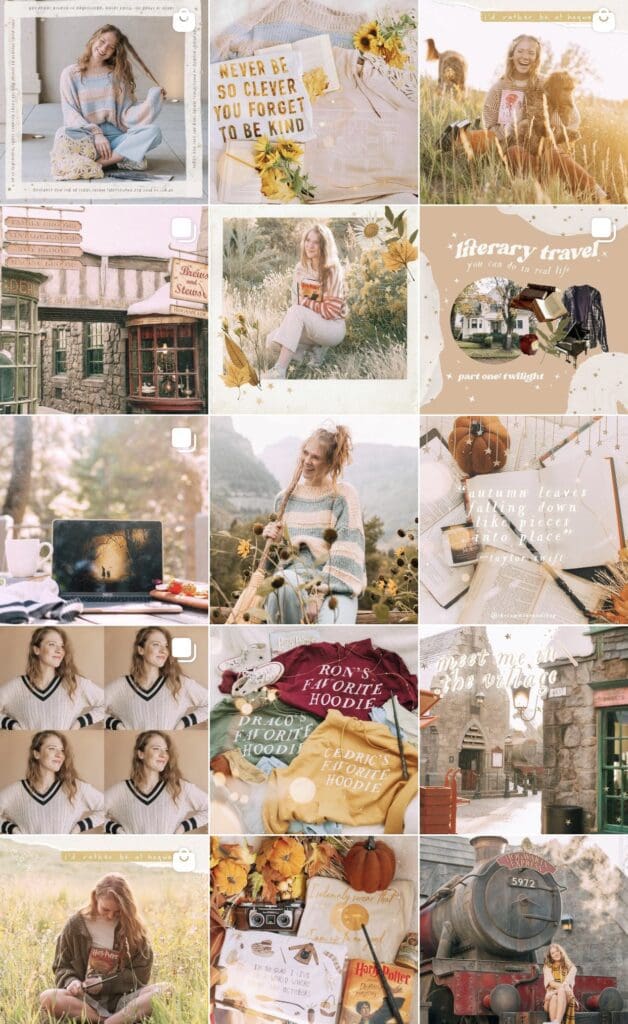 So, whether you're in the market for a cute comfy sweatshirt (I mean, who isn't?) or you just want to add some beautifully curated cottagecore/various-academia vibes to your IG feed, @thecommonroomshop is perfect for you! Check out the full shop here, as well!
Cats & Coffee's Curated Content Series: October 13, 2021
Article: The Cult of the Nap Dress, Stephanie McNeal for BuzzFeed News
Buying multiple versions of this Instagram-famous garment has become an obsession for some people.
I'm a huge fan of the Hill House Nap Dresses, particularly the Ellie style, so this BuzzFeed article about the Nap Dress phenomenon was too perfect to pass up. These dresses have become such a staple in my wardrobe. This is partially because of their style, but also because of their just absolute versatility. Comfortable, easy to care for, and flattering, the Hill House Nap Dress collections are simply the perfect dresses.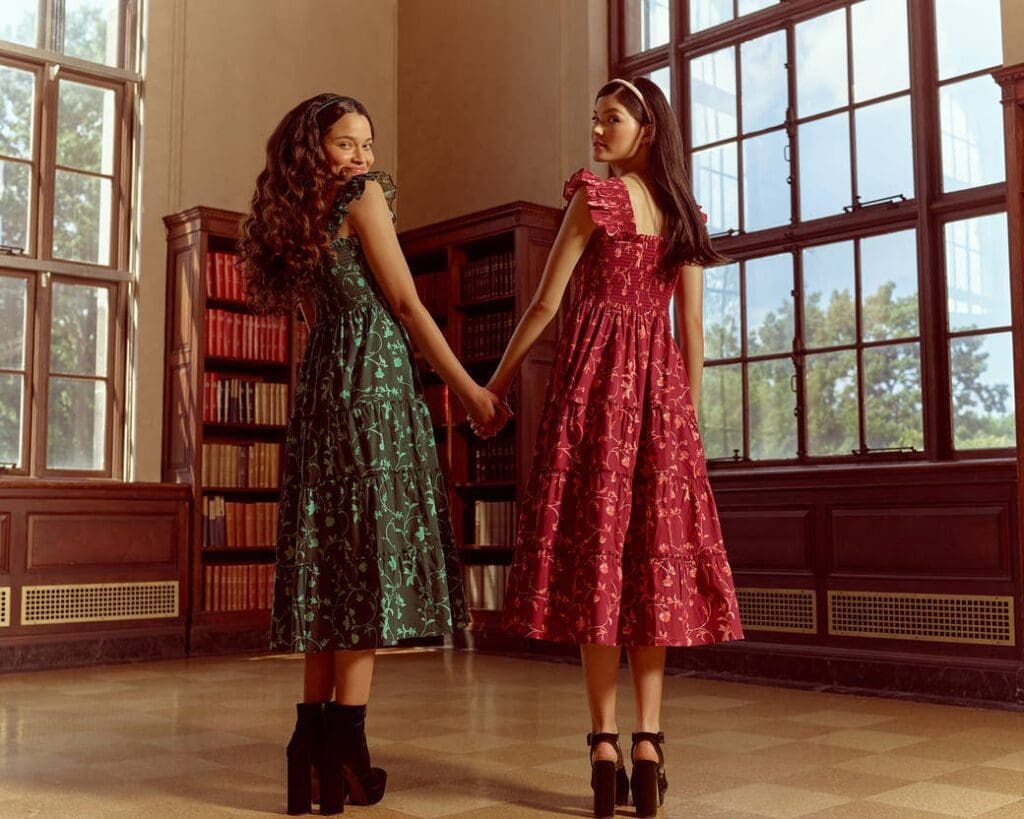 Models wearing Nap Dresses for Hill House's catalog. Photo courtesy of Hill House.
McNeal analyzes the appeal of the Nap Dress, as well as the way it's taken off on social media. Style — particularly feminine style — is often written off as frivolous. But style can be empowering. Finding something that makes you comfortable in your own skin is not always the easiest thing to do. McNeal touches on this, and the role of femininity in style, quite poignantly:
But there's something deeper beneath the obsession. People who have embraced the grandmillennial aesthetic that the dress embodies say that by dressing in ruffles, hair bows, and flowy florals, they are reclaiming their femininity and shaking off the male gaze in a way that is incredibly empowering. 
Read more about the Cult of the Nap Dress on BuzzFeed News here.
My Favorite Nap Dresses

YouTube Video: Building my Dream Sewing Room | Morgan Donner
While I don't have a need for a sewing room in particular, I found Morgan Donner's video about building her dream space to be inspiring. The crafty person in me is loving how she made an Ikea shelf into a multi-dimensional desk and work space. Plus, the medieval-inspired accents are icing on the cake.
As far as pretty things on the internet go, Ophelia Bakes' cakes are in a league of their own. Combining classical art and all kinds of cottagecore-dark-academia vibes, the cakes by Ophelia Bakes are works of art unto themselves.
Whether you're in the market for a fancy cake or not (you can buy them!), I recommend giving this account a follow. It's pretty and fascinating, and as someone with little patience for baking or cake decorating, I can't help but feel in awe of the finished products!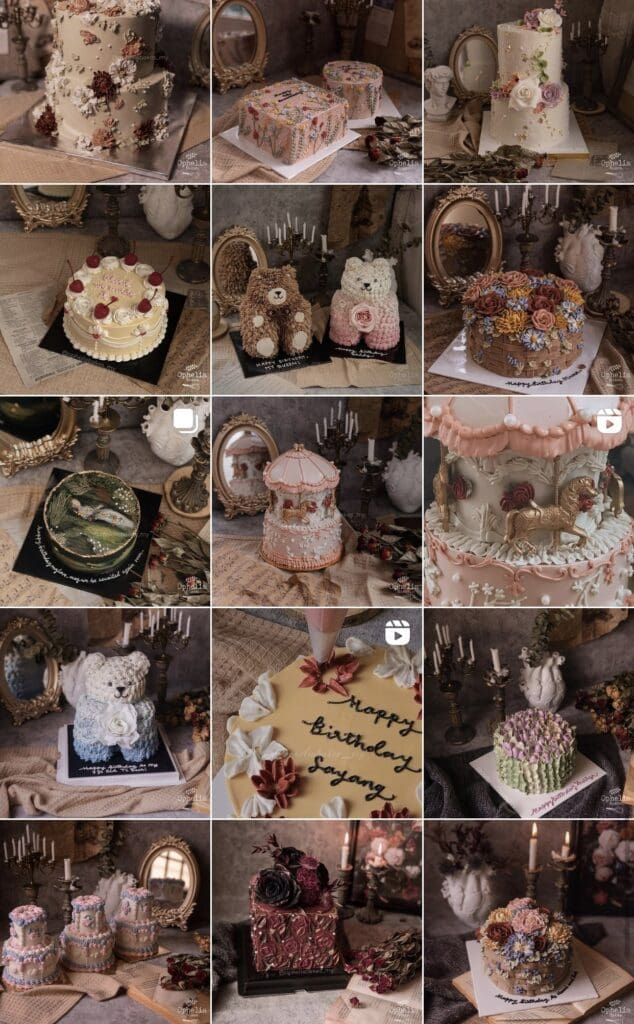 Check out the @opheliabakes_my Instagram here. For details on individual cakes, visit the Ophelia Bakes "caketalogue" here, which also has information about the cake ordering process.
Cats & Coffee's Curated Content Series: October 6, 2021
Article: Whistle-Blower Tells Senators That Facebook Puts 'Astronomical Profits Before People', The New York Times
Ok, this is less of a traditional article to read and more of an ongoing saga chronicled by the New York Times. You likely have heard about Frances Haugen, a former product manager at Facebook, who recently revealed a series of internal documents and insights from the tech giant. Part of what is coming to light is the way that Facebook's algorithms and profit goals impact just how they run the site.
I love social media, and I spend a lot of time on Facebook, in particular. I have developed a strong community on there between my two pages — one for Cats & Coffee and another for my crochet shop and catstagram, Critter Crafting — and enjoy most of the interactions there.
But, I am the first to say that there are a lot of problems with the platform. For one, it's rapidly becoming pay-to-play, leaving users with few options besides abandoning it all together. Like a lot of small creatives and bloggers, I all but have to pay for ads in order for my content to even reach the people who follow and regularly engage with my pages.
I don't have a solution, and I don't envy those in a position of power to regulate such an amalgamation. But, as AOC said on Instagram here, we should be asking why one company wants to monopolize internet access and communications, and what that means for our ability to interact and cohabitate online.
Read up on the New York Times' coverage of the developing story with Facebook and the information Frances Haugen revealed here.
YouTube Video: The Best Friend's Betrayal Caused By An Internet Monster ?? | Mystery & Makeup | Bailey Sarian
I've shared about Bailey's various videos in previous Curated Content Series, but I wanted to share her most recent Murder, Mystery, and Makeup Monday episode because she's back at it after a month's vacation. I really love this format, and it's fun to see what kind of beauty look she goes for, especially in light of Halloween.
Plus…the way she introduces her costume in the video is an absolute gem.
P.S. looking for more spooky season Halloween content?
Check out my posts on pet costumes you're going to love here &
Halloween decor from my favorite shops and creators here!
Its been a bit since I featured a small jewelry creator on my Curated Content Series, so I am excited to share @soliloquyjewelry with you all! Specializing in handcrafted metal and stone pieces, Kerin Scales the maker behind the account, crafts stunning and symbolic pieces inspired by nature and history.
Besides loving all of her earthy and thistle-inspired pieces, I just love how cohesive and beautiful Scales' jewelry feed is. As you scroll, you'll see the colors change, which is just so soothing!
While I've not been lucky enough to get one of Scales' creations myself, I am looking forward to her next release at the end of October. The pieces go so quickly, so if you're interested in picking something up for yourself, be sure to keep an eye on the @soliloquyjewelry page for release date details!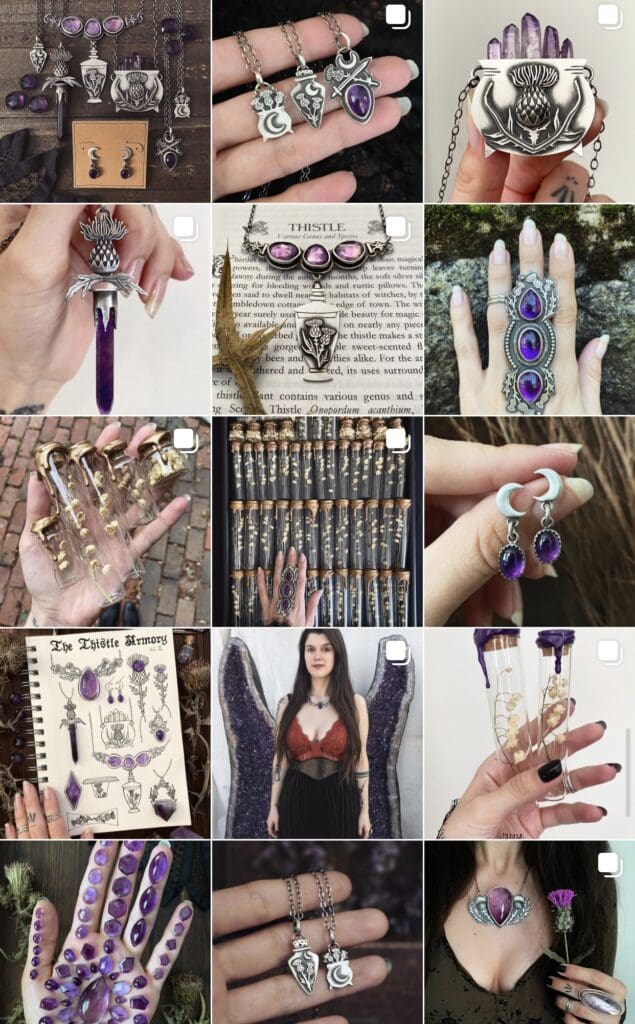 Give the @soliloquyjewelry page a follow here, and check out the maker's personal Instagram here. Explore Scales' pieces in more detail and get information on how to order from the Soliloquy Jewelry shop here.
---
Want more great finds like these?
Explore the September edition of my Curated Content Series for more great reads, listens, and Instagram accounts to follow!