Welcome back to the Cats & Coffee My Current Loves series. Let's dive right in:
The Try Guys
Some friends of mine recently introduced me to the Try Guys. I don't watch a lot of YouTube on my own, so I guess that's why I'd never heard of them before. The Try Guys are content creators who originally started out on Buzzfeed but left the media company to create their own production company last year. The transition itself is really interesting, legally speaking, since they got to keep their name and a lot of IP. Anyway, in the last couple weeks, I have blown through so many of their videos and content — it's so entertaining! Right now, I'm listening to their podcast, in which two of the four main guys rank Harry Potter films, which is just the best. If you want a good laugh, check out their attempts at making bread without a recipe — a classic!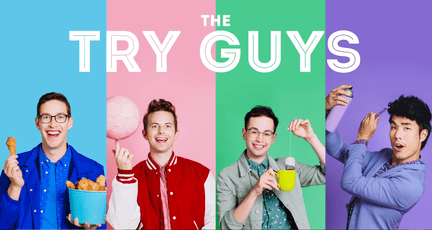 Bernat Bundle Brights Yarn
I bought a couple of skeins of this yarn the other week on a whim from Joann's, thinking it was going to be a nightmare to work with. This fleece-based yarn features four unique styles of yarn in one, which seems cool but also like it could be difficult to crochet. However, it was on sale and the color seemed fun. Turns out, it was super easy to work with, built up really fast, and made the coziest blanket ever. I listed the blanket in my crochet shop and it sold within two days — crazy! I'm definitely going to need to get some more of these skeins — probably in the teal color way because it's just so pretty — and crochet up a few more blankets and Cat Mats for gifts and the shop.
Casetify Peekaboo Cat Phone Case
I recently upgraded my phone to the iPhone Pro Max and had to get a new case. I didn't go too crazy here and got the same style as I had for my old phone — the Peekaboo Cat case from Casetify. The cat on the design reminds me of Olivia and I just love it; plus, the majority of it is clear, so you can see the midnight green color of my phone with it! The case is a bit bigger than I would prefer, but it's also so protective that I am ok with the bulk.
They had a deal going where, when you buy a new case, they give you $10 off their tempered glass screen protector. I went ahead and ordered the screen protector at the same time because of the deal, since I had heard about how easy the new iPhone screen was to scratch. The screen protector wasn't the easiest to apply, and I thought I'd have to replace it because it bubbled and we couldn't get rid of the bubbles originally. However, after a day or so, the bubbles naturally went away and the screen protector works just fine now.
If you're interested in buying a Casetify case, feel free to use this referral code link for $10 off.
Simple, Easy Dress from Amazon
I typically avoid fast fashion pieces, but I was swayed to try this dress from Amazon because it was under $20, had pockets, and came in my absolute favorite forest green. Overall, I was pretty impressed with the quality — I've bought other simple dresses like this from Amazon and returned them because the quality was (perhaps unsurprisingly) not awesome. I haven't washed it yet, but it seems like it'll go through the wash ok. I got a medium, which fits comfortably, but when I wore it out, I wish I had sized up; I think that'd be more comfortable for longer-term wear. The dress comes in a bunch of colors and fun patterns, and free returns with Amazon Prime. Check it out here!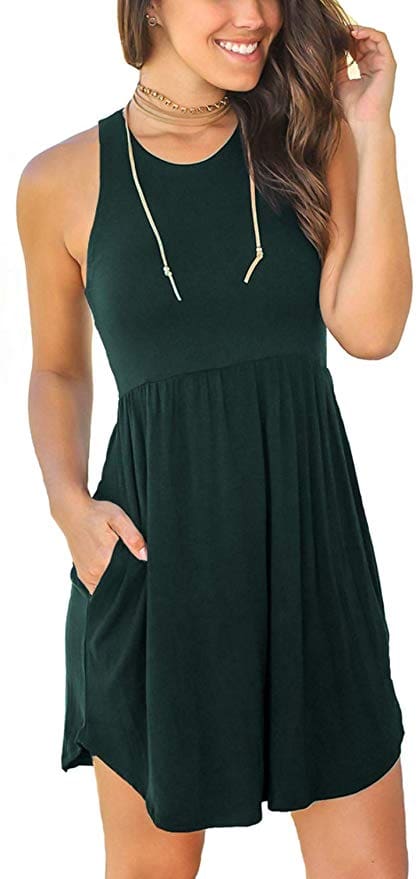 ---
Check out previous editions of my Current Loves here!