Welcome back to the Cats & Coffee My Current Loves series. Let's dive right in:
Even & Keel
Recently, I ordered two products from a small UK- based creative business I came across in Sara Tasker's Insta Retreat course, Eve & Keel. Jennie, the creator behind this beautiful brand, crafts "botanically powered stress-slaying products" that are organic and vegan.
I had been planning on placing an order from Eve & Keel for some time, but knew I had to jump on their Heroes Hand Cream deal. For just £10, you would get a heroes hand cream, and Jennie would send one to someone working to keep us safe during COVID-19. (Since I'm in the U.S., she sent me two and I'm going to give my second one out personally, but for those in the UK, she will send them directly to whichever address you put in the comments.)
At the same time, I ordered the Surrender Crown Chakra Roller (the product I had been eyeing for some time.) This soothing essential oils roller features a mix of lavender, frankincense, and neroli. Not only is the scent beautiful, but the roller itself is, too; there are little clear and purple crystals in the mixture. Eve & Keel has 7 Chakra Rollers and a gift set available here.
Shipping was affordable and fast, even with everything going on in the world. I love how sustainably packaged everything is, and was really impressed with how efficiently packed my mailer was.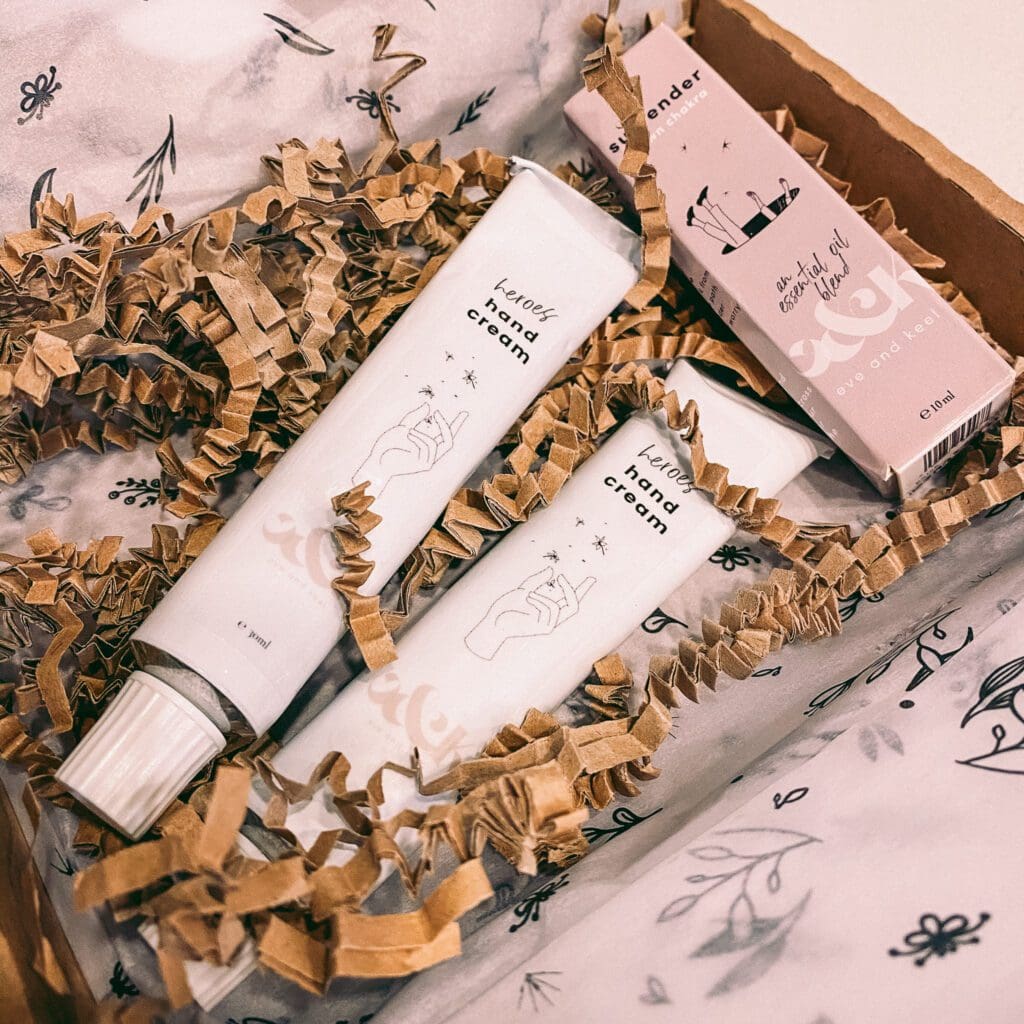 Check out the Eve & Keel shop here and give Jennie a follow on Instagram here!
1619, a Podcast from the New York Times
I saw this podcast series recommended on Instagram following the eruption of Black Lives Matter protests and immediately added it to my queue. This five-part series follows the "long shadow of American slavery," starting with a haunting account of the first slaves-carrying ship that arrived four hundred years ago. As the podcast explains, "No aspect of the country that would be formed here has been untouched by the 250 years of slavery that followed."
Featuring a variety of speakers and forms of expression, this podcast struck me as a sort of multi-media performance. The historian in me found the structure fascinating, particularly the way that host Nikole Hannah-Jones leads the listener through the real American history untold in elementary schools.
Episode one describes the landing of the first slave ship and their impact on the ideal of democracy in the United States. Episode two turns to the economy, describing how slavery "turned the poor, fledgling nation into a financial powerhouse." The third episode covers "the birth of American music" (from a social history standpoint, I found this one particularly interesting). Next, the series tackles how the U.S.' healthcare system has failed Black Americans. The last two episodes tell the story of Black land ownership and farming, focusing on the family history and contemporary legal battles of the Provost farmers in Louisiana.
Listen to Nikole Hannah-Jones' 1619 from the New York Times here.
Click here for more information on how you can support Black Lives Matter.
TP-Link AC1200 Wi-Fi Extender
I love working from home, but have been struggling with our wifi lately. You know those times when you overreact and know you're overreacting but just can't stop yourself? That was me with the wifi this past weekend. I was halfway through a blog post and lost a lot of my progress because the internet cut out and the post hadn't autosaved for whatever reason. Tears ensued, even though I knew I was overreacting.
Brett ordered a wifi extender to try out and I am happy to report that it has been super helpful. The TP-Link AC1200 Wi-Fi Extender is affordable and easy to set up via the free Tether app. It creates a secure second wifi account that piggy backs off of the primary wifi. I have it installed in the hallway leading to the office, so it catches the signals from our router in the living room.
The TP-Link Extender is available on Amazon here.
Trader Joe's Matcha Almond Beverage
I'm not a major milk drinker, but I tried the Trader Joe's Matcha Almond Beverage at a friend's house a few months back and am hooked. This almond milk features an earthy green tea flavor that is mild, soothing, and my new favorite late night treat. There is a hint of sweetness to the matcha almond milk, but it's mostly a neutral flavor. I drink it chilled with ice, but you could warm it up if you prefer.
Trader Joe's has other flavors of almond milk, like the Blueberry Lavender Almond Beverage, but I haven't had the chance to try those yet. I bet they're good, too, though.
---
Explore previous editions of the Cats & Coffee My Current Loves series here!
---